Put together an easy Spring classification activity for your classroom or home science center with just a few bags of plastic eggs. This is a fun way to introduce classification!
Looking for ways to group items by their different attributes and sorting the group of items by those attributes are important science concepts. Kids can work together or independently on this spring classification activity filled with hands-on play opportunities.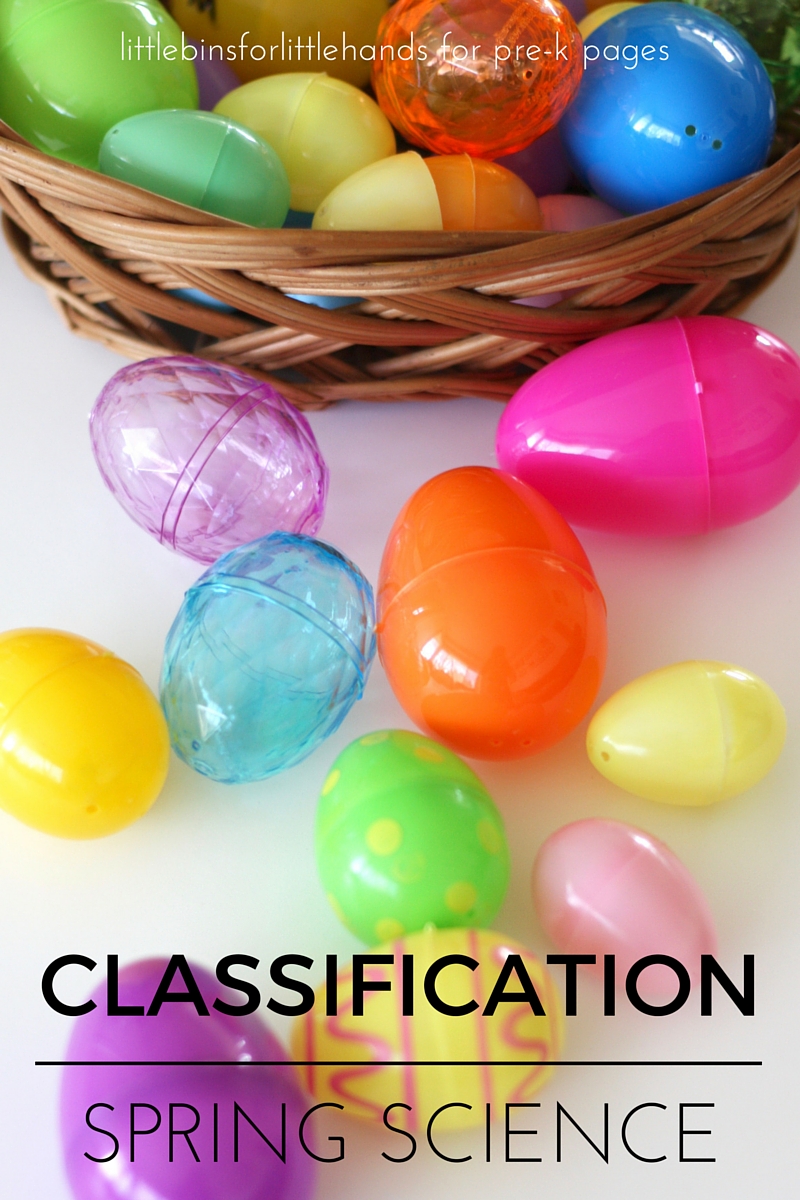 Spring Classification Science Activity
This simple-to-set-up classification science activity is perfect for early childhood science lessons. It gets kids looking at groups of items, finding similarities/differences among the items, and sorting the items based on those similarities/differences. Your kids may even find ways to group the items you hadn't thought of! My son found his own way to group the eggs!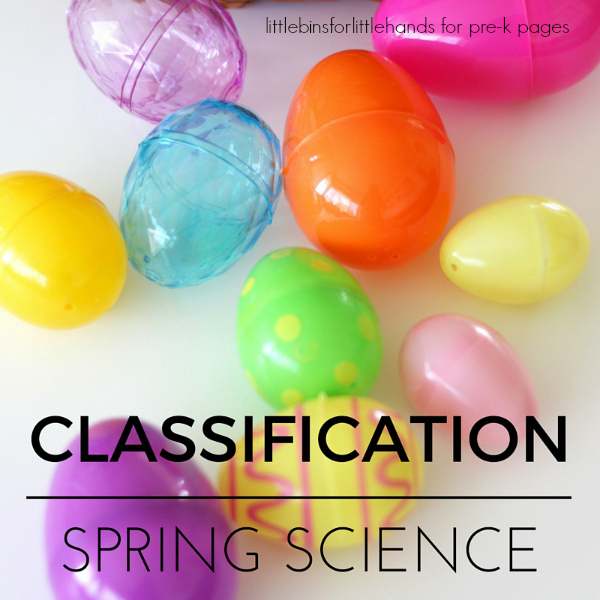 Supplies Needed
Plastic eggs in various sizes, prints, and colors
Poster board or other large, flat work surface
Egg cartons for sorting or grouping, if desired
Plastic eggs are easy to find at your local dollar store, big box store, or grocery store. You may already have some plastic eggs on hand! We have small, medium, and large eggs in a variety of colors. We also have some pretty translucent eggs as well as some patterned eggs.
Activity Set Up
Place a basket of plastic eggs on a large work surface to set up your spring classification science activity. Add egg cartons if desired to help with grouping. Eggs roll!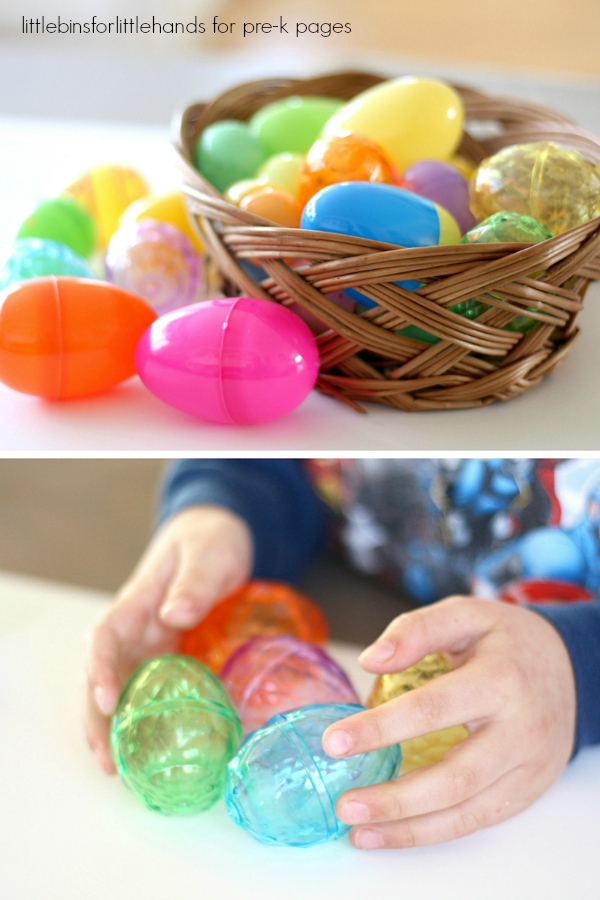 Talk about what classification means. (See below.) Ask the kids how the eggs look similar or different. How would they sort the eggs? Invite them to group and regroup the plastic eggs based on the different attributes they notice. My son chose to group the "fancy" eggs which were the patterned and translucent eggs.
Different ways to classify the plastic eggs include:
group by color
group by size
group by pattern
Spring classification activity: grouping by color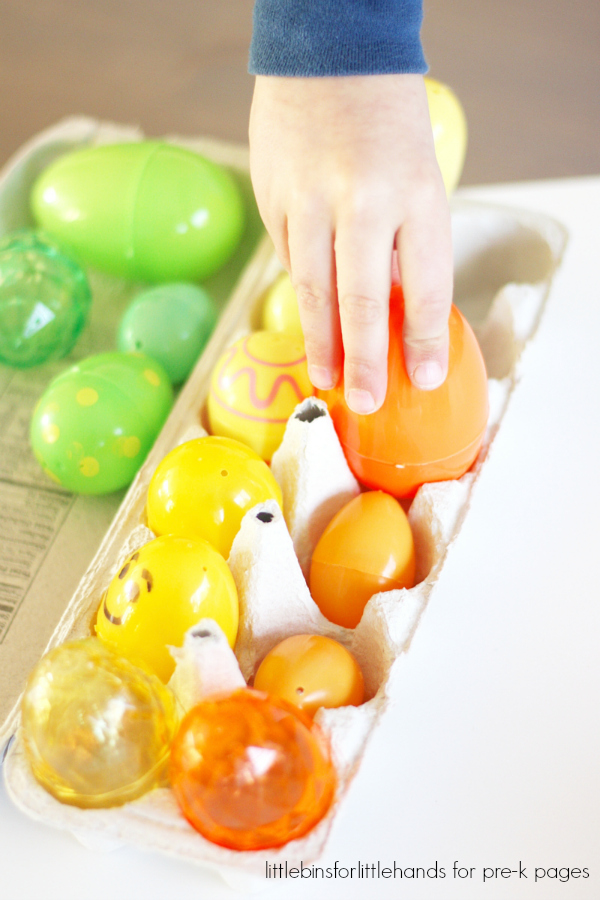 Spring classification activity: grouping by size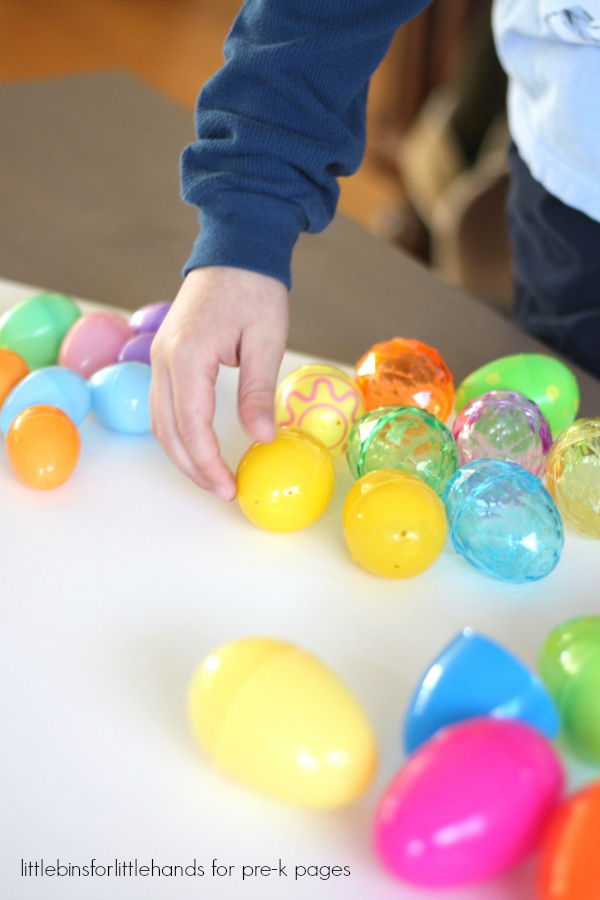 Spring classification activity: grouping by pattern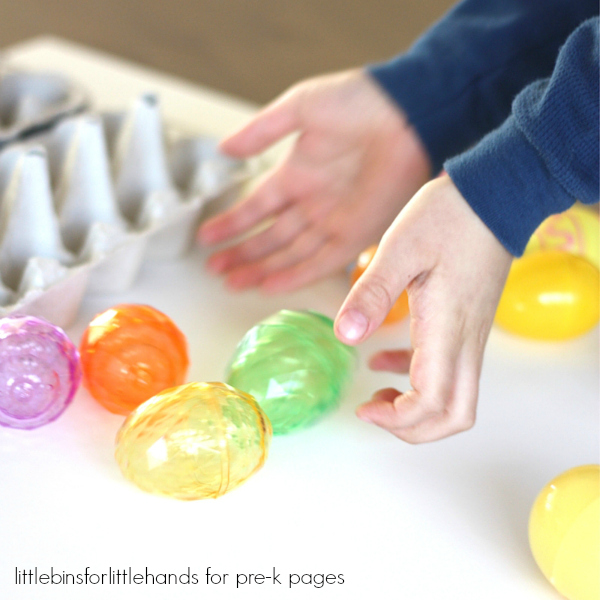 What is Classification?
Classification is the process of grouping like things. When classifying, you identify distinctive attributes and arrange a group of items into smaller groups based upon those attributes. The attributes are different based on the group of items you are using.
You can encourage classification skills by asking kids questions! What do they see? What is similar about the items? What is different? Encourage children to think of their own words to describe the different attributes.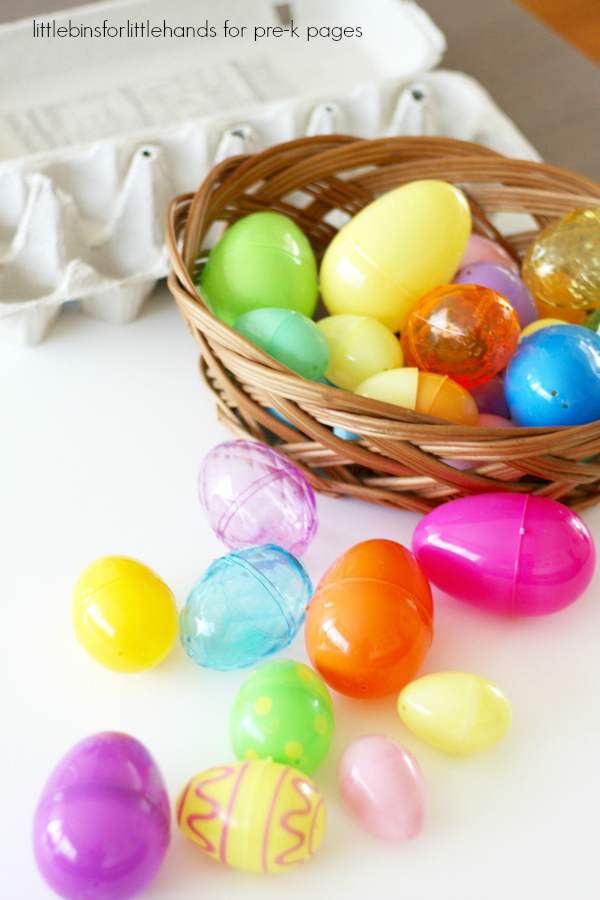 Plastic eggs are perfect for classification because they contain a few attributes that young kids should be able to recognize easily such as size, color, and patterns. It is also a great hands-on, problem-solving activity. Classification encourages kids to think about what they are looking at and come up with solutions they can test by actually moving the items themselves.
More Easter Activities
Easter Sensory Bin for Preschool– This Easter sensory bin activity is super quick and easy to set up at home or in your classroom.  Sometimes we tend to overthink sensory bins and what to put inside, but the truth is that the simpler the sensory bin, the more fun your kids will have playing and learning.
Easter Fine Motor Activities for Preschool-This Easter themed cutting skills tray will provide your kids with plenty of fine motor practice. These activities will help your kids build fine motor skills in fun and playful ways, so they won't even know they're learning.
Easter Playdough Activity for Preschool-This Easter playdough activity tray is super quick and easy to set-up at home or in your classroom. But don't be deceived by the simplicity of this activity, it actually supports the development of many crucial skills that will help your kids be successful in school – and life!
Easter Egg Process Art– This plastic Easter egg process art activity is inviting and enjoyable – all in one! Oh, and it's also messy. We did it outside to fully enjoy and embrace the experience.
BIO: Sarah is the creator of Little Bins for Little Hands where she shares simple science experiments, STEM activities, and tactile sensory play recipes. She is also the proud mom of a busy little boy. Check out their favorite science experiments and STEM projects all year long! You can connect with her on Facebook and Pinterest.
More Science Ideas