Do you do learn about fire safety in your preschool or pre-k classroom? While fire safety may seem like a heavy topic to teach, you can make it super fun for your kids. Your little learners will love playing and learning with this fire safety sensory bin. This bin is also the perfect addition to a community helpers theme, as well as fire prevention week!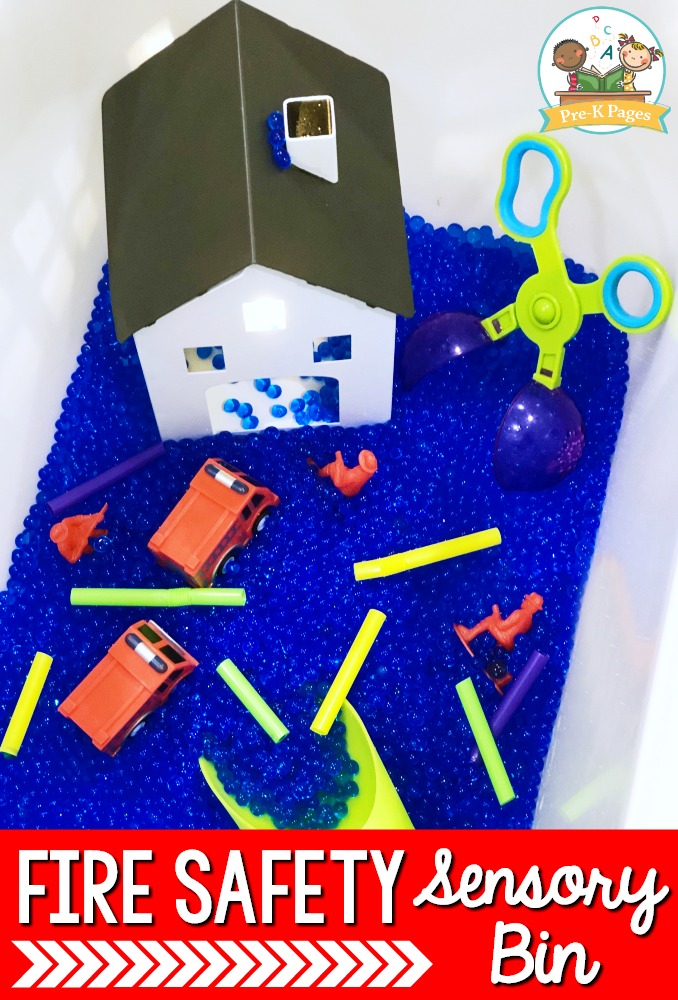 Fire Safety Sensory Bin
If you're on the fence about sensory bins, hear me out because the educational benefits far outweigh any mess. I like to call messes the cost of doing kid business.
Good early childhood teachers know that young children learn best when they are touching and exploring things with their hands.
That's why sensory bins are perfect for little learners! They allow young children to explore, play, and discover without any set expectations. All you have to do is invite them to explore the materials inside the tub however they would like (within reason.)
All of this exploring, playing, and discovering naturally leads to lots of pouring, scooping, and transferring. When they pour, scoop, and transfer your kids are actually being introduced to important academic skills like volume, weight, more and less etc.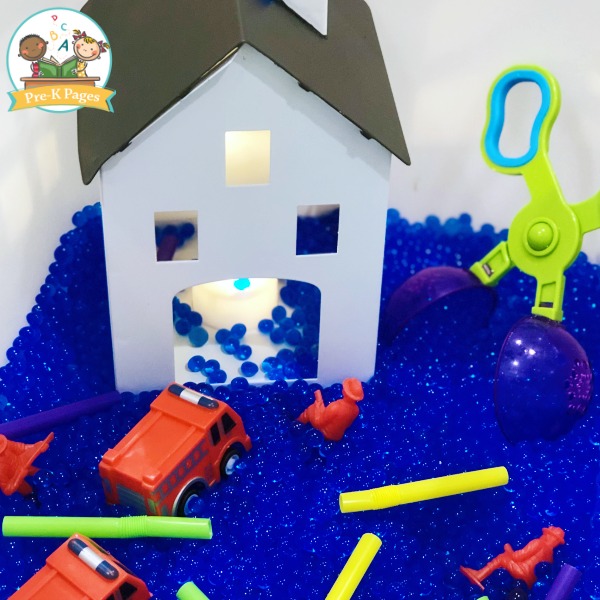 Fire Safety Sensory Play
And while we're on the topic of sensory bins, have I mentioned all of the fabulous opportunities for developing fine motor skills they provide?
The small muscles in the hands, fingers, and wrists are often referred to as fine motor skills. Your kids need to develop these skills before they can become successful with self-help skills like feeding and dressing themselves, as well as holding a pencil and writing.
Now that you know what an educational powerhouse sensory bins can be, I bet you can't wait to get started with this one! And don't forget, the educational benefits are far greater than any messes that may happen.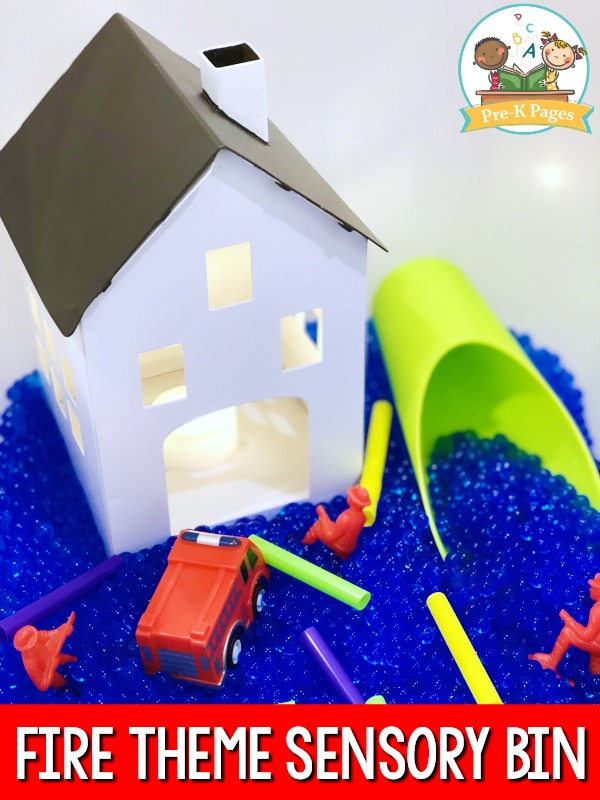 Sensory Bin Supplies
Start by gathering the materials for your sensory bin. Here are the things I used in my bin, but you can use whatever you prefer or have on-hand.
Fire Safety Book (The Little Fire Truck is my favorite)
Fire trucks
Straws
Mini house (I found mine in the dollar section of my local super center, but you can make one with a tissue box)
If you're not allowed to use water beads then you can use the sensory bin filler of your choice, or a filler approved by your program.
Yes, there is a tea light in the house, when turned on it makes it look like there's a fire in the house! The tea light in this house is embedded in the bottom, I used duct tape over the bottom to ensure it could not be removed. But you could just remove the tea light if you prefer.
The straws are to mimic fire hoses, they're the bigger straws designed for drinking milkshakes. However, the straws are not necessary and the water beads do get stuck inside – lesson learned! What my kids really loved about this sensory bin was scooping and pouring the "water" down the chimney of the house to put out the "fire."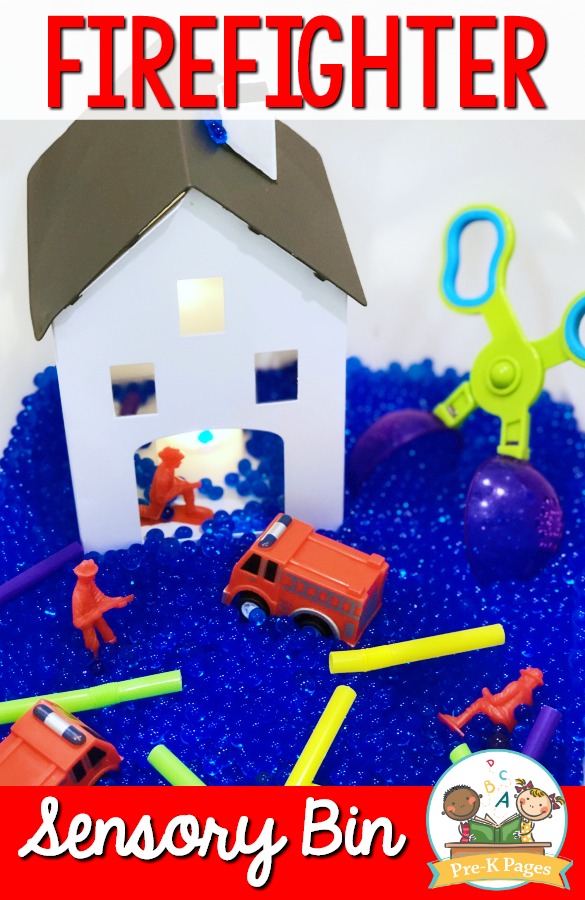 Introducing the Sensory Bin
Next, organize your fire safety theme supplies on a tray or in a bin before you introduce them to your children. This is where a a lot of teachers miss the mark, so be sure you don't skip this part!
Then, read your favorite fire safety book aloud during your whole group time. The Little Fire Truck is one of my favorite books to read during fire prevention week, the kids love it.
After you've read the book aloud to your students, you can introduce the tray of items to them.
Each child should have a turn to touch and feel the objects and ask any questions they may have, so pass the tray around the group.
Ask your students specific open-ended questions about the items on the tray such as, "What do you think you can use that for?"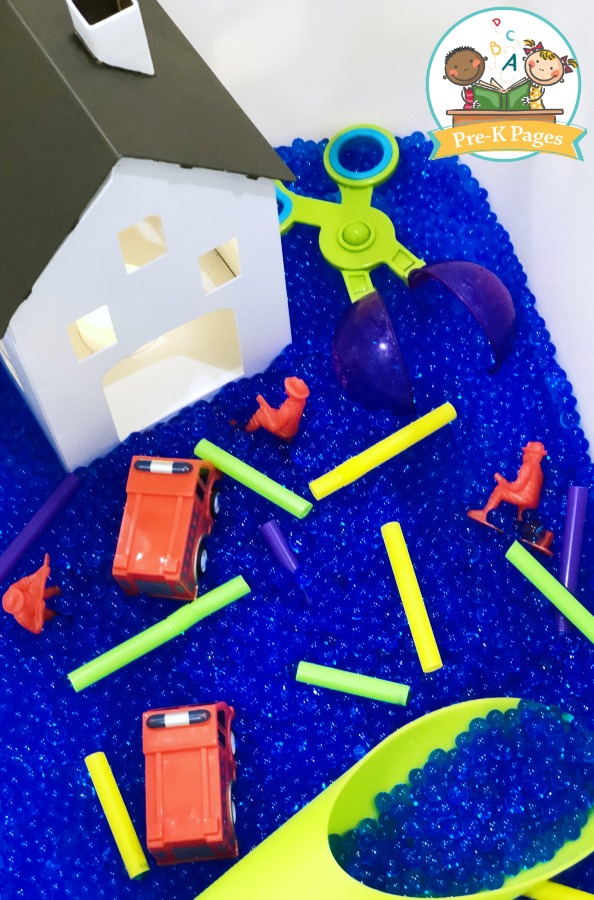 Exploring the Sensory Bin
Now it's time for the fun to begin! Show your kids how they can explore the materials in the bin however they would like. Hold up the firefighter figure and the fire truck and ask them what they might do with them.
When they scoop and pour the water beads they'll also be practicing those important fine motor skills we talked about earlier.
Don't get discouraged if your kids just want to play with the water beads, they'll still be getting lots of important fine motor and math practice by scooping, pouring, and transferring.
Open-ended sensory experiences like this allow your kids to learn through play while having fun!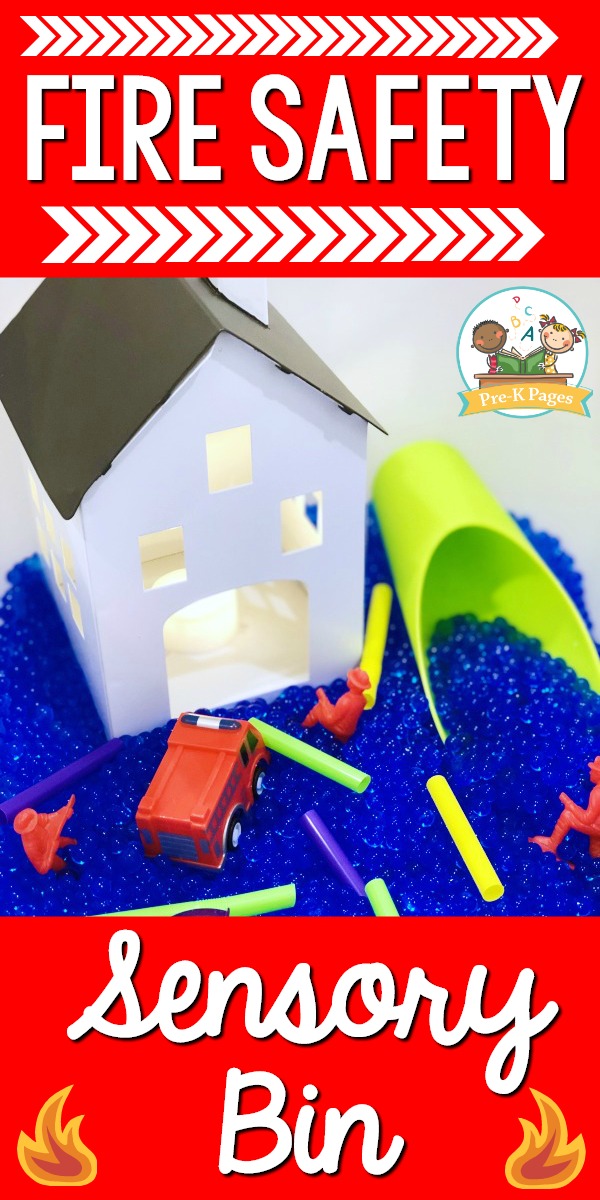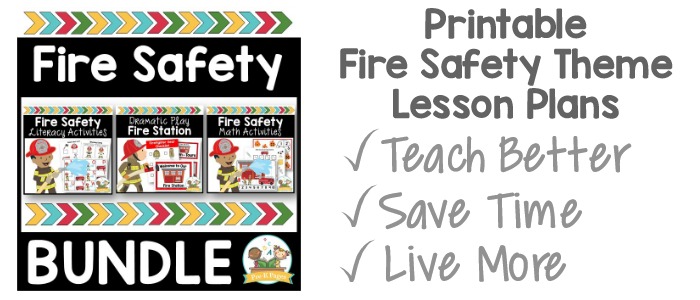 More Fire Safety Ideas