Are you looking for fun a play dough activity for your preschool or pre-k classroom? This firefighter play dough activity is the perfect addition to your fire safety unit or fire prevention theme. Your little learners will have a blast exploring and creating with this hands-on dough activity!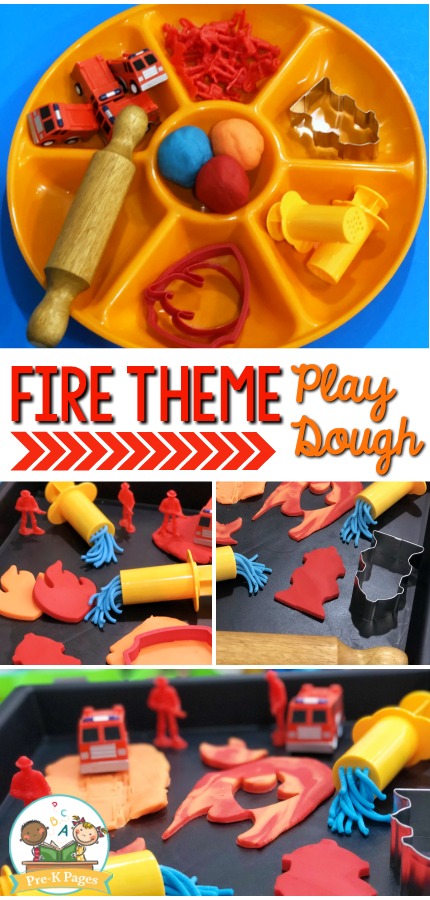 Firefighter Play Dough
While it may just look like messy fun, did you know that playing with play dough has many educational benefits? Play dough supports creativity and fine motor skills in a fun, hands-on way. The simple act of rolling dough and pressing cookie cutters and other items into soft dough has many educational benefits for young children.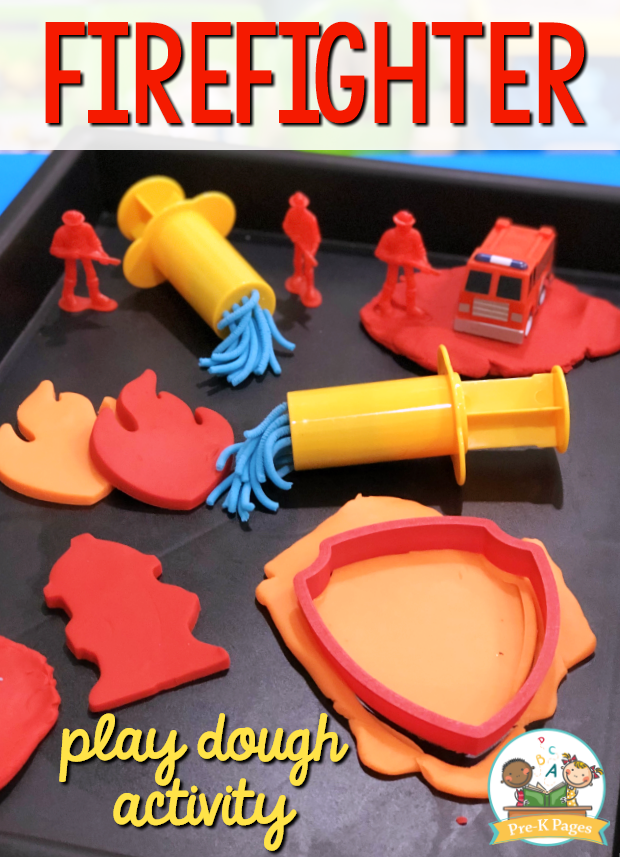 Fire Safety Play Dough Supplies
Here's a list of supplies and tools I used for this activity, but you can use whatever supplies you prefer.
These are just suggestions for setting up a fun and inviting firefighter play dough invitation in your own classroom. You can use whatever supplies you may already have on-hand to set-up your own tray.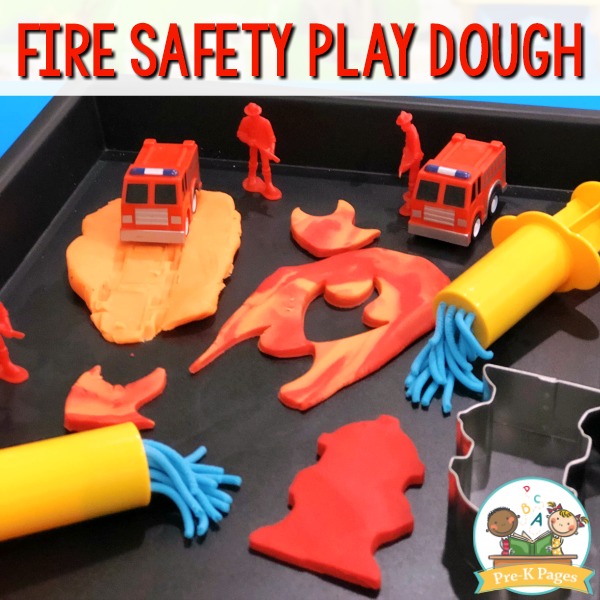 Setting Up a Firefighter Play Dough Tray
Start by setting up your firefighter play dough invitation on a tray. I used a chip and dip try from the dollar store, but you can use any tray you have available.
A play dough invitation is supposed to be an open-ended experience, there are no right or wrong ways to use the materials- within reason, of course! Start by inviting your little learners to explore the materials on the tray.
As your kids begin to build and create with the play dough and materials on the tray, their creativity and imaginations take over. Which means their attention spans are being slowly expanded – can I get an amen?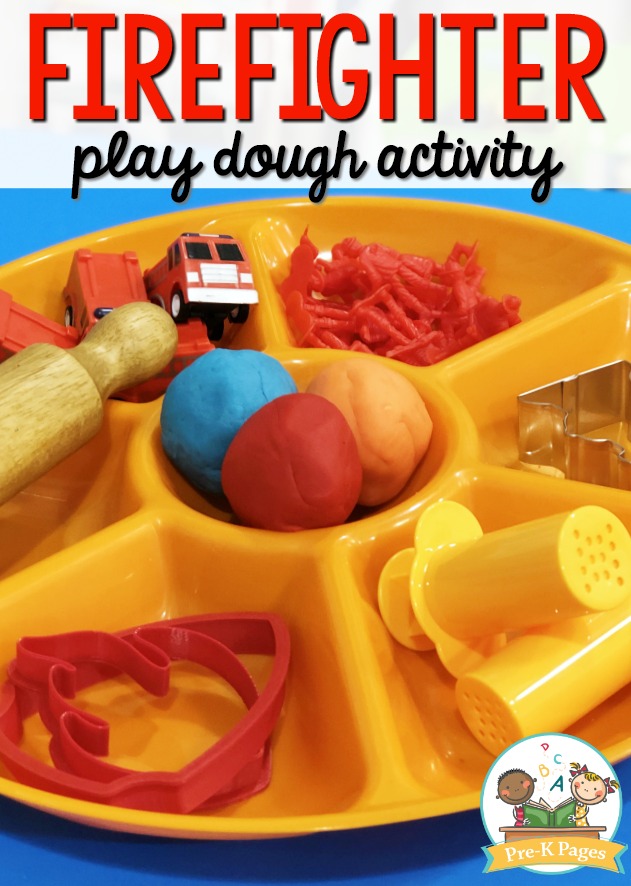 Fire Prevention Play Dough Activity
If your kids want to use some of the materials and not others, or if they want to use them all – no sweat!
This is an open-ended activity with no set expectations. If they don't want to use the trucks or the cookie cutters in the dough, no problem. It's all about the process of creating with the materials rather than making Pinterest perfect flames.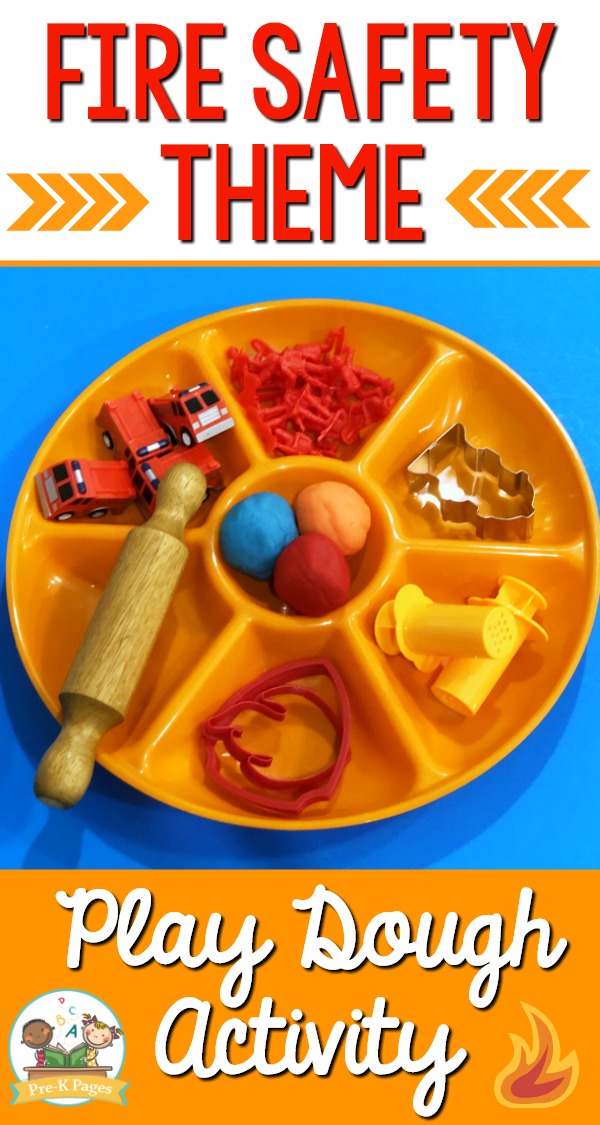 Benefits of Playing with Play Dough
Playing with play dough has many educational benefits for young children, I've listed some of those benefits for you below.
Creativity – Children use their imaginations to create rather than follow a template or sample. Imaginative children are more likely to become problem solvers later in life.
Communication – Children can chat with their friends and classmates in a relaxed environment which facilitates oral language development. Oral language development is directly related to reading scores later.
Small Group or Independent Work – Perfect for children to do independently or in a small group.
Fine Motor Skills – Rolling the dough and using the extruders is great for strengthening those important fine motor skills, which are needed for writing later.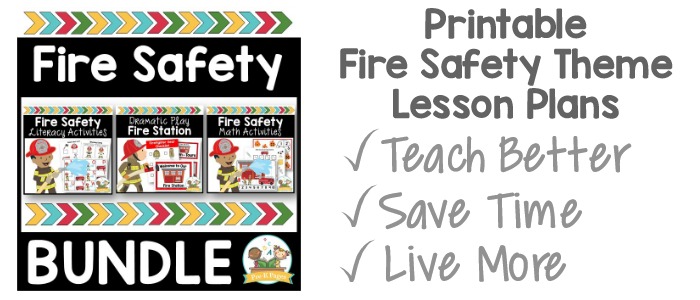 More Fire Safety Ideas