Are you looking for a way to help your students recognize their names in print and write for a purpose? Look no further because sign in sheets are just the thing you need!
Your kids will love signing in as part of their morning routine in your classroom! Keep reading to grab your editable sign in template freebie below!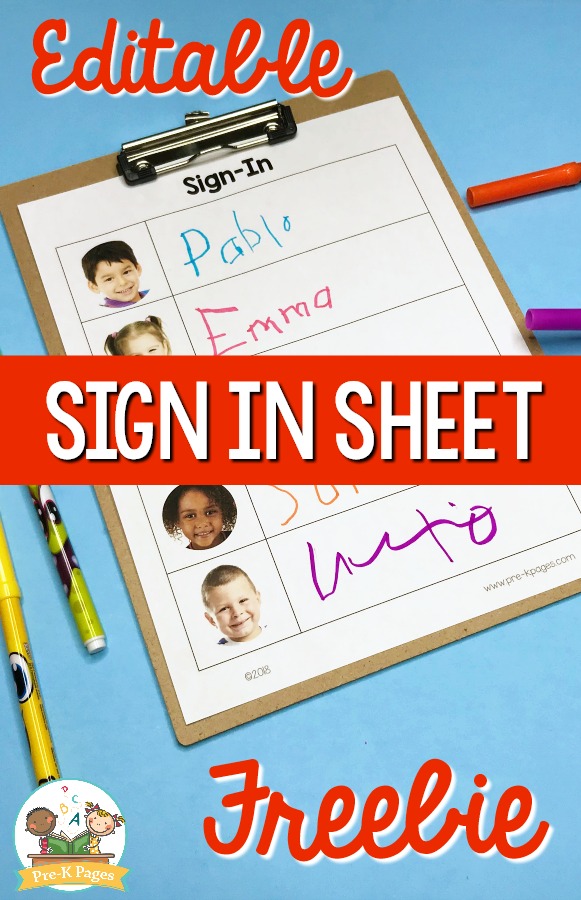 Preschool Sign In Template
In the beginning of the year, adding your student's pictures to your sign in sheets really helps them understand that print has meaning. The pictures also help them grasp the concept that the little squiggly lines next to their picture represent the letters in their names. This is a huge part of the emergent literacy process!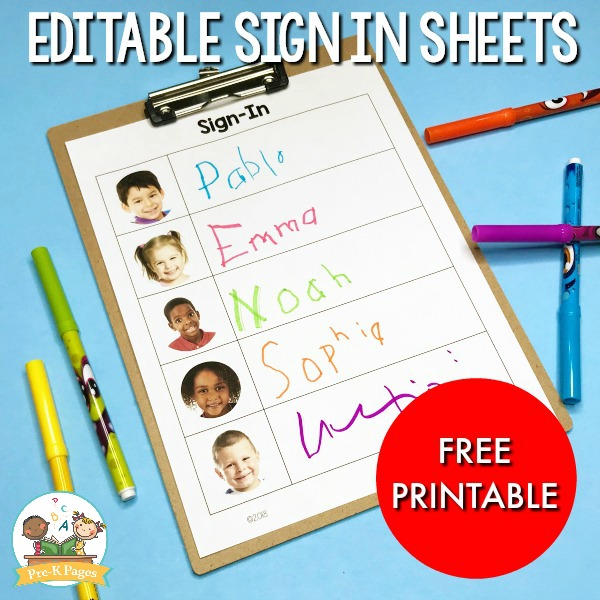 The editable PowerPoint template allows you to quickly and easily pop your student's pictures in and get started establishing a rock-solid morning routine!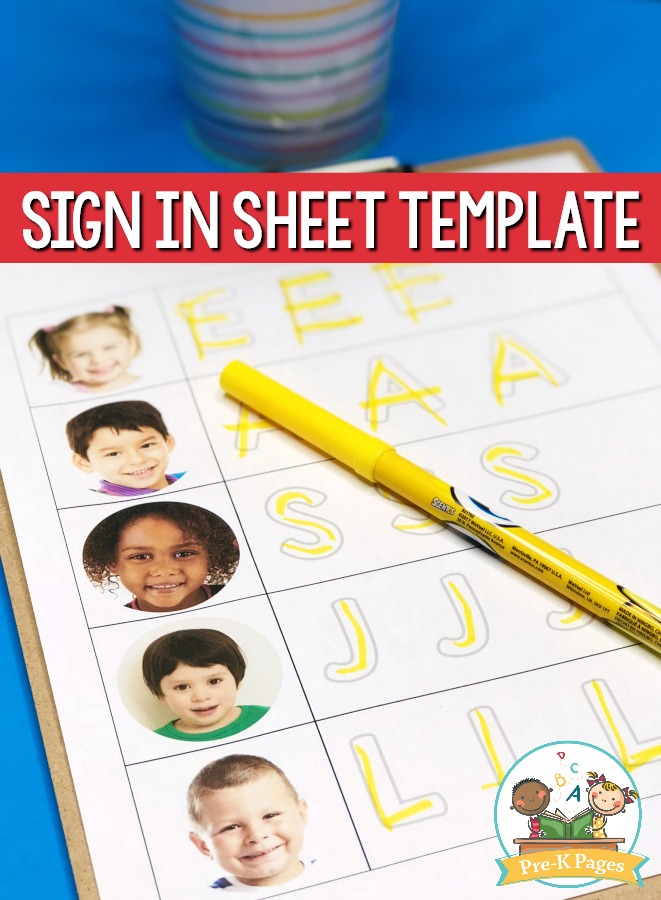 Sign In Sheet Template
Another great feature of this freebie is that you can add your own text in PowerPoint to meet the individual needs of your students.
In the beginning of the year, if you would prefer to focus on just the first letter of each child's name, you can do that too!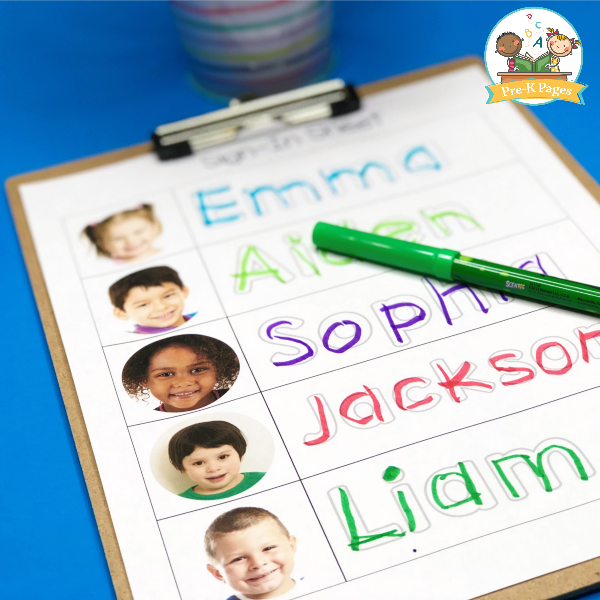 You can start by using a solid gray font, then move to a bubble font, a dotted font, and eventually to blank lines. Just change out the fonts as your kids start to develop their fine motor skills.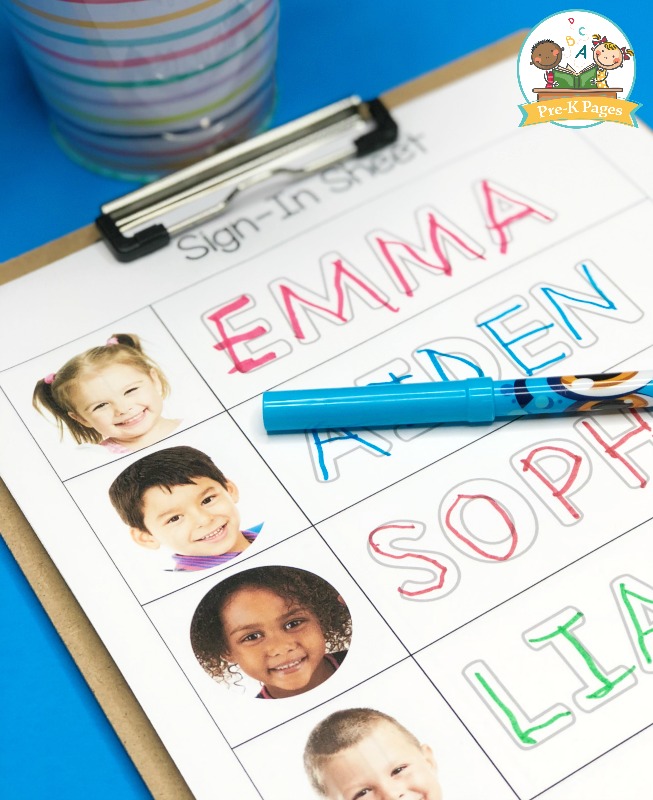 Oh, and if your program encourages the use of all capital letters, then you can totally do that too! You're the boss of this sign-in sheet!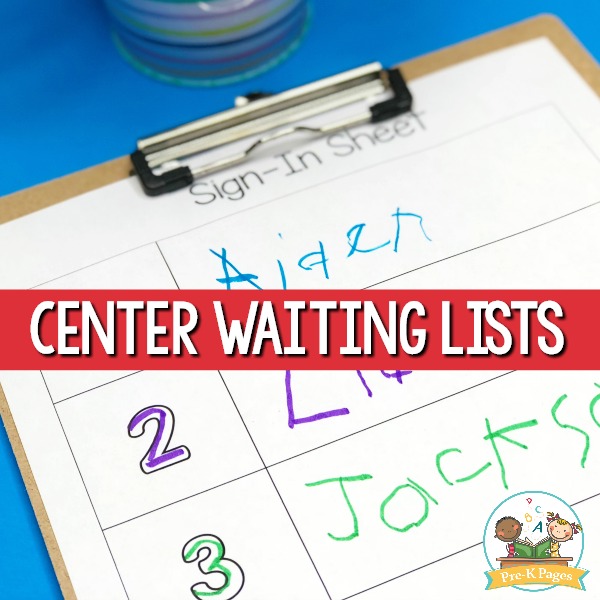 Center Waiting Lists
Do you have kids who fight over certain centers or toys? Just delete the pictures from your template and add numbers, then put one of the sheets on a clipboard with a pencil. Now you have even more authentic writing opportunities in your classroom- you're welcome!
Invite your kids to "sign-up" for a turn with a toy or in a center by writing their name on the sheet.
You can hang the clipboards on a sticky hook in the center for easy access, and they can also serve as a visual reminder of who's next.

Having a template like this is great, but what if it could be even easier? That's where my Daily Sign In Sheet packet comes in. This packet includes so many cool features to make your teacher life easier. It will save you oodles of time – it's like a teacher dream come true!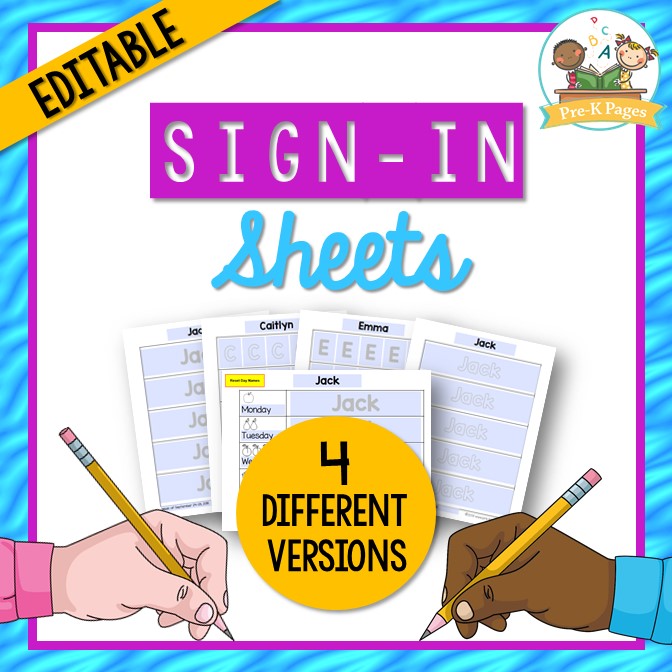 In this super time-saver sign in packet all fonts are embedded for you. No downloading and installing any special fonts – who has time for that?
Just type in your class list ONCE and your student's names will automatically fill in on all of the other pages throughout the document –just print and go!
One click of a button adds seasonal borders to your sign-in sheets, there are 14 different border styles to choose from!
Add the date once on the main page and it will instantly appear on all pages within the document with one click of a button! Keeping track of student progress has never been so easy.
There's even a version that is individual to each child and includes days of the week with picture cues. Get the Daily Sign In Packet HERE
More Teaching Tips