Certain smells, such as the classic scent of gingerbread, remind us of the holidays. We love this smell and decided to add it into our holiday sensory activity! Today, I'm sharing our recipe for Gingerbread Cloud Dough.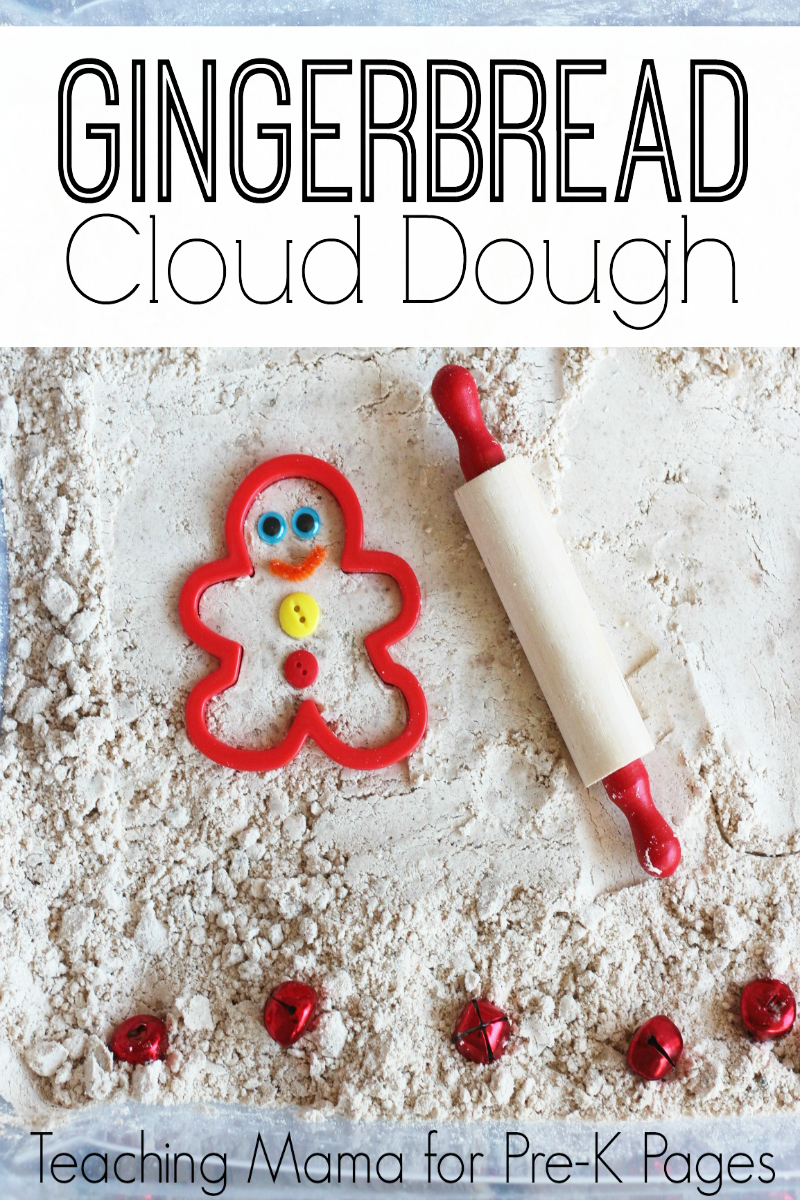 Gingerbread Sensory Play
From birth, babies learn about the world using their 5 senses: seeing, smelling, hearing, feeling and tasting. As they grow, children's senses are their most familiar and most basic way to explore and process new information. Sensory play enhances learning through hands-on activities that stimulate the child's senses.
This cloud dough is a great way for children to do to this! They will use their sense of touch to explore with the soft, moldable cloud dough while also using their sense of smell with the lovely aroma of gingerbread!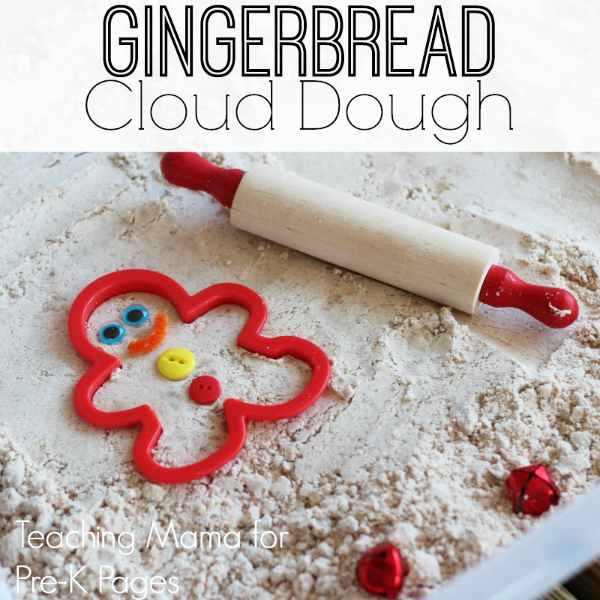 What Is Cloud Dough?
Sometimes it's called moon sand, but this cloud dough for toddlers is a homemade mixture that your preschoolers can use for sensory play.
The dough is moldable, and floury in texture and feels like damp sand.
Gingerbread Cloud Dough Preparation
Here's what you need for the recipe:
8 cups of flour
1 cup of baby oil (or vegetable oil)
3 tablespoons of ground cinnamon
1 tablespoon of ground ginger
large container
1 tablespoon of ground cloves
1 tablespoon of ground nutmeg
loose parts for play (googly eyes, buttons, jewels, jingle bells, chenille craft stems)
Start by mixing 8 cups of flour with the cinnamon, ginger, and cloves. Then, pour in one cup of baby oil and mix together with your hands until the dough starts sticking together. If it's crumbly, add some more oil until it starts to become moldable. You can also add in more spices if you want the scent to be stronger.
After the dough is made, set out gingerbread cookie cutters and loose parts. Invite the children to explore the cloud dough.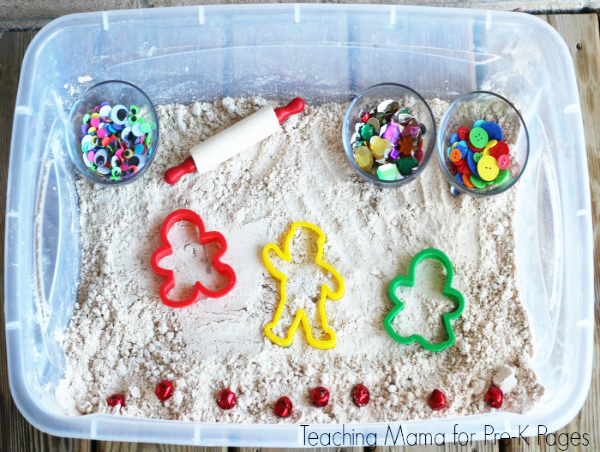 Cloud Dough Exploration
The kids will love playing with the soft cloud dough.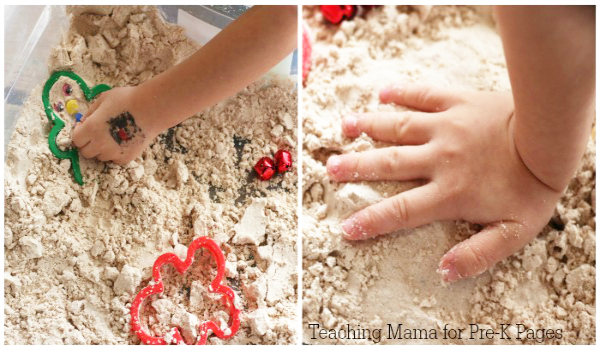 As an activity, invite the children decorate gingerbread men. We used googly eyes, buttons, jewels, and pieces of chenille craft stems to decorate ours.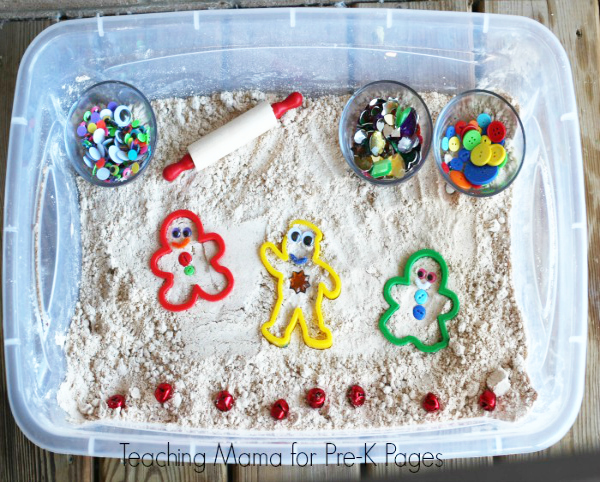 It's always a good idea to let the children explore and use their creativity when playing with the dough.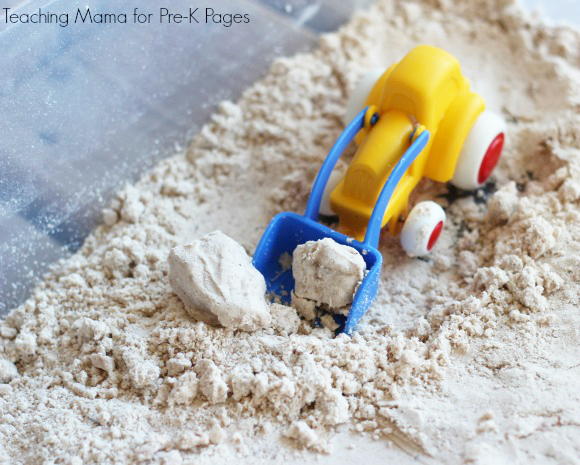 I hope you and your kids enjoy this activity as much as my children did!
BIO: Angela is the writer and creator at Teaching Mama, where she shares hands-on learning activities for babies, toddlers, and preschoolers. She is a former teacher, turned stay-at-home-mom to 3 wonderful boys. She is also the author of The Preschool Journey, a resource for preparing your child for Kindergarten. You can connect with her on Facebook, Pinterest, or Instagram.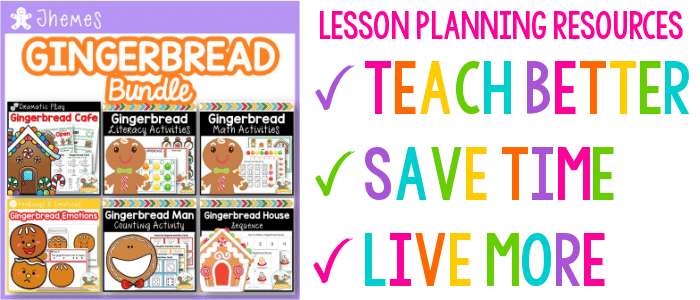 More Gingerbread ideas