Have you ever made milk carton gingerbread house with your kids? Your little learners will love using candy, icing, and graham crackers to build their very own gingerbread houses!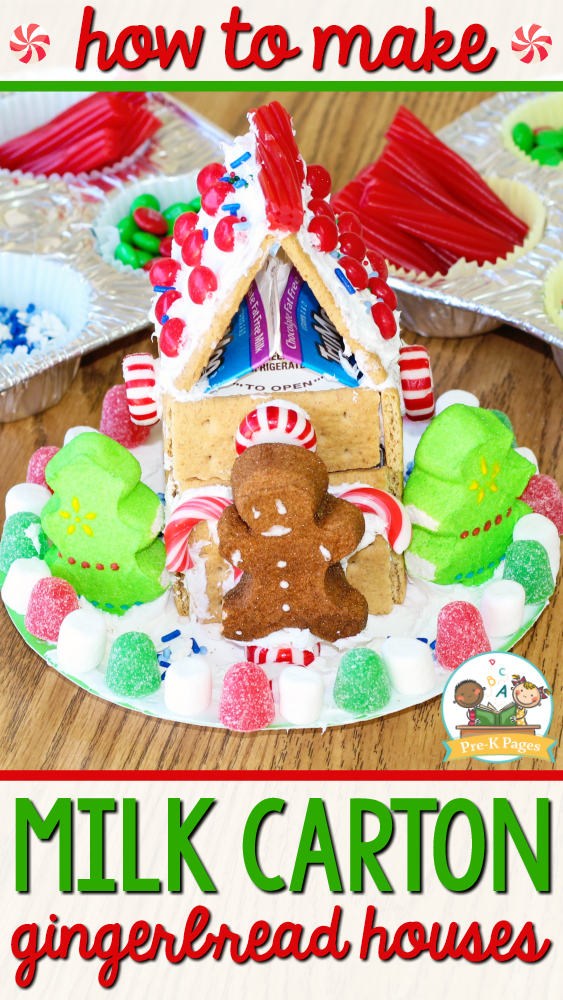 Milk carton gingerbread houses are super fun for the kids to make, but they can be a little tricky to prepare. Here are some of my best tips for making milk carton gingerbread houses with your preschool or kindergarten children at home or in the classroom.
I've also included a picture sequence freebie to help your little learners assemble their houses, keep reading to grab your copy!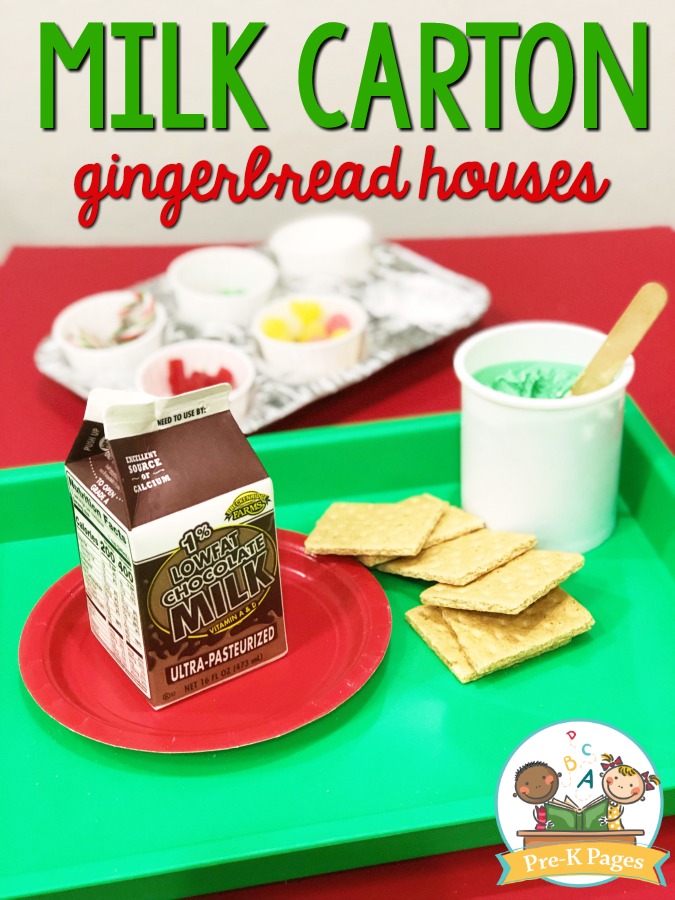 Making Milk Carton Gingerbread Houses
The week after Thanksgiving is always difficult to plan for, the kids are re-adjusting to the school routine and the holiday frenzy is in full swing, what's a teacher to do?
A gingerbread theme is perfect for this time of year. Gingerbread men are fun for everyone! We read a different version of the classic story The Gingerbread Man each day, and then on Friday we read Gingerbread Baby by Jan Brett. You can almost feel the excitement in the air during this activity!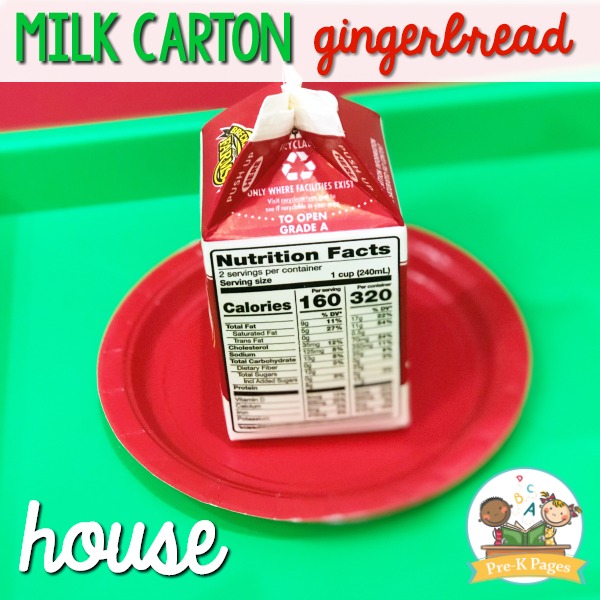 Tips On Collecting Milk Cartons
Start by collecting milk cartons from your school cafeteria. You'll want to do this far enough in advance so you'll have enough milk cartons before the big day.
If you're worried about germs, you can write each child's name on the bottom of their milk carton with a permanent marker so they won't become mixed up.
The next step is super important, you must wash the inside of the milk cartons thoroughly and let them dry overnight or longer. Don't forget this step, if you do, your classroom will smell like sour milk – consider yourself warned!
Optional: You can also then staple the opening to the milk carton shut before decorating them.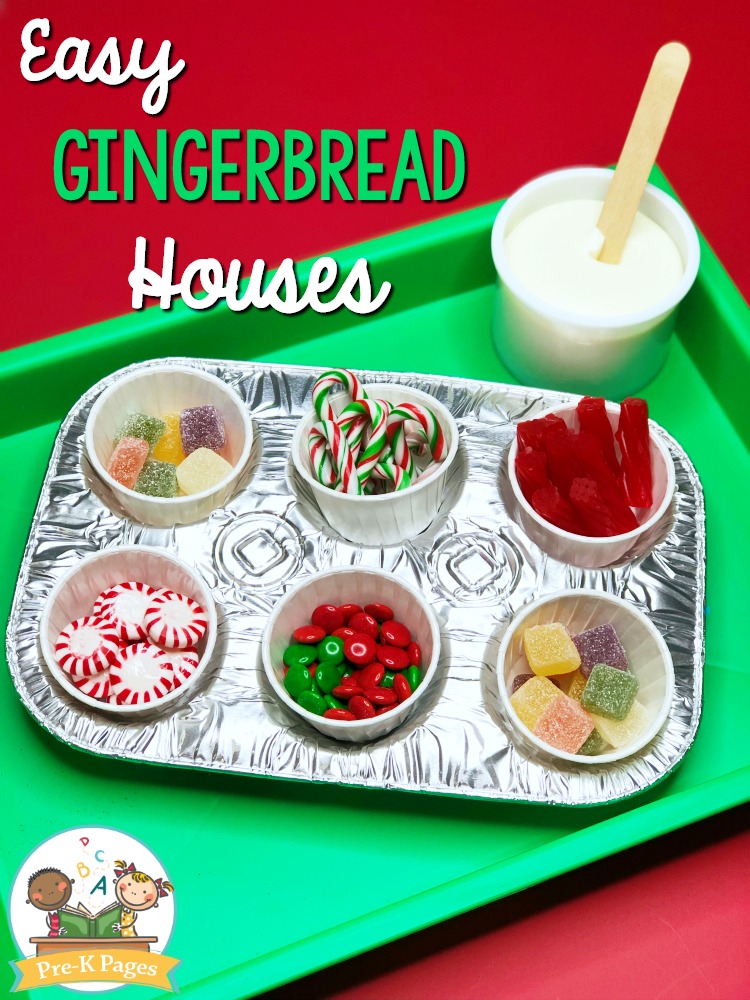 Milk Carton Gingerbread House Supplies
If you're allowed, you can ask families to send in the ingredients to build the gingerbread houses. I like to shop for the ingredients myself at the dollar store so I can get the supplies I know will work and avoid those that won't work. Since we won't be eating our gingerbread houses, the quality of the ingredients isn't as important.
Graham Crackers
Candy (use whatever types of candy you prefer- candy canes, gum drops, chocolate candies)
Frosting
Craft Sticks
Small Paper Plates
Milk Cartons
Gingerbread Marshmallows OR Gingerbread Peeps
Optional: Tree Peeps
Muffin Tins
If you have any students who have food allergies you'll want to check your ingredient list carefully to ensure that everything you purchase is safe. If you're not sure, ask the child's parents to suggest which candies and supplies to buy.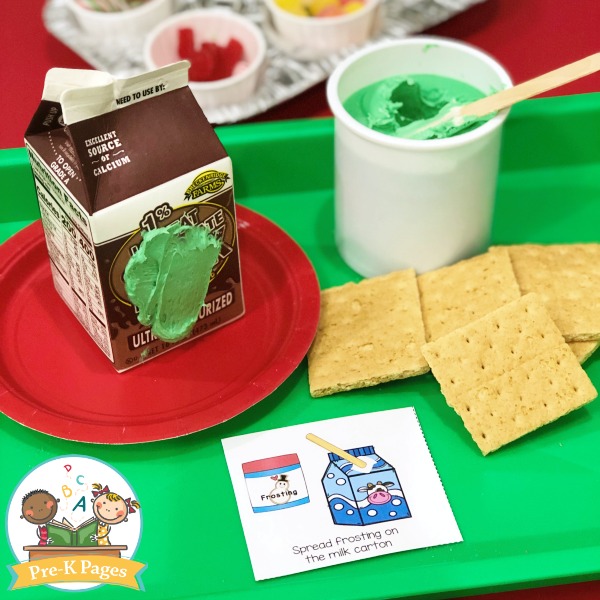 How to Make a Milk Carton Gingerbread House
After your milk cartons are cleaned and dry, attach the graham crackers to the milk carton with frosting.
You can see one of the printable picture direction cards above. Your kids can use these as prompts to help them assemble their gingerbread houses.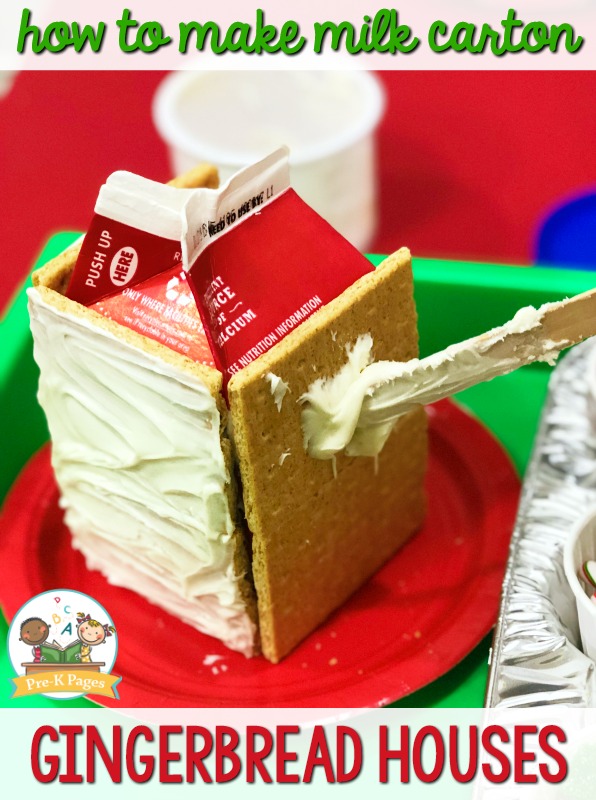 When your graham cracker walls are up, then secure the house to the paper plate with frosting. Some people prefer to do this with hot glue, you decide which way works best for you.
I highly recommend having a parent volunteer assemble the houses for preschoolers, it's a tough and tedious job and little ones become easily frustrated when their graham crackers break.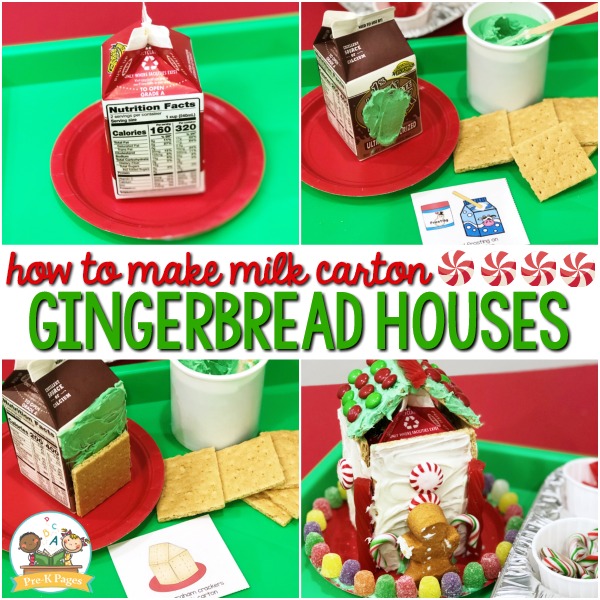 How Long Does A Milk Carton Gingerbread House Last For?
Also, just so you know, these gingerbread houses are not made to withstand the tests of time.
They're super fun to make, and cute to look at, but don't expect them to still be standing when Christmas rolls around next year.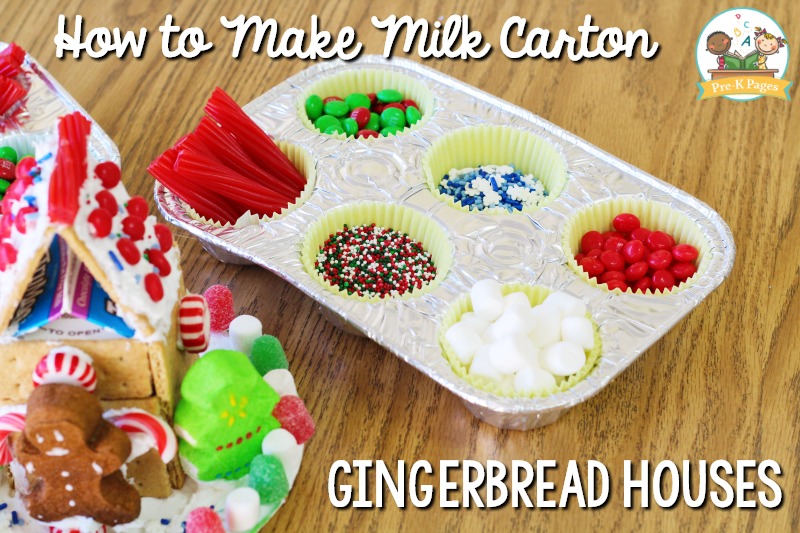 Tips On Making A Milk Carton Gingerbread House
After the houses are assembled, place your candy in muffin tins so students will have access to everything they need. Cups and bowls spill easily, but the muffin tins will keep everything contained.
Next, invite your little learners to use craft sticks to spread frosting on the outside of their houses and add candy.
The more frosting the better! I believe in using lots of frosting to make everything stick together!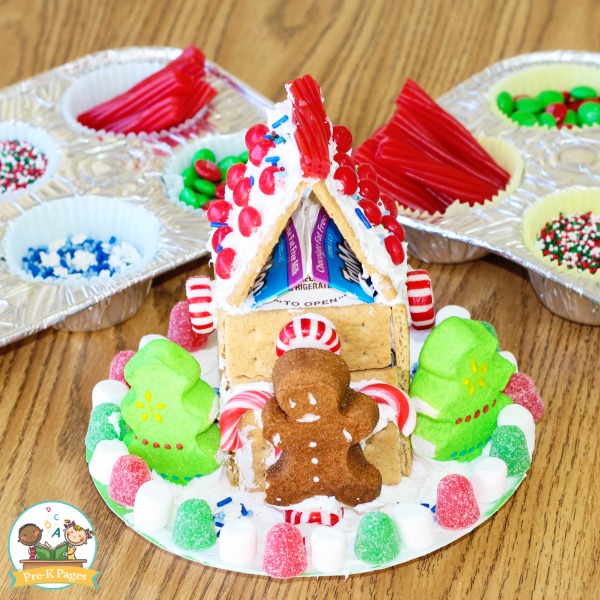 What Type Of Candy Should I Use On A Gingerbread House?
You can add a little marshmallow gingerbread man (or Peep) in front of the house to transform this into a Gingerbread Baby house. Just put a dab of icing on his feet and backside to make him stand upright against the house. Can you hear the squeals of delight already?
Here's a list of the candy I used, but the possibilities are really endless:
Gumdrops
Red and Green M&Ms
Licorice
Gingerbread Peeps
Christmas Tree Peeps
Sprinkles
Marshmallows
Mini Candy Canes
Peppermints
If you can find them and you're allowed to use them, you can also add some marshmallow Christmas trees to complete the festive look!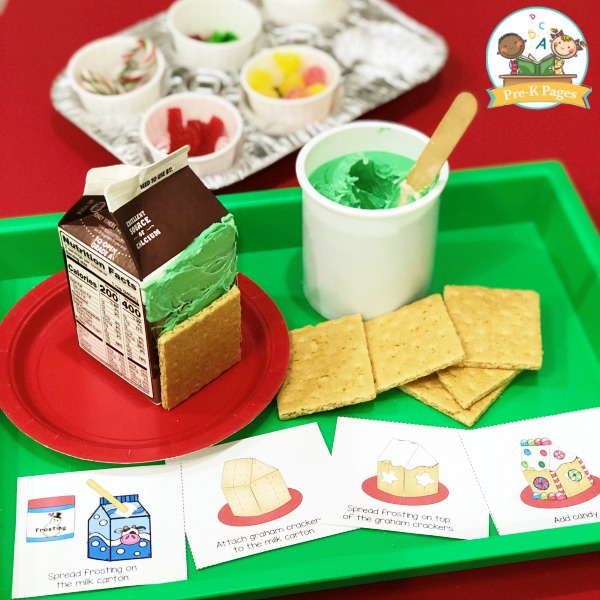 Printable Gingerbread House Recipe
You can download the free printable gingerbread house sequence cards below.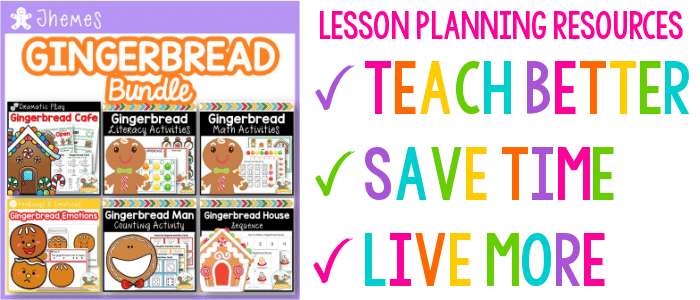 More Gingerbread ideas