The week after Thanksgiving always poses a problem, the kids are re-adjusting to the school routine and the holiday frenzy is in full swing, what's a teacher to do?
A gingerbread theme is great fun for everyone! We read a different version of the classic story The Gingerbread Man each day and on Friday we read Gingerbread Baby by Jan Brett.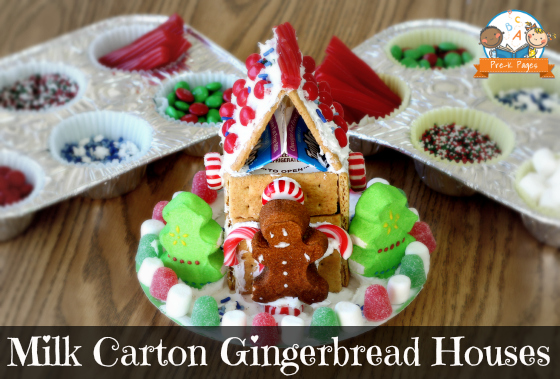 Making Gingerbread Houses
Everybody makes gingerbread houses, but have you ever made a Gingerbread Baby house? I've included the "kid-friendly" Gingerbread Baby house directions for you below as well as a printable picture recipe for your students; keep reading to grab your copy!

Start by collecting milk cartons from the school cafeteria. Rinse the cartons and let them dry.
Ingredients for Gingerbread House
Graham crackers (I could only find the cinnamon graham crackers but plain are fine)
Candy (use whatever types of candy you prefer)
Frosting
Craft sticks
Mini paper plates
Milk cartons
Gingerbread marshmallows OR Gingerbread Peeps
Muffin tin
How to Make a Gingerbread House
Attach the graham crackers to the milk carton with frosting in advance and then secure the house to the paper plate with frosting. I highly recommend having a parent volunteer do this part, it's a tough job and little ones become frustrated with graham crackers that are easily broken. Also, just so you know, these gingerbread houses are not made to withstand the tests of time.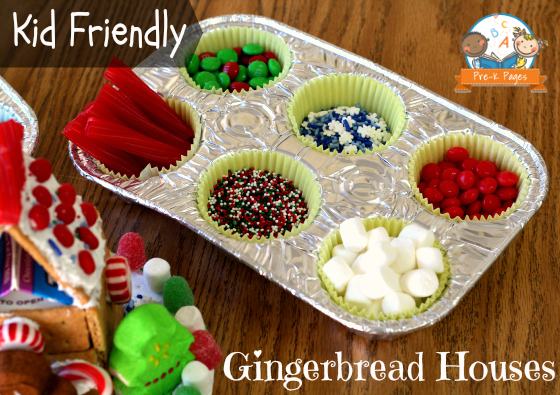 Gingerbread House Tips
After the houses are assembled, place the candy in muffin tins so students will have access to everything they need.
Next, the children can use the craft sticks to spread frosting on the outside of their houses and add candy. As you can see by the picture at the top, I believe in lots of frosting to make everything stick together!
So what makes this a Gingerbread Baby house instead of a plain old gingerbread house? Students add a little marshmallow gingerbread man (or Peep) in front of the house! Just put a dab of icing on his feet and backside to make him stand upright against the house. Can you hear the squeals of delight already?
Printable Gingerbread Baby House Recipe

Click on the picture above to download the printable recipe.
More Gingerbread ideas