Writing involves more than just putting pencil to paper. Preschool development that leads to writing includes building hand muscles, recognizing differences in lines and shapes, copying and independently creating shapes, understanding what letters/words represent, coordinating eyes with hand movements, and mastering moving the hand across the body from left to right. And that's just the beginning! In the preschool years, teachers are guiding children to develop their pre-writing skills.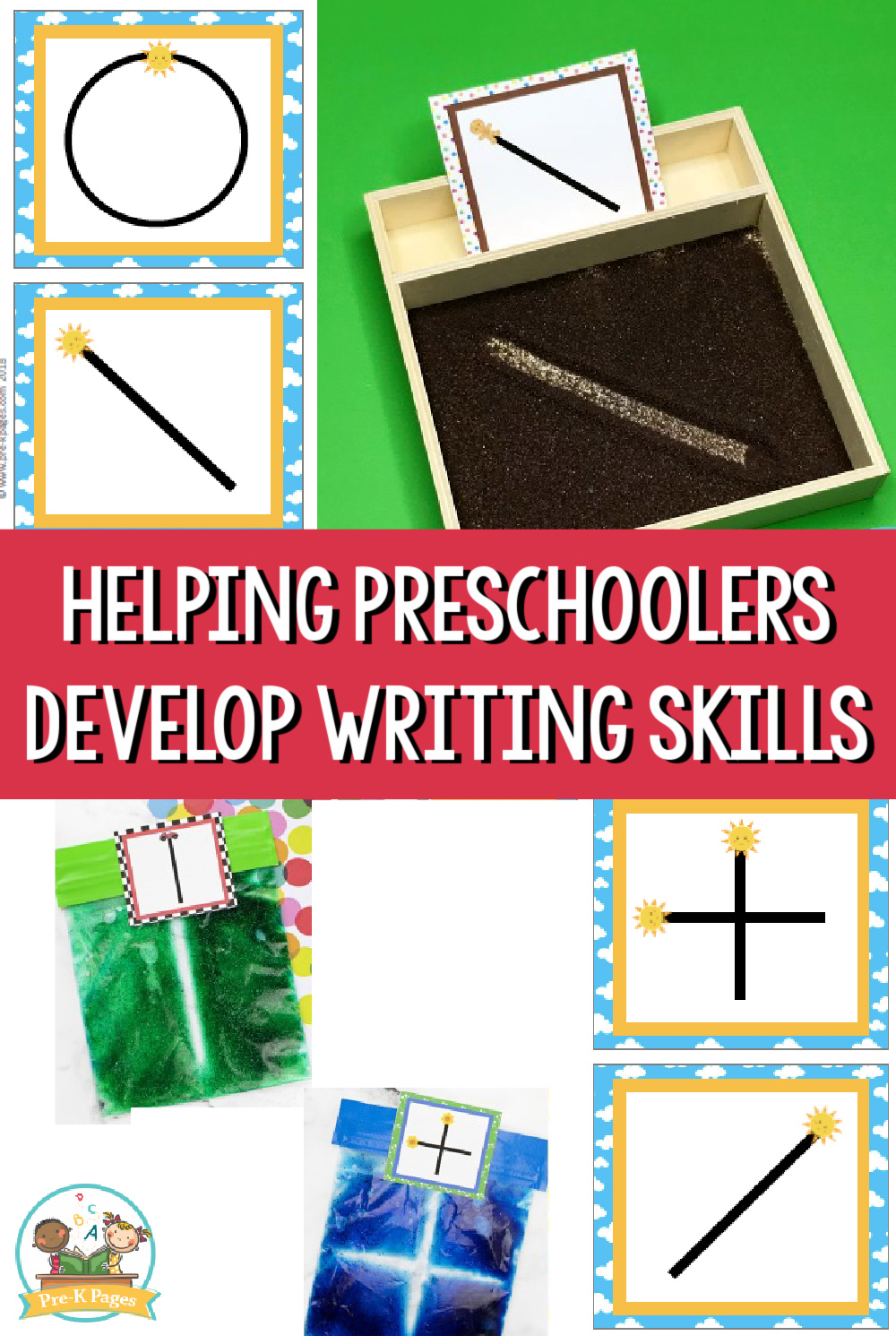 Pre-Writing Skills
When we think about pre-writing skills, we are emphasizing those fundamental skills preschoolers must develop in order to write letters, their names, and other words independently. These skills include the ability to hold and use a pencil, to draw, write, copy, and color. Many pre-k classrooms include a writing center to provide materials for children to practice and develop these very skills. Development of pre-writing skills also includes the ability to make certain pencil strokes. Strokes are necessary to write most letters and numbers and also create drawings. Underdevelopment of these pre-writing strokes can have long-term impact on writing ability, legibility, and stamina.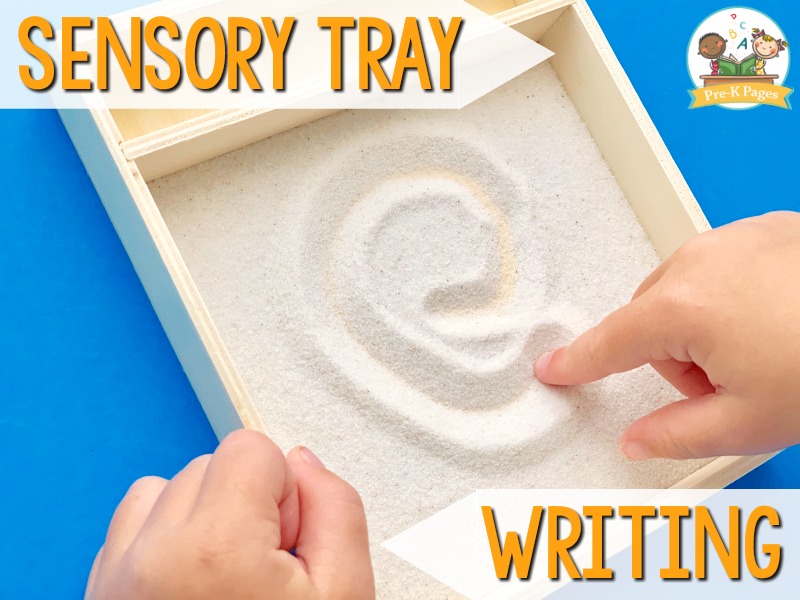 Children typically master pre-writing strokes in a developmental sequence by age. Each child is an individual and develops at a unique pace. Some children will be able to master different strokes at earlier ages while others may "lag" behind the norm in their stroke development. This does not mean that a child has a development issue; he may just be a late bloomer in this area. The best way to develop these skills in a classroom is through independent practice. Children using sand trays or gel bags and practice at their own levels and, while watching others, push those boundaries as they are ready.
Developmental Sequence of Pre-Writing Skills
Vertical Line – 2-year-olds may imitate a teacher's drawing of this line; 3-year-olds (and older) may be able to see a drawn line and copy it without prompting. This line is usually mastered by 3-year-olds.
Horizontal Line – Older 2s (mid-year 2s) may imitate this line; 3s can copy and master it.
Circle Shape – Older 2s imitate; 3s can copy and master it.
Cross Shape – Older 3s may imitate; 4s can copy the shape.
square Shape – 4-year-olds can imitate and copy this shape.
Left/Right Diagonal Lines – Older 4s (mid-year) may imitate and copy this shape.
X Shape – 5-year-olds can imitate and copy this shape.
Triangle – 5-year-olds can imitate and copy this shape.
As you can see with these shapes, children's abilities to form letters will definitely be impacted by their age and level of development. Also keep in mind that context is very important in learning for preschoolers. A child will be more motivated to master the shapes of letters in his name more than other letters. But even if younger children master the diagonal lines to form letters in their names (for example), if they are not developmentally ready, that mastery is less likely to transfer to forming other letters or shapes, even if those use the same diagonal lines.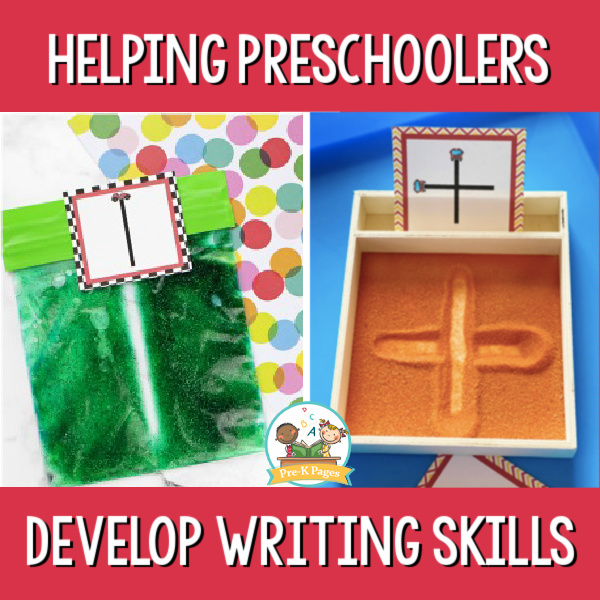 Hands-on Practice for Preschoolers
The best way to support stroke development and writing development is providing practice. That practice should be fun, playful, and led by the children. Offer sand/salt trays for children to draw using their fingers. Lay pre-writing stroke cards near the tray. Choose ones that support children's age levels and development. Sit near the child with your own tray of sand. Draw randomly in your sand. Make various strokes – vertical, horizontal, diagonal. Talk with the child about what he is doing. Mention what you are doing if the child asks or shows interest. Place one of the cards by your tray and copy it. The child may imitate you or not, but you are giving a visual example of how to use the cards. (This activity also works well with gel bags.)
Encourage the child to use a finger to write in the sand. Using the finger connects the strokes and movements in the brain, associating physical and mental development. As pre-kindergartners get older, you could incorporate using a watercolor brush or eraser end of a pencil to form strokes. Introducing a tool provides a different kind of development (manipulating objects, coordinating movements, developing hand muscles). Without the tool, you can focus development on the strokes.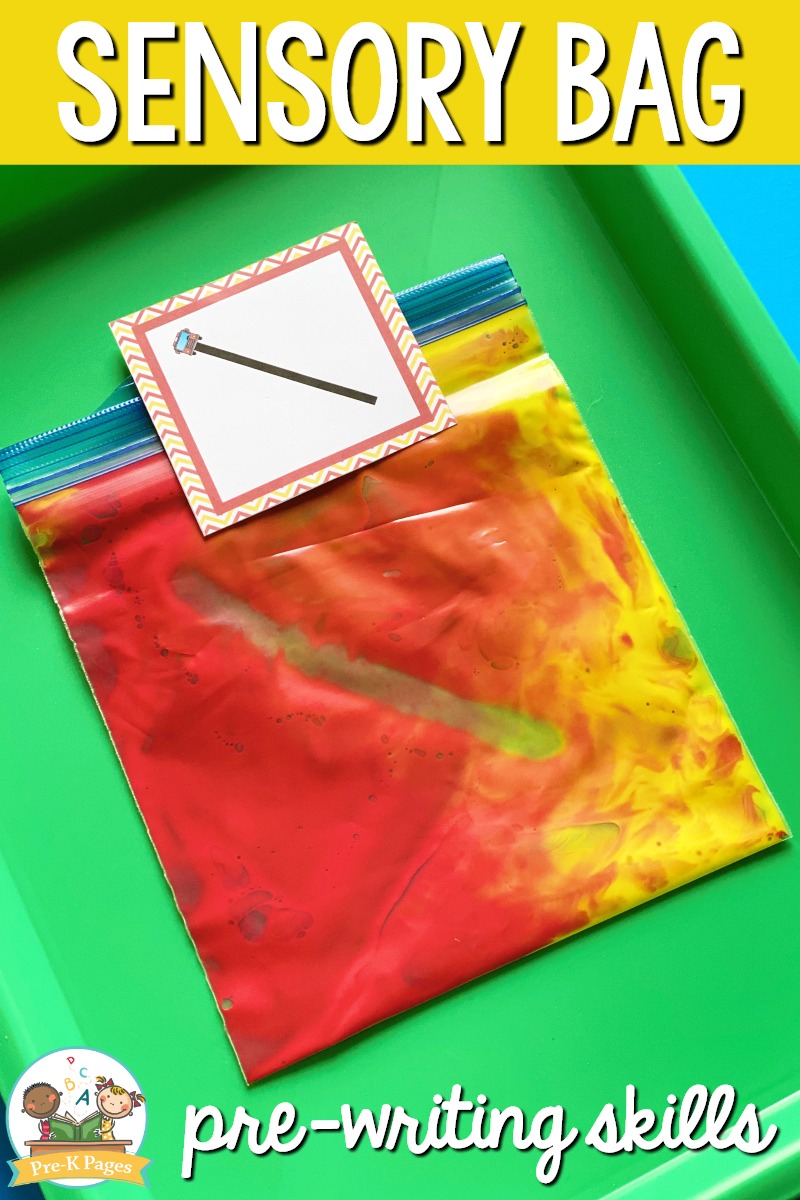 Don't have a sand tray or gel bags? Practice making strokes with a finger on the carpet, tabletop, textured paper, or anywhere. The results of making strokes will not be visible, but the practice is still effective for development.
Writing development is more than putting the correct marks on paper in a certain way. Lots of other learning builds pre-writing skills. Look for ways to encourage your children to manipulate small toys, squeeze play dough, hold books and turn pages, cut with scissors, scoop and pour sand, and finger paint. Then, in the future, when children are ready to pick up pencils and write, they will be totally prepared!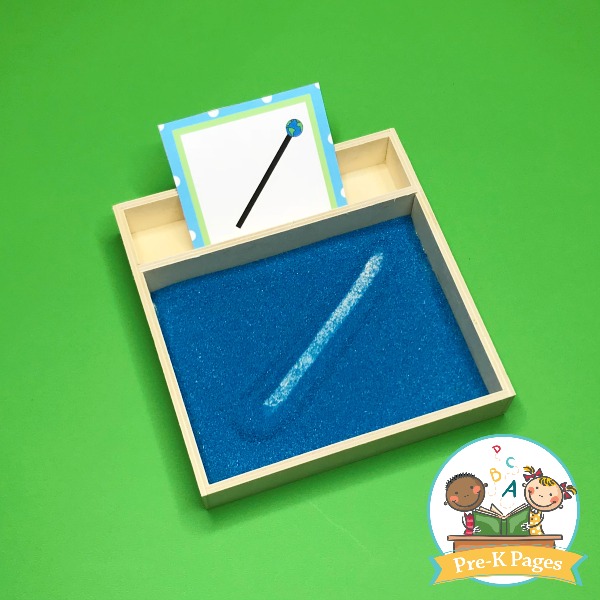 Check out these posts for more ideas in pre-writing development:
Sensory Tray Writing Center
Pre-Writing with Gel Sensory Bags
Setting Up a Writing Center
Moon Salt Writing Tray
Tools for Your Writing Center
And I have a whole set of pre-writing cards for every theme of the year!
A Year of Pre-Writing Cards