It's important for preschoolers to have practice forming letters before they learn to write with a pencil and paper. One way to do this is with a sensory writing tray. These trays are very easy to put together and are a great addition to a writing center.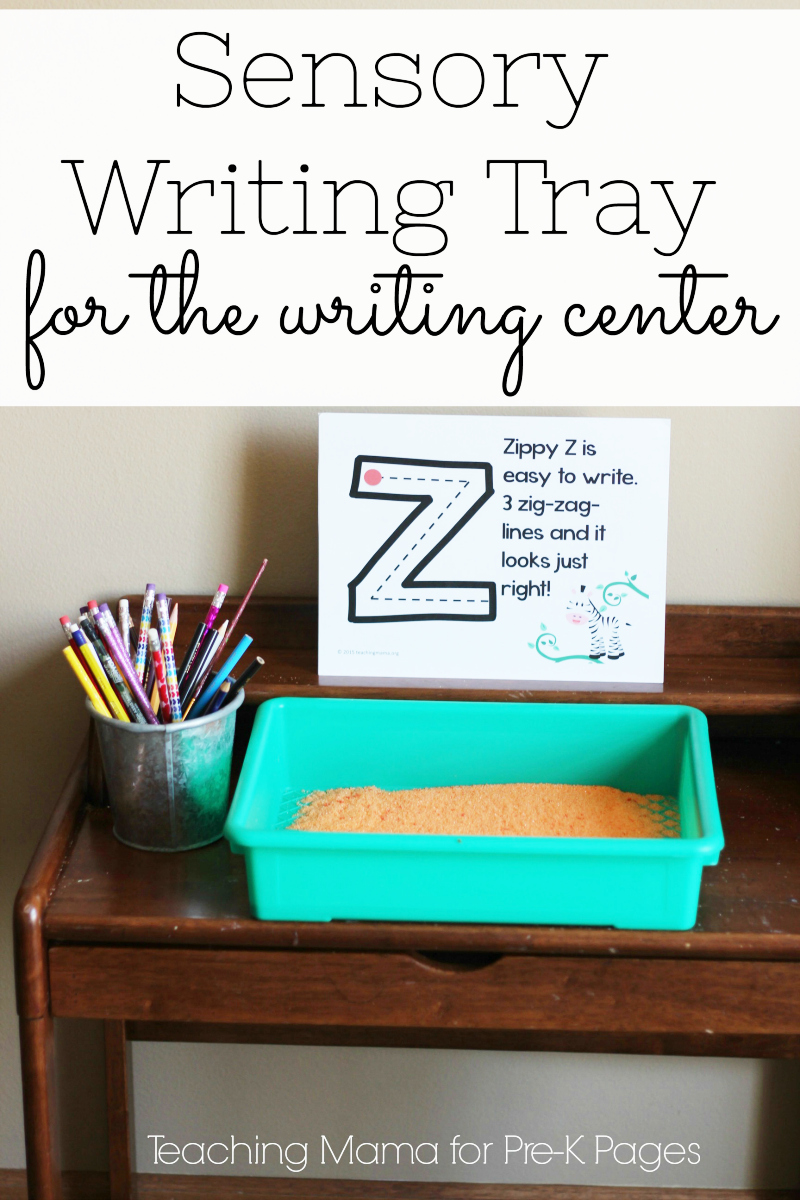 Sensory Writing Tray
A sensory writing tray is a shallow container filled with any material that can be moved around with a finger or writing utensil to form letters or numbers. The purpose of this tray is to allow children to practice writing without the stress of holding a pencil. This is a carefree and fun way to help your preschoolers learn how to write.
Here's what you need for a sensory writing tray:
Tray (I found mine at the Target Dollar Spot)
Material for the tray: sugar, salt, cornmeal, or sand
Writing utensils (optional)
Letter cards – I like to use these letter formation rhymes
Gel food coloring of your choice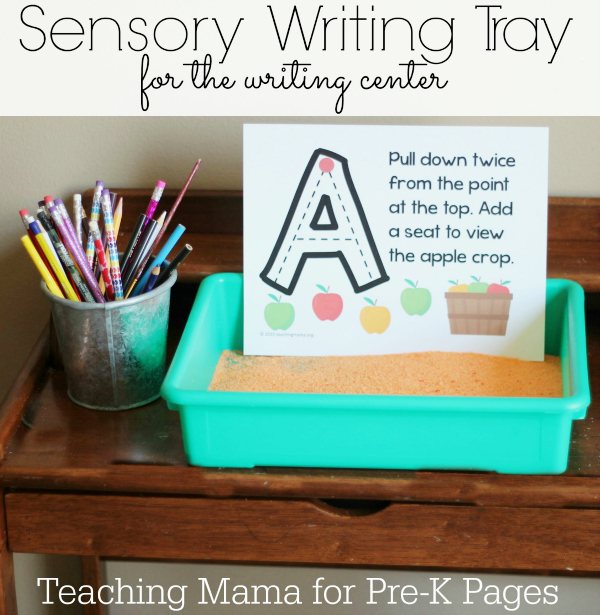 I used colored sugar in my writing trays pictured here, but you could also use colored salt or sand. To color the sugar, pour about 2 cups of sugar into a bag. Add a few drops of gel food coloring. Close the bag and shake until the color is mixed. If it's not mixing well, spread it on the tray and mix with your hands. If you would like to add a scent, add a few drops of peppermint or vanilla extract and mix again.
When the sugar is colored and dry, spread it around in a tray. You don't need a lot in the tray, just a thin layer that covers the tray bottom. If you add too much sugar, it may become difficult to make and see the letters in the tray.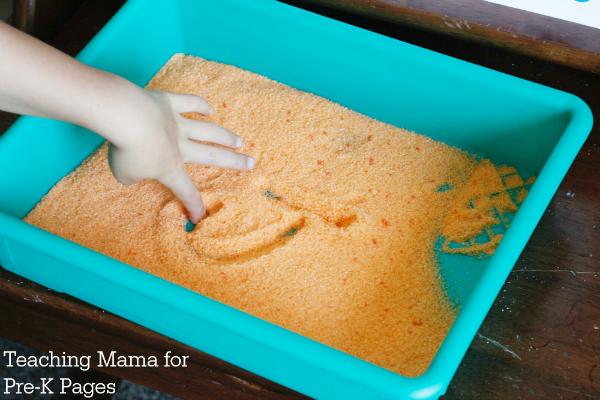 Add the alphabet formation cards to your center so children can see how to form letters correctly. I use both the uppercase and lowercase alphabet formation rhymes so the children can see the example of the letter when writing. I keep the cards in a binder and invite children to flip the pages to see different letters.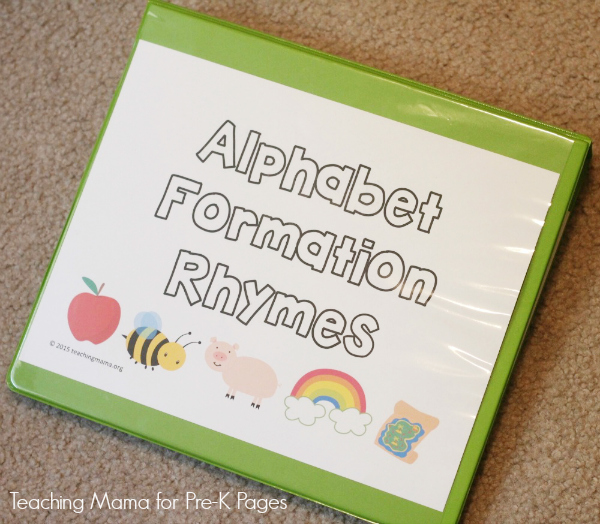 Using the Tray in Your Writing Center
After the writing center is set up, teach students to write letters on the tray using a finger, a dull pencil (or the eraser end), or even a watercolor paintbrush! Make sure to teach the expectations at the center first to avoid any potential problems that may arise during the exploration.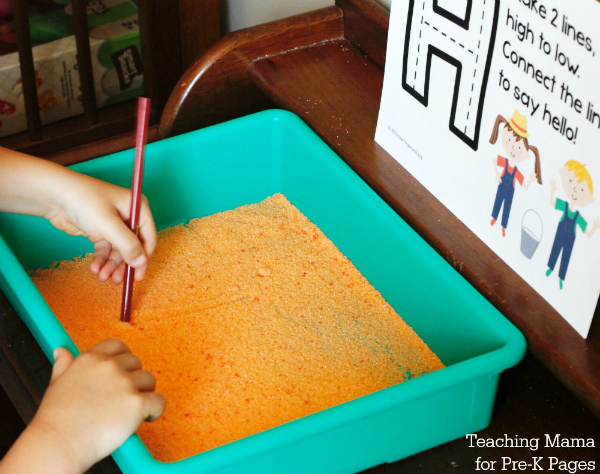 It's okay if your preschoolers can't form the letters perfectly, they're just practicing. Of course, you can encourage them to look more closely at the letters when they form the letter incorrectly. Writing trays are a wonderful and stress-free way to practice making letters – and they're easy to erase too! After writing one or several letters, show children how to "erase" by rubbing a hand over the tray or gently shaking the tray to redistribute the sugar.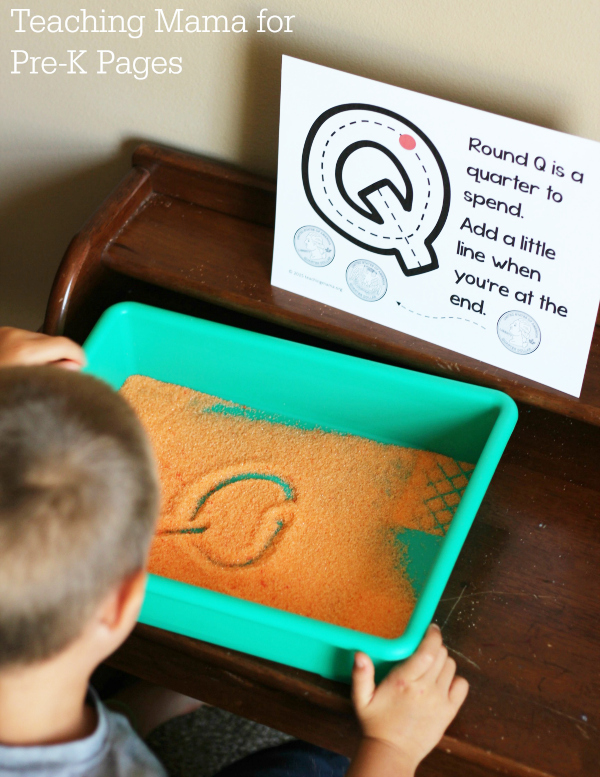 My children love sensory writing trays and this would be the perfect addition to your preschool writing center. I hope you'll try it out!
BIO: Angela is the writer and creator at Teaching Mama, where she shares hands-on learning activities for babies, toddlers, and preschoolers. She is a former teacher, turned stay-at-home-mom to 3 wonderful boys. She is also the creator of the alphabet and shape formation rhymes, which you can find here. You can connect with her on Facebook, Pinterest, or Instagram.
Other Writing Activities and Ideas—
What's in Your Writing Center?
Dollar Store Writing Center
Gingerbread Man Maps Writing Center
Writing in the Dramatic Play Center

Follow my Writing Pinterest Board for more great ideas!