Kids love to observe the ants scurrying around outside during the warmer months. This is a great time to introduce them to the life cycle of ants.
This preschool science activity involves creating an ant life cycle craft and would be a wonderful addition to any insect themed learning experience at home or in the classroom!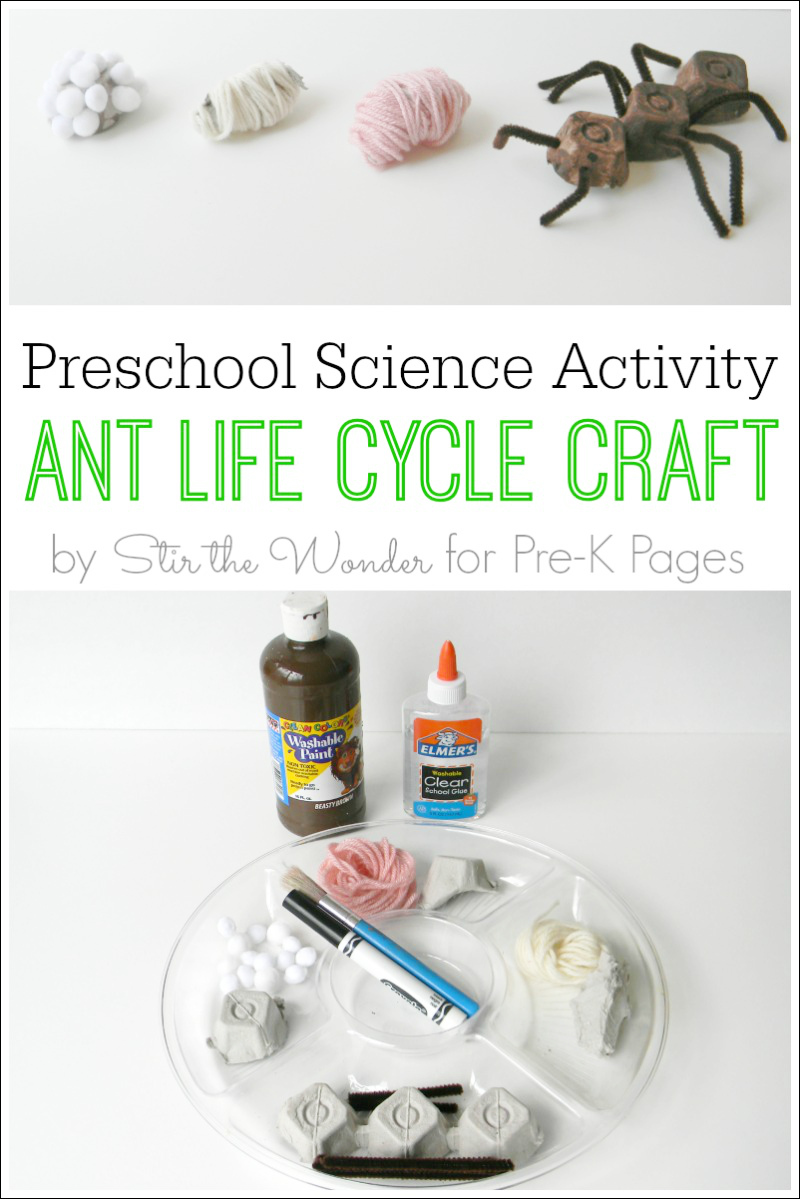 Ant Life Cycle
Crafting with preschoolers has many benefits. It gives children the opportunity to be creative and also practice fine motor skills in a fun way! When crafts are paired with a lesson such as life cycle science of insects, it helps to solidify what kids have learned about the topic and make it memorable.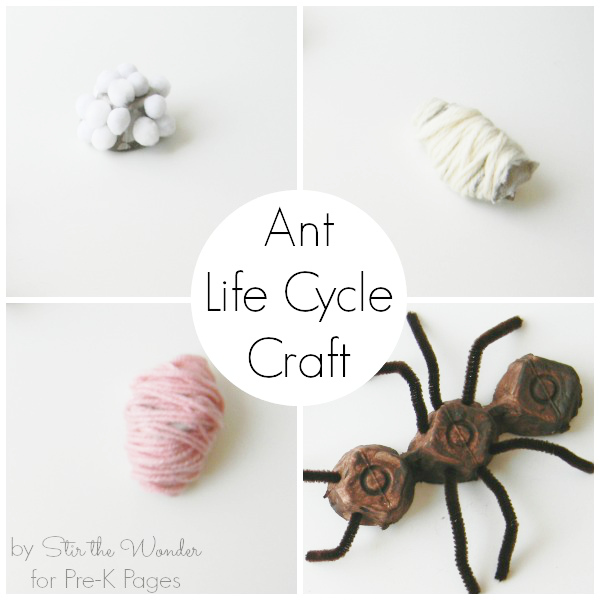 Ant Craft Preparation
For this activity you'll need:
cardboard egg carton
small white pom poms
white yarn
pink yarn
brown paint
brown pipe cleaners
black marker
glue
Cut up the egg carton. You'll need one 3-section for the ant, one section for the eggs, scraps of the egg carton for the larva, and one section folded up or scraps for pupa.
Set out the supplies and invite children to get creative!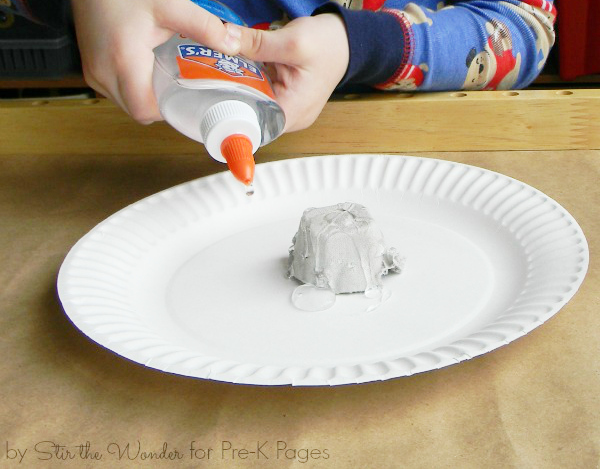 Making the Ant Eggs
Children will love covering the upside down egg section with glue and sticking on the small white pom poms to create a small pile of ant eggs!
Tip: Use a paper plate to contain the glue mess and hold the ant eggs while drying!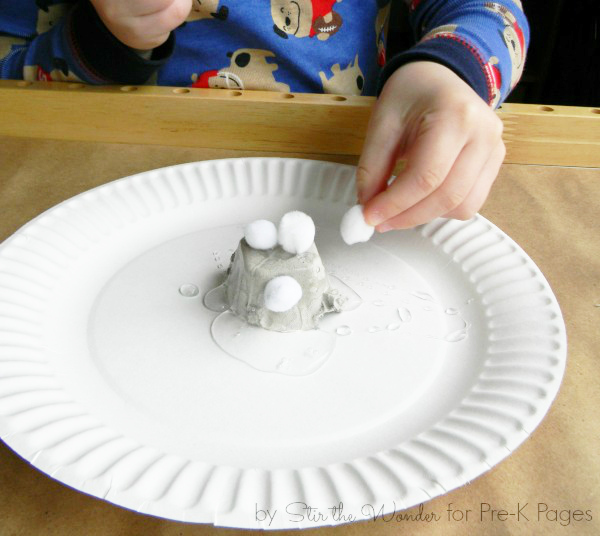 Making the Larva and Pupa
To make the ant larva and pupa, children can wrap the egg carton sections with white and pink yarn. Some kids might need help with this part of the craft as it can be a fine motor challenge.
Make the Ant Body Parts (Head and Thorax)
To make the ant, invite the children paint the 3-section egg carton with brown paint. Once it has dried, they can poke two small chenille craft stem pieces into the head for antenna and six small chenille craft stems into the body for legs.
Tip: An adult may need to poke holes into the egg carton so kids can easily add the antenna and legs.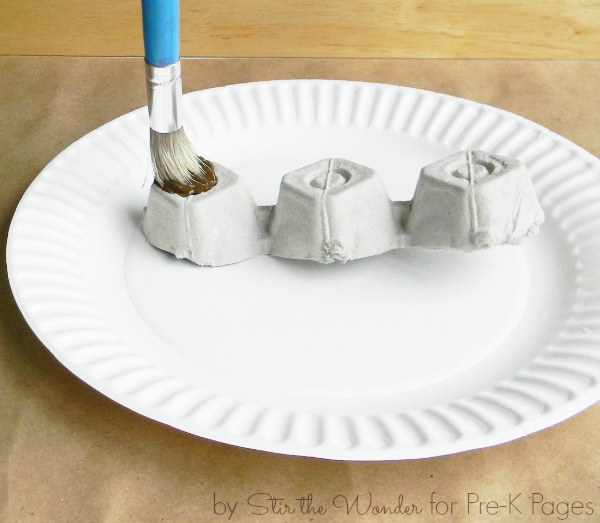 During this time you can discuss with the children how ants use their antenna and point out that ants have three parts to their bodies and six legs like all insects.
Finally have the children use a black marker to draw two eyes on the ant's head.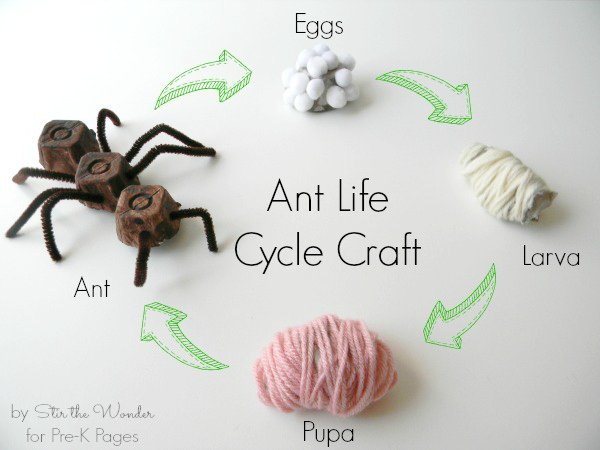 Use this craft as a starting point to learn about ants. Talk about the life cycle of an ant (and other insects you may have already explored). Read a book about ants (such as Ants by Melissa Stewart). Go outside and follow some ants!
BIO: Samantha writes at Stir the Wonder, sharing creative, hands-on learning activities for preschoolers including fine motor, STEM, and book-inspired activities. She is also a co-author of the book 99 Fine Motor Ideas for Ages 1 to 5. You can follow her on Facebook, Twitter, and Pinterest.
More Insect Ideas