Do you have a light table center in your classroom? Or maybe you're wondering "what is a light table center and why do I need one?"
I remember the first time I saw a light table in a preschool classroom, I was mesmerized by the soft glow and the reflecting colors. There was something about it that I found so soothing. I desperately wanted one for my own classroom, but because of the price, it was out of my reach.
I was also worried about the space a light table would take up in the classroom. Because my classroom is tiny, I knew I could never have a traditional light table.
But that didn't stop me from thinking up all kinds of fun light table activities that I knew my kids would love!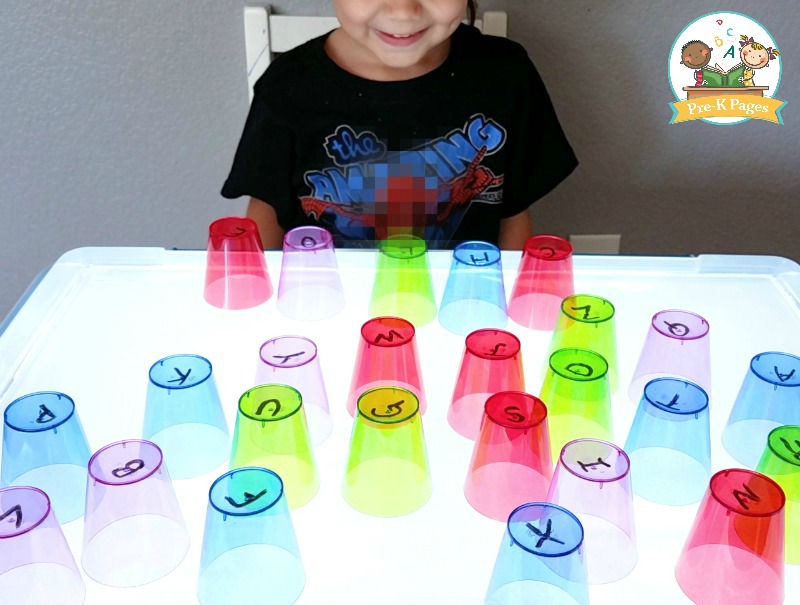 What is a Light Table?
A light table is a translucent, flat surface, such as a tabletop- with a light source underneath, the light shines up towards the top of the table.
You may already be familiar with the concept of light tables as a drafting tool, but they have quickly become popular in early childhood classrooms everywhere.
The possibilities for playing and learning with a light table in your preschool or pre-k classroom are endless!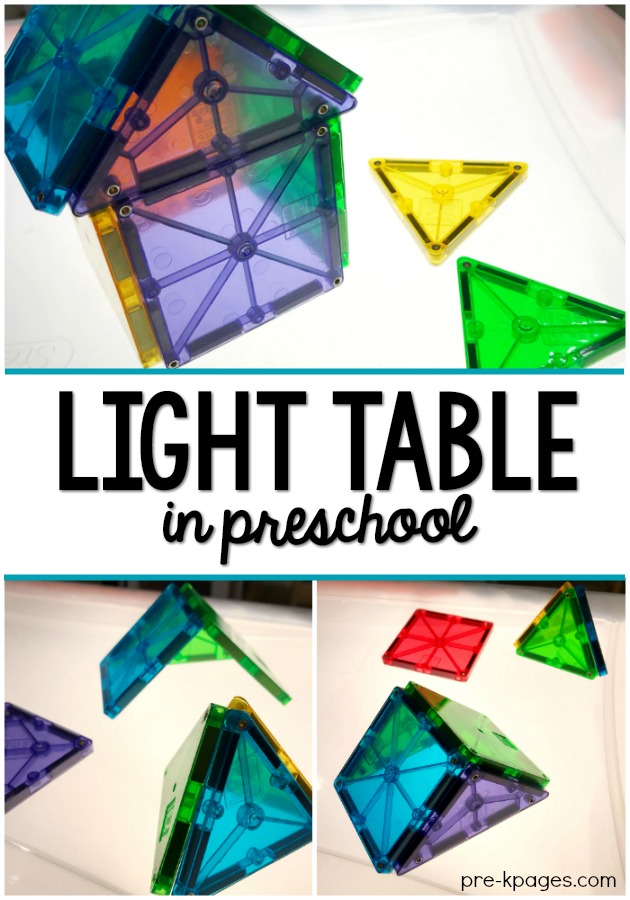 Preschool Light Table Center
Here are some of the most common questions teachers have about using light tables in the preschool classroom.
What is a light table?
Where can you find a light table?
What do kids learn when they use light tables?
What tools or toys can be used on a light table?
You can find answers to each of these light table questions below.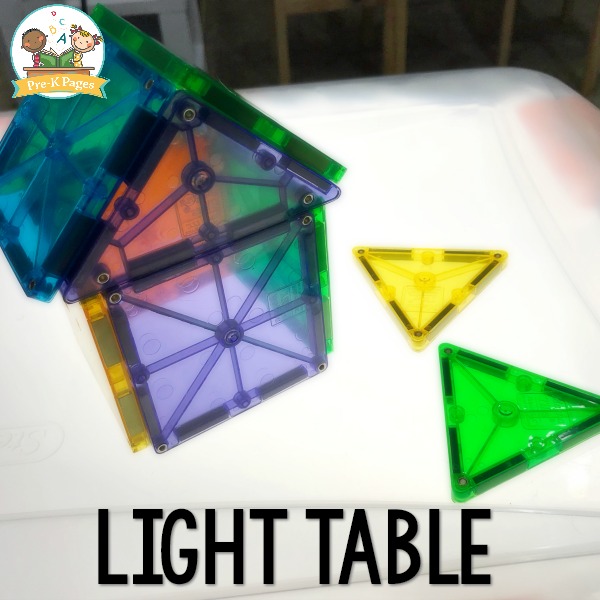 Where Can You Find a Light Table?
Light tables come in many different sizes and shapes. Some companies make light tables designed just to be used in preschool and pre-k classrooms, here are some of the most popular models if you have a budget: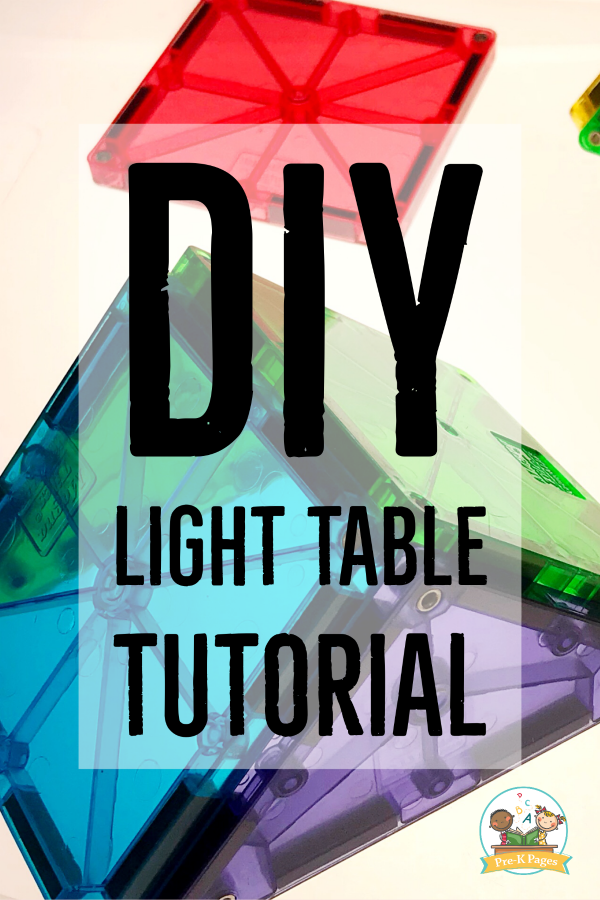 Make Your Own Light Table
Since I knew a traditional light table wasn't in my budget, I kept thinking about how I could make my own.
Then, I realized that all I really needed to make a light table was a plastic under bed storage tub, some tin foil, tissue paper, and tap lights. For about $20 I was able to make my dream of having a light table a reality with just a few simple materials!
You can find the step-by-step directions for making your own inexpensive light table here.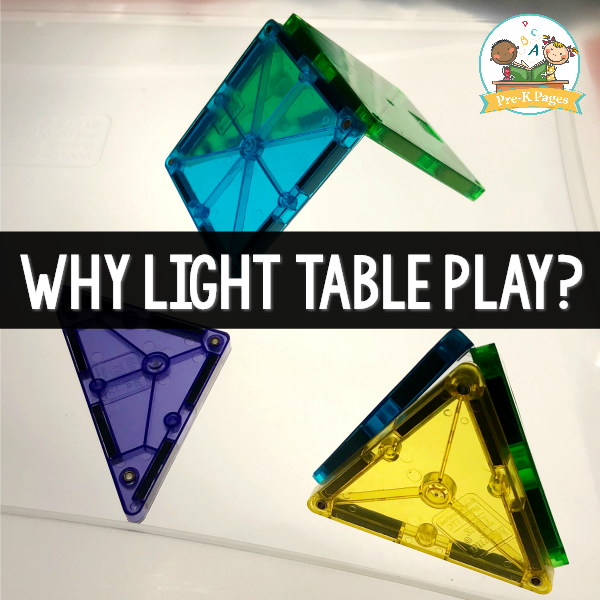 What Are Kids Learning with a Light Table
You may think a light table is just for science exploration and discovery, but there's so much more to it than that.
A light table can be used to enhance literacy, math, and writing skills in fun and playful ways.
Kids are naturally drawn to the gentle glow of the light table and will stay there for long periods of time, which is great for stretching those budding attention spans.
The light table can be used for everything from open-ended play experiences to arts and crafts, to teaching academic concepts, and more!
When you infuse your light table center with opportunities for science, math, literacy, and writing it quickly becomes a powerhouse of learning.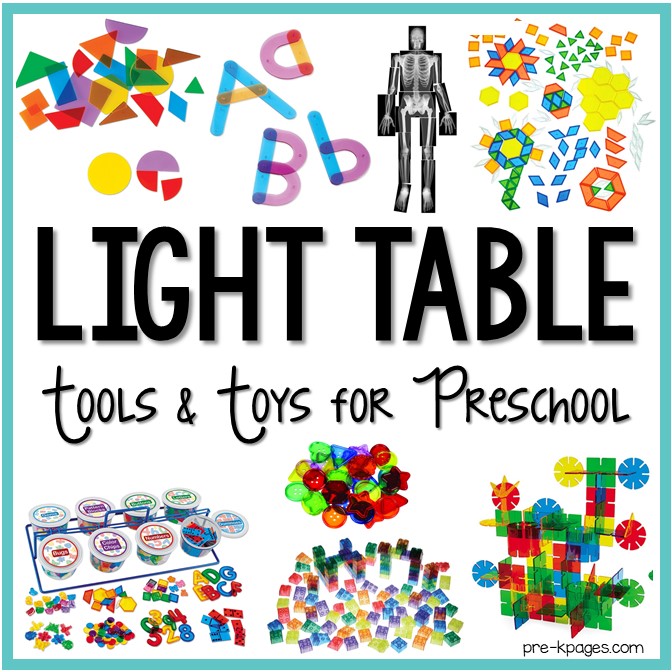 What Tools Should You Use On a Light Table?
There are many different materials designed specifically to be used on a light table. I put together a list of my favorite light table tools for you here.
I keep my light table tucked away under my sensory bin so I can slide it out for play each day. About every week or two weeks I change out the materials the kids can use on the table to keep it fresh, fun, and engaging! You can change it more often or less often depending your kids and their interest levels.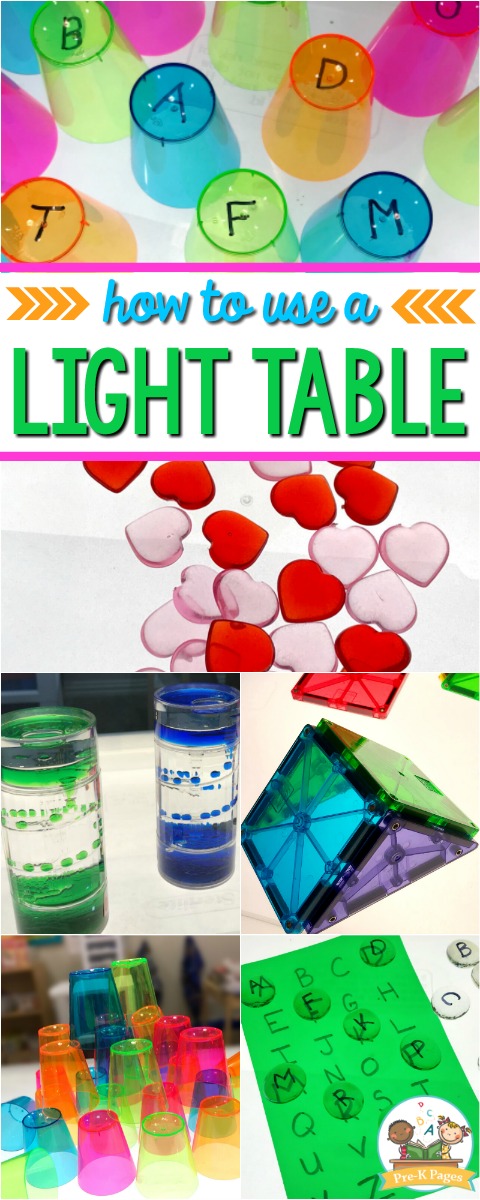 The Teaching Trailblazers
Having a light table is awesome! But let's face it, a light table can't make you a better teacher. The best place to discuss teaching best practices and get the support you need is in the Teaching Trailblazers. We have many printable resources and on-demand video trainings to help you become the best teacher you can be! Get on the waiting list for the Teaching Trailblazers soon so you will be ready for the next open enrollment period!
Preschool Learning Center
Have you always dreamed of setting up amazing, self-directed preschool learning center for your classroom…but feel like something is missing? How do you know which centers you need? What should you put in them?
Center Essentials Guide
Get your ultimate, step-by-step guide for setting up centers HERE
More Center Ideas from Pre-K Pages