The light table has quickly become one of the most popular "must-have" centers in today's preschool classrooms. But what do kids do with a light table?  The possibilities for playing and learning with a light table are endless! Keep reading for a list of favorite tools and toys to use on your light table.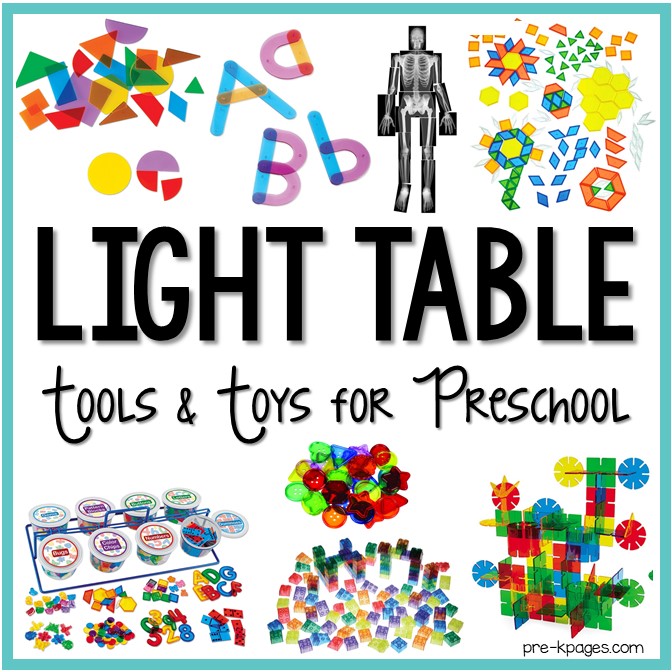 Light Table Tools and Toys for Preschool
Here are some favorite things that young children enjoy using most often on the light table. And once you have some tools and toys to use, be sure to use them with one of these 20+ Light Table Activities for Preschool.
Crystal Bricks
Your little learners will love building with these colorful bricks that look like one of their favorite toys, Lego!
Translucent Buttons
Translucent buttons are perfect for open-ended play and design on the light table.
Translucent Pattern Blocks
Kick your pattern block play up a notch with these translucent shapes. Making shapes and designs has never been so much fun for kids!
Letter Construction Set
Combine literacy and light play and invite your little learners to build letters on the light table.
Translucent Geometric Shapes
Are your kids learning to identify shapes? Your little learners will be inspired to design and create their own shape pictures on the light table with these.
3-D Geometric Shapes
Teaching 3-D shapes is a requirement for many preschool programs, but learning them can be tricky for kids. Use these translucent 3-D shapes to help your little ones grasp this tricky concept!
Transparent Color Counting Chips
If you think these are just translucent circles, think again! These little counting chips are actually learning powerhouses when used at the light table. Print some of these letter learning mats on transparencies and your kids will have a blast putting the chips on the circles – and they'll be exercising their fine motor skills while they're learning too!
Human X-Rays
Do you have a broken bone? These human x-rays are perfect for a Doctor's Office or Hospital theme in your dramatic play center.
Animal X-Rays
Animal x-rays are just the thing you need for a Pet Vet theme in your dramatic play center!
Rainbow Blocks
This little light of mine… Your kids will love building with these unique blocks and watching the colors shine through. What happens when you put a yellow block in front of a blue block?
Crystal Climbers
Here's another fun way to build on the light table. These Crystal Climbers are an adventure in color and light when used on the light table!
Table Top Light Table
If you don't have the time or patience to make your own light table, this is the next best thing! This one is a decent size and it won't take up half your classroom like the larger, free standing tables.
LED Large Light Table
This is the Cadillac of all light tables! This one is larger and can accommodate more children playing at one time. Try talking your principal or director into buying one of these beauties for you your classroom. If that doesn't work, you may want to consider writing a Donor's Choose grant.