Are you looking for Little Red Hen books for your fairy tale theme? You're in the right place! Some people may think fairy tales and folktales are old-fashioned, but that's just not true. Stories like The Little Red Hen are filled with rich language and literacy experiences that have loads of educational value.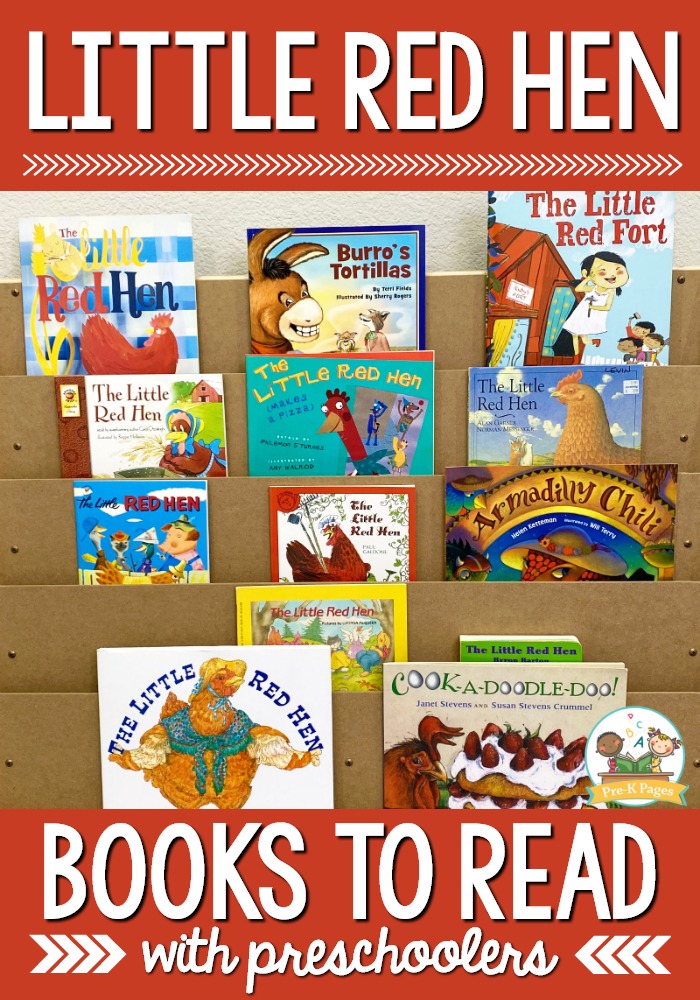 Best Little Red Hen Books for Preschool
Reading several different versions of the same story has many educational benefits for your little learners. You can use the different versions to compare and contrast the original story. Fairy tales and folktales are also perfect for introducing story concepts like beginning, middle, and end, characters and setting.
After reading different versions of one story for an entire week, you can invite your students to graph their favorite version.
For a culminating activity, invite your students to act out the story. Students can take turns playing different parts while you narrate, while the others act as the audience. Be sure to allow plenty of time so all your students get to act out the story.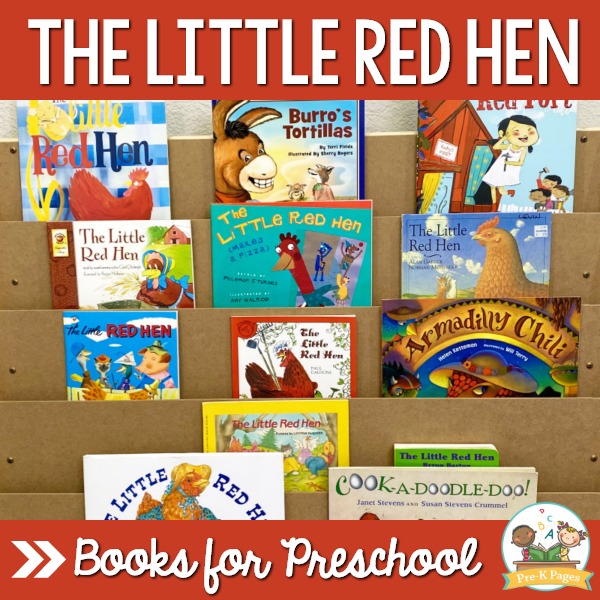 Different Versions of The Little Red Hen
Another activity that is super fun and educational is to make something for each version of the story you read. For example, in the original version, The Little Red Hen made bread. In other versions she makes chili, pizza, strawberry shortcake and more!
The Little Red Hen Makes a Pizza
, by Philomen Sturges
The hen wants to make a pizza and ends up with a large one that she shares. Your class could create mini pizzas using remade pizza dough or English muffins for crusts.
Cook-a-Doodle-Doo!
by Janet Stevens
In this version of the story, titled Cook-a-Doodle-Doo! the hen makes strawberry shortcake –
yum!
I know, you're thinking there is no way you're making strawberry shortcake with a class full of little kids, but I pinky swear that this recipe is extremely easy.
Burro's Tortillas
, by Terry Fields
Who will help the burro make tortillas? In this version of the story there is a recipe in the back of the book so you can make tortillas with your students. You could also graph preferred tortilla toppings such as butter, peanut butter, jelly etc. Cut tortillas into quarters and put out three topping choices. Kids can spread a topping on their tortilla and record their preference on the graph.
Armadilly Chili
, by Helen Ketteman
It's chili time; this southwestern version of the tale is hoot! Armadilly Chili opens up many possibilities for cooking in the classroom. You can make bean chili in a slow cooker.
The Little Red Hen
, by Lucinda McQueen
This is the traditional version of The Little Red Hen where she makes bread. The vivid illustrations in this book have made it a favorite in my classroom for many years. You could make bread in a bag with your kids!
The Little Red Hen
, by Paul Galdone
In this traditional retelling of the story, the hen makes a cake instead of bread. You could make a cake, muffins, or cupcakes with your class. Use a mix for easy baking.
The Little Red Hen Books for Preschoolers
The Red Hen
, by Rebecca Emberley and Ed Emberely
The red hen finds a recipe for Simply Splendid Cake and decides to make it. But will anyone help her with the work? A recipe for Simply Splendid Cake is included in the back of the book.
The Little Red Hen
, by Byron Barton
The shorter, simpler text and illustrations make this version perfect for younger preschoolers and shorter attention spans.
The Little Red Hen
, by Jerry Pinkney
A good traditional version of the story with the hen baking bread.
The Little Red Fort
, by Brenda Maier
Ruby wants to build something but her brothers laugh at her. She asks for help along the way but they choose not to do the work. Ruby plays in the fort by herself until the boys put on the finishing touches. Tips at the end of the book show how to make your own forts.
The Little Red Hen
, by Carol Ottolenghi
A simple and straightforward retelling of the classic fairy tale.
Little Red Hen
, by Mary Finch
This version includes an ending in which everyone works together to make bread.
More Fairy Tales