I love creating seasonal activities and back-to-school time means lots of apples.  Kids love sensory play activities, especially the messy ones. Sensory play is a great way to incorporate different seasonal or holiday activities in your classroom. Using common items, we created this fun and easy apple sensory table idea perfect for fall!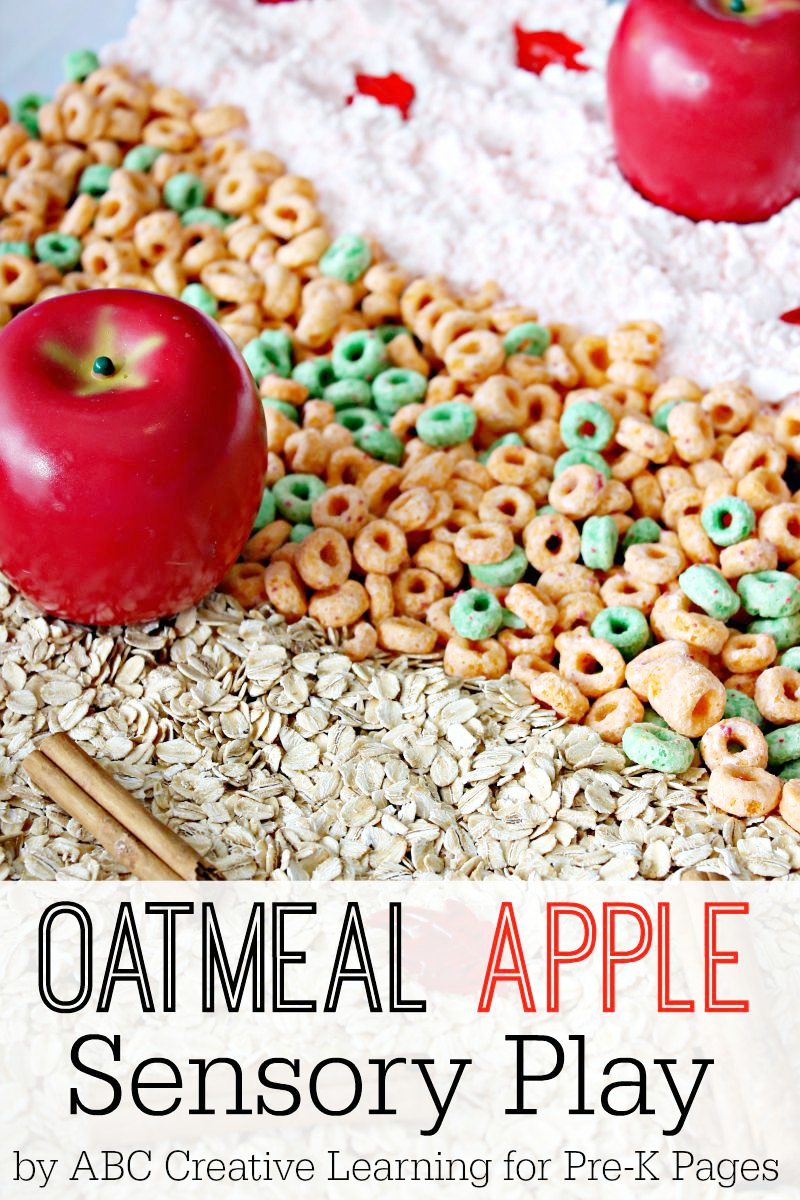 Apple Sensory Table
The best thing about a sensory activity is the fun and messy part, children learn so much from sensory play. Not only do they get to feel and play with the the materials, but you can easily integrate math and science concepts into sensory play experiences. And there really isn't any better way to learn than with your hands.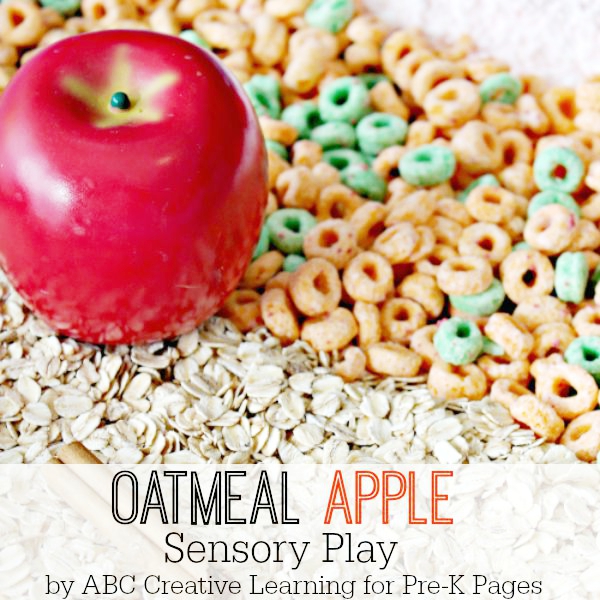 With this sensory activity, children can count, explore, and sort. Have a discussion about apples — how they grow, their colors, and their tastes. Using their hands, children develop fine motor skills and can feel different textures. They develop oral language skills and vocabulary as they describe those textures. This sensory bin also includes the scent of cinnamon and the cereal, so children can describe what they smell, too.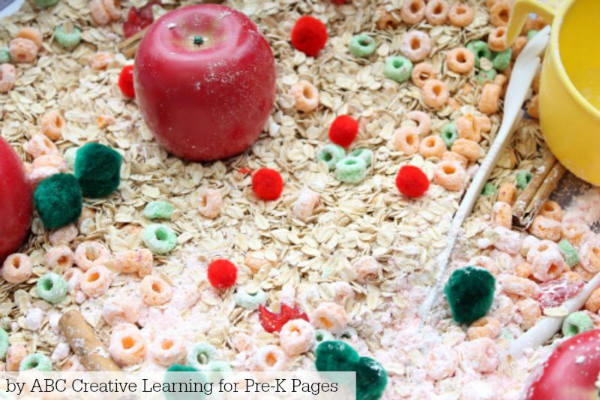 Ideas for the Apple Sensory Table
When creating sensory bins, invite the children to help you choose what items they would like to explore. Here are some suggestions for your sensory bin.
Oatmeal
Apple cereal
Cinnamon sticks
Fall leaves
Pretend or real apples
Red and green pom-poms
Red and green paper apple shapes with numerals
Shaving cream, cornstarch, red food coloring (for red cloud dough)
Bowls, plates, and tongs
You can use any type of materials that correlate with an apple or fall theme.
Cloud Dough
One of our favorite sensory items is homemade cloud dough. We made red cloud dough to add to this activity.
To make cloud dough, mix together 1 can of shaving cream and 2 boxes of cornstarch. Add about 4 drops of red food coloring to dye the cloud dough red (as an apple).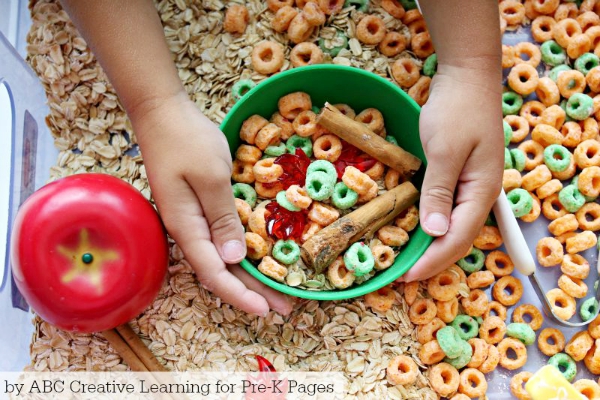 Place the items you choose into a bin for exploring. The three materials of different textures; cloud dough (soft), apple cereal (hard/crunchy), and oatmeal (grainy) will give kids the opportunity to explore more than one type of texture in the activity. Invite kids to describe what they are feeling. Encourage them to think of different words to describe the different textures.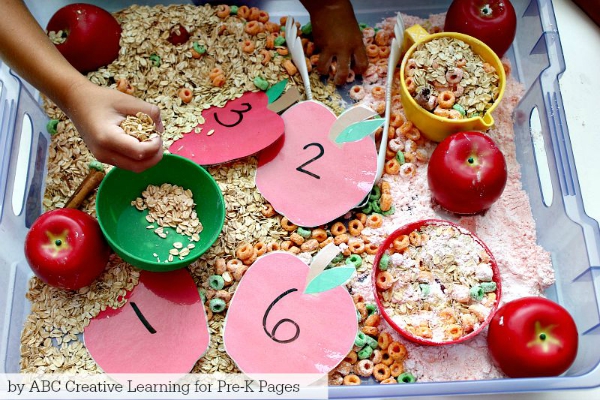 Other Apple Sensory Bin Ideas
We added the cinnamon sticks because cinnamon reminds us of apple pie! YUM! The scent of cinnamon lingers while the kids play with the bin, adding the sense of smell into their play time.
Add a couple of real apples for kids to touch and explore the texture. Guide kids to use care with the apples. Their weight will crush the cereal. But that may add more texture to explore.
Invite kids to choose a numbered apple shape and count pompoms or pieces of cereal.
Add books about apples to extend this activity.
Being able to use hands-on activities is such a fun way to learn and research shows kids will pick up the information faster and retain it longer when many senses are used. I hope you enjoy creating this fun apple sensory activity.
More Sensory Bin Ideas