Do you use sensory bins in your classroom? This fun apple sensory bin is perfect for a fall or apple theme in your preschool or pre-k classroom!
If you're looking to up the engagement in your classroom then you need sensory bins in your teacher life!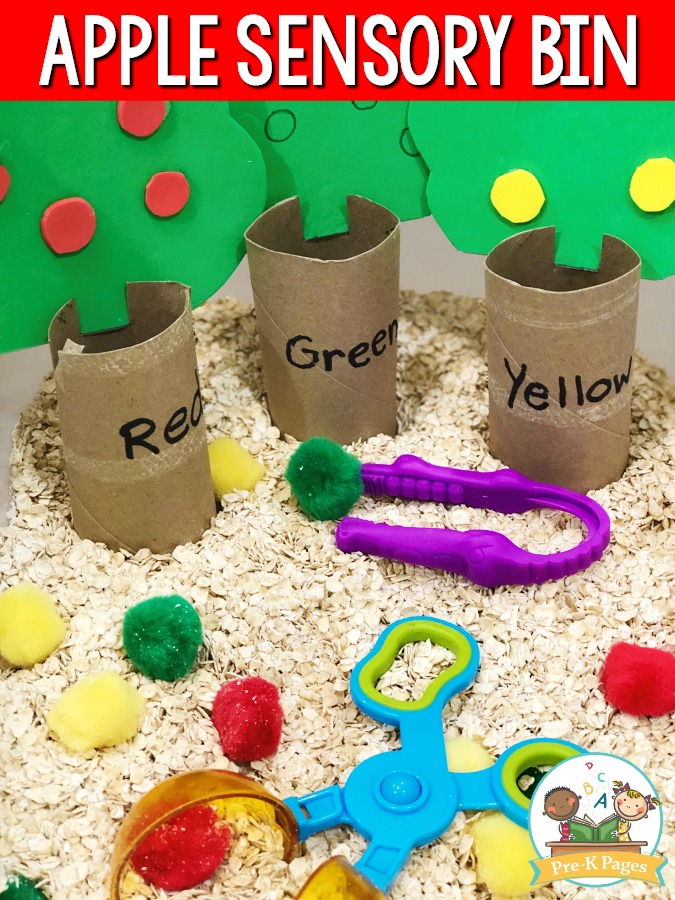 Apple Sensory Bin
It's no secret that young children learn best when they can touch and explore things. A lot of people think that sensory play is all about using your five senses and exploring, which is true, but there's so much more to the why behind the what when it comes to sensory bins.
As they explore, play, and discover in the sensory bins, your kids will also be pouring, scooping, and transferring the sensory bin filler. When they pour, scoop, and transfer they're actually developing important math skills like volume, weight, and more or less.
The appeal of sensory activities for your kids is obviously the open-ended play experience, but the educational benefits go much deeper.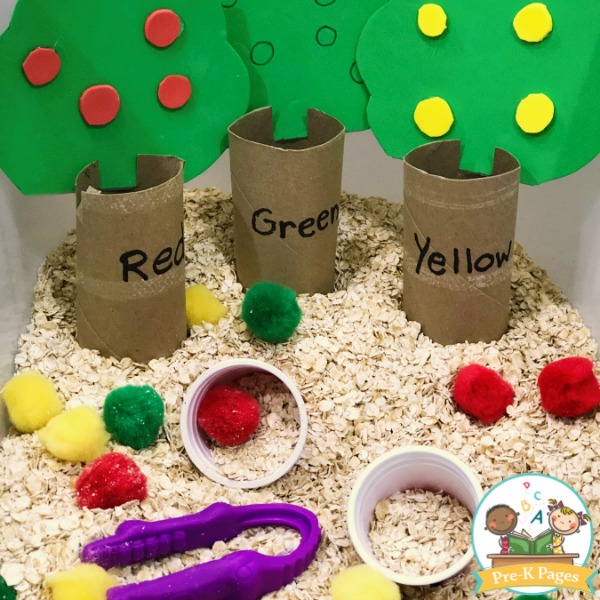 Apple Sensory Bin for Fall
But wait, there's more! (said in my best infomercial voice) I haven't even mentioned all of the fine motor skills your kids will develop with this sensory activity.
In case you're new, here's a short and sweet definition of fine motor skills for you. Fine motor skills are the small muscles in the hands, fingers, and wrists that young children need to develop before they can become successful with self-help skills like feeding and dressing themselves, as well as holding a pencil and writing.
When used properly, sensory bins can be a powerful learning tool.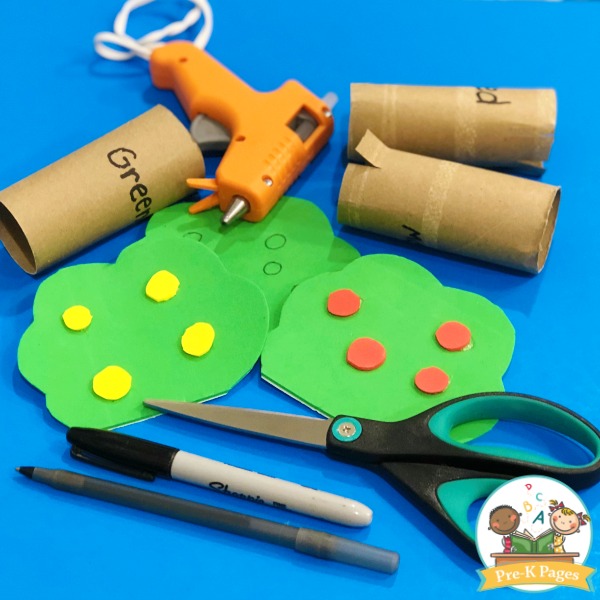 Apple Sensory Bin Supplies
You can prepare your sensory bin by gathering all the materials you'll need first. Here are the things I put in my bin, but you can use whatever you prefer or have on-hand.
Your favorite apple book to read aloud
Instant oats
Red, yellow, and green pom-poms
Red, yellow, and green craft foam
Paper Towel Tubes
Scissors
Marker
Glue Gun
Measuring Cups and spoons (dollar store)
Optional: Cinnamon sticks, small pie pans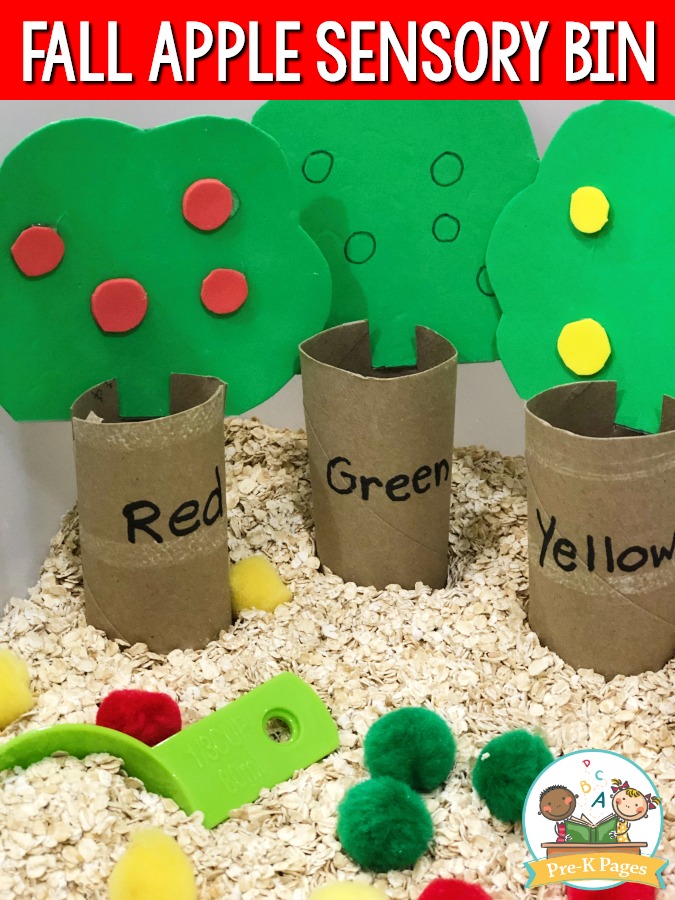 Apple Sensory Bin Preparation
Start by cutting up a paper towel tube into three sections. Use your scissors to cut two slits on one side of each tube, these will support the trees.
Next, cut your green craft foam into circles to use as the trees. You don't need a template for this, I promise! After you cut your circles of green foam, trim them a little to resemble trees.
Then cut little circles of red and yellow craft foam, these will be your apples. Use your hot glue gun to glue the circles to the trees. For the green tree you can just make circles with a marker or pen.
Use your marker to write the color names on each tree trunk.
Now you're ready to insert the top of your trees into the trunks using the notches you created earlier.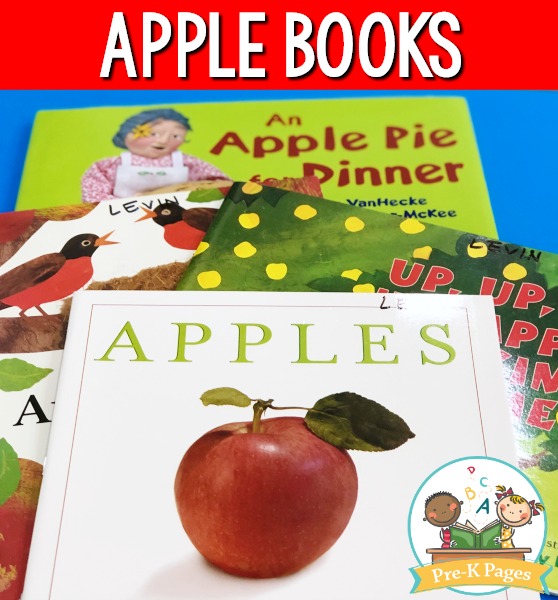 Apple Bin Introduction
Use a tray or bin to organize your apple theme materials before you introduce them to your children.
Then, read your favorite apple book aloud during your whole group time. You could even sing an apple fingerplay like "Way Up High in the Apple Tree."
When you've finished reading the book, introduce the tray of items to your kids.
Pass the tray around to each child in the group so they can each have a turn to touch and feel the materials and ask questions.
Ask your students questions about the items such as, "How does it feel?" or "What do you think you can use that for?"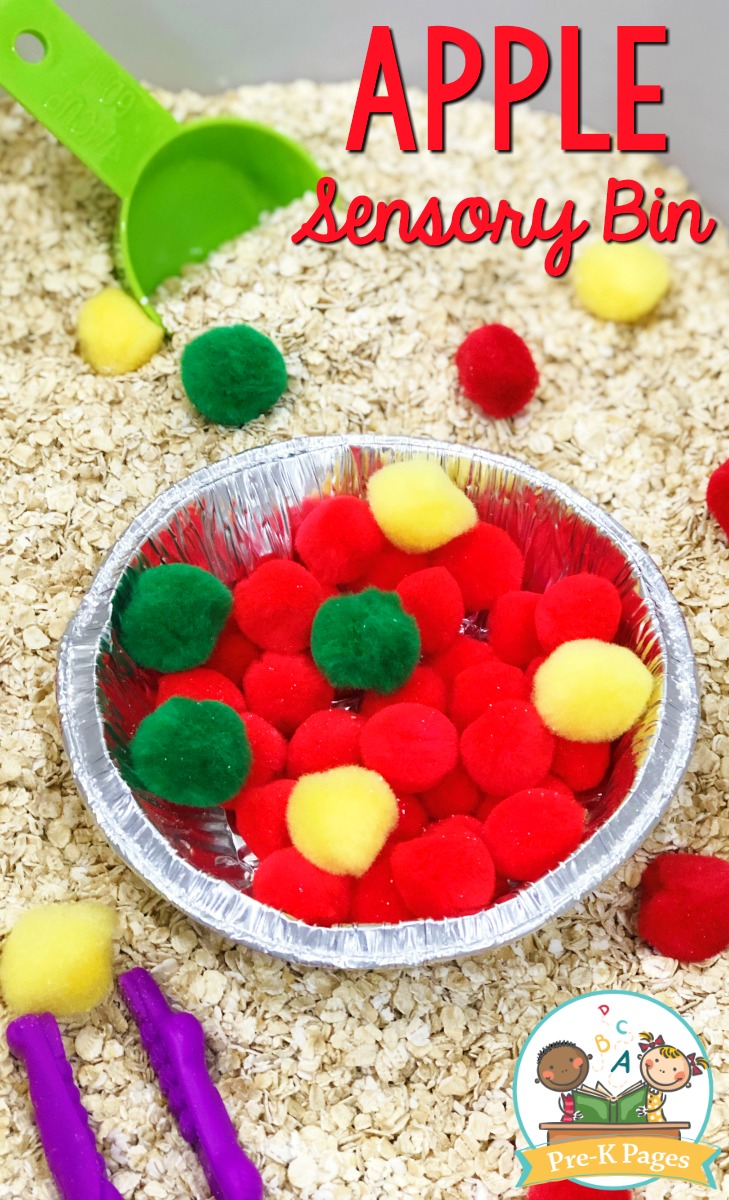 Apple Sensory Bin Exploration
Now comes the fun part! Demonstrate how your kids can scoop and pour the instant oats. Show them how they can sort the colorful pom poms into the different tree trunks by color.
As they scoop and pour the oats they'll also be practicing those fine motor skills we talked about earlier.
Of course, counting out the pom-poms and sorting them by color is perfect for practicing important one-to-one correspondence skills.
Don't get discouraged if your kids just want to play with the oats without counting or sorting the pom-poms, they'll still be getting lots of important fine motor and math practice by scooping, pouring, and transferring oats.
When your kids engage in open-ended sensory experiences like this they're having fun while learning at the same time!
Add books about apples to extend this activity.
More Apple Ideas