Fun creative art explorations can take place just about anywhere. We love to take art outside from time to time, especially when the weather is a little cooler in the fall. This painting activity is great fun and really messy. Make sure you are prepared to clean up lots of spatters.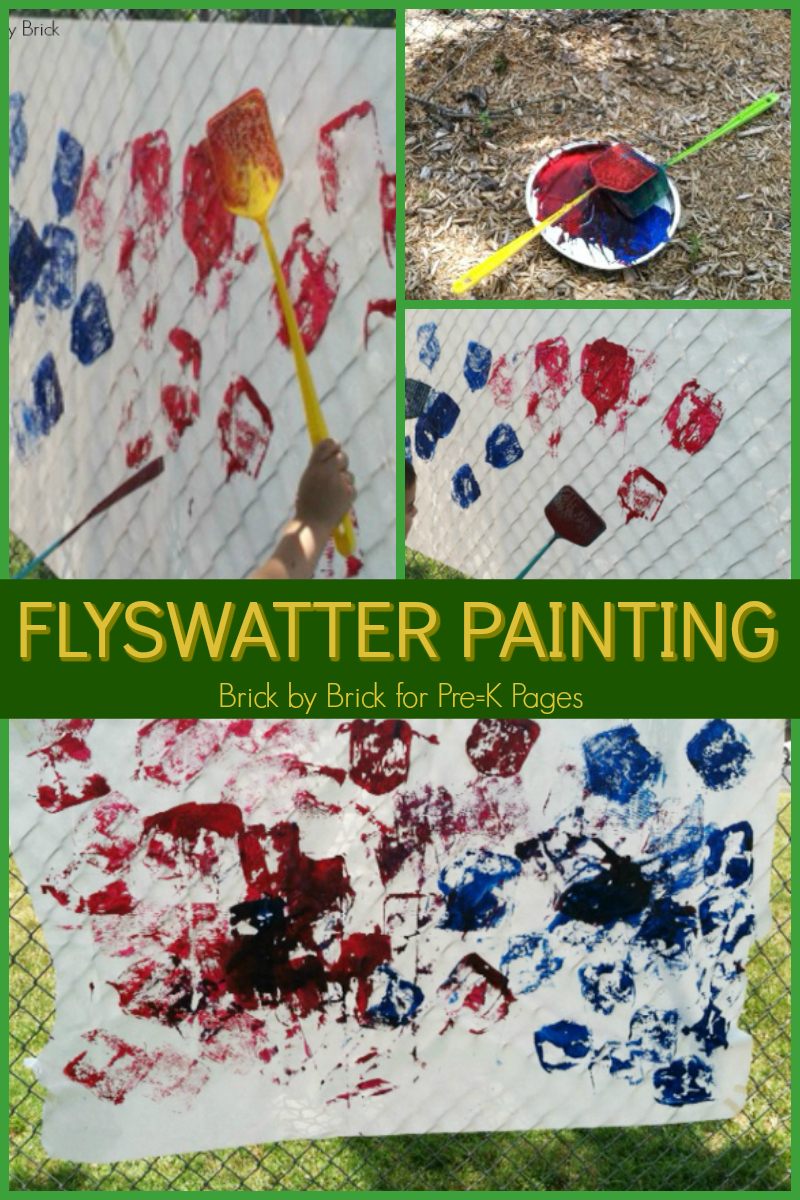 Flyswatter Painting
Materials
Large pieces of paper
Shallow pans or dishpans
Clean, unused flyswatters (Ours are from the dollar store)
Washable tempera paint
Tape or clips
Preparation
Tape or clip paper to a fence or wall.
Pour paint in the pans and set under the paper.
Lay flyswatters with the paint.
Stand back!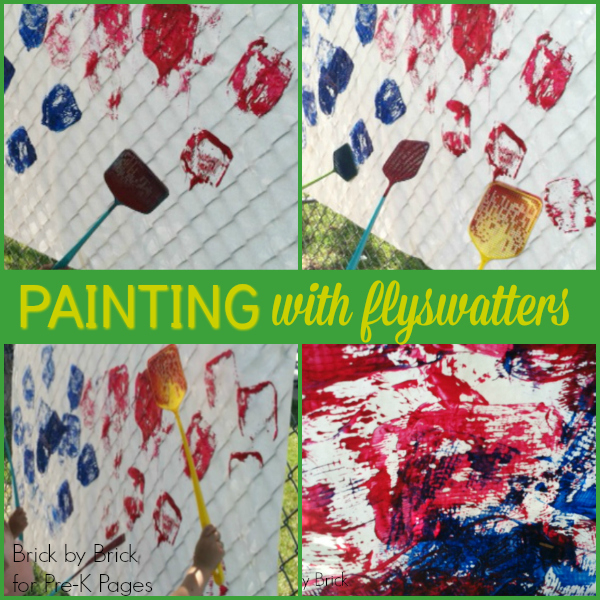 Painting with Flyswatters
Preschoolers can dip the end of the flyswatters in paint and then tap the paint on the paper. We only had a couple of children at a time painting (and I had two painting stations). Some children would just press the paint onto the paper, some would tap lightly, and some would swat heavily. While all of these methods worked, the mid-range tapping seemed the best approach.
We liked to see the colors mix on the paper. And since our pans were wide, we put two colors in them and saw color mixing there, too. We used red and blue, which gave us a patriotic feel. But reds, oranges, and yellows for fall would look really great.
And when I say messy, I mean messy. Some children went home with spatters in their hair or somewhere on their bodies. (Those were the ones I missed when washing up.)
For better paint control, you can place the paper on the ground and spatter up and down with the swatters.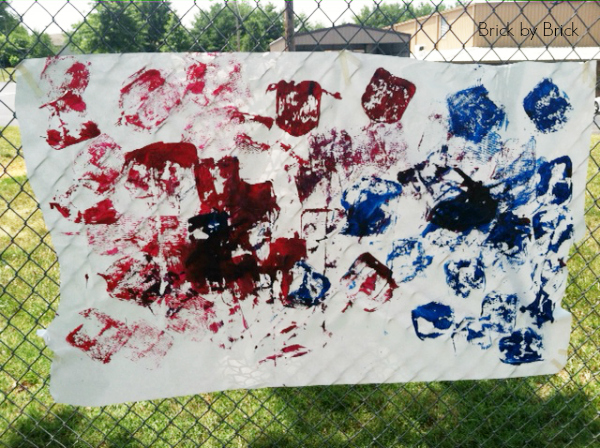 Learning While Painting
Painting with flyswatters is a lot of fun. But there is learning happening, too.
Muscle control – we had to control where the swatter when, how hard we hit the paper, and how to move to get the result we wanted
Color theory – we saw colors mix; we saw that the color was darker when we painted in the same place and the color was lighter if we painted a long time before dipping in paint again
Social development – we worked together and developed art through cooperative effort
Cause and effect – we saw an immediate result when we hit the paper with the paint; we also saw the paper tear when we put too much paint in one area
Take your art outside and try out flyswatter painting. But you may want to wear a hat…and a rain poncho!
BIO: Scott Wiley, an early childhood educator for 30 years, is managing editor for Pre-K Pages. His blog Brick by Brick explores the connection between play and learning. Connect with Scott on Twitter, Facebook, and Pinterest.
Ideas for Fall