Our Dog Play dough biscuit activity is full of fun and learning opportunities for your pet loving preschooler.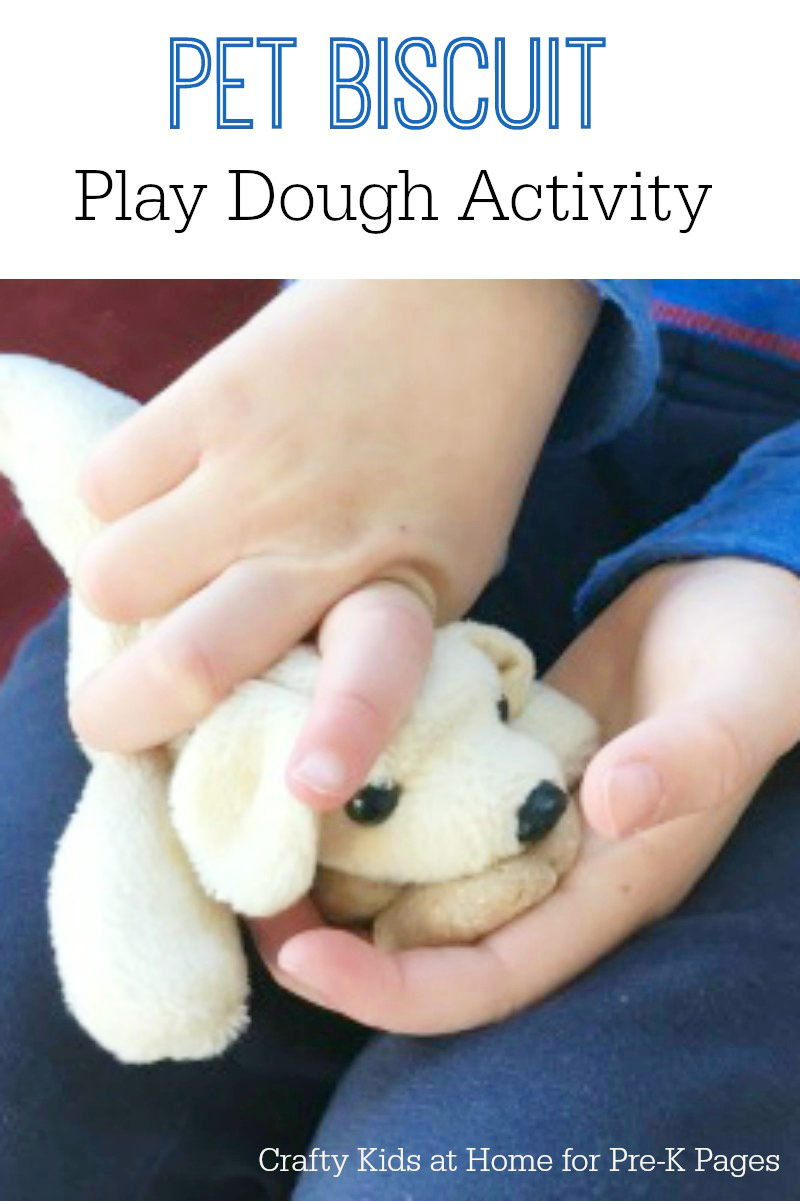 Dog Play Dough Activity
Playing with play dough is an excellent way to develop and strengthen the muscles in your preschoolers' little hands and fingers. Add in some letter learning fun and a pretend play element and you have a great all round activity.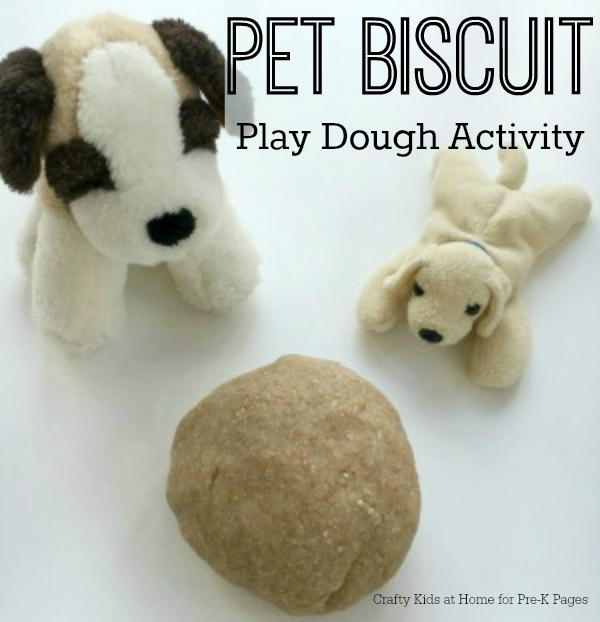 Wholemeal Play Dough
To add an extra touch of authenticity to our pretend play pet biscuits, we made our play dough with wholemeal flour instead of white flour. This gave the it a lovely sandy biscuity color, similar to some pet biscuits that you can buy.
Activity Supplies
Home-made Wholemeal Play Dough (see below)
Soft Toy pets such as dogs or cats
Play Dough Recipe
1 1/4 cups wholemeal flour
1/2 cup of salt
2 tbsp cream of tartar
2 cups of water
2 tbsp vegetable oil
This mix makes plenty of play dough for 4-6 children.
Combine all of the ingredients together in a pan over a medium heat and stir continuously until they form a ball of dough.
Remove from the pan and give the dough a good knead with your hands. If the dough feels too sticky, then add a little more flour to the mix as you knead.
Store in an airtight container when you are done and this will help to keep the play dough fresh.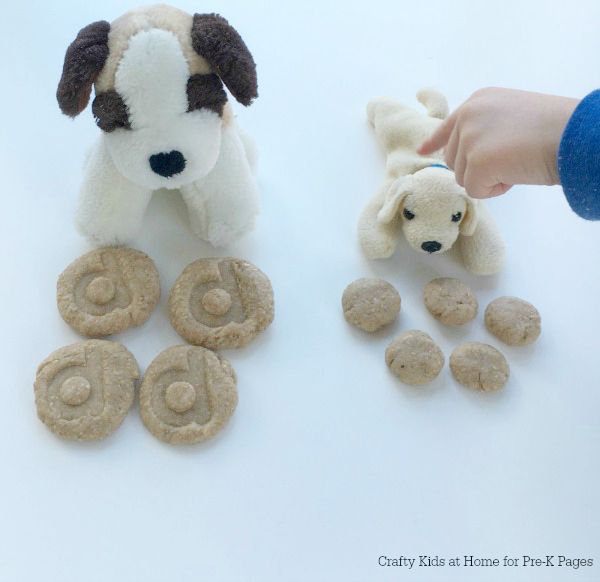 Big and Small
My daughter selected her two favorite stuffed dog toys play with. One was much bigger than the other, so we began our activity by making big biscuits for her biggest dog and small biscuits for her smaller dog.
The actions of pinching off pieces of play dough, then squashing them together and rolling them into balls, before squishing them down to make pet biscuits, gave my daughter's hands a thorough workout. Developing strong hand and finger muscles is an essential part of your preschoolers' development and play dough is an excellent hand strengthening tool.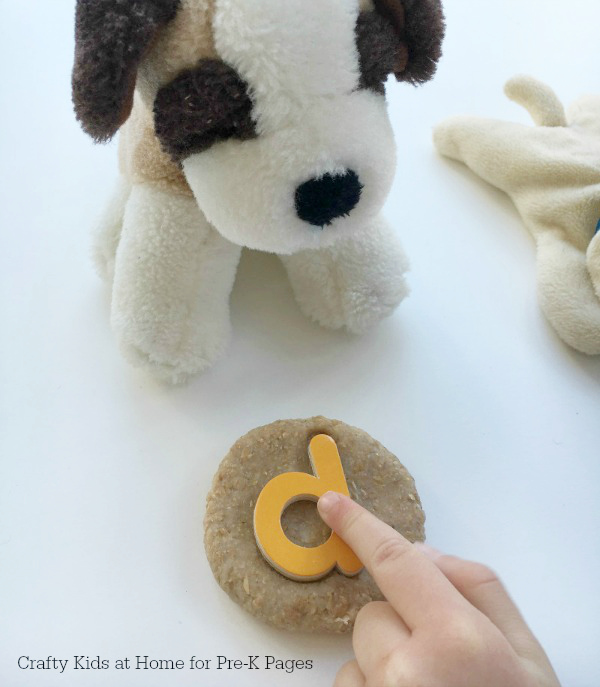 D is for Dog
To reinforce the beginning sound of "D is for Dog", I took one of our wooden letter D's and asked my daughter to press this down into each of her biscuits.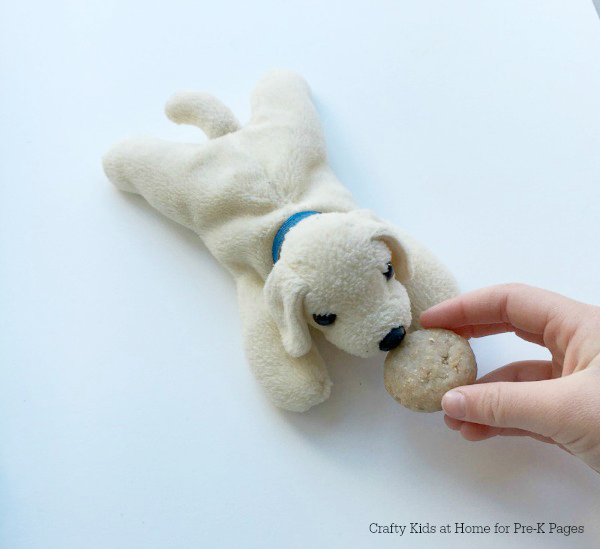 Feeding Time
Then it was time for my daughter's favorite part of the activity – feeding the biscuits to her toy dogs. I love watching her imagination spring to life as she takes on a new role. This activity was perfect for her right now, as she currently spends more than half her days pretending to be a different pet. Her current favorite it pretending to be a guinea pig and last week it was a rabbit. Maybe she is trying to ask us something?
We are a pet free house for now, but who knows what our future will bring!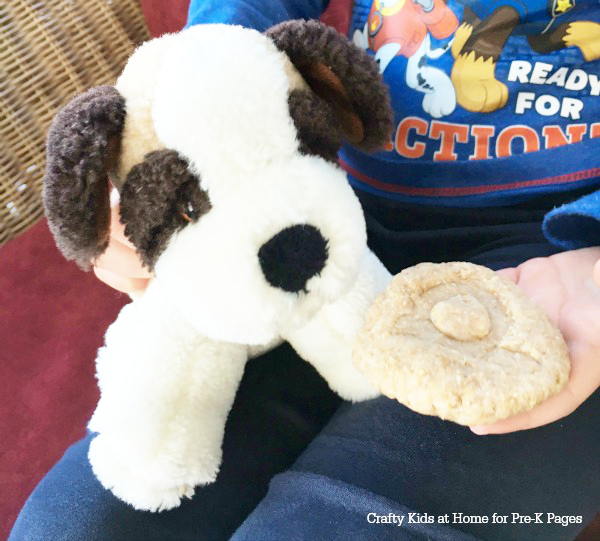 If you are thinking of welcoming a new pet into your family, then this kind of activity provides the perfect forum to talk to your child about the importance of caring for your new pet in the correct way. This activity also provides opportunities to talk about needs, habitats, and life cycles of animals – all great science concepts!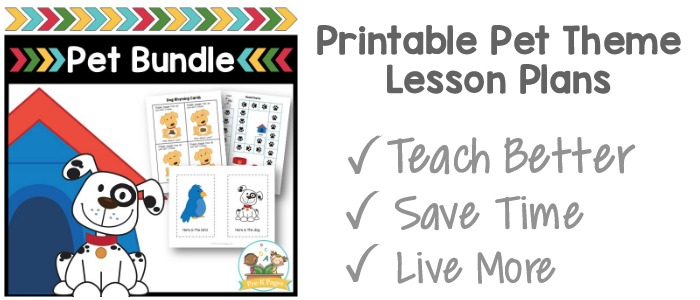 BIO: Nicola's blog Crafty Kids at Home shares the arts and crafts ideas she does at home with her kids. They are big fans of using Bubble Wrap in their activities and have just completed the A-Z of Indoor Activities. You can find her on Pinterest, Instagram, Facebook, and Twitter.
More Pet Theme Ideas—
Pet Cafe Dramatic Play
Pet Supply Scavenger Hunt
Pet Sensory Activity: Wash the Dog
Pet Paw Print Art