September may be the kick-off of your school year or may be continuing the basic topics of school, self, and family. Use these preschool curriculum themes during September to build on concepts that are familiar to preschoolers and strengthen skills.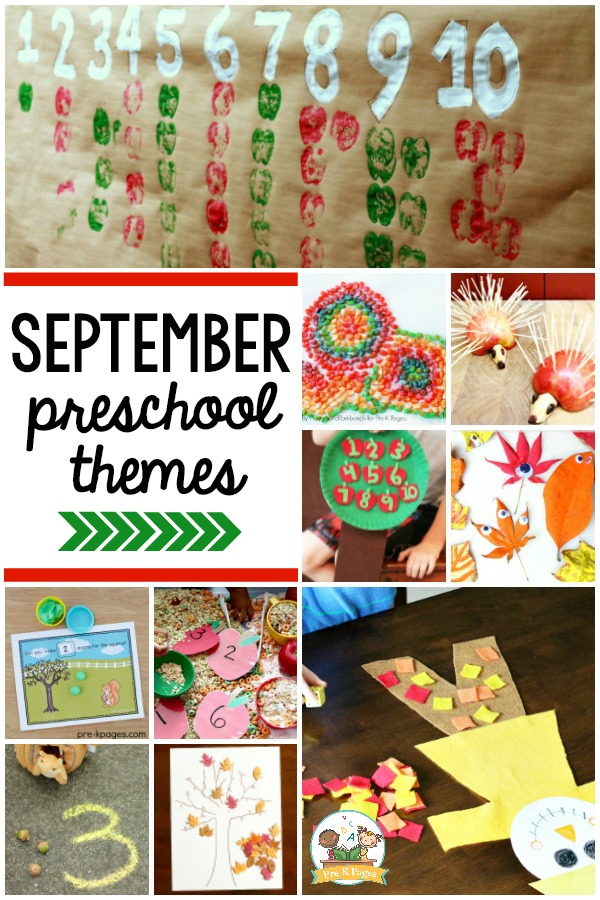 September Preschool Themes
SCHOOL
A school theme can focus on beginning the year or developing the classroom community. Overall, this theme would help preschoolers understand how to work and play in your classroom. If you used this theme in August, you could repeat a bit to help reinforce your classroom community.
Best Beginning of School Books
Books About Teachers and Librarians
Books About Buses
Back to School Storytelling Box
Where Is Pete the Cat?
Classroom Rules
Picture Schedule Cards
APPLES
An apple theme offers many opportunities for exploration and learning. Connect with folk tales as you talk about Johnny Appleseed (birthday on September 26). With this theme, you can also build on gardening or farming themes from August. Here are a few ideas to get started with an apple theme.
Apple Theme Books for Preschoolers
Apple Print Number Line
Apple Play Dough Counting Mats
Apple Life Cycle
Apple Theme Gross Motor Learning
Apple Science Experiment
Slow Cooker Applesauce
Oatmeal Apple Sensory Play
Apple Visual Discrimination
Apple Orchard Dramatic Play
FAMILY/HOMES
Grandparents Day is the second week in September. Also, family members are people that are very familiar to preschoolers and provide immediate connection between child and content. Remember that all families are not the same, so your theme should incorporate families of different sizes and make-up. Use a family theme as a follow up or as part of the all about me theme.
Family Books for Preschoolers
Stamped Circles Family Faces
Kitchen Items with Blocks
Make a Book for Grandparents Day
Tape Resist Paintings: I Love You
Family Theme Activities
Caring for Babies Dramatic Play
Birthday Party Dramatic Play
Three Little Pigs Math Activities
Three Little Pigs Literacy Activities
Little Red Riding Hood Math Activities
Little Red Riding Hood Literacy Activities
Making Faces Play Dough Activity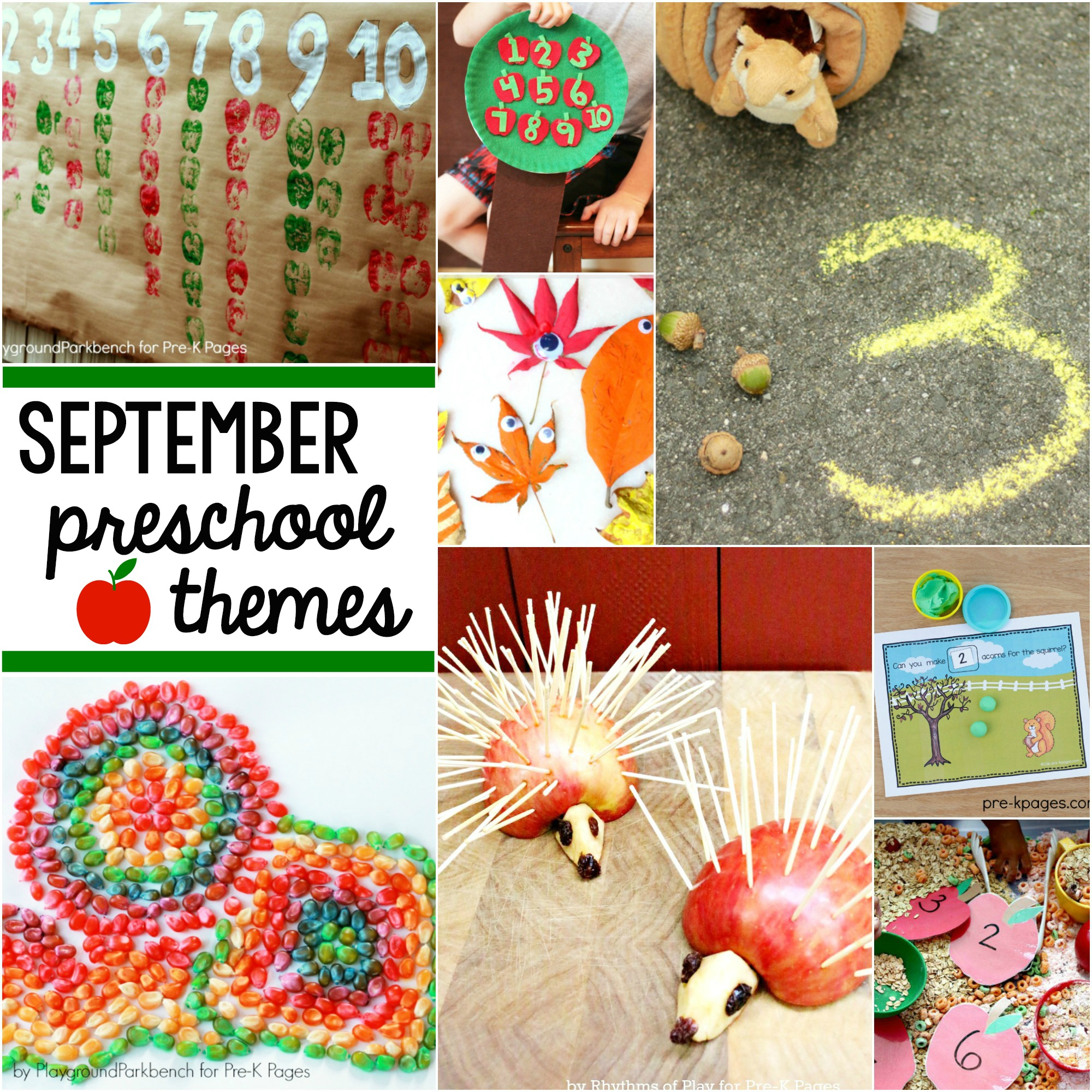 Preschool Curriculum Themes for September
SENSES
While you may include senses with an
all about me theme
, the five senses provide many opportunities for exploration. You may want to develop a separate senses theme to help preschoolers focus on these important natural tools. The beginning of the year can be a great place to introduce concepts related to the five senses, a foundation for learning throughout the rest of the year.
Exploring Vegetables
Books About the Body for Preschoolers
One Color Sensory Bin
Sensory Writing Tray
Sound Shakers
Senses Theme Activities
Science Texture Board
More Activities that Feature Five Senses
Ice Cream in a Bag
Growing Vegetable Soup
Scented Discovery Bottles
Flower Shop Dramatic Play
Restaurant Dramatic Play
Goldilocks Math Activities
Goldilocks Literacy Activities
PETS
Pets are a part of a child's family and are often the first animals that a child experiences in a hands-on way. This September theme will guide your preschool class to think about responsibility and care for their own pets or friends' pets.
Books About Pets for Preschoolers
Wash the Dog Sensory Activity
Pet Supply Scavenger Hunt
Pet Paw Print Art
Pet Shop Small World
Animal Shelter Dramatic Play
Alphabet Puppy Chow Game
Cat Prints
Best Classroom Pets for Preschool
Vet Office Dramatic Play
Pet Theme Math Activities
Pet Theme Literacy Activities
CLOTHING
Preschoolers are beginning to learn about themselves and the world around them. Learning things about self care, like taking care of needs or dressing themselves, are important milestones in the early years. A clothing theme can use familiar items to help preschoolers develop more of these self-care skills. September, near the beginning of the school year, is a great time for this theme.
Books for a Clothing Theme
Pete the Cat: I Love My New Shoes
Make Tie-Dye Shirts
Question of the Day: What Are You Wearing?
Scarecrow Counting Game
Button Counting Math Activity
Button Fine Motor Activity
What's the Weather? Dramatic Play Dress-Up
Jacket I Wear in the Snow: Drawing Activity
Season Pattern Blocks Bundle
Mitten Visual Discrimination
Need more theme ideas? Check out our theme list.
Curriculum Themes