Pets are part of the family. Even preschoolers who do not have pets at home are interested in dogs, cats, fish, and other animals. You may even have a pet in your classroom. Use these pets theme activities along with a family theme, or to explore more about the animals around you.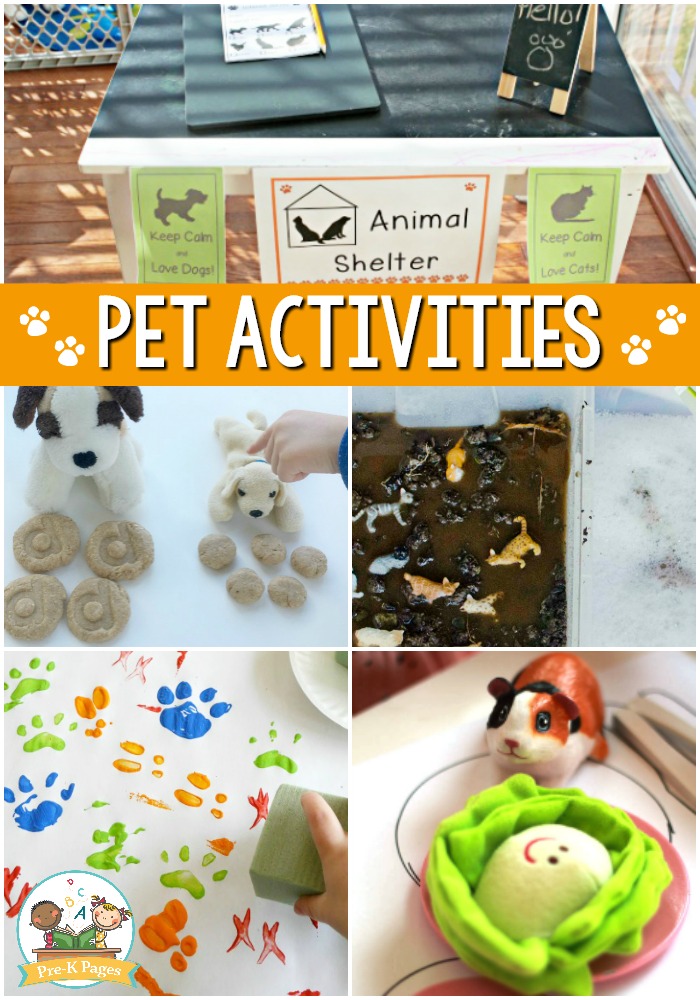 Activities About Pets
Small World Pet Shop (Pre-K Pages) – Most kids love pets and are innately intrigued by them. In our family, a trip to the pet shop is the next best thing to going to the zoo. We usually end up staying at least an hour. We take our time looking at all the animals, talking about their habitats, wondering why they would make great pets and what care they'd need. To further explore their interest, we recently set up a pet shop small world.
Play Dough: Making Pet Biscuits (Pre-K Pages) – Our Pet Play dough activity is full of fun and learning opportunities for your pet loving preschooler.
Wash the Dog Sensory Activity (Pre-K Pages) – We are absolutely addicted to sensory activities around here, they're one of our favorite ways to play. I created this incredibly simple pet sensory bin activity for my son and it was smash hit. A little dirt and some bubbles makes for one happy kid!
Dramatic Play Pet Cafe (Pre-K Pages)
Pet Supplies Scavenger Hunt (Pre-K Pages) – Do you do a pet theme in your preschool or pre-k classroom? To help your kids understand what pets need and how to properly care for them, here's a really fun pet scavenger hunt activity that you can use. Considering that more than half of all households in the U.S. have pets, including pet care in early childhood education is a meaningful and important way to help young children learn empathy and responsibility.
Paw Print Art (Pre-K Pages) – Learning about pets is fun for preschoolers! Pets help children think about caring for animals and the world and help teach responsibility. This pet art activity focuses on the prints that some pets make with their paws.
Animal Shelter Dramatic Play (Pre-K Pages) – Learning about community helpers is important to raise altruistic children, beginning in preschool (and even earlier in the home). Of all the helpers in our community, those that work in the Animal Shelter are the dearest to my heart as our three pets – 2 dogs and a cat – were all adopted from our local shelter. So I set up a dramatic play Animal Shelter for my twins to learn more about where our animals were from.
Pet Literacy and Math Activities (Pre-K Pages) – Pets Theme Activities for Preschool, Pre-K, and Kindergarten
Books About Pets (Pre-K Pages) – Pets are often the first animals that preschoolers have interactions with. Preschoolers love to talk about their pets or the pets of friends. These picture books are great resources for your pet theme, a part of a family study, or an exploration of animals.
Dog Bones Color Matching (Pre-K Pages) – Dogs make everything better. So when I'm looking for a book and activity to help my kids work on a concept, we automatically gravitate towards books featuring dogs. Dog's Colorful Day by Emma Dodd is a wonderful book for helping preschoolers learn colors and counting, and it inspired a fun activity that is really easy too!
Colored Whiskers (Pre-K Pages) – If you have read the wonderful book Cat's Colors by Jane Cabrera, you know that cat sticks his nose and whiskers into each aspect of his world to share it with the book's readers. He shares how a variety of colors are found on his favorite things and in this favorite places.
Alphabet Puppy Chow Game (Pre-K Pages) – Learning the alphabet doesn't have to be boring. You can make learning letters fun and interesting for your preschool or kindergarten children with this hands-on game they will beg to play again and again.
Dog Bone Counting Game (Pre-K Pages) – This is a fun, hands-on counting game for students in your preschool, pre-k, or kindergarten classroom.
Pet Vet Office Dramatic Play (Pre-K Pages) – Do you struggle to find time to change out the props in your dramatic play center? These printable props will help you easily transform your dramatic play center into a Vet Clinic.
Pet Songs for Kids (Prekinders) – Here are some songs to get your kids singing and moving during your Pets Theme.
Pet Visual Discrimination Games (Prekinders) – These Pets same and different games will help pre-k and kindergarten kids practice and build visual discrimination skills. Children need visual discrimination skills to help them identify letters and numbers, as well as distinguish the difference between similar letter shapes such as p, q, b, d.
Vet Dramatic Play (Prekinders) – This small dramatic play center has everything your vet office would from x-rays, to making appointments, even a stethoscope!
Picture-Word Cards about Pets (Prekinders) – This set of printable pets picture-word cards includes 18 pet related words: dog, cat, fish, turtle, guinea pig, bird, hermit crab, rabbit, mouse, frog, snake, lizard, horse, vet, bone, food, collar, leash.
Classification Game: Pets (Prekinders) – his is a classification activity that uses small cat and dog figurines.
ID Tags for Your Pretend Pets (No Time for Flash Cards) – These DIY Pet ID Tags are fun to make and fun to play with.
Pets/Wild Animals Sorting Activity (No Time for Flash Cards) –  In this animal sorting activity of pets vs. wild animals, it gives you a chance to talk about how we care for pets and observe local wildlife.
Pine Cone Pets (DIY Inspired) – Gather some pine cones and other bits of nature to make these fun pine cone pets!
LEGO Pet Building Instructions (Frugal Fun for Boys and Girls) – Have fun building all sorts of pets from dogs to cats even lizards!
Origami Cat (Red Ted Art) – These simple and cute origami cats are fun to make!
Origami Dog (Red Ted Art) – With easy instructions you will have so much fun making these origami dogs!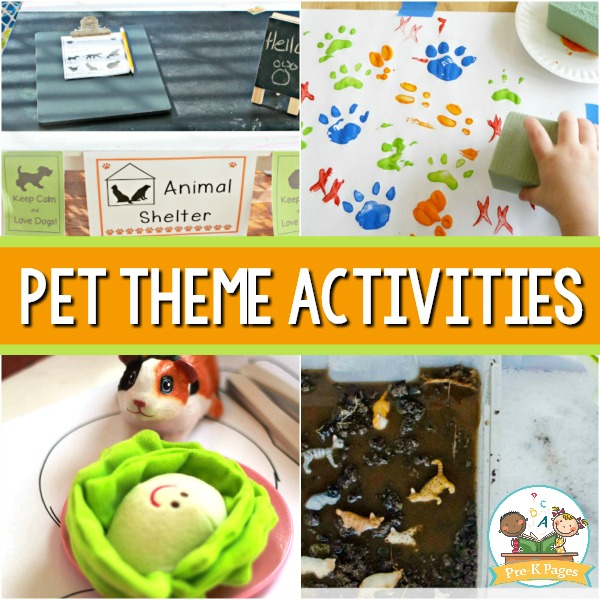 Pets Theme Activities for Preschool
Goldfish Painting (Crafty Morning) – Using different kinds of paint kids can make their own little fishies!
Activities for "Not Norman" (Growing Book by Book) – A few fun literacy activities to go along with the book!
Pet Store Rhyming Song (Growing Book by Book) – You don't need to own a pet to have fun with this pet store rhyming song.
Pet Bingo (Powerful Mothering) – Have fun playing bingo with this pet preschool theme.
Books About Dogs (Growing Book by Book) – Enjoy these fictional  preschool books about dogs
Pet Footprints Painting Activity (Fun-a-Day) – This fun process art activity will be loved by your preschoolers as they create "snowy footprints"
Pet Rocks (Fun-a-Day) – Grab some googly eyes, rocks, and paint and have fun creating your own pet rocks.
Pet Small World Play (Fun-a-Day) – Watch your preschoolers imagination come alive with this pet small word play.
Pet Frog Sensory Bin (Fun-a-Day) – You don't need to own a frog to enjoy this simple frog sensory bin.
Pet Grooming Station (Natural Beach Living) – When you mix animals with sensory play and water you get the perfect kids activity.
Dog Small World (Craftulate) – This dog small world is fun to set up and fun to play with.
Make a Pet Activity (Sunny Day Family) – Your kids will love to create their own pets with these 6 free printable animal templates!
Cat Matching Game (Sunny Day Family) – Grab this free printable cat matching memory game for your animal loving kids!
Paw Print Rocks (Sunny Day Family) – This is a fun craft activity using paint and rocks.
Pet Grooming Pretend Play (Sunny Day Family) – If your little ones love grooming their own cats and dogs then they will love this pet grooming activity.
Pet Hide and Seek (Sunny Day Family) – This is a great go to activity on a rainy day!
Make Fish Aquariums (Teach Preschool) – Your kids will love the colors and textures in this fun sensory experience!
Pet Guessing Game/Feel Box (Munchkins and Moms) – This is a great activity to go along with the Dr. Seuss book.
Pet Graphing Game (Playground Parkbench) – Work on graphing skills in this fun pet graphing game.
Paper Plate Pets (Crafty Kids at Home) – Have fun creating these  dog, cat goldfish or bunny paper plate pets.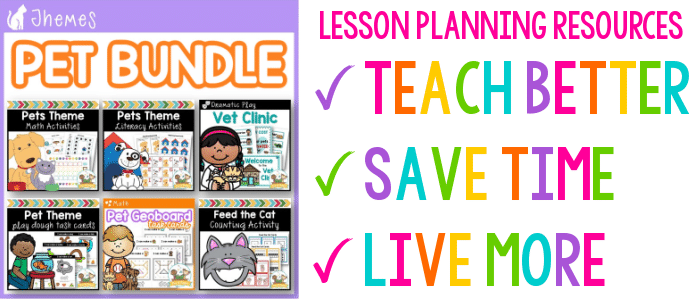 More Pet Theme activities