Colors are one of the first concepts that preschoolers begin to explore. As vision develops, color becomes one of the dominant attributes used to identify various objects and items. Each of these books explore colors in a variety of ways. As you help your preschoolers learn more about their colorful world, use these books about colors to strengthen their skills.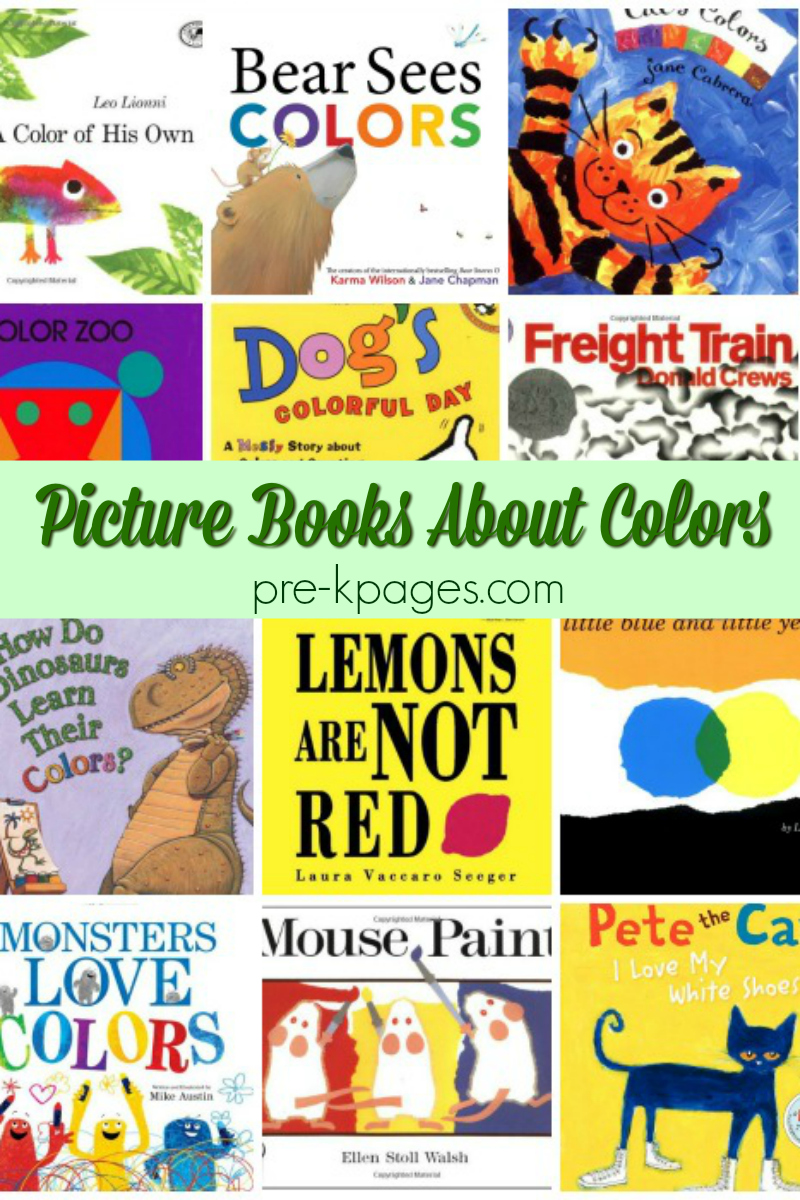 Picture Books About Colors
Black Bird Yellow Sun by Steve Light
The simple text and color illustrations follow a bird (and a worm) throughout the day.
Blue Hat, Green Hat by Sandra Boynton
This book will have younger readers giggling as one character cannot seem to wear anything correctly.
Brown Bear, Brown Bear, What Do You See? by Bill Martin Jr.
In this classic book, the repeated question, the predictable pattern, and the colorful illustrations by Eric Carle will guide children to read this book on their own in no time.
A Color of His Own by Leo Lionni
Elephants are gray. Pigs are pink. Only the chameleon has no color of his own. He is purple like the heather, yellow like a lemon, even black and orange striped like a tiger! When another chameleon suggests they travel together, he learns that companionship is more important than having a color of his own. No matter where he goes with his new friend, they will always be alike.
Bear Sees Colors by Karma Wilson
Colors, colors everywhere! Can you find colors just like Bear?
Cat's Colors by Jane Cabrera
What is Cat's favorite color? Is it green, like the grass where he likes to walk? Or yellow, like the sand on a sunny beach? Children who are learning new colors can join in Cat's fun, as he explores the colors all around him.
Color Dance by Ann Jonas
The girl in red, the girl in yellow, the girl in blue, and the boy in black and white are all set to stir up the rainbow. Watch them create a living kaleidoscope, step by step by step.
Color Zoo by Lois Ehlert
Shapes and colors in your zoo, lots of things that you can do. Heads and ears, beaks and snouts, that's what animals are all about. I know animals and you do too; make some new ones for your zoo.
Dog's Colorful Day by Emma Dodd
Dog starts off the day with one black spot on his ear. But it seems that wherever he goes, he runs, rolls, and trots right into colors. As he wanders around town, Dog collects spots made of red jam, blue paint, pink ice cream, and more. When he finally arrives back home, Dog has ten different colored spots. And then it's bath time for this colorful canine, who makes learning colors and numbers easy, messy, and fun!
Freight Train by Donald Crews
Count freight cars as you watch a freight train passing.
Green by Laura Vaccaro Seeger
How many kinds of green are there? There's the lush green of a forest on a late spring day, the fresh, juicy green of a just-cut lime, the incandescent green of a firefly, and the vivid aquamarine of a tropical sea.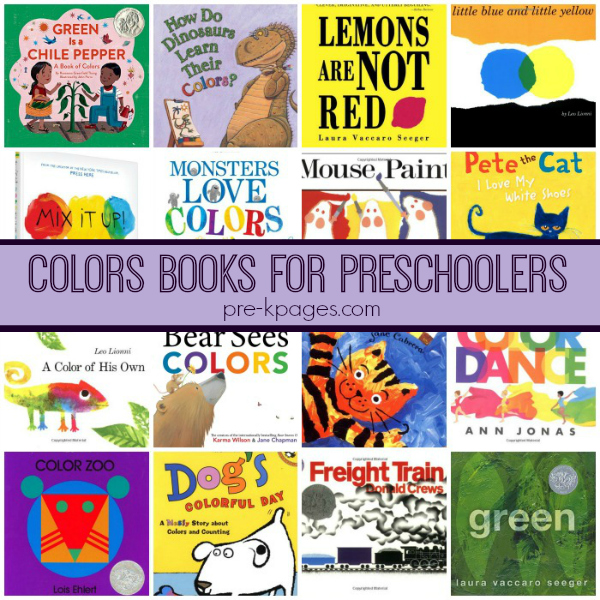 Colors Picture Books
Green Is a Chile Pepper: A Book of Colors by Roseanne Greenfield Thong
"Green is a chile pepper, spicy and hot. Green is cilantro inside our pot." In this lively picture book, children discover a world of colors all around them: red is spices and swirling skirts, yellow is masa, tortillas, and sweet corn cake.
How Do Dinosaurs Learn Their Colors? by Jane Yolen
Dinosaur colors start with red: A red fire truck stuck under the bed, A purple towel left on the floor, A green sign taped to the closet door…
I Love Colors by Margaret Miller
This book of close-up photos of babies wearing different colored items is perfect for younger preschoolers.
Lemons Are Not Red by Laura Vaccaro Seeger
"Lemons are not Red. Apples are red. Lemons are yellow. . . ." Clever cutouts in the pages make a simple, original, and utterly beguiling introduction to color.
Little Blue and Little Yellow by Leo Lionni
Little blue and little yellow share wonderful adventures. One day, they can't find one another. When they finally meet, they are overjoyed. They hug until they become green. But where did little blue and little yellow go? Are they lost?
Mix It Up! by Herve Tullet
An irresistible invitation to mix it up in a dazzling adventure of whimsy and wonder. Follow the artist's simple instructions, and suddenly colors appear, mix, splatter, and vanish in a world powered only by the reader's imagination.
Monsters Love Colors by Mike Austin
Did you know that monsters love to scribble, scribble, mix, dance, and wiggle! Why? Because monsters love to make new colors!
Mouse Paint by Ellen Stoll Walsh
One day three white mice discover three jars of paint–red, blue, and yellow. Both parents and children alike will appreciate this lighthearted presentation of a lesson in color.
Pete the Cat: I Love My White Shoes by James Dean and Eric Litwin
Pete the Cat goes walking down the street wearing his brand new white shoes. Along the way, his shoes change from white to red to blue to brown to WET as he steps in piles of strawberries, blueberries, and other big messes! But no matter what color his shoes are, Pete keeps movin' and groovin' and singing his song…because it's all good.
Pink Is for Boys by Robb Pearlmann
This book advocates that all colors are for everyone.
Red Is a Dragon: A Book of Colors by Roseanne Thong
A young girl finds a rainbow of colors in her everyday life.
White Rabbit's Colors by Alan Baker
White Rabbit finds cups of blue, red, and yellow paint and begins to play in the colors.
More Book Lists for Preschoolers