A preschool morning meeting can be a great way to start off the day in your early childhood classroom. Many preschool, pre-k, and kindergarten classrooms have successfully implemented a morning meeting routine into their daily schedules.
If you're wondering what a morning meeting is, why you should have one, and how to get started, then you're in the right place!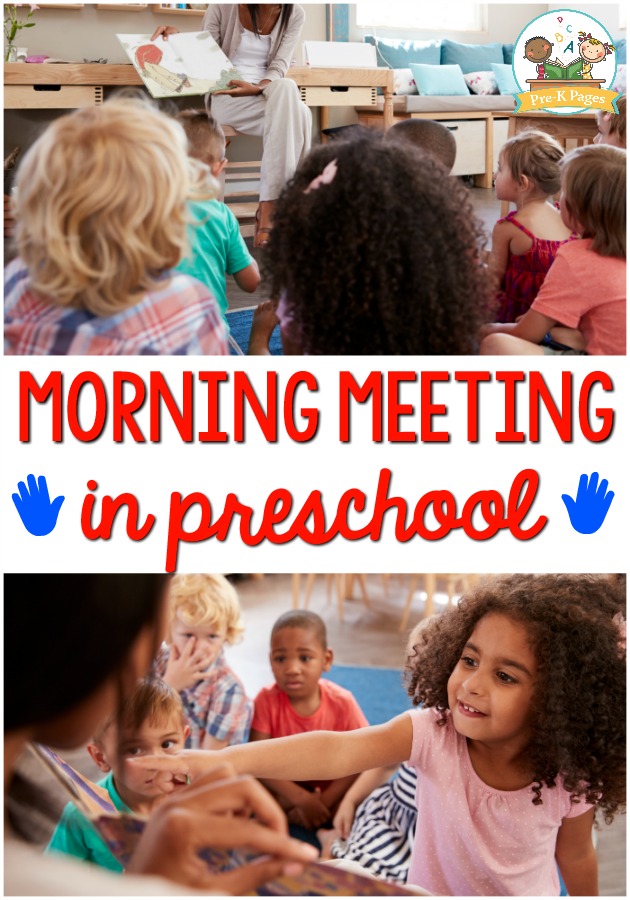 Preschool Morning Meeting Ideas
Sometimes, just making one simple tweak to your daily schedule or routine can make the difference between having a good day, or a bad day.
Changing a routine that you've had in place for a long time can be difficult, it's kind of like dieting if you really think about it. You may feel the need to hold on to the way you've always done things because it feels familiar and comfortable.
Starting a preschool morning meeting routine in your classroom is very easy! In fact, if you've ever done circle time, you'll already be familiar with some of the components.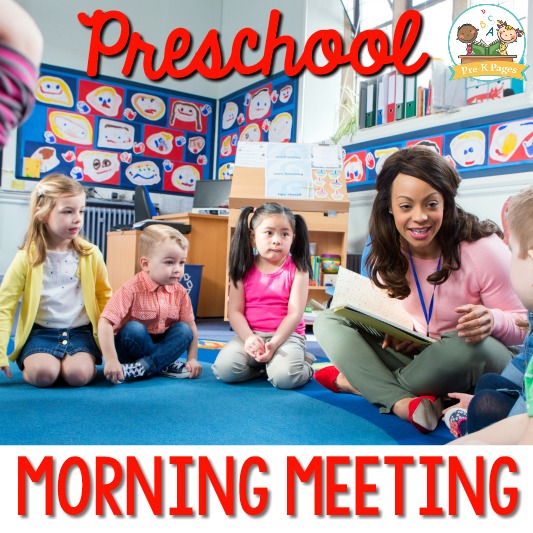 What is Morning Meeting?
A morning meeting is a short period of time where you gather together with the children in your classroom as a whole group.
During this brief time you're going to set the tone for the day by focusing on community building and reviewing the schedule for the day. Are you with me so far? Good! It's really not that difficult – pinky swear!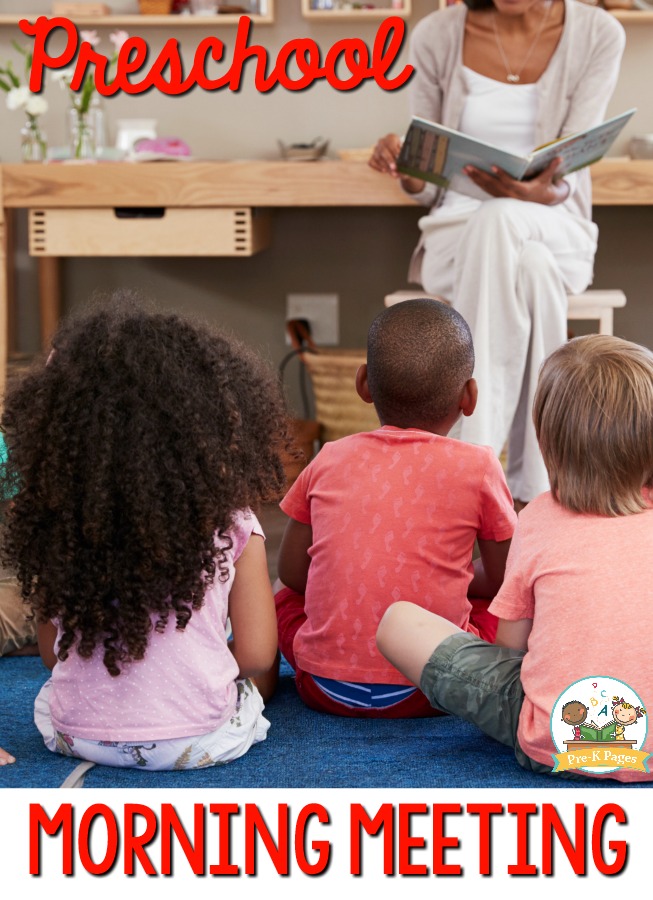 Why Morning Meeting?
There are many benefits of adding a morning meeting into your daily routine. A morning meeting can help you get the school day off to a great start.
Every morning meeting routine may look a little different according to your program's requirements, but here are the basics of an effective morning meeting routine:
Good Morning or Welcome Song
Attendance
Review the Schedule for the Day
Make a Plan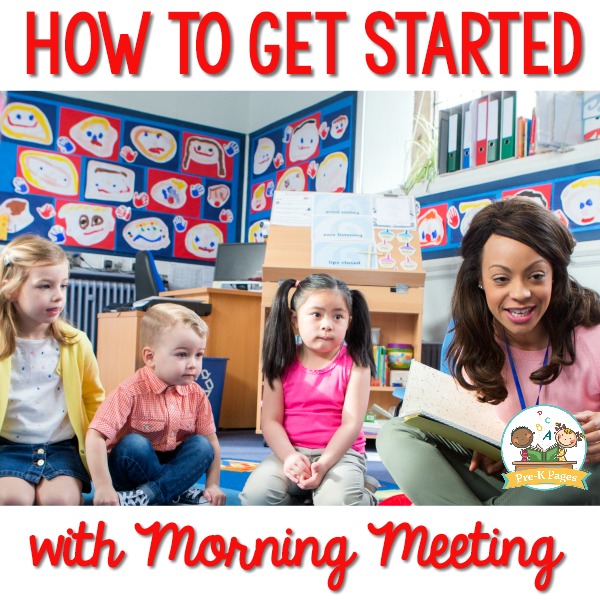 How to Get Started with Morning Meeting
So, how do we get started with a preschool morning meeting routine to build community in the classroom? The first step is to do what we do best, we sing! Yep, you read that correctly, start your morning meeting with a welcome or good morning song. This song will serve as an auditory signal to the children that your day is beginning.
If you add hand and body movements to your song you'll engage more children. You can even add props to serve as visuals to go along with your song. Now you've got their hands, feet, eyes, ears, and mouths engaged, you're off to a great start! See, I told you this wasn't difficult.
My favorite good morning song is Rise and Shine by Dr. Jean, but there are many others you can choose from.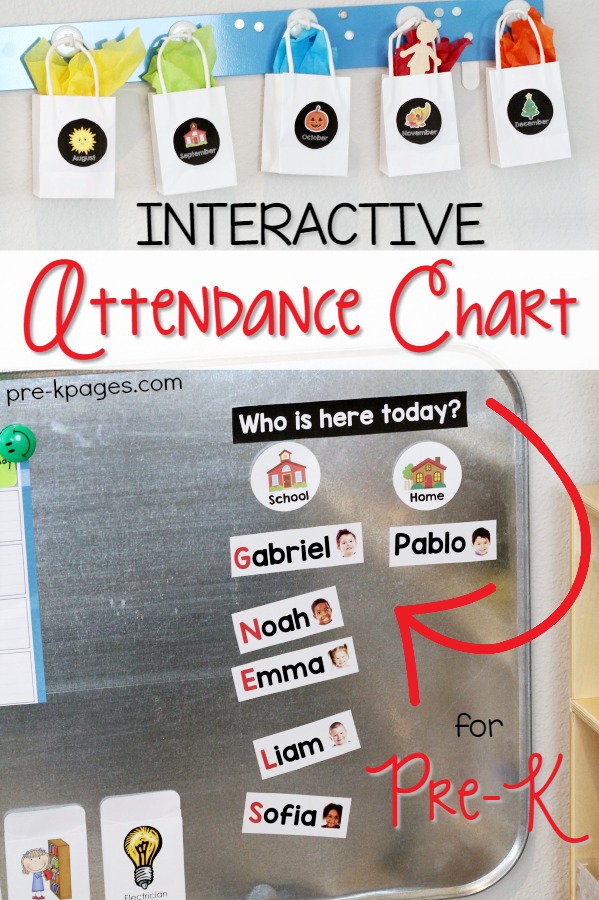 Attendance
After you sing your good morning or welcome song, you can move into your attendance routine. Your attendance routine could be anything you want it to be. Many teachers use a Question of the Day for taking attendance.
Others use student name cards in a pocket chart or on a magnet board, students put their name cards on the left side of the chart if they are at school and the right side if they are at home.
Whichever method of attendance you use, the most important thing is to look at the chart together to discuss their observations. You can take time to count students present and absent, compare the numbers of absent and present students, and even take time to wish your absent students well.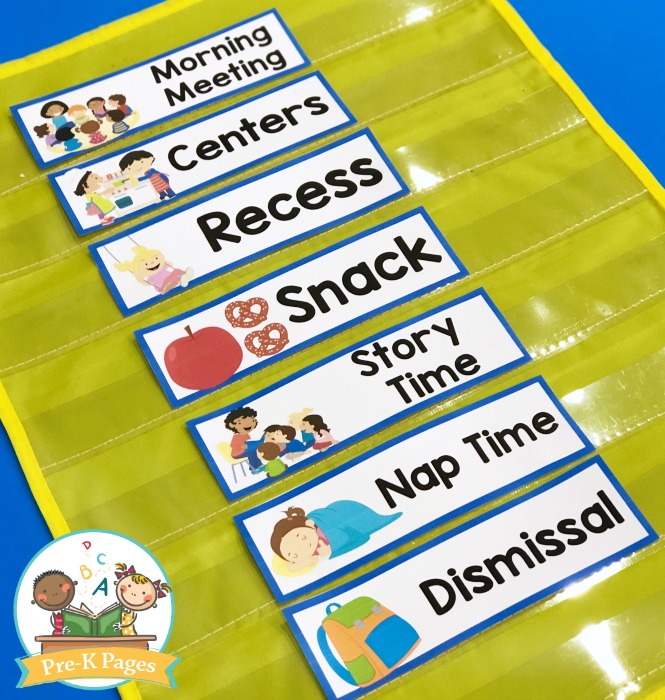 Daily Picture Schedule
Next, you're going to want to review your daily picture schedule with your students. Having a daily picture schedule is such an important part of establishing successful routines and transitions in your classroom – you definitely don't want to skip this part!
To review your daily schedule with your students, point to the first – or current, picture on the chart and remind them that this is what you're doing right now. Then, point to the next picture as you say "This (name the thing) is what we're going to do next."
Then point to the next picture and say, "After (the thing) then we're going to…"
If there are any changes to your daily routine, this is the time to point them out to the children.
Make a Plan
Now it's time to set the tone for the entire day. Making a plan is very subtle and may not even be obvious to any observers in your classroom.
For example, if you noticed that centers were a little out of control yesterday, you might remind the children that "Today, during center time we're going to be looking for children who are … (insert desired action)." This is making a plan for the day, you're laying out a plan for the students that will help them have a better day than yesterday.
If your daily schedule is really long, don't spend too much time on each piece, just the most critical ones. Remember, it's important to keep your morning meeting time short and focused to start your day off on the right foot.
Now you can transition to your next activity, which should be an active one to create a balanced schedule. If you're wondering about circle time, that part comes later.
The Teaching Tribe
If you have questions about morning meeting, or any other preschool topic, the best place to get your questions answered is in the Teaching Tribe. We have many printable lessons and on-demand video training to help you be the best teacher you can be! If you want to get on the waiting list for the Teaching Tribe, do it soon so you don't miss the next open enrollment period!
More Teaching Tips