Teaching preschool requires so much more than just teaching young children, it also includes a lot of parent education. Are you looking for preschool parent handouts to help your preschool families understand how to support their child's learning at home? These printable back to school handouts include bite-sized chunks of valuable information that parents can read quickly and implement right away with supplies they probably already have on hand.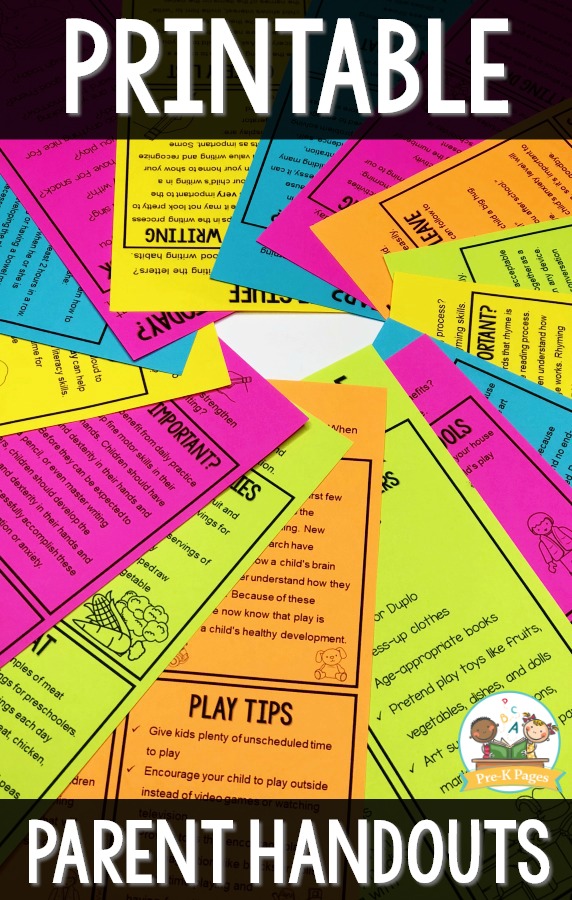 Preschool Parent Handouts
When it comes to back to school, there are so many ways to use these parent handouts, you don't have to send them home in the backpacks black hole. Here are some ways you might consider using these handouts in your classroom:
Back to School Night
Math Night
Parent Education Sessions
Parent Orientation
Student Registration/Roundup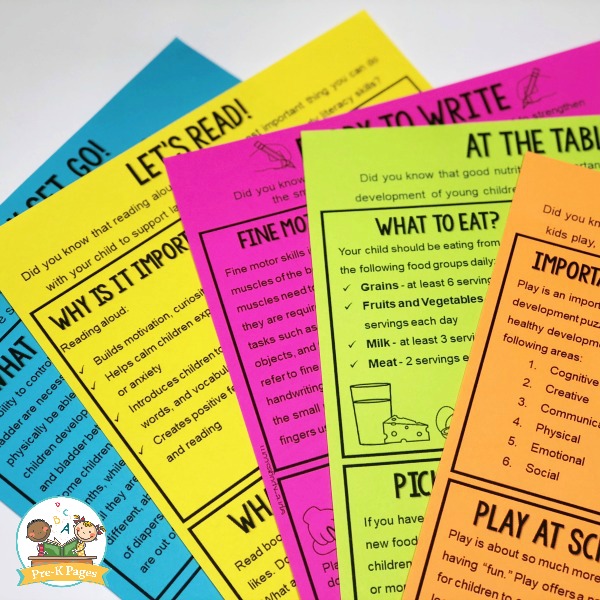 Handout Topics
There are so many topics to cover when it comes to parent education! Here are some of the topics included:
Learning the Alphabet
Bedtime
Educational Gift Guide
Environmental Print
Fine Motor Skills
Eating a Healthy Breakfast
Making Math Fun!
Potty Training Tips
Let's Read!
What Did You Do at School Today?
Importance of Healthy Eating
Importance of Play
Play Dough + Recipe
What is Process Art?
Learning to Rhyme
Screen Time
Separation Anxiety
Time for School
What to Wear?
Writing at Home
Don't see a topic you need addressed? Leave a comment below and I'll consider it for future updates!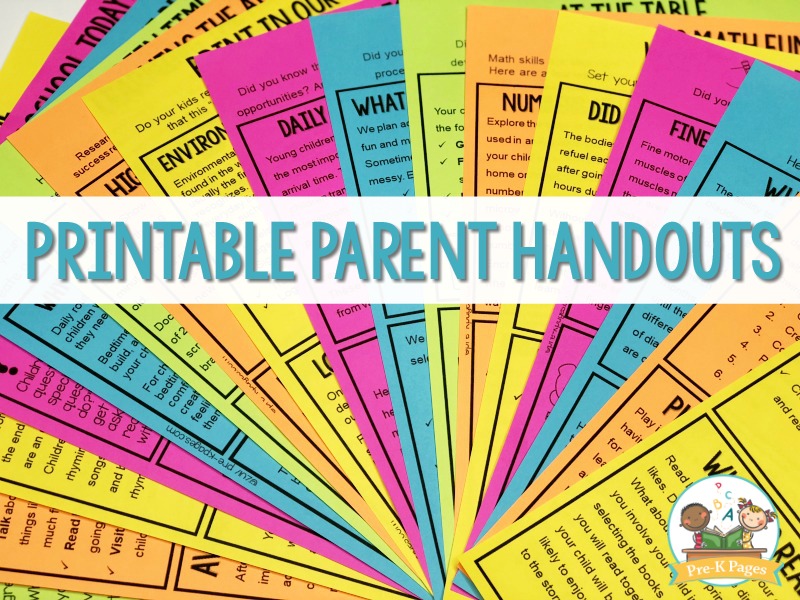 Learning at Home
These done-for-you parent handouts are designed to help your preschool, pre-k, or kindergarten parents support their child's learning at home.
Your families (and administrators!) will love these professionally written notes designed to enhance parent communication and education.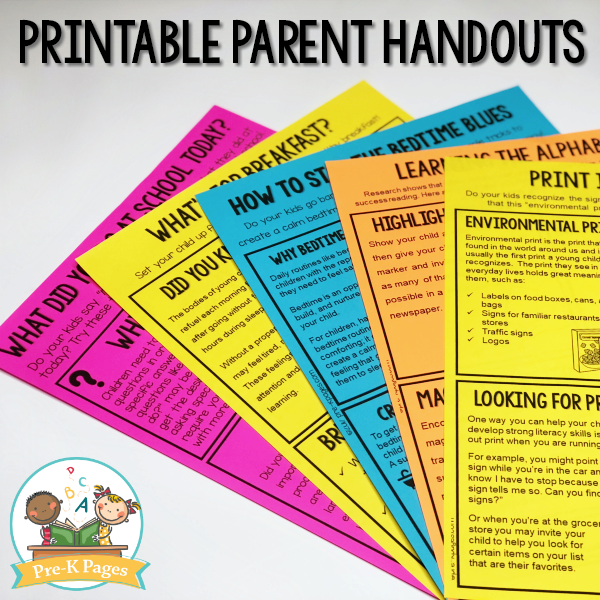 Editable Handouts
Each one-page handout provides parents with easy to understand information, tips, and activities they can implement at home to help their child.
The activities included in the back to school handouts use materials many families may already have on hand at home, or can be easily sourced from the dollar store.
Just print your handouts on AstroBrights paper, or any colored paper, to keep them from becoming lost.
If you teach in another language, these handouts are editable so you can translate the words for your families.
You can find these resources HERE.
The Teaching Tribe
Parent handouts are awesome, but let's be honest, they're not going to make you a better teacher. The best place to discuss teaching best practices and get the support you need is in the Teaching Tribe. We have many printable lessons and on-demand video trainings to help you become the best teacher you can be! If you want to get on the waiting list for the Teaching Tribe, do it soon so you don't miss the next open enrollment period!
More Teaching Tips