Are you looking for some good circle time songs for your preschool or pre-k classroom? Music is such a simple and easy way to help young children learn! All of these songs for circle time are preschool-appropriate and will make learning extra fun. Try these teacher-approved song choices to engage young children at home or in the classroom. Add these to your mix of favorite songs and your kids will be grooving, moving, and dancing the day away!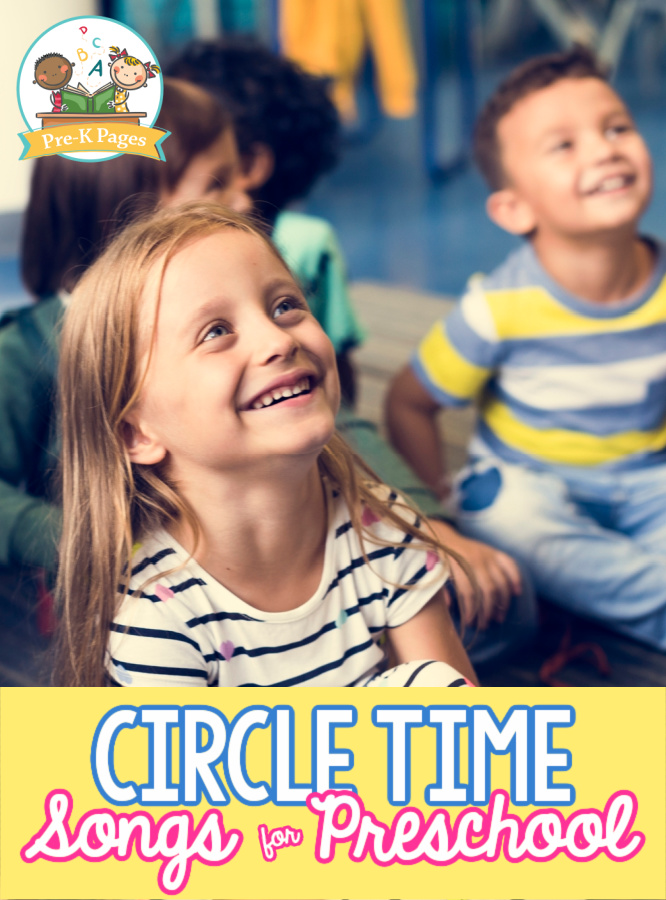 Circle Time Songs for Preschool
It's simply amazing how young children relate to music. The moment they hear a song, they'll stop whatever they're doing and listen. If it's a familiar song, they'll sing along too. Music has a magical way of engaging young children – remember the Pied Piper?
Music creates a bridge that connects entertainment and education. This is why many preschool classrooms use music frequently. You can play music as a signal for them to gather, sit, listen, and pay attention. It's so much better than just asking them to come and sit down!
While it's certainly true that music can be fun and often sounds pleasing, it's also a great educational tool. Children may find that music helps them remember concepts, and also learn more about movement and rhythm. They might become musicians one day!
The Best Circle Time Songs
Introducing music at circle time is the perfect way to get your kids attention, help them focus, and provide them with a positive experience that they'll look forward to on a daily basis.
Adding music to your circle time routine and classroom transitions are positive ways to help children focus and move their bodies! This is also a simple way to create a routine and provide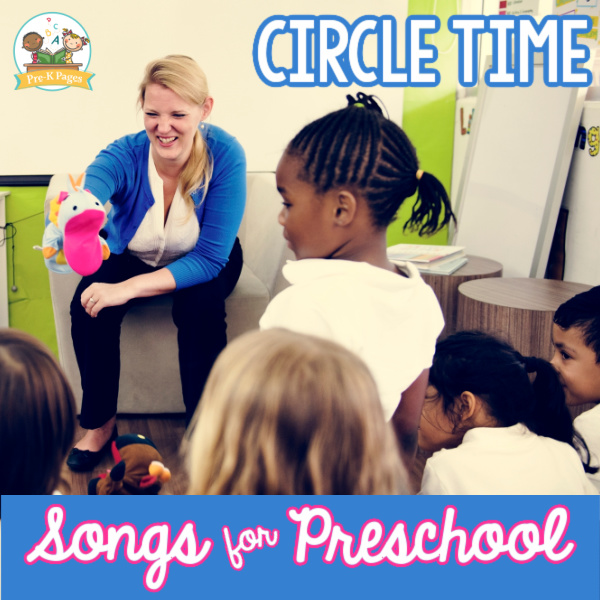 Preschool Songs for Circle Time
The great thing about preschool songs for circle time is that you have a lot of choices to pick from. Keeping the songs lighthearted and peppy is always a great idea! The more songs for preschool circle time that you have at your disposal, the better.
If you don't have a ton of time to seek and find great songs for circle time, I've done all the hard work for you. Below you'll find some of my favorite preschool songs for circle time that will have your little learners stomping to the beat and clapping along. And don't forget, they'll be learning at the same time!
Since these songs are available on YouTube, you can even pull them up on your screen to let the kids watch the songs in live motion as well! I also love the idea of having the kids use their senses to first hear the song only using their ears, and then let them hear the song again but also have the watch with their eyes! They might hear and see the song in a whole new light!
Your kids will love these fun circle time songs because they're geared specifically for the early childhood crowd. Your preschool learners will love singing, dancing, and grooving to the beat of all these fun early learner songs!
Songs for Circle Time
Hello Song, by Nancy Kopman

Rise and Shine, by Dr. Jean Feldman

Hello Song, by Maple Leaf Learning

Spread a Little Sunshine, by Jack Hartmann

Everybody Clap, by Nancy Kopman

Open, Shut Them, by Super Simple Songs

Hola, Bonjour, Hello! by Champiverse on GoNoodle

Open, Shut Them, by Mother Goose Club

Wheels on the Bus, by Super Simple Learning

What's Your Name? by Super Simple Songs

Wheels on the Bus, by Patty Shukla

Head, Shoulders, Knees and Toes, by The Learning Station

If You're Happy and You Know It, by Patty Shukla

Grand Old Duke of York, by Mother Goose Club

Tooty Ta, by Jack Hartmann

Head, Shoulders, Knees and Toes, by Patty Shukla

Tooty Ta, by Dr. Jean

Who Took the Cookie? by Super Simple Songs

Itsy Bitsy Spider, by Patty Shukla

More Teaching Tips