Rainy weather is a great topic to explore with preschoolers. Most preschoolers love rain – watching it, walking in it, and even jumping in puddles. Preschoolers can discover that rain provides needed water for animals and plants and other science concepts.
Here's a collection of my favorite rain activities to use your preschool, pre-k, or kindergarten classroom. You can use these activities as part of a spring theme, weather theme, or just for fun.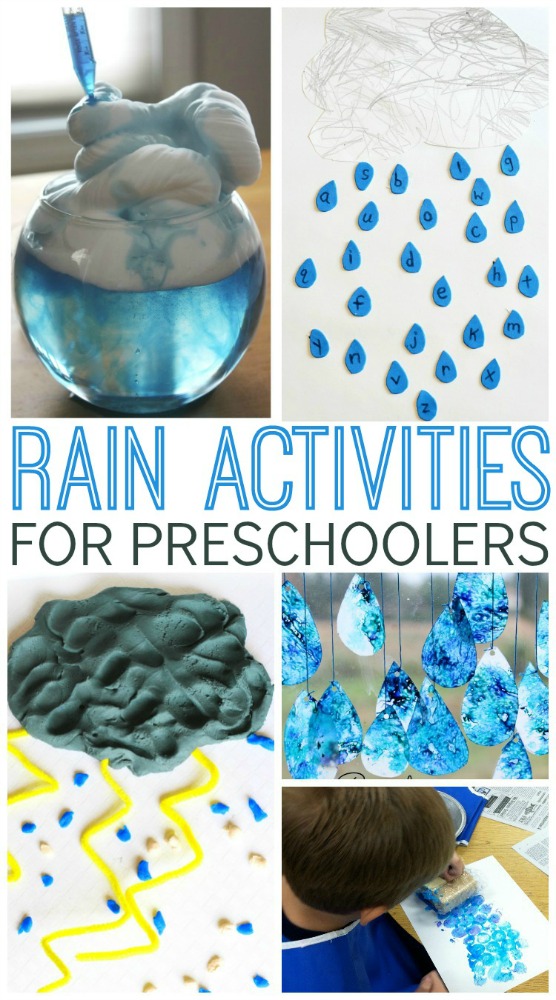 Rain Activities for Preschoolers
Raindrop Suncatchers Fine Motor Art (Pre-K Pages) – These Raindrop Suncatchers make a great rainy day activity that both preschool teachers and students will love! Use this idea to build fine motor skills and to create!
Make an Umbrella (Pre-K Pages) – This umbrella weather activity is perfect for a weather theme, or just to brighten a dreary, rainy day. It supports both literacy and counting skills.
What's the Weather? Dramatic Play Dress-Up Center (Pre-K Pages) – To teach the girls more about this topic through play, I set up a dramatic play and dress up center to play Weather Forecaster this week!
Rain Process Art…and a couple of other weather art activities (Pre-K Pages) – You can use these weather process art activities to explore fall (or other seasonal) themes.
Exploring Raindrops and Clouds (Teach Preschool) – This is a great way to bring weather concepts to life in your classroom.
Rain Jar (Teach Preschool) – A fun engaging way to explore concepts in your preschool classroom!
Weather Word Wall Art (Teach Preschool) – Create a little art and work on weather themed words all at the same time.
Homemade Rain Gauge (Imagination Tree) – Here's how to make a really simple rain gauge using recycled materials, for somerainy day fun! There are plenty of opportunities for learning about measuring, number recognition, capacity and weather along the way too!
Rain Cloud Spring Science Activity (Little Bins for Little Hands) – Here's how to make a really simple rain gauge using recycled materials, for some rainy day fun!
Rain Painting (Housing a Forest) – Five fun ways to paint in the rain!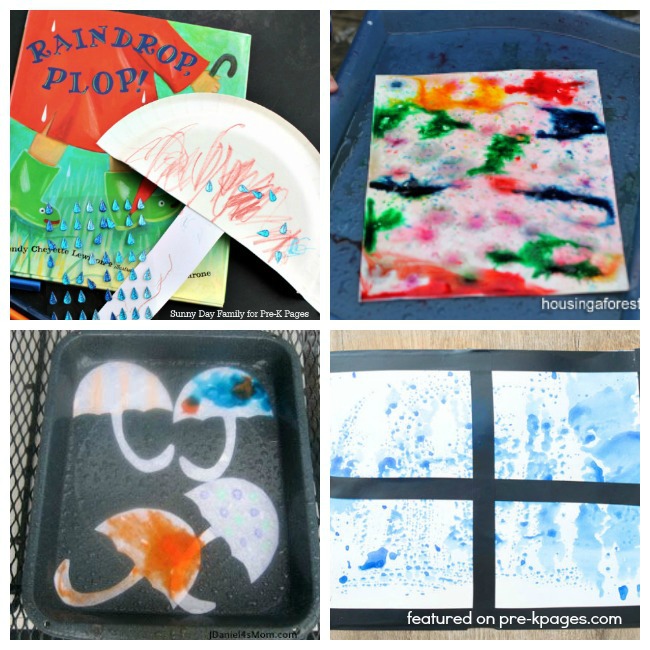 How Does It Rain? (Learn Play Imagine) – In this fun rain science experiment, your preschoolers can learn how to make rain!
Rain Cloud Suncatcher (Preschool Inspirations) – Kids can make a fluffy rain cloud suncatcher craft to celebrate April with their own rain shower.
Rainy Day Fun Science Experiment (Mom with a Lesson Plan)
Homemade Rainsticks (Mama Papa Bubba) – Recycle some household materials to make your own rainsticks.
Sun and Rain Sensory Bottles (Creative Family Fun) – With a little gold glitter you can easily create these fun sun and rain sensory bottles.
Rainbow Rain (Kid Minds) – Imagine if rain came in a rainbow of colors? That was the inspiration behind this Rainbow Rain art activity!
Water Cycle in a Bag (Play Dough to Plato) – A quick prep is all that's needed for this water cycle in a bag activity. A little prep with a big payoff!
Rain Songs (Let's Play Music) – Embrace the rain with these rainy day songs and activities.
Thunderstorm Art (Buggy and Buddy) – Incorporate this thunderstorm process art project into your collection of weather activities for kids! This stormyart activity is made using paints and construction paper and is perfect for toddlers, preschoolers, and kindergarteners. Such a fun way to explore color mixing!
Shaving Cream Swirled Umbrellas (Teaching Mama) –  Your preschoolers will love creating this umbrella craft when it involves shaving cream.
Rainy Day Books (JDaniel4's Mom) – When there's a rainy day, there is nothing better than enjoying a good book. And here are 17 rainy day books for kids.
Rainy Day Science Experiments (JDaniel4's Mom) – Enjoy a rainy day with one of these fun rainy day science experiments.
Let's Make Rain: A Pre-writing Activity (Educators' Spin on It) – Let's Make Rain is a fun and easy activity to do with your weather unit that is great for early writing.
Raindrop Letter Matching (Mom Inspired Life) – This raindrops letter matching craft is a simple way to learn letters and develop fine motor skills. It's a great addition to your preschool weather unit.
Make a Thunderstorm with Play Dough (Mom Inspired Life) – Extend your learning about thunderstorms by creating one out of playdough.
Puddle Jumping Alphabet Activity (Mom Inspired Life) – This puddle jumping alphabet activity is a great way to move and learn letter sounds! Bring the rainy fun inside with this playful preschool literacy activity!
Rainy Day Window Art (Munchkins and Moms) – Make your own rainy day window by using a cookie sheet, a little paint, and tape.
Bubble Wrap "Rain" (Brick by Brick) – Bubble wrap is put to good use with this bubble wrap rain art activity.
Rainy Day Drawing Cube (Preschool Spot) – Create this rainy day drawing cube and then have fun rolling the dice. Your children will love creating their picture based on what they roll.
Do you have a favorite rain themed activity you do in your classroom?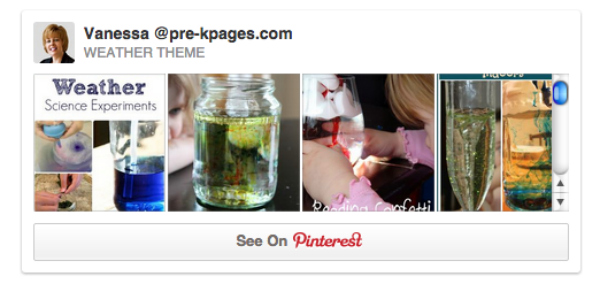 Follow my Weather Theme Pinterest Board for more great ideas!