Do your kids beg for rewards for good behavior? Have you ever had second thoughts about rewarding children for good behavior with stickers and other trinkets? You're not alone!
I'm living dangerously by touching on the hot button issue of using rewards in the classroom but I know you will continue reading with an open mind because teachers are lifelong learners.
We've discussed several ways to address challenging behaviors in the classroom in our book study. Prizes were never mentioned as a way to manage behavior.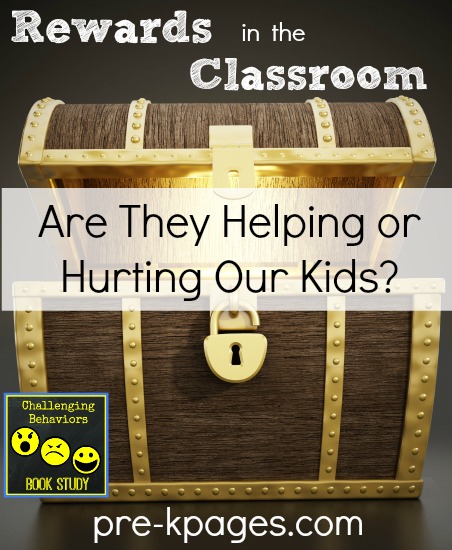 Punished by Rewards
The book Punished by Rewards by Alfie Kohn was used as a resource for this post. I encourage you to read this book if you would like to learn more about how to move away from trinkets, stickers and rewards in the classroom.
What's Wrong with Controlling Behavior with Rewards?
Have you heard the quote from Maya Angelou about knowing better and doing better? I believe that quote is very applicable when talking about using rewards in the classroom.
Rewards were used as a method of controlling behavior- in both children and prisoners, long before educational or behavioral research was being conducted on the topic.
It's simple, when we know better we do better.
Here are my biggest problems with rewards:
Child cries when he or she does not get a sticker or a prize for a behavior that occurred hours or even days before.
Child cries because he or she loses the sticker or trinket and valuable time is wasted calming the child and searching for the lost reward.
Parent becomes angry because their child did not receive a reward.
Child will start behaving just prior to the time when rewards are dispensed and fully expects a reward- meltdown follows.
Child doesn't care about receiving the reward until it's actually time to receive the reward (see above).
Teachers typically have to pay for these meaningless trinkets out of their own pockets!
All of these examples listed above are huge time wasters, lots of valuable time is wasted throughout the whole process. When a reward isn't "earned" it can also lead to meltdowns- just what every preschool or kindergarten teacher needs.
All of the above are perfect examples of how to bribe a child into behaving instead of teaching that child how to regulate his or her own behaviors and emotions. Self-regulation is a life skill that will help children be successful in school today, and the rest of their lives. Did you know that most prisoners are incarcerated because they lack self-regulation skills?
I don't know about you but I like to work smarter, not harder. Stickers and prizes make my job as a classroom teacher twice as hard as it already is- no thank you.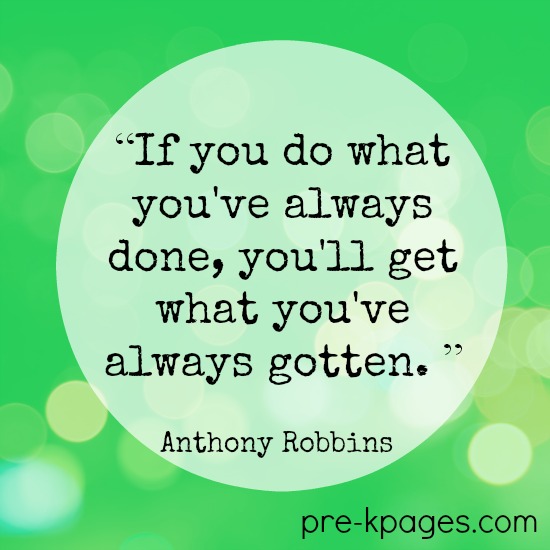 Some of those who use stickers and prizes to control young children's behavior may say they have had great success doing so. They may even say it's what they've always done and it works. I believe that one of the most dangerous sayings in the teaching profession is "We've always done it this way." If somebody has tried to ditch stickers and treats and been unsuccessful I pose this question, "Why was it unsuccessful?"
While stickers and treats might work for some children some of the time, they do not work for all children all of the time.
What works for all children?
Making real connections
Establishing consistent routines and procedures
Creating a kind and caring environment where kids feel safe
Philosophies like Love and Logic and Conscious Discipline work for all kids- but they aren't easy, are you up for the challenge?
What if using stickers and trinkets to reward behavior is mandatory?
Unfortunately there are far too many schools out there that have put a mandatory reward system or token economy into place. These types of programs are operating under the mistaken assumption that a school wide system must be implemented for behavior management. Some do it in the name of consistency. I fear the real reason may be the need to control teachers- do you see a pattern here?
If your school has a mandatory reward or token economy in place I suggest- no I strongly urge you, to get a copy of Punished by Rewards and share it with your administrators. It can be as subtle as slipping a copy into their office mailbox or leaving copies of important pages in the staff bathroom. Leave a few copies of pages on the tables in the staff lunchroom too while you're at it.
If all of that is too much trouble for you, there's always the smile, nod your head, and close your door method- one I have used with great success in the past.
More Preschool Behavior Resources