Sometimes things that seem small are the things that can create big classroom management issues. At the beginning of the year, many teachers struggle with getting children in a line. Knowing how to get kids to line up is not innate. Having kids line up is something that must be taught, a procedure that teachers put in place in the classroom. Let's look at how you can set up your preschoolers…and yourself…for success with this routine.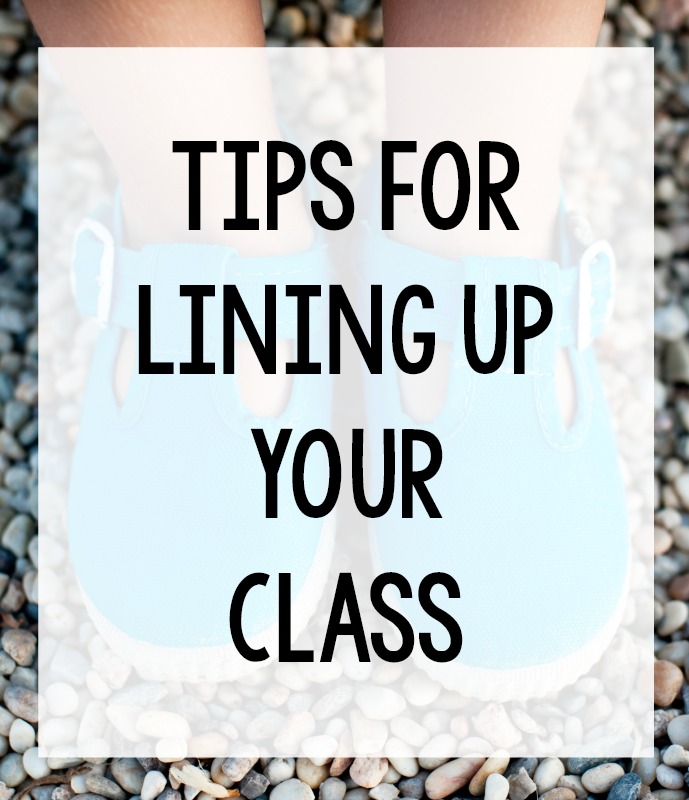 Setting Up a Kids Line Up Area
The first step in teaching young children how to line up is to have a designated area for kids lining up. First, set a stop line. Young children don't know how close to stand to the door or where exactly to start the line. Use tape or something else to create a line or spot that shows the beginning of your line.
Then mark where your line should be. I use colored tape or masking tape to mark the line. Or use shapes (like shoe prints) secured to the floor the packing tape or contact paper. Other ideas of things to use: window clings, sit spots, pieces of Velcro on the carpet.
Indicate where each child should stand, leaving appropriate space between each child. When marking the spaces, keep in mind times like dismissal when children will be wearing backpacks (and will need enough space to stand without being crowded). You may want to add these space markers after you have seen the children in the room, lined up. You could use a ruler to measure between children to make sure your space markers are at the correct distance. (Depending on what you use to make your line markers, it's difficult to change/move these markers after you have placed them. Or at least it's frustrating to do so!)
Tip: Make sure the flow from your group area to the line-up area is open and clear. If children must weave through furniture or take a long route to line up, other behavior issues could arise.
Being First in Line When Kids Line Up
Being first in line is a big deal to young children. They view being first as being the "best" or the "most important." While you and I know this isn't true at all, it can still be a big source of frustration in the classroom.
The best way to stop arguments about who will be first to line up is to have a designated line leader. To do this, you can set up a quick and easy classroom helper system in your classroom. One child is designated the line leader and lines up first. Rotate the task daily, weekly, or whatever frequency works for your classroom.
Tip: Treat each space in the line as important or special. "Yay, you are fourth in line today! Who is fifth?" (This builds math skills, too.) Help diminish the spotlight on being "first."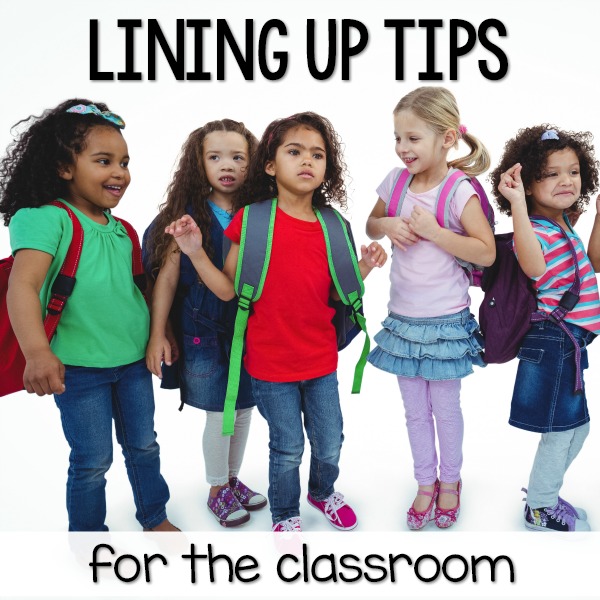 How to Keep Them from Running When Kids Line Up
Transitions need to happen quickly but in a managed way. Release only a few children at a time. Using a gradual release avoids traffic flow problems (moving to the line and getting to place). Calling children to line up in different groups also builds listening skills, vocabulary skills, and problem-solving skills.
You can use these ideas below to have a few kids line up at a time:
Types of shoes: tie, Velcro, sandals, flip flops, sneakers
Shirt Color
Shirt Pattern (stripes, words, team etc.)
Shorts
Long pants
Long sleeves
Short sleeves
Collar on your shirt
Buttons on your shirt
Short hair
Long hair
Rode in a car today
Rode on a bus today
Walked to school
If your name starts with…
If you have a (letter) in your name
Tip: Jot down these ideas on cards and keep them with your circle time resources. Then you can scan the cards for release ideas instead of trying to recall them quickly.
Watch the Video
The Teaching Tribe
Of course, lining up is only one small part of teaching preschool, the best place to ask questions and get personal teaching help is in the Teaching Tribe. We have many printable lessons and on-demand video training to help you be the best teacher you can be! If you want to get on the waiting list for the Teaching Tribe, do it soon so you don't miss the next open enrollment period!
More Teaching Tips
More Preschool Behavior Resources