Do you have books in your art center? There are many children's books about great artists and their famous works to choose from. Here's a list of age-appropriate books about art and artists for your preschool, pre-k, or kindergarten art center.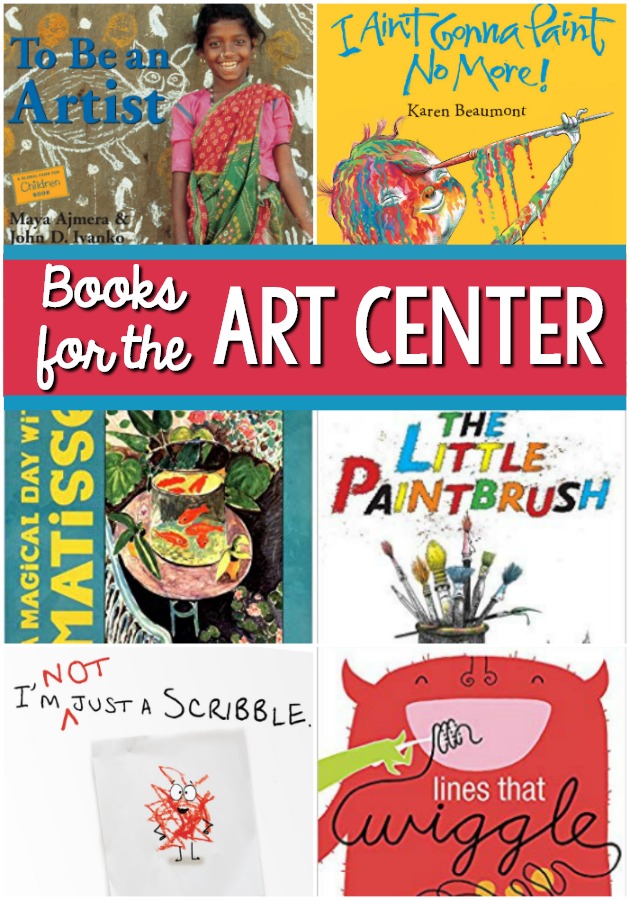 Picture Books About Art
Mix It Up by Herve Tullet
Another fun interactive book by Tullet. In this book kids can think about and explore color mixing.
I Ain't Gonna Paint No More! by Karen Beaumont
Fun rhyming text and colorful illustrations create a fun book about a boy who just loves to paint.
Mouse Paint by Ellen Stohl Walsh
Three white mice explore what happens when you mix paint colors.
Little Blue and Little Yellow by Leo Leonni
Little Blue and little Yellow share wonderful adventures. One day, they can't find one another. When they finally meet, they are overjoyed. They hug until they become green.
A Picnic with Monet by Julie Merberg
Simple rhyming text accompany paintings by Claude Monet, introducing children to his art.
Painting with Picasso by Julie Merberg
Paintings of people by Picasso along with the rhyming text allow children to explore the artist's work.
In the Garden with Van Gogh by Julie Merberg
Explore countryside paintings by Van Gogh (and simple rhyming text about it).
Dancing with Degas by Julie Merberg
Poetic text with dancer paintings by Degas introduce kids to fine art.
Sharing with Renoir by Julie Merberg
Featuring people paintings by Renoir, this book leads kids to think about ways to share or spend time with others as well as explore artwork.
Quiet Time with Cassatt by Julie Merberg
Mary Cassatt's paintings of families show quiet times together.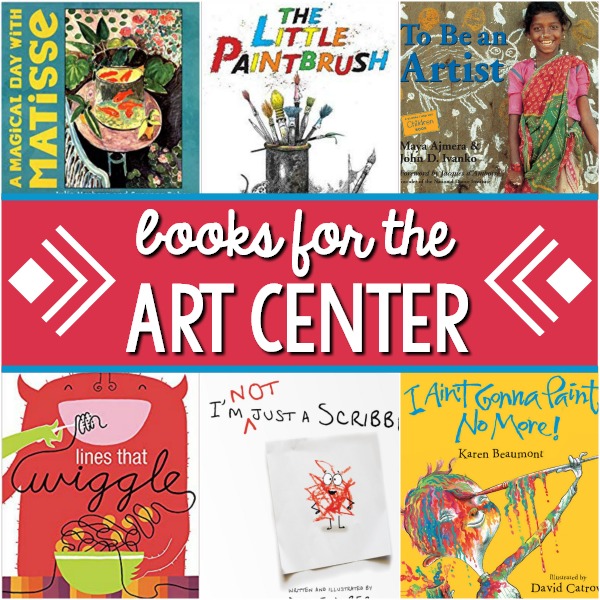 Books for the Art Center
Sunday with Seurat by Julie Merberg
An introduction to Seurat's artwork with a simple accompanying story.
A Magical Day with Matisse by Julie Merberg
Rhyming text with Matisse's vibrant paintings tell of a magical day.
The Little Paintbrush by Bjorn Rorvik
A little paintbrush wants to be used by the artist to paint a masterpiece. After heroic efforts, he gets his wish.
Splatter by Diane Alber
Three colored splatters always work on art alone. What happens when they try to work together on the same piece of art?
I'm Not Just a Scribble by Diane Alber
Scribble wants to play with the other drawings. But they are not sure because his colors are so bright and his lines are too messy. They decide to play together and make beautiful pictures.
Henri's Scissors by Jeanette Winter
A picture book biography of Henri Matisse, whose creativity never stopped even when he was older and in a wheelchair.
Lines that Wiggle by Candace Whitman
Fun illustrations and text explore all kinds of lines–lines that wiggle, lines that bend, lines that sprout, lines that twist.
Beautiful Oops! by Barney Saltzberg
A spill, a tear, a mistake can be a discovery and an adventure in creativity.
Too Much Glue by Jason LeFebvre
Matty loves glue. When he finds the full bottles of glue, he wants to use it all.
To Be An Artist by Maya Ajmera
Photographs of children from around the world participating in music, dance, and the visual arts.
Maybe Something Beautiful by F. Isabel Campoy
A Day with No Crayons by Elizabeth Rusch