Are you looking for age-appropriate science books to read-aloud to your Pre-K or Preschool class? Many early childhood teachers struggle to find books that can explain science concepts to young children in an easy to understand way. Here's a list of 40 of the best science books for preschoolers that will inspire and engage your little learners.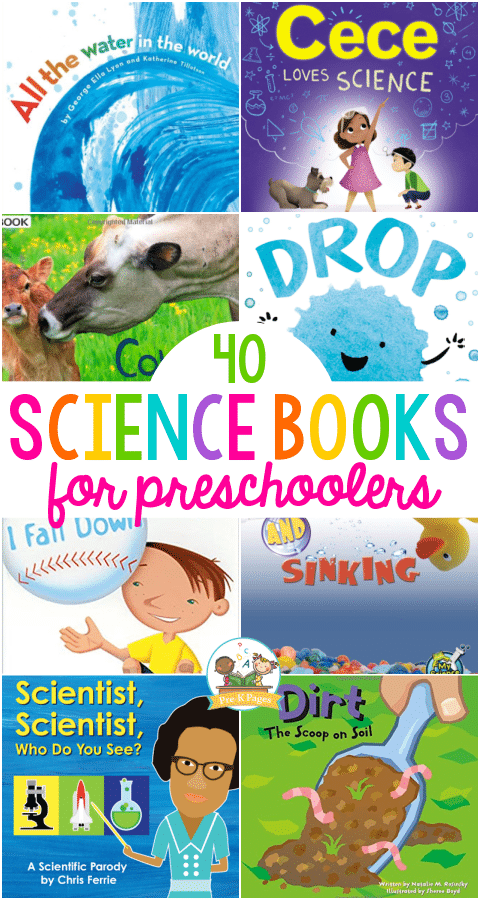 Best Preschool Science Books
Do your kids ask lots of questions? How many times a day do they ask you "Why?" or "How?" when it comes to scientific topics? You see, preschoolers are naturally inquisitive, in fact some say that the average preschooler asks 400 questions a day!
Favorite Preschool Science Books
A great way to help young children get answers to their questions is to read picture books that explain the concepts in kid-friendly ways.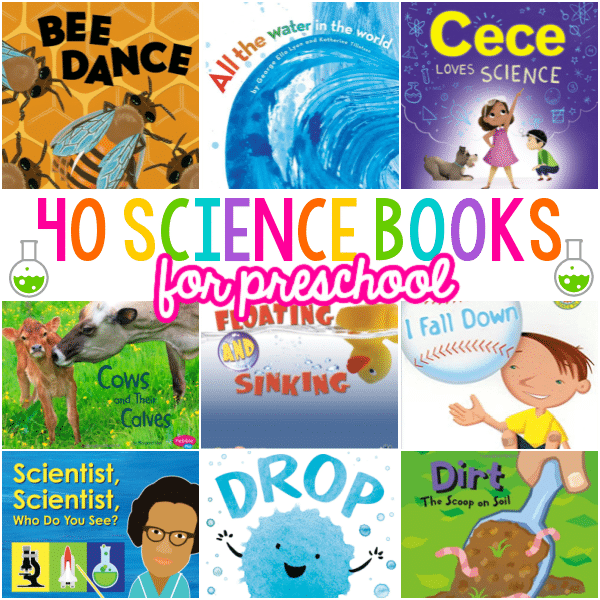 Books to Get Kids Thinking Like Scientists
I like to start the year with some general books about what science is and what scientists do. Here are some of my favorite preschool science books that can help you accomplish this goal in your own classroom.
I Use Science Tools
, by Kelli Hicks – Scientists use tools to observe the world around them. Featuring full-color photographs, this book is perfect for introducing your
science center
to your kids.
Charlotte the Scientist
, by Camille Andros – Little Charlotte doesn't have enough space to conduct her scientific investigations. Your little learners will be introduced to the scientific method in this adorable picture book.
Science Safety Rules
, by Kelli Hicks – Scientists have safety rules to follow. Your preschoolers will learn about important safety guidelines while acquiring new scientific vocabulary.
What is a Scientist?
, by Barbara Lehn – This short non-fiction book uses photographs to introduce young children to the type of work that scientists do. This is the perfect book to read at the beginning of the year when you're introducing your science center for the first time.
What is Science?
by Rebecca Kai Dotlich – The kid-friendly illustrations and poetic text make this a must-have for the beginning of the school year in any early childhood classroom.
Books About Scientists
Cece Loves Science
, by Kimberly Derting – Cece sure does ask a lot of questions, but that's what makes her a good scientist! This is easily one of my favorite picture books about science. Your kids will learn about the scientific process in a fun way with this award-winning picture book.
Scientist, Scientist, Who Do You See?
, by Chris Ferrie – I absolutely love this book and the author's clever take on the perennial classic,
Brown Bear, Brown Bear, Who Do You See?
. Young children will be introduced to some of the world's greatest scientific minds! From Albert Einstein to Marie Curie and Ahmed Zewail, from Charles Darwin to Katherine Johnson and Grace Hopper…
and more!
Ada Twist, Scientist
, by Andrea Beaty – Inspired by real-life scientists Ada Lovelace and Marie Curie, this book celebrates girl power, curiosity, and perseverance. The rhyming text makes this #1 bestseller a STEM must-have in your classroom library.
Physical Science Books
A Look at Magnets
, by Pebble
Your little learners will be eager to experiment with magnets after reading this age-appropriate book filled with full color photographs and easy to understand examples.
I Fall Down
, by Vicki Cobb – If you've ever wondered how on earth to teach the concept of gravity to young children, look no further! Clever author Vicki Cobb uses kid-friendly examples and language with a focus on inquiry and play to explain gravity in a way even preschoolers can understand.
Matter: See It, Touch It, Taste It, Smell It
, by Darlene Stille – The states of matter (solids, liquids, and gases) are explained and demonstrated. Includes an experiment to try in your classroom.
A Nest Is Noisy
, by Dianna Hutts Aston – From tiny bee hummingbird nests to orangutan nests high in the rainforest canopy, an incredible variety of nests are showcased here in all their splendor.
All about Matter
, by Mari Schuh – It's everywhere. It's a solid, a liquid, or a gas.
Science Books for Preschool Kids
Floating and Sinking
, by Amy Hansen – Examines factors, such as density and shape, that determine whether a material will float or sink in water.
Newton and Me
, by Lynne Mayer – A rhyming book about Newton for littles?
Yes, please!
A boy and his dog have a fun day throwing a ball, pulling a wagon, riding a bike, and much more. Learning about important science concepts has never been easier.
Hot and Cold
, by Sian Smith – Young readers are shown fun and familiar examples of hot and cold things and quizzed on their ability to identify things that are hot or cold.
Earth Science Books
A Tree For All Seasons
by Robin Bernard – Preschoolers will be introduced to academic vocabulary while learning about seasons in this book featuring vibrant photographs.
Raindrops Roll
– This beautifully photo-illustrated non-fiction picture book will introduce your little learners to the wonders of rain, raindrops, and the water cycle.
Air: Outside, Inside, and All Around
by Darlene R. Stille – Learn about the air around you, and find out about oxygen, the atmosphere, gases, and pollution.
Water is Water
– The water cycle has never been described so artfully in picture book format. The rhyming text and breathtaking illustrations paired with the rhyming verse make this a must-have in any early childhood collection.
All the Water in the World
by George Ella Lyon – Faucet, well, raincloud, sea … from each of these comes water. But where does water go?
Kid-Friendly Science Books
Dirt: The Scoop on Soil
by Natalie Rosinsky – Discusses the nature, uses, and importance of soil and the many forms of life that it supports.
Drop
– Who could have thought that learning about the water cycle could be so much fun? Little Drop takes readers on an adventure filled with funny one-liners, enticing kid-friendly facts, and irresistible artwork.
The Simple Science of Rocks
– Introduce your budding scientists to rocks with this non-fiction picture book filled with vivid photographs.
Clouds
by Erin Edison – See their shapes. Watch for a thunderstorm.
Day and Night
by Robin Nelson – Introduces how day and night occur, and explains why they are one of nature's patterns.
Life Science Books for Preschoolers
Living or Nonliving?
– The perfect non-fiction book to introduce the concept of living and non-living things to your preschoolers.
What Do Living Things Need?
– What needs to living things have? Explore this topic in depth with full-color photographs to spark discussions.
Living Things and Nonliving Things: A Compare and Contrast Book
– This book is a great follow up to your introduction to living and non-living. Using a compare and contrast technique paired with photographs, your little ones will be asked many questions to spark class discussions.
Daylight Starlight Wildlife
– This book is perfect for introducing your nocturnal animals unit! The luminous illustrations paired with the descriptive text invites readers to experience the movements, sounds, colors, and textures of the natural world.
Bears and Their Cubs
by Linda Tagliaferro – Describes the lives of bear cubs from birth to early maturity.
Non-Fiction Books About Living Things
Woodpecker Wham!
– An up close look at a variety of woodpecker species. The playful rhyming verse paired with the beautiful cut and torn paper collage illustrations makes for a book that is equal parts poetic and enlightening.
Birds and Their Nests
by Linda Tagliaferro – Introduces birds and the nests in which they build, live, and raise their young.
Hippos are Huge!
The mixed-media illustrations will captive your pint-sized audience with factual information presented in a fun and boldly playful way.
Bumble Bees
by Fran Howard – Describes the physical characteristics, behavior, and habits of bumble bees.
Bee Dance
The cut-paper collage illustrations will capture your little learner's attention from the very start. The text is simple, yet information packed to make this book easily accessible for even the youngest audience.
Living and Non-Living Books
A Butterfly is Patient
by Dianna Aston – A beautifully illustrated book that strikes a balance between information and creativity.
Cows and Their Calves
by Margaret Hall – The lives of baby cows, also known as calves, from birth to early maturity.
Dogs and Their Puppies
by Linda Tagliaferro – The lives of young dogs or puppies from birth to early maturity.
Ducks and Their Ducklings
by Margaret Hall – The lives of ducklings from birth to maturity.
Elephants and Their Calves
by Margaret Hall – The lives of baby elephants calves from birth to early maturity.
More Science Ideas