Planting and gardening with preschoolers is a great way  to learn about the natural world is through hands-on activities and experiences. They learn about science by practicing science. You can help your children learn about spring, plants (and their life cycle), and growth by planting and caring for flowers and vegetables. This collection of ideas can help you and your preschoolers plant a garden of learning possibilities.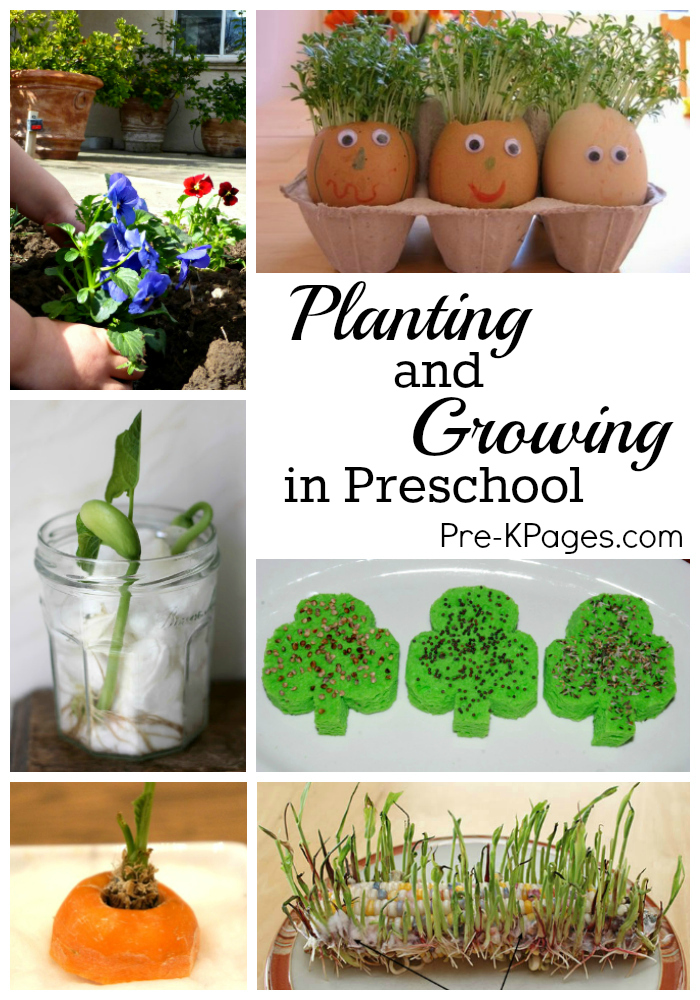 Ideas For Gardening With Preschoolers
1. How to Grow a Carrot Top (Laughing Kids Learn) – Here are the instructions on how to grow a carrot top at home. This is a fabulous introduction to growing for children as it provides them with a basic form of responsibility to look after and help it grow.
2. Growing Romaine Lettuce from Kitchen Scraps (Educator's Spin On It) – Here is a simple, but extremely effective science project to do with your children:Growing Romaine Lettuce from Kitchen Scraps. Grab your since journals and record the results.
3. Gardening with Kids – Sweet Potato Vine (Pink and Green Mama) – Have fun growing your own sweet potatoes by using one you pick up at the store or farmer's market! This is simple gardening activity the kids will love!
4. Winter/Indoor Gardening (Tinkerlab) – Gardening doesn't have to be always done outdoors in the spring and summertime! Get some wheatgrass seeds and enjoy this indoor gardening activity any time of year!
5. Eggheads with Cress Hair (Nurture Store) – Your kids will be sure to giggle over this gardening activity. It's perfect for Easter time!
6. Sprouting Indian Corn (Gift of Curiosity) – Kids will be fascinated when they take an ear of corn and see it sprout!
7. Growing Beans on Cotton Balls (Imagination Tree) –  This is a really easy, visual way to teach children about root systems and is something I used to do with my school children each Spring time.  Plus it's very exciting to watch how FAST the plants grow!
8. Planting and Growing Beans (Teach Preschool) – Grow beans by using just some cotton balls and have your students make observations of the growth process over time.
9. How to Regrow Celery (Housing a Forest) – Don't throw out those celery stems! Use them to regrow celery instead with this fun science gardening experiment you can do with your kids!
10. How to Grow Sprouts on a Sponge (Housing a Forest) – Grab a sponge and some seeds and watch them grow in this easy gardening experiment.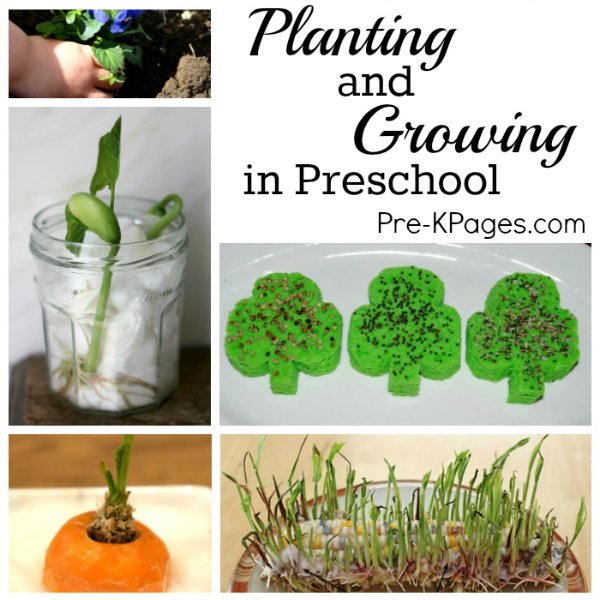 More Gardening Activities
11. Growing Vegetables from Scraps (What Do We Do All Day) – Observing how some vegetables magically regrow from scraps is a fascinating plant science project you can do at home with the kids even if you don't have a yard!
12. Pumpkin Life Cycle (Growing in Pre-K) – This is a perfect science lesson plan that involves gardening with kids around Halloween time.
13. Planting and Observing Bulbs (Buggy and Buddy) – In this science experiment for kids, children will be forcing bulbs into bloom and observing the changes that take place over time. This science exploration allows students the opportunity to observe parts of the plant up close and monitor its growth on a free printable recording sheet.
14. Planting Seeds Outside (Learning and Exploring Through Play) – Your toddler will have fun planting seeds outside with this simple gardening activity. And can be brought indoors once done!
15. Planting a Garden with Preschoolers (Teaching Mama) – Get a seed starter kit, and have some fun starting an indoor garden (that can later be transferred outside) in this gardening activity for preschoolers.
16. Organic Gardening: Planting Spring Flowers (Rhythms of Play) – Gardening with kids is a great way to spend time connecting with your children teaching them the basics of plant care. Learn how to get children in the garden helping and teach them how to plant flowers with the easy step by step spring flower organic gardening tutorial!
17. Planting Wildflowers (Lemon Lime Adventures) – Explore the ABC's of nature and plant some wildflowers in this gardening activity for kids.
18. Growing Potatoes with Kids (Kids Activities Blog) – Learn how easy it is to grow potatoes with kids in this fun science gardening activity.
19. Planting with Preschoolers: Grass Haircuts (Creekside Learning) –  Use some plastic cups, and quick to grow grass seed and watch your preschooler have fun giving a grass haircut.
20.Growing Lettuce in the Science Center (Pre-K Pages) – Not all kids may like to eat lettuce, but they will love this fun scienceexperiment! Here's how you can use scraps from your kitchen to easily and quickly re-grow lettuce in your classroom. Your kids will be full of questions as they observe the changes taking place in this captivating science experiment!
21. Growing Grass in the Classroom (Pre-K Pages) – Growing grass indoors in a cup is the perfect science experiment for preschoolers because it grows easily in many different environments, both indoors and outdoors. Your kids will love growing grass at home or in the classroom with only a few basic materials.
22. Growing a Beanstalk in Preschool (Pre-K Pages) – Planting and growing beans is a tradition in many preschool classrooms. This simple science activity is perfect when paired with the classic tale of Jack and the Beanstalk at school or home.
Use books to supplement your science learning—
Physical Science Books for Preschool
Earth Science Books for Preschool
Life Science Books for Preschool
More Science Ideas