A great way to celebrate Earth Day for Kids is by making homemade seed paper. It makes a great process art activity for preschoolers. It requires very simple materials. And it is also a great fine motor skill challenge. Making homemade seed paper makes for fun sensory play with a little science mixed in, too.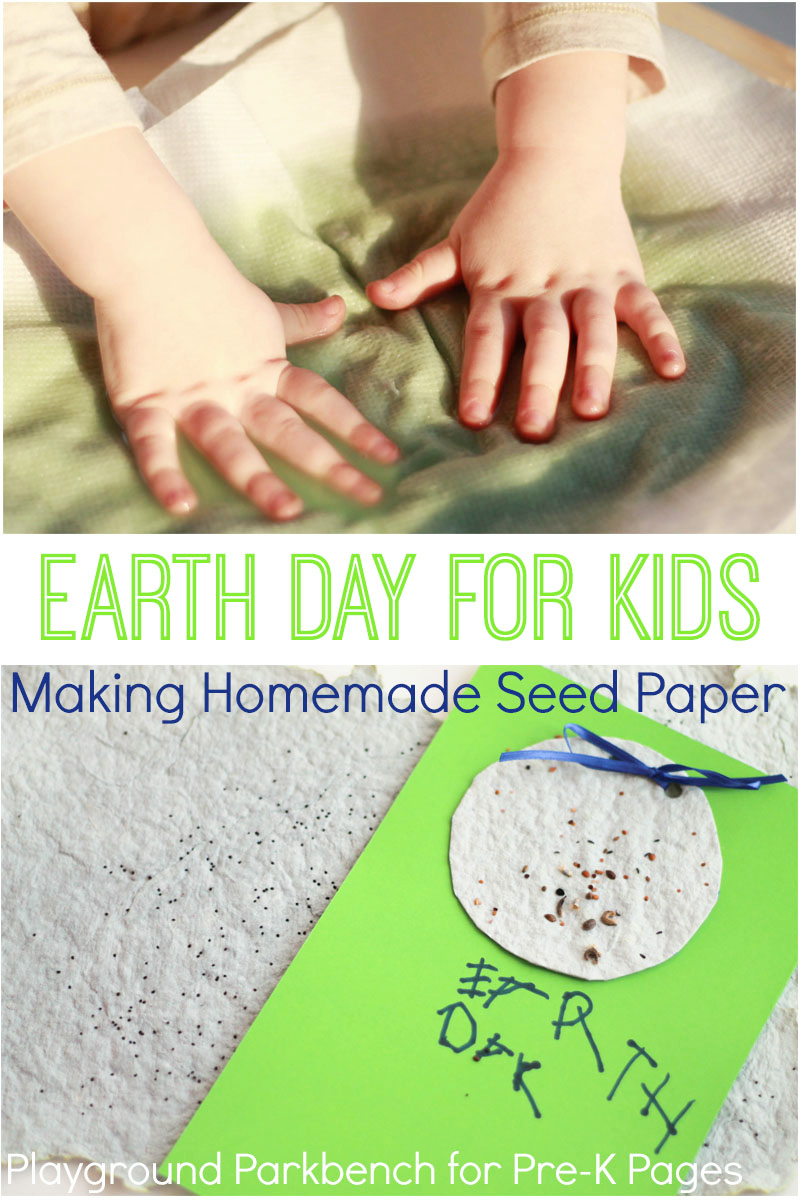 Earth Day Homemade Seed Paper
Making homemade seed paper teaches preschoolers about recycling.  While celebrating the earth by encouraging them to plant seeds. As process art, it allows children to explore materials and the creative process without too much emphasis on the end result.
Supplies
To create homemade seed paper, you will need a few simple household materials:
Newspaper (or tissue paper)
Water
Blender (for use with adult supervision)
Framed screen
Cookie sheet
Paper towels or absorbent rags
Rolling pin
Flower seeds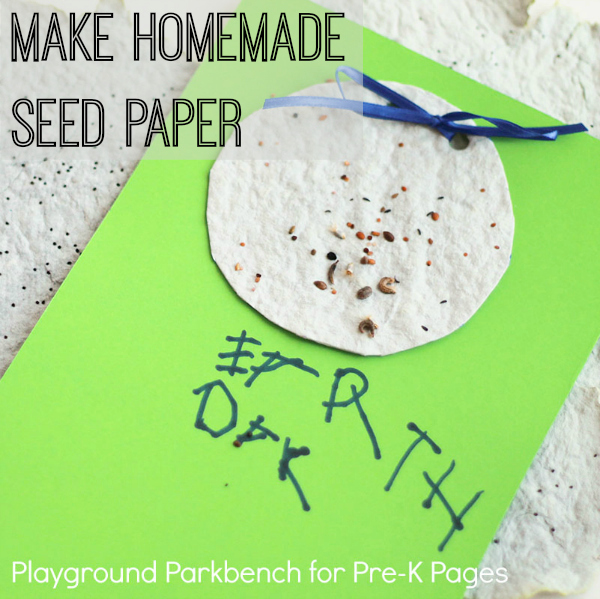 Fine Motor Skill Challenge
Tearing paper into small pieces is a good precursor activity to using scissors.
The act of holding the paper between your fingers with two hands and pulling in opposite directions mimics motions and skills preschoolers need when cutting paper. To make our homemade seed paper, Big M (age 4) and Lil' M (age 2) happily sat and tore up two local newspapers' worth of paper!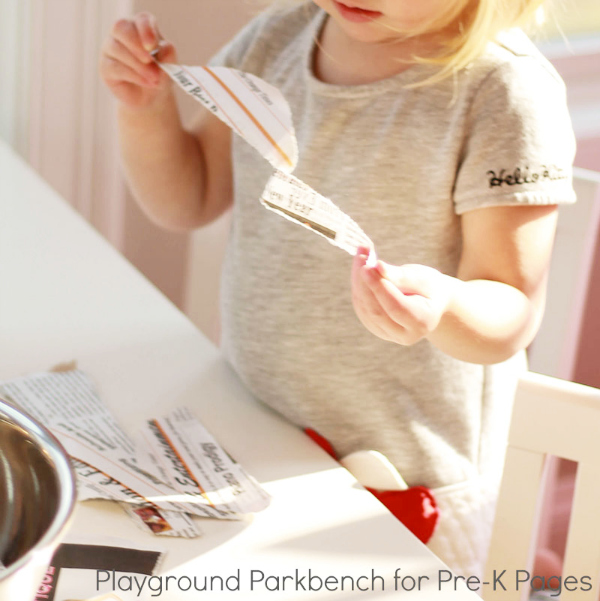 Next, put torn paper mixture in a blender. Add enough water to cover the paper. Do not pack the paper too tightly. Puree the paper until it becomes pulp. You can add food coloring to tint finished paper. Most of ours was pressed out with the water.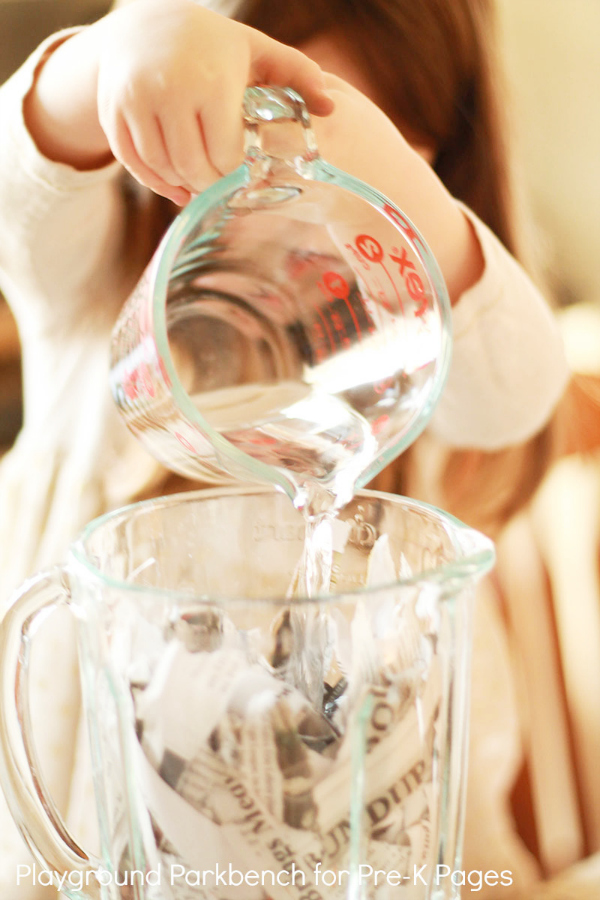 Sensory Play Meets Process Art
Now for the squishy part! Lay your framed screen over a cookie sheet. You want to use a cookie sheet with sides so the screen is elevated off the sheet. This will allow excess water to drip through the screen and collect on the sheet.
Our screen was actually a small, expandable window screen you can find at your local hardware store for $5-6.
Pour pulp onto the screen and use paper towels to spread it over the screen in an even layer.  Then press out the excess water.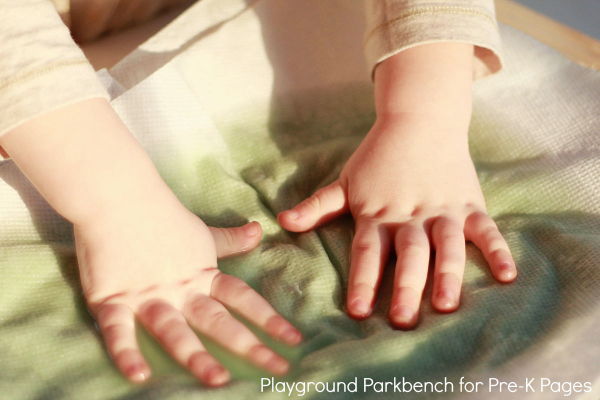 Remind children to press with an open palm, and not to squeeze their hands closed, as it will scrunch up the pulp below the paper towel.
Time to add the seeds
Remove the pressed pulp and place onto a paper towel.
It's easiest to do this by lifting up the screen and flipping it over onto a towel.
Place another paper towel on top, and roll with a rolling pin to fully flatten the pulp and remove any additional moisture. Remove top layer of toweling.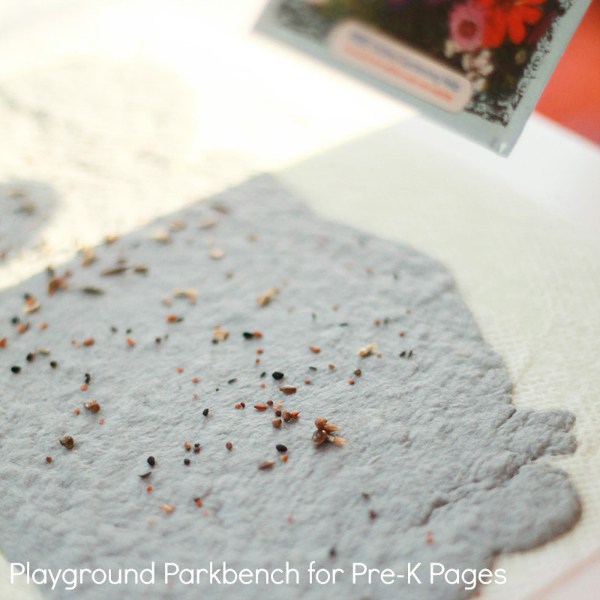 Finally – my toddler's favorite part – sprinkle seeds over the flattened pulp. Roll over seeds with rolling pin to firmly press them into the paper. Place seed paper on paper towel on a drying rack and allow it to dry for 24-48 hours.
You can cut your finished paper into strips or shapes, and turn them into gift tags or add them to Earth Day cards with ribbon.
To grow your plantable seed paper, place it seed side down on soil and water it!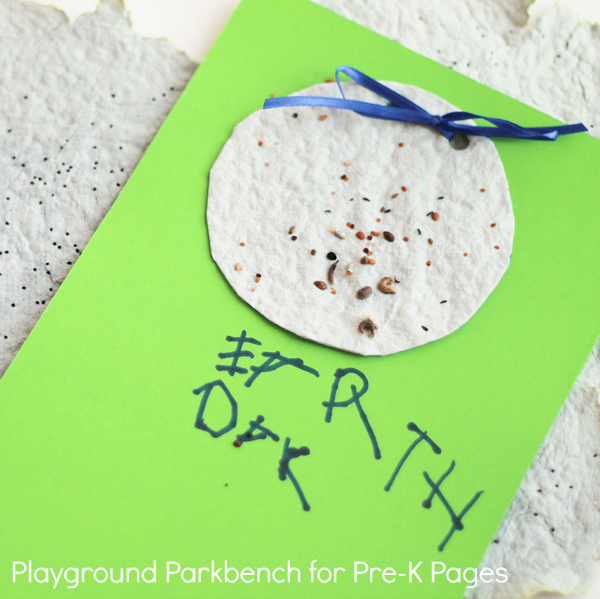 BIO: Meghan is a former hedge fund professional turned SAHM to Big M (4), Lil' M (2), and Baby M (5 months). She writes at Playground Parkbench, where she shares kids activities and parenting tips. Check out her first book: Green, Crafty & Creative, 70 eco- and family-friendly crafts, activities and tips and the perfect resource for Earth Day! When she's not busy changing diapers or scrubbing glue off the craft table, you can find her on Facebook, Instagram, Pinterest and Twitter!
More Spring Ideas
Spring Flower Math Game for Preschool-Games and play are perfect ways to develop math skills with preschoolers. Handling objects and counting help make number concepts more concrete. This game is perfect for spring and perfect your your preschoolers to grow in their number sense.
Green Murals for Spring-When the weather turns nicer and everything starts coming up green, have your preschoolers make murals using only green materials!
Spring Sand Pictures-Springtime is a time to investigate all kinds of themes–Mother's Day, flowers and plants, life cycles, butterflies and insects. Using colored sand and glue, you can provide a fun and easy process art activity that can be adapted for all of these themes (or is just fun to explore).