Time can be a difficult concept for preschoolers to grasp. But the changing of the seasons is a great way to begin to talk about the passage of time. Even if your area does not have visible changes for each season, your preschoolers can begin to know what happens at different times of the year. (Christmas is in wintertime; you can buy pumpkins in the fall; and so forth.) Use these books in your classroom library or in other areas of the room to talk about different seasonal changes and to discuss what happens in other places during the seasons.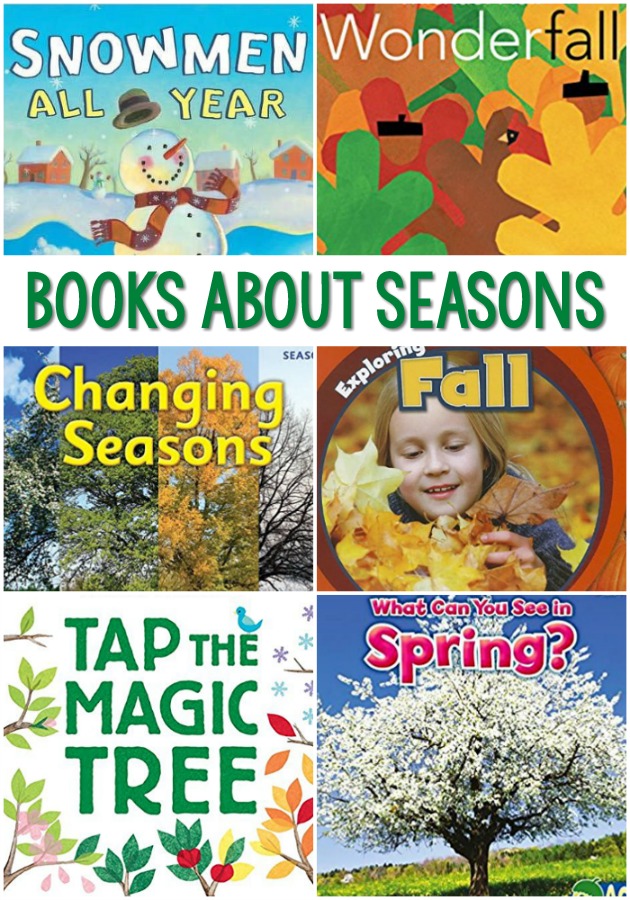 Books About Seasons for Preschoolers
Changing Seasons by Sian Smith
Learn about seasonal patterns, typical weather, changes to plants and animals, and the clothing and activities that are usual for each season.
Snowmen All Year by Caralyn Buehner
A boy imagines what it would be like if his snowman could stay with him all year (instead of melting into a puddle).
Exploring Spring by Terri DeGezelle
Splash! Get out your raincoat because spring showers are here. Watch plants sprout and baby animals take their first steps.
Exploring Summer by Terri DeGezelle
Sizzle! Put on some shorts and try to stay cool in the hot summer season. Watch fruit ripen and baby animals grow up.
Exploring Winter by Terri DeGezelle
Brrr! Even if it doesn't snow where you live, winter is the coldest season. Trees rest and wait for spring. People get out their heavy coats.
Exploring Fall by Terri DeGezelle
Leaves tumble and squirrels scurry. Lots of changes happen in the fall.
Seasons of the Year by Margaret Hall
Explains why the seasons change and how seasons are a recurring pattern in nature.
Tap the Magic Tree by Christie Matheson
In the style of Press Here, Tap the Magic Tree is the newest member of the interactive read-aloud genre. This fun and playful book invites readers to tap the pages to make the tree change with the seasons- without any mechanical components!
Snow Rabbit, Spring Rabbit by Il Sung Na
Discover what different animals do when the winter comes.
Watching the Seasons by Edana Eckart
Explore facts about the four seasons of the year.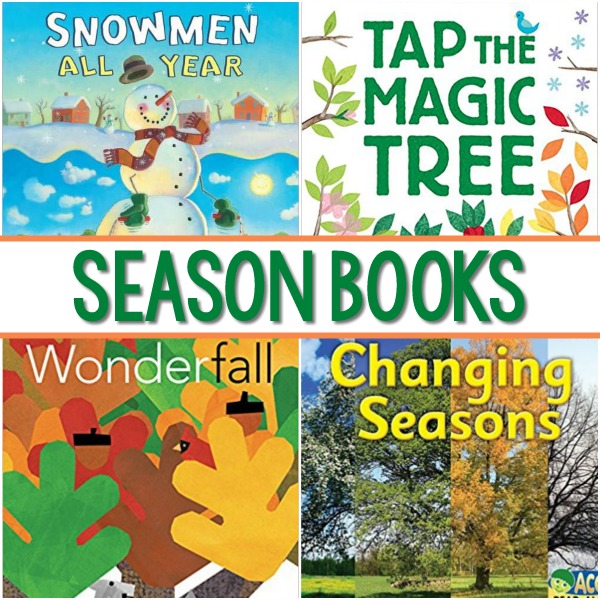 Preschool Books About the Seasons
What Can You See in Summer? by Sian Smith
Explore what you see, taste, and do in the summer.
Wonderfall by Michael Hall
Autumn is an eventFALL season for one tree.
What Can You See In the Fall? by Sian Smith
Photographs, labels and simple text lead preschoolers to explore what they see in fall.
Green Eyes by A. Birnbaum
Green Eyes, a kitten, is born in the spring. He explores each season throughout the year.
What Can You See in Winter? by Sian Smith
Winter is a time of snowballs, shovels, sleds, icicles, and a lot more.
What Can You See in Spring? by Sian Smith
Simple repetitive text and clear photographs introduce things that are seen in the springtime.
Everything Spring by Jill Esbaum
Baby animals, sprouting plants, and the promise of warmer days are all captured in this book about springtime.
Winter Wonderland by Jill Esbaum
Frosty weather and warm family traditions are captured in these photographs about winter.
A Friend for All Seasons by Julia Hubery
Robbie is worried about his friend, the oak tree. Leaves are falling from his branches. But it's just the changing seasons.
The Apple Pie Tree by Zoe Hall
Two kids watch the apple tree in their yard change in the seasons. As the tree changes, they notice the changes with a family of birds, too. Soon they get to the best part – making apple pie.
Tree: A Peek-Through Picture Book by Britta Teckentrup
Die cuts in the pages of this book show animals appear (and disappear) around a tree throughout the seasons. Throughout it all, an owl sits in a hole in the middle of the tree.
Check your library or online booksellers for these books.
More Book Lists for Preschoolers