Most children are familiar with doctors and nurses. They see and hear ambulances in the community. But they may not know all the different types of work these medical community helpers do and the ways they help people. These books can supplement a community helpers theme or add to the children's knowledge about medical helpers.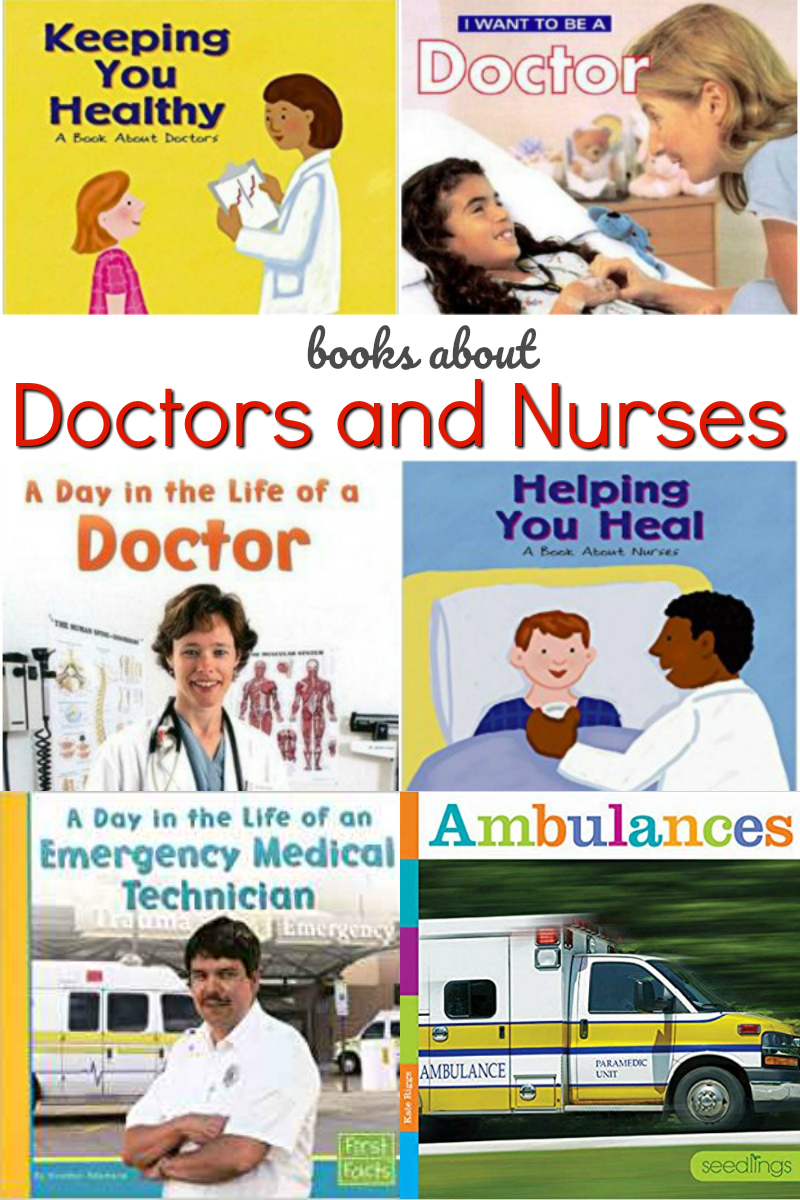 Community Helper Books About Doctors and Nurses
Helping You Heal: A Book About Nurses by Sarah Wohlrabe
Nurses do many things to help people stay healthy or get better.
I Want to Be a Nurse by Dan Liebman
Some nurses work in hospitals. Some nurses visit people in their homes. All nurses help people be healthy and well.
I Want to Be a Doctor by Dan Liebman
Explore tools doctors use, procedures they may do, and places they work.
A Day in the Life of a Doctor by Heather Adamson
Discover all the different tasks doctors do through the day.
Doctors Help by Dee Ready
Doctors use special tools, work in different places, and help different kinds of patients.
Nurses Help by by Dee Ready
Discover more about the work nurses do and the tools they use.
Doctors by Cari Meister
Learn more about what doctors do and build vocabulary related to doctors and their work.
Keeping You Healthy: A Book About Doctors by Ann Owen
Explore things doctors do to help people stay healthy.
Let's Meet a Doctor by Bridget Heos
Dr. Zambil talks to a group of children about what he does to help take care of sick children and help healthy children stay healthy.
If I Were a Doctor by Scholastic
This book offers a simple look at the work of a doctor.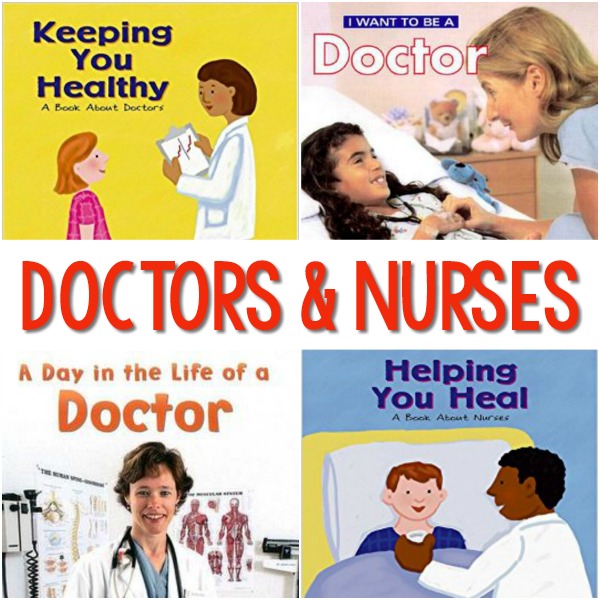 Books About Doctors, Nurses, and Paramedics
A Day in the Life of a Nurse by Connie Fluet
Follow a nurse throughout the day to discover what nurses do and how they work.
A Day in the Life of an Emergency Medical Technician by Heather Adamson
Emergency medical technicians help people when they are sick or hurt. Find out more about their work and the things they do during the day.
Nurses by Cari Meister
Nurses work in clinics, emergency rooms, hospitals, and doctor's offices. Discover the different ways they help people in their work.
Ambulances by Kate Riggs
Learn about ambulances and the EMTs who work in them.
The Berenstain Bears: Hospital Friends by Mike Berenstain
The Bear family gets a tour of the hospital and discovers the many people who work there to help people who are sick or hurt.
Ambulance! Ambulance! by Sally Sutton
An EMT crew in their ambulance help people who have been injured.
Ambulances (To the Rescue) by Joanne Randolph
Explore ambulances, the people who work in them, and the things they do to help injured and sick people.
Hooray for Nurses by Elle Parkes
Photographs and simple text lead kids to think about the different types of work that nurses do.
I Want to Be a Doctor by Laura Driscoll
Jack hurts his foot and the entire family goes to the emergency room. At the hospital they discover all kinds of doctors doing all kinds of different work to help people get well and be healthy.
EMT Morales by James Burd Brewster
EMT Morales and EMT Flynn drive an ambulance and help people who are sick or hurt.
Check your local library or used booksellers to supplement your classroom library without much cost.
More Book Lists