Most children are familiar with doctors and nurses. They see and hear ambulances in the community. But they may not know all the different types of work these medical professionals do and the ways they help people.  These doctor books for preschoolers can supplement a community helpers theme or add to the children's knowledge about medical professionals.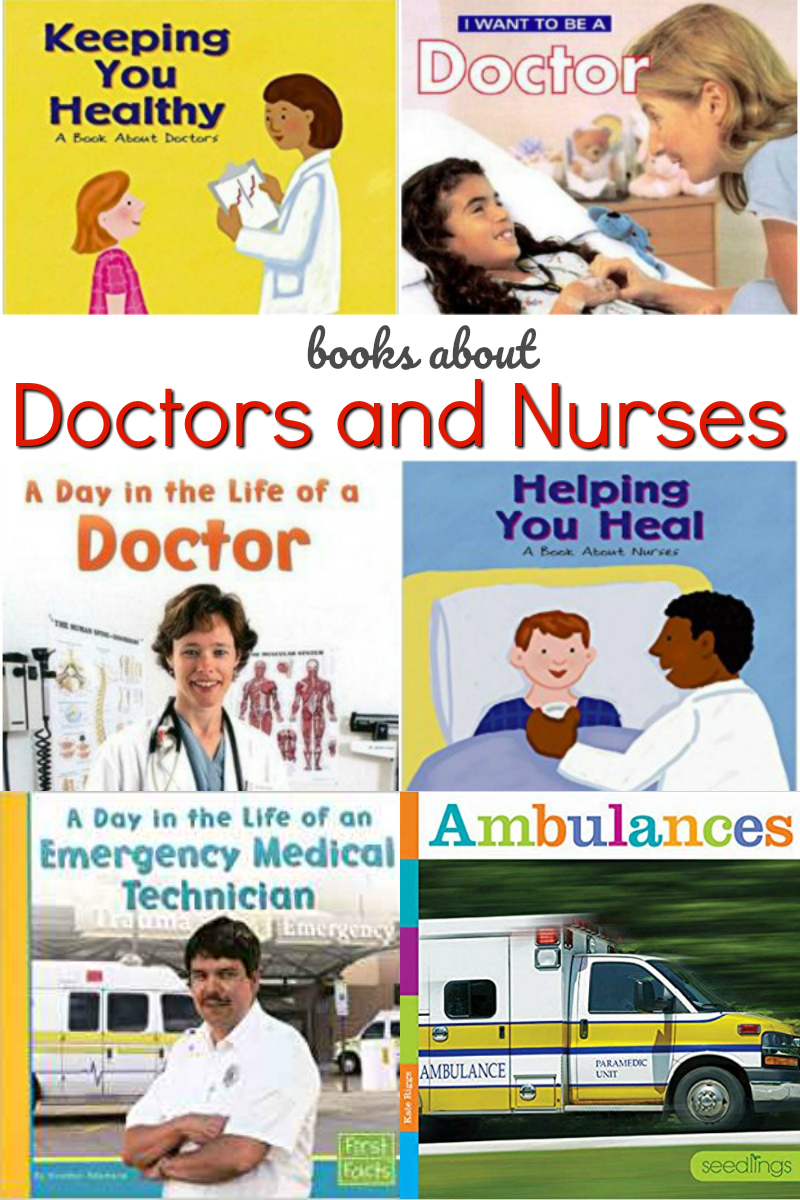 Preschool Doctor Books for a Community Helper Theme
These doctors book for your preschoolers are a perfect accompaniment when you are teaching a community helper theme in your classroom. From learning about nurses, to the life of a doctor, these preschool doctor books will inspire and entertain your students!
Helping You Heal: A Book About Nurses by Sarah Wohlrabe
A great read about what nurses do and the many things they to help people stay healthy or get better.
I Want to Be a Nurse by Dan Liebman
Some nurses work in hospitals. Some nurses visit people in their homes. All nurses help people be healthy and well. Young readers learn to respect the importance of doing a job well and appreciate the contributions these workers make to our life and the world around us.
I Want to Be a Doctor by Dan Liebman
Explore tools doctors use, procedures they may do, and places they work. These books are perfect for reading alone or in group story times. They are certain to spark questions and encourage dialogue and prompt children to learn more about these occupations.
A Day in the Life of a Doctor by Heather Adamson
Discover all the different tasks doctors do through the day.  This great read follows a medical doctor through the work day, and describes the occupation and what the job requires.
Doctors Help by Dee Ready
Doctors use special tools, work in different places, and help different kinds of patients.
Nurses Help by by Dee Ready
Discover more about the work nurses do and the tools they use.
Doctors by Cari Meister
Learn more about what doctors do and build vocabulary related to doctors and their work.   In Doctors, early readers will learn how doctors help sick and injured patients recover, and discover how these professionals keep people healthy by conducting yearly check-ups. Vibrant, full-color photos and carefully leveled text will engage emergent readers as they find out what doctors do on the job. A labeled diagram helps readers identify the equipment in a doctor's office, while a picture glossary reinforces new vocabulary.
Keeping You Healthy: A Book About Doctors by Ann Owen
Explore things doctors do to help people stay healthy.
Let's Meet a Doctor by Bridget Heos
Dr. Zambil talks to a group of children about what he does to help take care of sick children and help healthy children stay healthy. He sees healthy kids to help keep them healthy. He even helps train new doctors. Let's hear it for doctors!
If I Were a Doctor by Scholastic
This  great read offers a simple look at the work of a doctor.  Fun photos and repetitive text provide a gentle introduction to what a doctor does.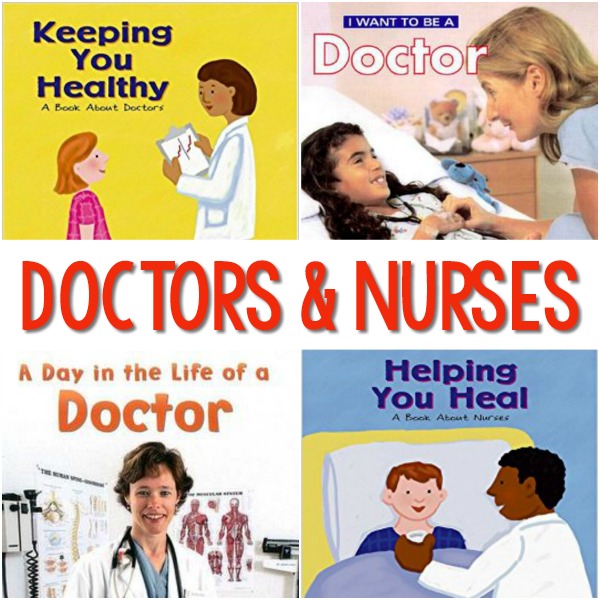 Books About Medical Professionals
If you want to expand beyond the preschool doctor books, then one of these community helper books about other medical professions might be perfect. Like learning about an emergency medical technician, ambulances, and what hospitals are like!
A Day in the Life of a Nurse by Connie Fluet
Follow a nurse throughout the day to discover what nurses do and how they work. This great read follows a nurse through the work day, and describes the occupation and what the job requires.
A Day in the Life of an Emergency Medical Technician by Heather Adamson
Emergency medical technicians help people when they are sick or hurt. Find out more about their work and the things they do during the day.
Nurses by Cari Meister
Nurses work in clinics, emergency rooms, hospitals, and doctor's offices. Discover the different ways they help people in their work.
Ambulances by Kate Riggs
Learn about ambulances and the EMTs who work in them.  A kindergarten-level introduction to ambulances, covering their EMTs, equipment, role in rescuing, and such defining features as their sirens.
The Berenstain Bears: Hospital Friends by Mike Berenstain
The Bear family gets a tour of the hospital and discovers the many people who work there to help people who are sick or hurt.
Ambulance! Ambulance! by Sally Sutton
An EMT crew in their ambulance help people who have been injured.
Ambulances (To the Rescue) by Joanne Randolph
Explore ambulances, the people who work in them, and the things they do to help injured and sick people.
Hooray for Nurses by Elle Parkes
Photographs and simple text lead kids to think about the different types of work that nurses do.
I Want to Be a Doctor by Laura Driscoll
Jack hurts his foot and the entire family goes to the emergency room. At the hospital they discover all kinds of doctors doing all kinds of different work to help people get well and be healthy.
EMT Morales by James Burd Brewster
EMT Morales and EMT Flynn drive an ambulance and help people who are sick or hurt.
Check your local library or used booksellers to supplement your classroom library without much cost.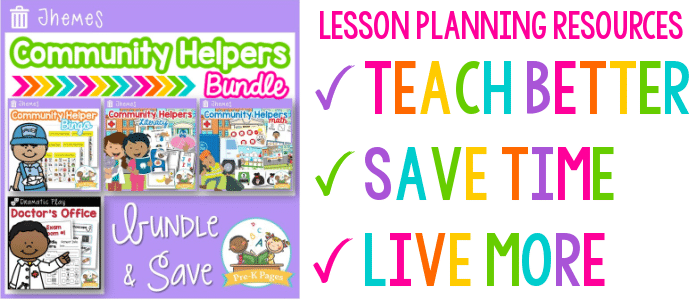 More Book Lists