A community helper can be almost anybody in your community. Kids love learning about community helpers in their neighborhood. Because community workers are always around, it makes them more meaningful to your students. Here's a list of community helpers books  that you can use in your preschool, pre-k, or kindergarten classroom if you do a community helpers theme at any time of the year.  Check online sources or your local library to supplement your classroom library economically. I've put together this list of community helper books for you and your students to read!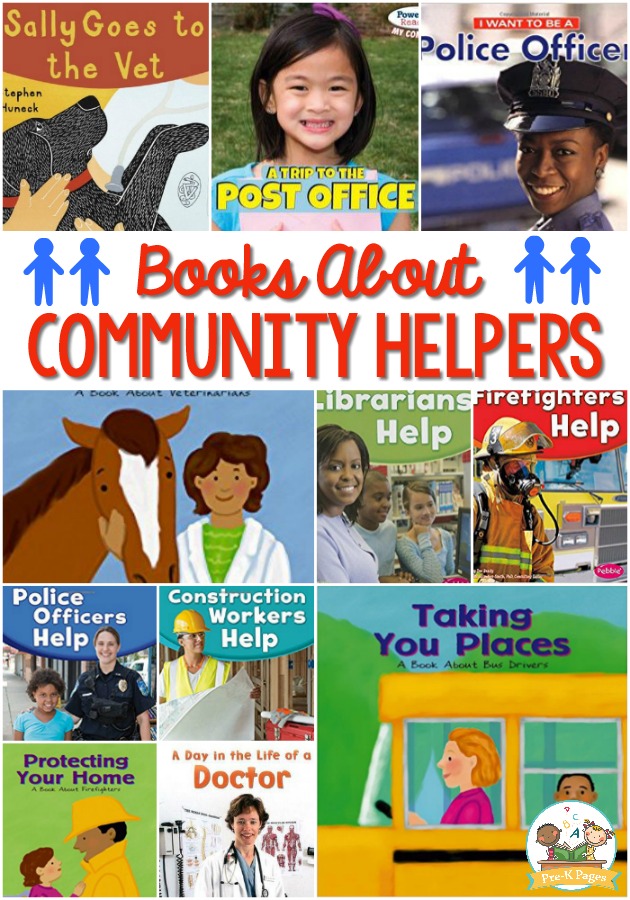 This age-appropriate list features many different books about community workers- books about doctors, postal workers, bus drivers, pet vets, road builders, garbage collectors and more.
You can also read books about community helpers for a health and safety or post office theme. Students can see what it is like to spend a day in the life of one of these community workers.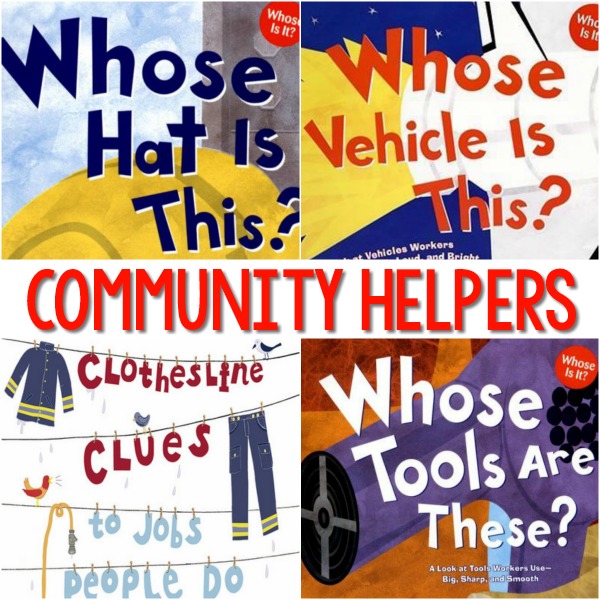 Community Helper Books
You might want to start with a general overview of what a community helper is, and then branch out to more specific jobs from there. Start with the most common community helpers, the ones your kids have probably seen most often.
Whose Hands are These? by Miranda Paul
Each page shows hands involved in different types of tasks. Kids can guess the job of the person doing those tasks.
Whose Hat is This? By Sharon Katz Cooper
This book includes many different hats worn by different types of workers. Fun facts fill this book about community helpers.
Clothesline Clues to Jobs People Do by Kathryn Heling
Each clothesline in this book holds clues to the job that a person does. Children can look at the items pictured and listen to the text. They can make conclusions about what job each person does.
Whose Tools Are These? by Sharon Katz Cooper
Kids can see different types of tools and guess who uses each one. Text includes a few simple lines about each community helper.
Whose Vehicle is This? By Sharon Katz Cooper
Many people use special vehicles to do their jobs. Check out the vehicles and guess who uses it.
I Want to Be a Doctor by Dan Liebman
Explore tools doctors use, procedures they may do, and places they work.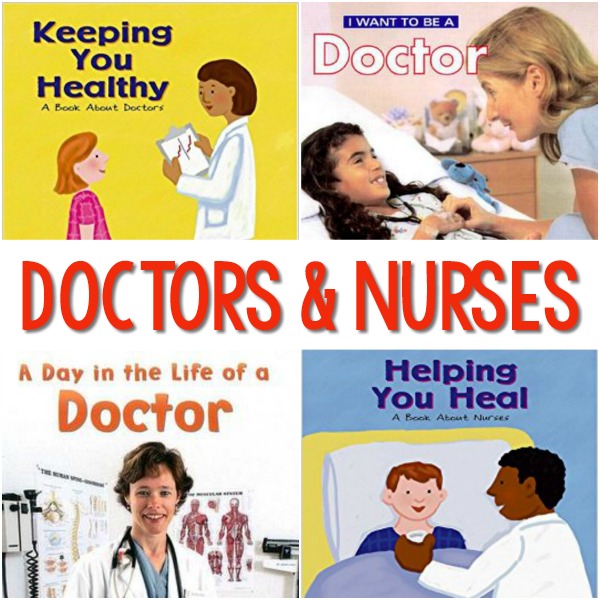 Community Helper Books About Doctors and Nurses
Here are nine books for your preschoolers to learn all about doctors and nurses and what they do!
Helping You Heal: A Book About Nurses by Sarah Wohlrabe
Nurses do many things to help people stay healthy or get better.
Whose Shoes? by Stephen R. Swinburne
People who have different jobs wear different kinds of shoes. In part of this book, children can guess the job by looking at the shoes.
I Want to Be a Nurse by Dan Liebman
Some nurses work in hospitals. Some nurses visit people in their homes. All nurses help people be healthy and well.
A Day in the Life of a Doctor by Heather Adamson
Discover all the different tasks doctors do through the day.
Doctors Help by Dee Ready
Doctors use special tools, work in different places, and help different kinds of patients.
Nurses Help by by Dee Ready
Discover more about the work nurses do and the tools they use.
Doctors by Cari Meister
Learn more about what doctors do and build vocabulary related to doctors and their work.
Keeping You Healthy: A Book About Doctors by Ann Owen
Explore things doctors do to help people stay healthy.
More books about doctors, nurses, and paramedics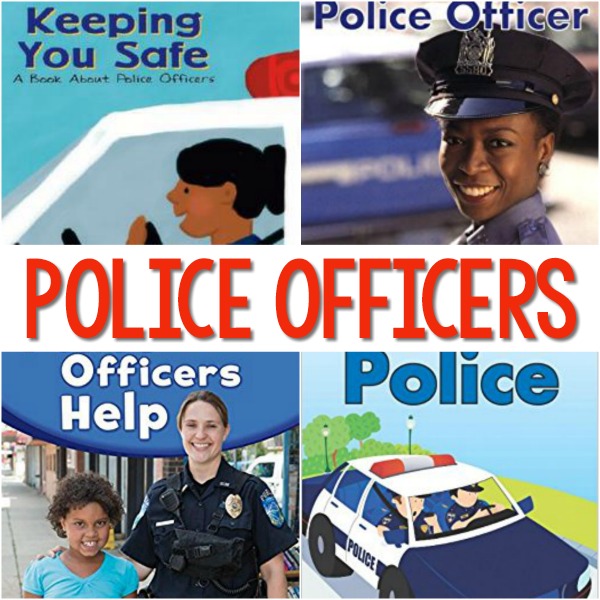 Community Helper Books About Police Officers
Do you have a preschooler that wants to be a police officer someday? One of these police officer books will help him or her learn more about what a police officer does!
I Want To Be a Police Officer by Dan Liebman
Photographs and easy-to-understand text show police officers doing different jobs, some even riding bicycles or horses.
Police Officers Help by Dee Ready
Discover more about police officers and the work they do.
Keeping You Safe by Ann Owen
This book examines the important work of police officers and how they work to keep people safe.
Police Officers by Cari Meister
Learn more about jobs of police officers. A picture glossary is included to build vocabulary.
Police: Hurrying! Helping! Saving! by Patricia Hubbel
Simple illustrations and text show the work of police officers.
More books about police officers and other safety helpers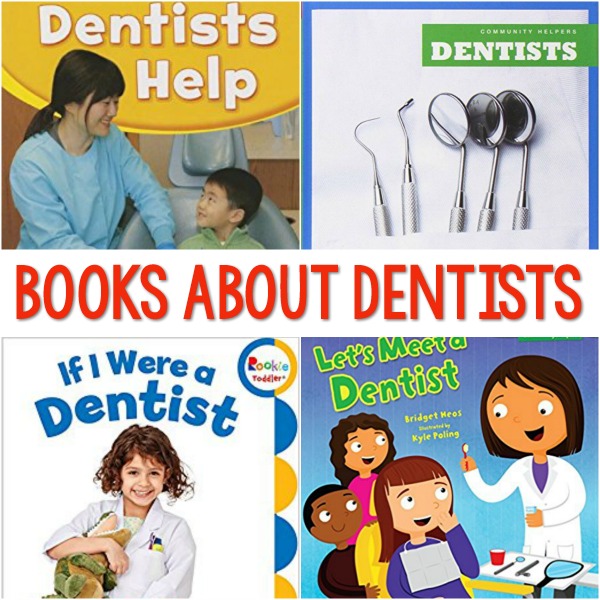 Community Helper Books About Dentists
Are you teaching a dentist theme in your classroom right now or maybe just have a preschooler interested in becoming a dentist? One of these books about dentists will help your preschoolers explore the wonderful work of being a dentist.
A Day in the Life of a Dentist by Heather Adamson
A nonfiction book with photographs that follows a dentist through her workday. The amount of text may challenge the attention span of younger preschoolers but just a picture-read of this book is good information.
Dentists Help by Dee Ready
Discover the work of a dentist and tools that dentists use.
Dentists by Cari Meister
Children can learn how dentists help keep teeth healthy.
At the Dentist by Mari Schuh
The simple text and photographs of this book show exactly what happens as a child visits the dentist's office for her checkup.
If I Were a Dentist by Scholastic
Explore a trip to the dentist office.
Let's Meet a Dentist by Bridget Heos
A group of kids visits Dr Florez to discover how she can help keep teeth clean and healthy.
More books about dentists and dental care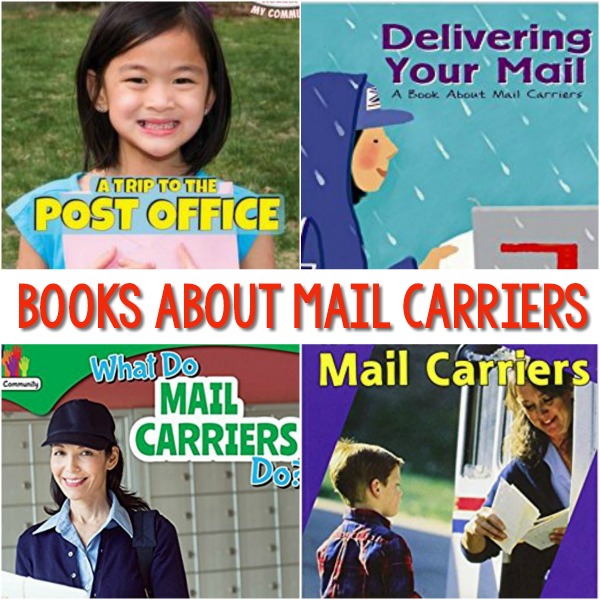 Books About Mail Carriers
Preschoolers love getting mail! And your students can learn all about being a mail carrier and how the mail gets to them.
Delivering Your Mail by Ann Owen
Discover who delivers your mail and how the mail must get through, no matter what.
Mail Carriers by Cari Meister
Clear photos and simple text tell more about mail carriers and post offices.
The Post Office Book: Mail and How It Moves by Gail Gibbons
A more detailed look at how people and machines move mail around the country.
What Do Mail Carriers Do? by Nick Christopher
Who are postal workers? What do they do? What do they wear? How do they work?
More books about mail carriers and the post office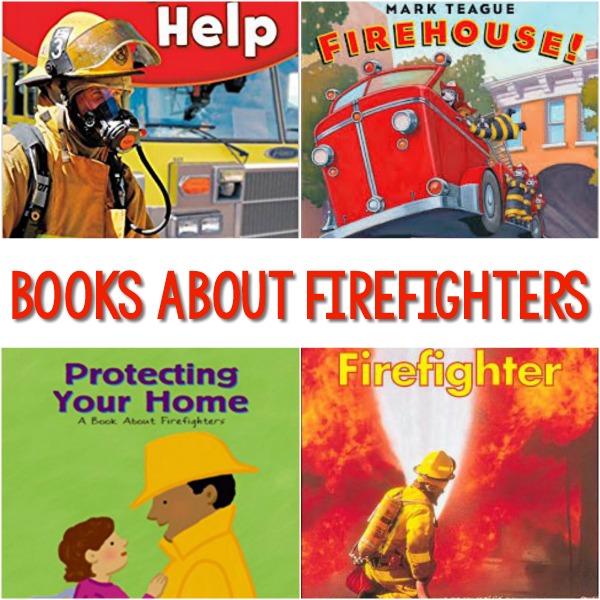 Community Helper Books About Firefighters
Being a firefighter can be a dangerous but very rewarding job! And your preschooler can learn about the duties of a firefighter with one of these books.
Protecting Your Home: A Book About Firefighters by Ann Owen
I love this Community Helper series by Picture Window Books. The text is informational, yet age-appropriate and the illustrations are large and colorful–perfect for both preschool and kindergarten!
A Day with Firefighters by Jodie Shephard
Photos and simple text introduce preschoolers to the work of firefighters.
I Want to Be a Firefighter by Dan Liebman
This is a great non-fiction book with colorful photographs that describes the duties of a firefighter with factual text that is easy to understand.
Firefighter Frank by Monica Wellington
Follow what happens to Firefighter Frank throughout his day.
Firefighters Help by Dee Ready
What is a firefighter? What does a firefighter do? What does a firefighter use? The text and photos in this book help kids answer these questions.
Firefighters by Cari Meister
Preschoolers can discover more about how firefighters put out fires and keep people safe.
Firehouse! by Mark Teague
A visual treat from acclaimed children's author/illustrator Mark Teague, your students will enjoy the zany antics of Edward and Judy.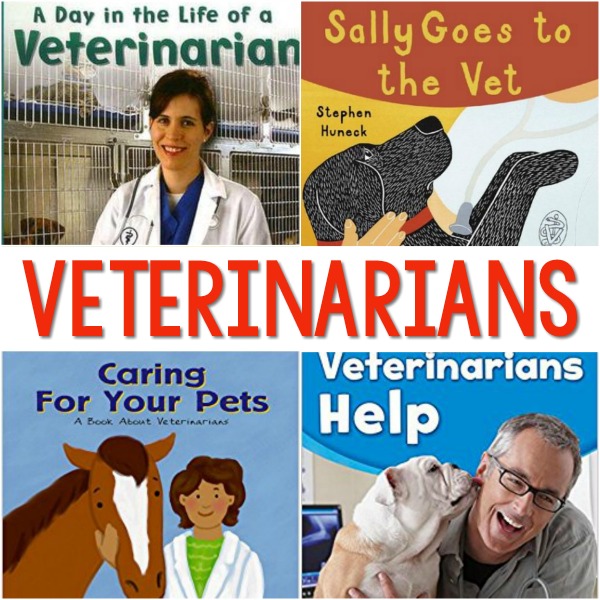 Community Helper Books About Veterinarians
Do you preschoolers love animals? Maybe they want to grow up to take care of them someday! Your students will love learning about what it's like to be a veterinarian and take care of all kinds of animals.
Sally Goes to the Vet by Stephen Huneck
Sally gets injured while playing in the yard and her family takes her to the veterinarian.
I Want to Be a Vet by Dan Liebman
Vet is short for "veterinarian." The photos in this book show vets caring for all kinds of animals, not just pets.
A Day in the Life of a Veterinarian by Heather Adamson
What does a veterinarian do all day? This book leads young readers through the work of veterinarians and their care for animals.
Caring for Your Pets by Ann Owen
Discover ways veterinarians help you care for your pets.
Veterinarians Help by Dee Ready
Veterinarians help care for pets, farm animals, and other animals. They help sick animals and help healthy animals stay healthy.
Veterinarians by Cari Meister
Discover more about what the work of a veterinarian is like.
More books about veterinarians and zookeepers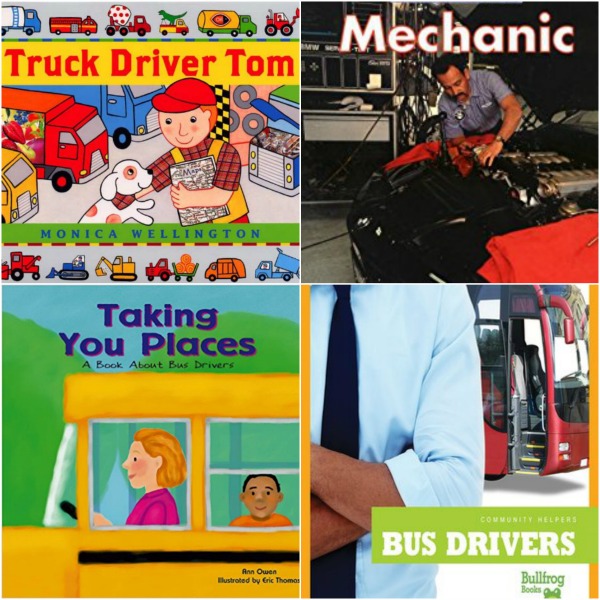 Books About Bus and Truck Drivers
Everyday your preschooler might ride the bus to and from school, but they may not know much else about what it takes to be a bus and truck driver!
Bus Drivers by Rebecca Pettiford
Learn more about bus drivers and how they help people get to where they need to go.
Taking You Places: A Book About Bus Drivers by Ann Owens
Both city buses and school buses need people to drive them, so others in the community can have transportation.
Truck Driver Tom by Monica Wellington
Tom drives a large truck across the country, carrying things that people need to the places where they live.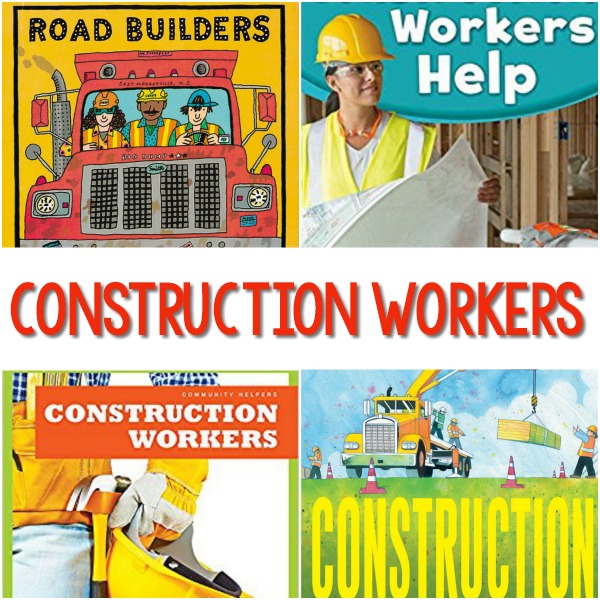 Community Helper Books About Mechanics and Construction Workers
Whether it's building roads, working on a construction crew, or building something – one of these community helper books about mechanics and construction workers will help your students learn all about these professions.
Road Builders by B.G. Hennessy
It takes many kinds of trucks to build a road. This book follows the process and introduces all kinds of trucks.
Construction by Sally Sutton
The simple illustrations and text show a busy construction crew building a library.
Construction Workers Help by Tami Deedrick
A look at the work of construction workers through photographs and simple text.
Construction Workers by Cari Meister
Photos and simple text help young readers discover more about the work of men and women in construction jobs.
I Want to Be a Builder by Dan Liebman
Explore the different types of skills that people use when they work on construction projects.
Mechanics by Cari Meister
Mechanics work on all kinds of machines. This book helps kids explore the work of a mechanic.
I Want to Be a Mechanic by Dan Liebman
Learn how mechanics discover what is wrong with machines and how they fix them, including the tools they use.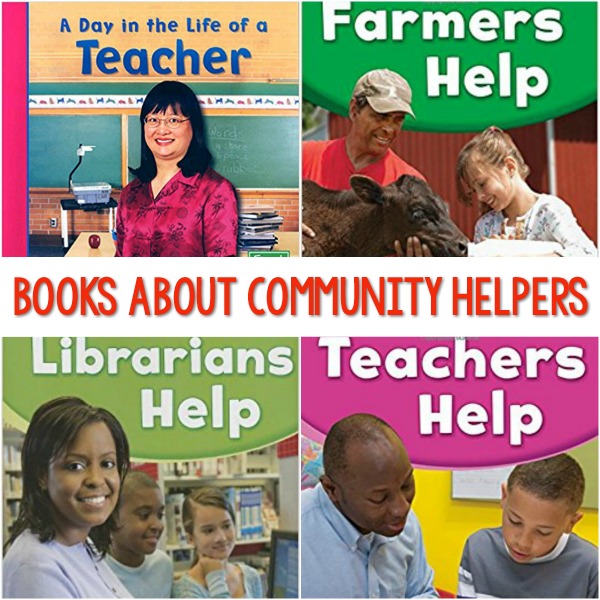 Books About Other Community Helpers
There are so many more community helper careers to explore! From being a chef, to a librarian, a farmer, or even a teacher – these books will help explore all of these fascinating community helper careers.
Mr. Cookie Baker by Monica Wellington
Step by step, Mr. Baker prepares his delicious cookies.
Pizza at Sally's by Monica Wellington
The ingredients for Sally's pizza come from all different places. A community works together to make sure Sally has what she needs as a pizza maker.
Chefs by Cari Meister
Explore the tools and tasks in a restaurant kitchen.
Librarians by Cari Meister
Librarians help people find books and locate information they need. This book helps kids explore more about librarians and their work.
Librarians Help by Dee Ready
Discover where librarians work and the tools they use.
Teachers Help by Tami Deedrick
What do you know about teachers? Learn more about the ways they work to help students learn.
A Day in the Life of a Teacher by Heather Adamson
Follow an elementary teacher through her way, discovering all the things she does in her work.
Teachers by Cari Meister
Explore what teachers do before, during, and after school.
Farmers Help by by Dee Ready
Farmers help people have food to eat. They work hard, often from sunup to sundown. They are an important part of our communities.
Farmers by Cari Meister
The photos and text in this book lead children to discover how farmers raise crops and animals.
More books about teachers and librarians
More books about food-related community helpers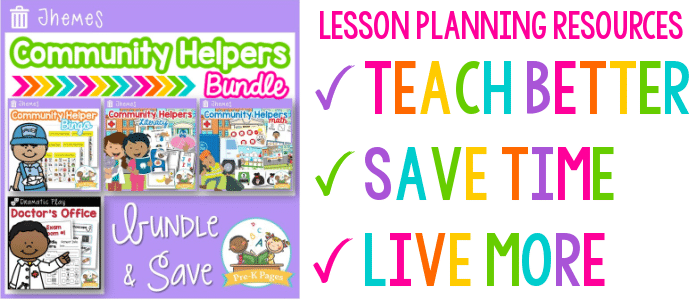 More Book Lists