Your ABC center is a great way to supplement early literacy with your preschoolers. They can explore letters in hands-on, 3-dimensional ways. Concrete experiences with letters help them become more "real" to children and help them make more connections as they grow and learn to read. Books are an important part of this center. All books contain words and letters and can be a support to early literacy. The books below focus on letters and words with sounds connected to those letters. (Check online retailers or your local library to keep down costs for your classroom library.)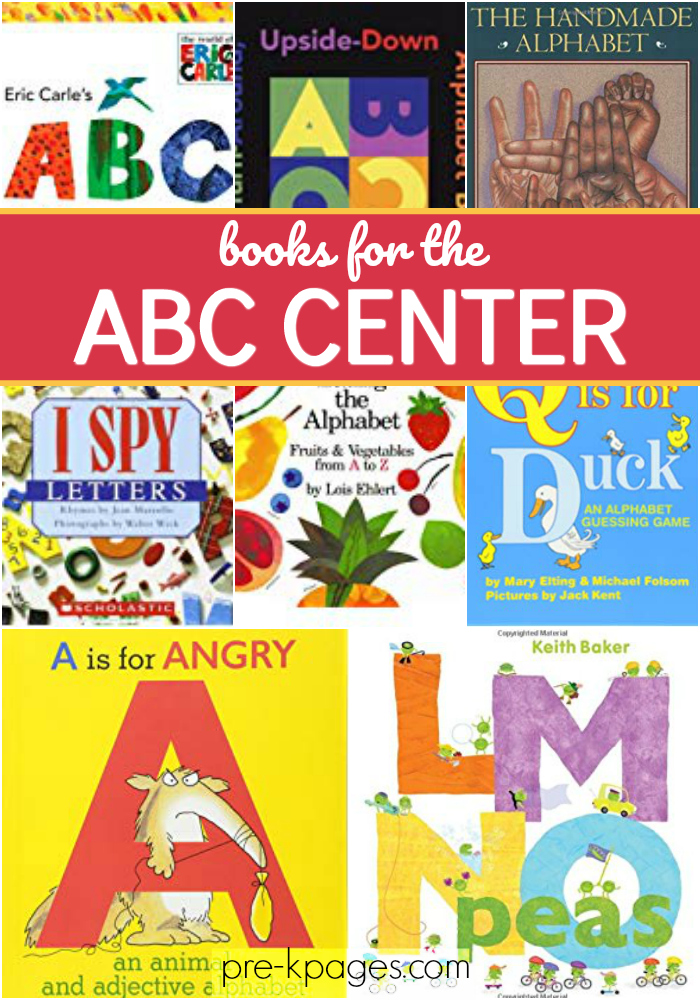 ABC Center Books
A Is For Angry: An Animal and Adjective Alphabet by Sandra Boynton
Descriptive words and animals illustrate the alphabet.
A My Name is Alice by Jane E. Bayer
This alphabet book include names, place names, and animals that begin with each letter.
Alphabet City by Stephen T. Johnson
Photographs of objects in an urban setting show that letters can be found everywhere, if you just look for them.
Chicka Chicka Boom Boom by Bill Martin Jr. and John Archambault
In this classic book, the letters of the alphabet race up a coconut tree. Will they all fit at the top of the tree?
Dr. Seuss's ABCs: An Amazing Alphabet Book! by Dr. Seuss
Explore the letters of the alphabet as only Dr. Seuss can show.
Eating the Alphabet by Lois Ehlert
Fruit and vegetables of all types fill each of the letter pages. Words in upper case and lower case will help preschoolers connect the two types of letters.
Eric Carle's ABCs by Eric Carle
A simple alphabet book with the art of Eric Carle.
G is for Goat by Patricia Polacco
This alphabetic tale has goats prancing through the pages and causing all kinds of mischief.
The Hidden Alphabet by Laura Vaccaro Seeger
This beautiful book shows an object that transforms into its initial letter.
I Spy Letters by Jean Marzollo
This book is part of the popular I Spy photograph book series. Kids can search the pages to find letters and objects that start with initial letter sounds.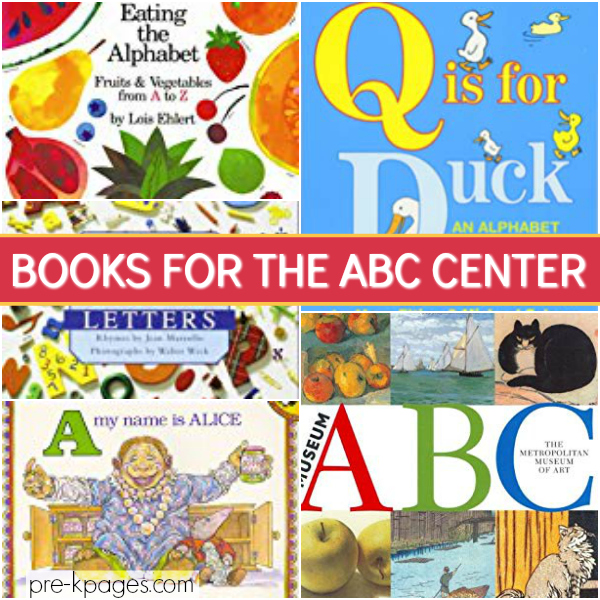 Books for Your Alphabet Center
LMNO Peas by Keith Baker
These alphabet peas work and play in the ABCs!
Museum ABC by NY Metropolitan Museum of Art
This alphabet book includes items depicted in the collection of artwork at the Metropolitan Museum.
My First: ABC by DK
Clear photographs of objects that begin with each letter of the alphabet.
The Turn Around Upside Down Alphabet Book by Lisa Campbell Ernst
Letters on these pages transform into related objects as you turn the book around and view the pages from different sides.
W Is For World by Kate Cave
An around-the-world alphabet with photographs of children in different countries working and playing.
These are a few unconventional alphabet books–
Achoo! Bang! Crash!: The Noisy Alphabet by Ross MacDonald
All the alphabet words in this book are sounds, a fun and different approach to the alphabet.
Alphabeasties by Sharon Werner and Sarah Forss
The animals in this book are created by groups of letters. The alligator is a group of As, the bat is a collection of Bs, and so forth. Also, each page shows different typefaces of each letter, helping kids understand that letter shapes may change when they are printed in books.
The Handmade Alphabet by Laura Rankin
Beautiful illustrations show hands making signs for the letters in the manual sign language alphabet. Illustrations include items that begin with the signed letter. A different introduction to the alphabet.
P Is For Pterodactyl: The Worst Alphabet Book Ever by Raj Haldar
A fun alphabet book filled with words that begin with silent letters or misleading sounds.
Q Is For Duck by Mary Eating and Michael Folsom
Not your ordinary alphabet book. Older preschoolers will enjoy trying to figure out why Q is for duck (quacks) and A is for Zoo (animals live there). A fun alphabet variation for kids.
More alphabet books