Ponds teem with all kinds of life–insects, fish, birds, amphibians, and mammals intermingle in this habitat. A pond theme offers many fun learning opportunities. The books below, both fiction and nonfiction, are a great way to introduce the concept of ponds and pond life to young children.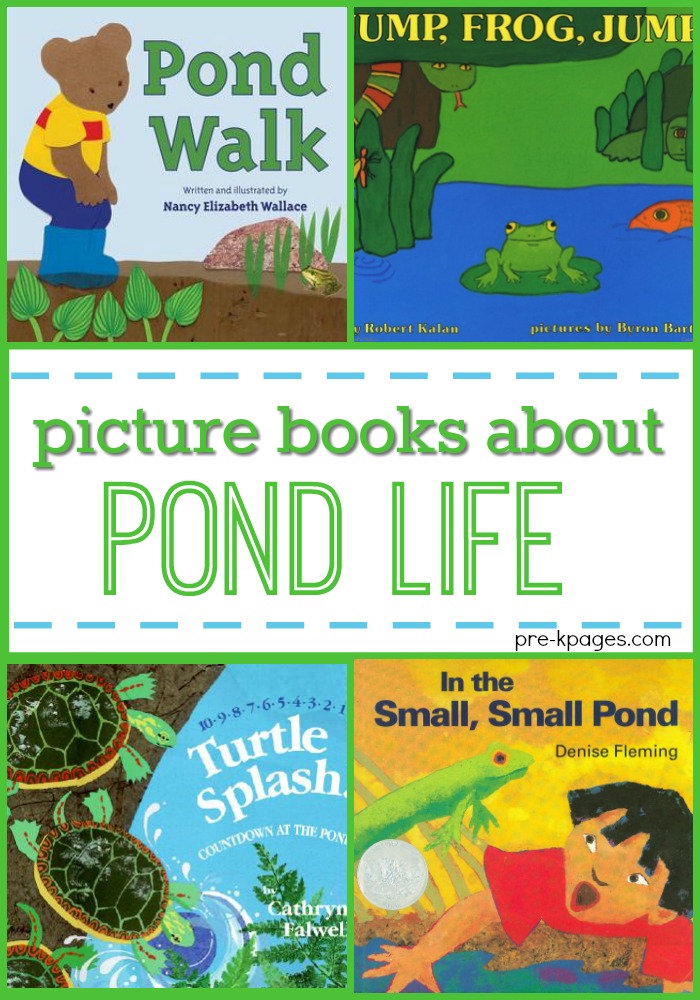 Books About Pond Life
In the Tall, Tall Grass by Denise Fleming – What does life in the tall grass look like from a caterpillar's eye level? Kids will enjoy the rhythm and rhyme of the text as well as the colorful illustrations. Plus they will learn lots of fun "sound words" (onomatopoeia).
Jump, Frog, Jump! by Robert Kalan – A frog jumps to catch a fly. But that's just the beginning of this cumulative story. The frog must keep jumping to stay one step ahead of all the dangers. Kids will love repeating the phrase "Jump, frog, jump!" with the book.
In the Small, Small Pond by Denise Fleming – Explore the pond at a frog's view. Bright illustrations and fun rhymes will draw kids into this look at pond life.
An Extraordinary Egg by Leo Lionni – Three frogs live on Pebble Island; one frog, Jessica, is always exploring. One day she brings home an egg. "It's a chicken egg!" another frog says. When the chicken hatches, it's green and scaly. The "chicken" joins Jessica on her explorations until they discover someone else on the island.
It's Mine by Leo Lionni – Three selfish frogs live in the middle of Rainbow Pond. Each frog is always shouting, "It's mine!" to the others. Can they learn to get along, especially when a dangerous storm comes? This fun fable may help kids think about living together with those around them.
Pond Books
Pond Walk by Nancy Elizabeth Wallace – Buddy and Mama explore the life around Pete's Pond. Buddy sketches what he sees on his pad. This book will encourage kids to think about the plants and animals that live in and around a pond.
Turtle Splash! Cathryn Falwell – Kids can count down as 10 turtles, one by one, splash into the pond.
Life in the Pond by Craig Hammersmith – Photographs of pond animals and simple facts make this nonfiction book a great resource for young kids.
Have You Seen My Duckling? by Nancy Tafuri – A mother duck returns to her nest to find that one duckling has gone astray. She and her other ducklings swim around the pond, asking the other animals if they have seen the duckling. Kids will enjoy the repetitious text and will enjoy finding the wayward duckling somewhere on each page spread.
A Turtle's Life by Nancy Dickmann – The photos and simple text of this book lead kids through the life cycle of turtles.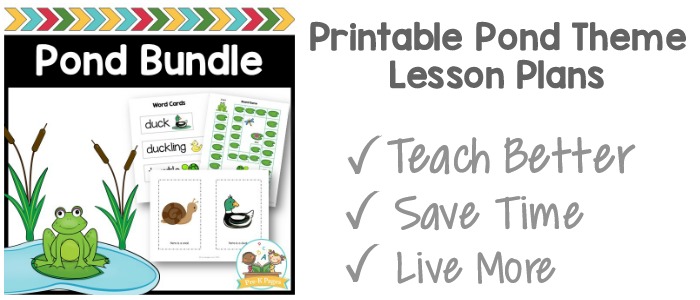 More Pond Ideas