Parents and teachers are partners in a child's education and development. And the beginning of school is the best time to begin the connections between home and the classroom. These tips can help you begin those parent connections from the very start of school.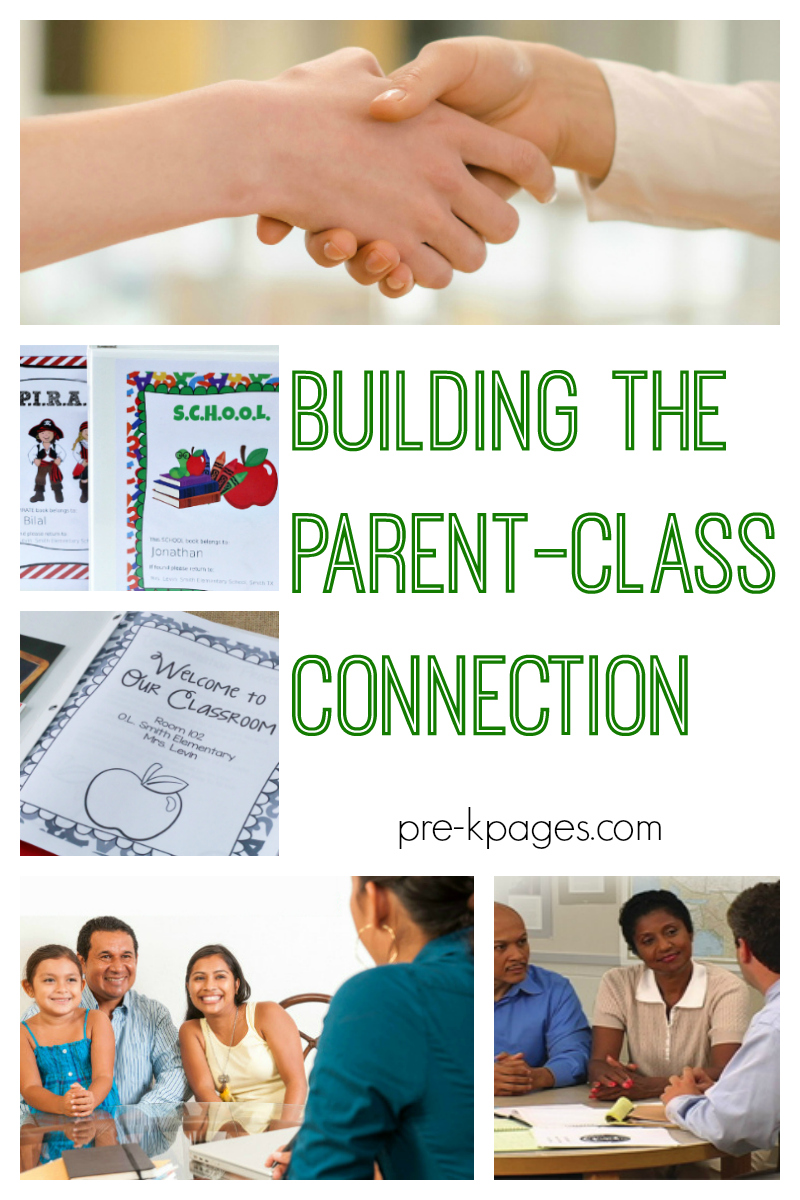 Information Builds the Parent-Classroom Connection
Parents are interested in information–knowing what to expect, knowing what their children are doing, knowing about the person who spends time with their children all day. They may have lots of questions about backpacks and supplies and drop-offs. A helpful way to answer all those parent FAQs is with a Parent Handbook. Your handbook should include all the pertinent information that parents will need. A strong handbook will be a great reference for parents throughout the school year and can help you, the teacher, focus on teaching and meeting children's needs (instead of answering parents' questions).
Printable, Editable Parent Handbooks in a variety of themes are available here on Pre-K Pages.
Another great way to give information and build relationships is a Parent Open House. Bring parents to the classroom and meet with them. Give them information about yourself. Guide them on a tour of the classroom so they will know what their children will experience each day. Highlight important information (usually the same information as in the parent handbook) and answer questions about procedures. Help parents make a strong connection with you at the beginning of the year with an open house.
Editable Open House Presentations in a variety of themes are available on Pre-K Pages.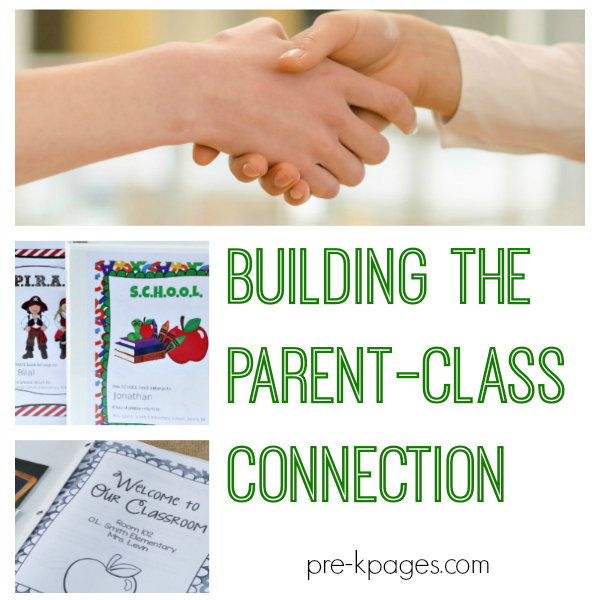 Communication Builds the Parent-Classroom Connection
To maintain a strong connection, you will want to communicate ongoing information to parents. One way to maintain ongoing communication is through Communication Notebooks. These notebooks can contain areas for behavior information, newsletters and classroom information, and notes from parents or home. Also include pockets to send home notes from school and to hold money or other communication from parents. Notebooks are very helpful in communication, giving parents (and teachers) a specific place to look for announcements or notes. After all, it is very easy for things to disappear into a backpack, never to be seen again.
Check out the various Editable Parent Communication Notebooks here on Pre-K Pages or create your own.
Regular newsletters and calendars are important tools for communication with parents. Newsletters can include classroom or school events or announcements, highlights or news about students (birthdays, etc.), information about things happening in the classroom, and short tips or information about child development or learning. Calendars will offer information on your classroom at a glance. Your newsletter and calendars will reflect the needs and interests of your children and families.
These newsletters templates on Pre-K Pages may help you create your own newsletters for the year. Calendar templates will help you quickly create classroom calendars to communicate upcoming events like snack, field trips and more.
More tips and ways to connect with parents—
Home Visit Guide: Plan a visit to the homes of your families to build relationships and share information.
Parent Volunteers: Parents can help with classroom tasks.
Parent Conferences: Meet with parents during the year to communicate important information about their children's learning and development.
Family Night: Plans for creating family educational nights.
Family Projects: Ways to involve families in children's education and work together at home.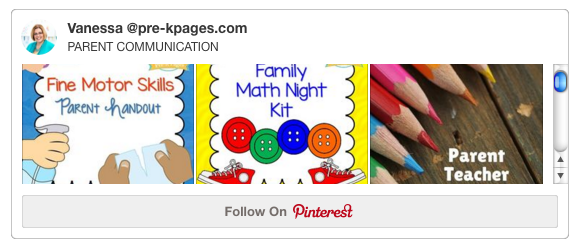 Follow my Parent Communication Pinterest Board for more ideas!