Are you looking for hands-on ways to teach shapes to your little learners? Building shapes with craft sticks is a fun and inexpensive learning activity your kids will love. They'll be building important emergent math skills while playing having fun.
Pair this activity with the book Shapes, Shapes, Shapes by Tana Hoban and you've got the perfect low-prep shapes lesson!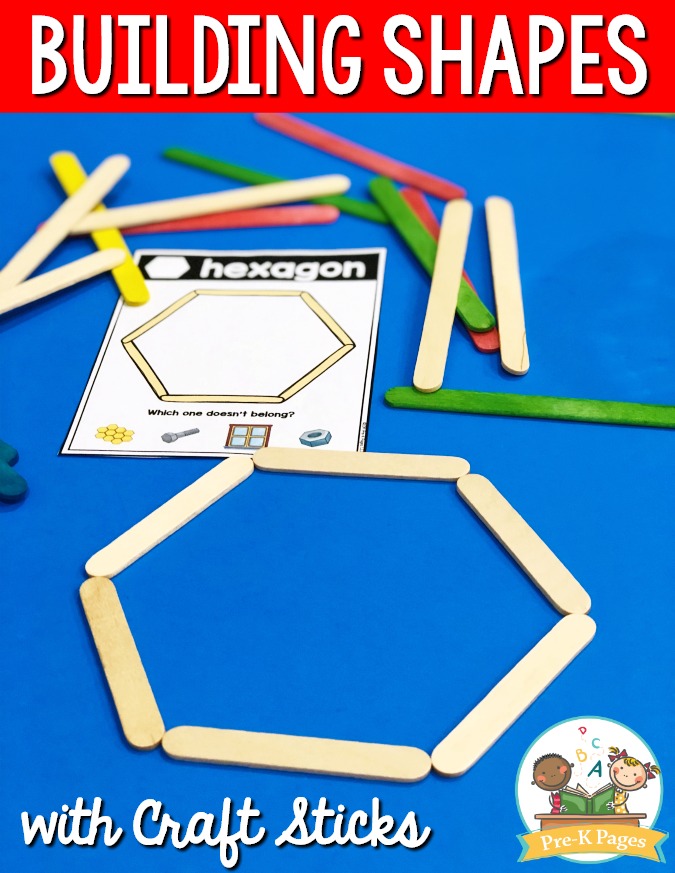 Extending the Book
The book Shapes, Shapes, Shapes by Tana Hoban explores shapes in the world around us through photographs.
This isn't just a fun shape story to read, it's also a great way to introduce shapes to your kids.
After you've read Shapes, Shapes, Shapes by Tana Hoban aloud to your students, you can use craft stick shape mats and cards to extend the story, and learning, even further.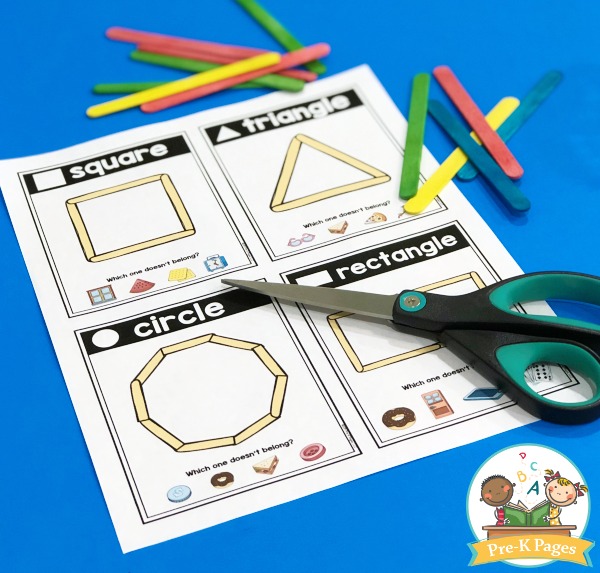 Craft Stick Shapes
Here's what you'll need to set-up this activity at home or in your own early childhood classroom:
Shapes, Shapes, Shapes by Tana Hoban
Printer and Ink
Laminator and laminating film
Scissors
Craft Sticks (regular length and short)
Small object to mark what doesn't belong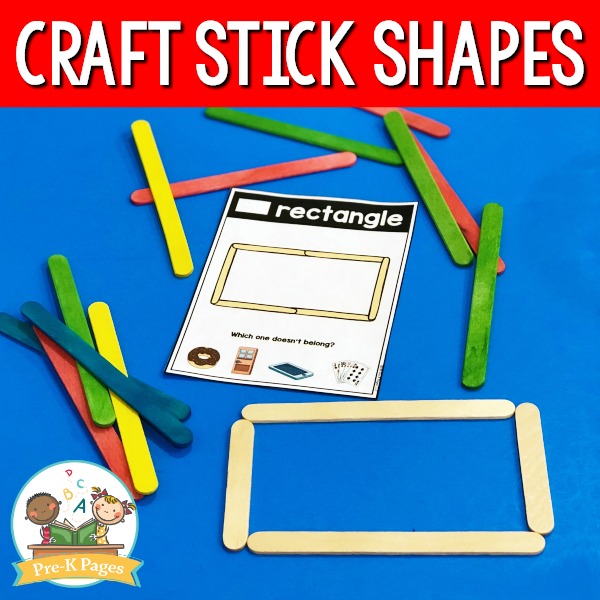 Building Shapes with Craft Sticks
After reading Shapes, Shapes, Shapes aloud to your students, talk about the different shapes in the book.
To get started with the craft stick shapes activity, print the mats or cards on cardstock and laminate for durability. There's a black and white and a color version for you to choose from, choose the one that best meets your needs and those of your students. You can choose to print full-size mats, or smaller cards – how cool is that?
Next, introduce the mats or cards to your little learners in small groups.
Then, show the shape mat or card to the students in your small group, name the shape, and have them repeat the name of the shape.
Finally, give each child the same mat or card you just showed them, say the name of the shape again, and ask them to repeat the name of the shape as they use the craft sticks to make the shapes. This process has proven to be a highly-effective way of helping young children retain information in their long term memory.
There's also a section on each card or mat that invites the child to select the picture that doesn't belong. Your kids can use small manipulatives like mini erasers or counting cubes to mark these images.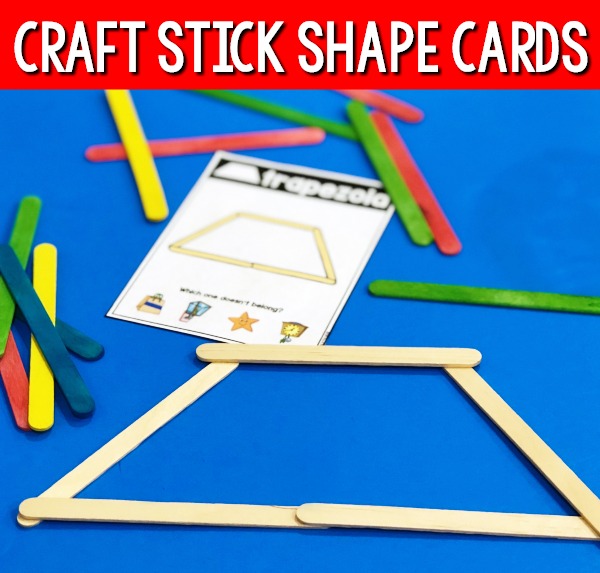 Making 2D Shapes with Craft Sticks
The craft stick shape cards include the following 2D shapes:
Square
Circle
Triangle
Rectangle
Rhombus
Hexagon
Pentagon
Oval
Trapezoid
Star
Heart
You can pick and choose the shapes to use with your students. In these pictures I've used regular craft sticks, also commonly referred to as Popsicle sticks here in the U.S. But you can use colored Popsicle sticks too, if you prefer.
To make some of the more difficult shapes I used mini craft sticks, which can be found at your local craft store or on Amazon. If you don't have access to mini craft sticks you can cut regular sticks in half, or just use the shape cards or mats that use full-size sticks.
Another added benefit of using craft sticks to build shapes is that your kids will be developing their fine motor skills as they pick up and manipulate the sticks.
Why is Teaching Shapes Important?
I'm all about the why behind the what. It's so important for early childhood educators to know why the skills they are teaching are important and how they fit into the big picture of learning.
Here's the thing, learning to recognize shapes is a precursor to learning to identify letters of the alphabet. The first step in learning to identify letters of the alphabet is to understand that letters are shapes and those shapes have names. Shapes also play an important role in the development of early math and writing skills.
When young children are using craft sticks to make shapes on their mats, they are developing very important pre-reading skills.
Seeing the shapes on the mats or cards and naming them helps prepare young children to identify both letters and numbers, and then to name them, and eventually to write them.
Other Shapes Activities—
Nature Shape Scavenger Hunt
The Shape of Things Chalk Drawings
Create a Shapes Photo Book
Perfect Square Shapes Art