Every spring life begins again. Flowers, tree, animals, and insects start the life cycle process. We read about seeds and flowers and caterpillars and butterflies to build preschoolers' knowledge about life cycles. But full understanding comes when preschoolers can see and experience it firsthand. Raising butterflies in the classroom is a great way to help preschoolers see a life cycle in action. Explore the life cycle of a butterfly for kids with this post.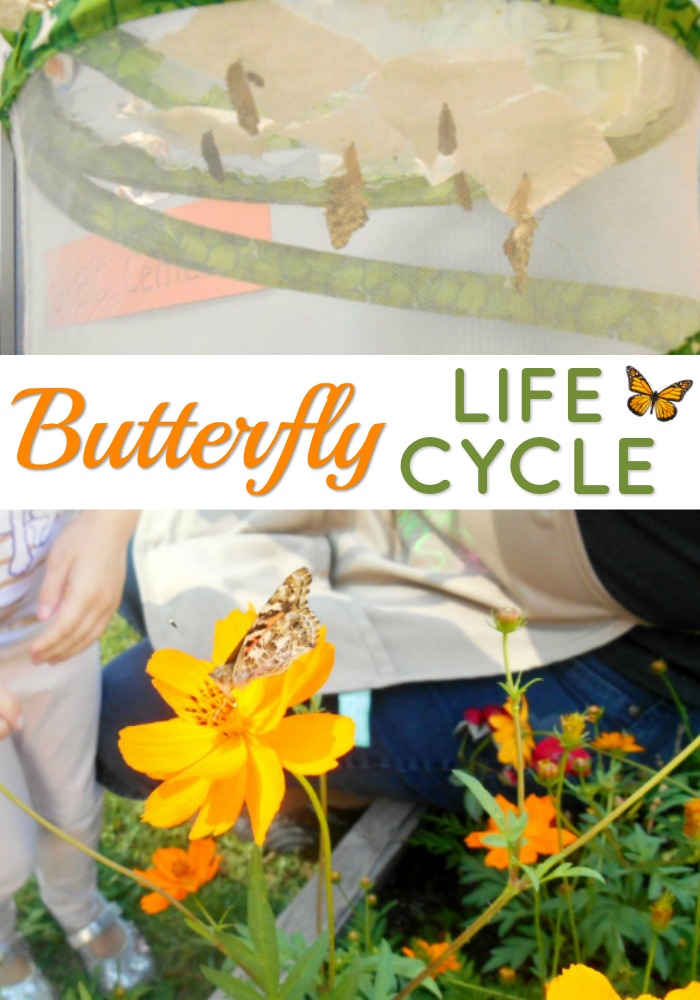 What Are The Life Stages Of A Butterfly?
The butterfly goes through a process called metamorphosis.
The four stages in metamorphosis are egg, larva, pupa, and adult butterfly.
Butterfly Life Cycle
Order a butterfly kit to have all the supplies you need to raise a group of butterflies. When your caterpillars arrive, set them in a safe place where they can be observed by your preschoolers.
Talk with your preschoolers about the butterfly life cycle. On a large piece of paper, draw the life cycle as you talk about it. Explain that the caterpillars hatched from butterfly eggs. Draw a small oval. Point to the food in the bottom of the jar. Tell preschoolers that caterpillars will eat and grow. Draw a picture of a small caterpillar next to (or below) the oval/egg.
Post a calendar beside your caterpillars. Note the date the caterpillars arrived on your calendar. Your preschoolers will enjoy watching the caterpillars move around their cup and eat the food. Include caterpillar observation in your schedule each day. Note the children's observations on your calendar. Offer paper and crayons or pencils for children to draw or write their own observations.
When the first caterpillar makes a chrysalis, note the date on your calendar. Draw a picture of a chrysalis next to (under) the caterpillar picture. Observe your caterpillars regularly to see when all the caterpillars have moved to the top and made chrysalises. Carefully move the chrysalises to the butterfly house. (You may want to move them when children are not in the room.)
Continue to observe daily. Invite children to draw or write their observations on other pieces of paper.
When butterflies begin to emerge, note the date on your calendar. Draw a butterfly on your life cycle paper. Count the days from when caterpillars arrived to when adult butterflies emerged.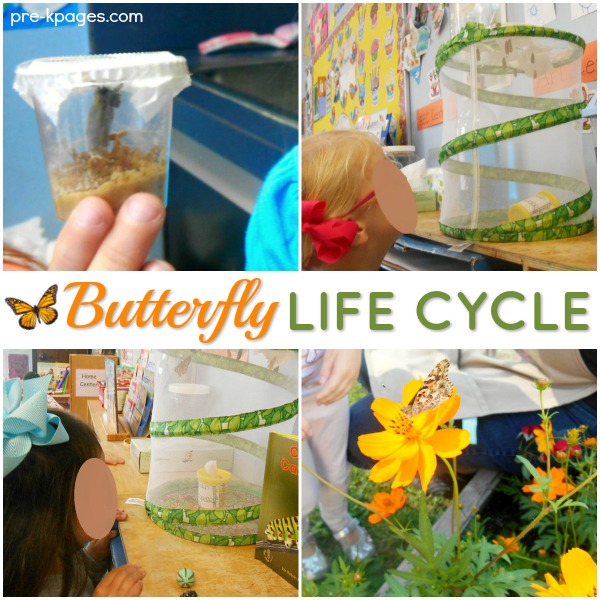 Life Cycle Of A Butterfly For Kids
As children watch the butterflies, they can draw or write what they see. Make sure to add sugar water to the butterfly house as food for the butterflies. You may want to cut oranges into pieces and add those as well.
After all butterflies are fluttering around the butterfly house (a few days), take them outside and release them. Choose to release them in a flowery area if possible. Sit outside and watch the butterflies flutter. Explain that adult butterflies will fly around for a few days. They will lay eggs and the life cycle will start again.
Back in your room, invite children to draw or write their final observations. Help children assemble all their observations into a book. (You can make individual books for each child or assemble all the pages into a class book.)
Read Waiting for Wings by Lois Ehlert. Compare what you read in the book to the children's observations. Add Waiting for Wings and the homemade books to your science center. Read other books about butterflies or other animal life cycles.
(Also see the post Raising Butterflies in Preschool for more information about raising butterflies.)