Spring is a natural time to talk about baby animals and animal life cycles. Many times in preschool classrooms life cycle studies focus on frogs and butterflies. But all animals have a life cycle and these life cycle books can help your preschoolers explore all different kinds of animals. Choose one of these life cycle books and this spring read about animal life cycles!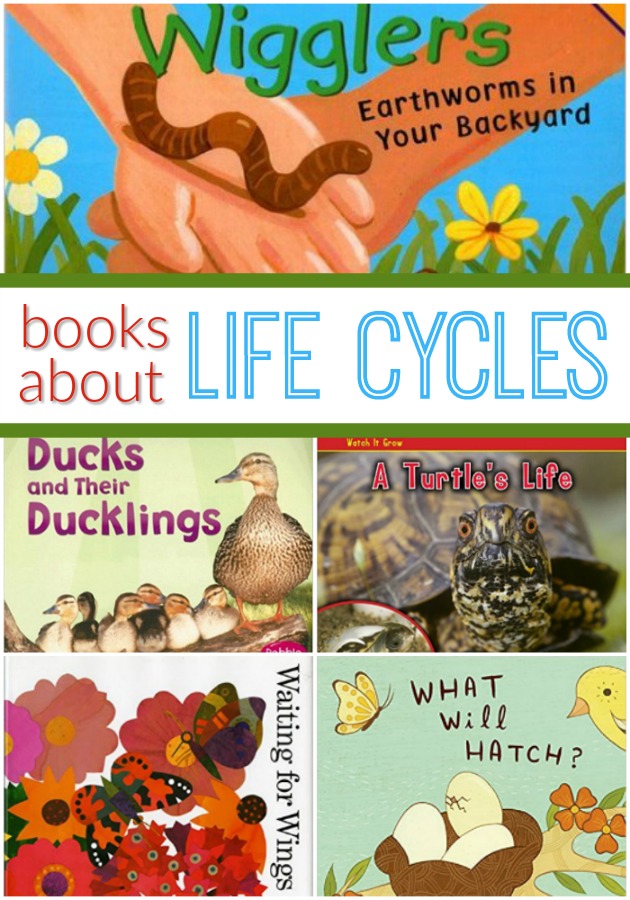 Animal Life Cycle Books
Bears and Their Cubs by Linda Tagliaferro
This book describes the lives of bear cubs from birth to early maturity.
Becoming Butterflies by Anne Rockwell
Miss Dana's class observes and records the changes in a group of caterpillars as they transform into butterflies.
Born to be a Butterfly by Karen Wallace
Photos, facts, and details guide older preschoolers and kindergartners to learn more about the life cycle of caterpillars and butterflies.
A Chicken's Life by Nancy Dickmann
Large photos and easy text lead children through the life cycle of chickens.
Cows and Their Calves by Margaret Hall
The book explores the lives of baby cows, also known as calves, from birth to early maturity.
Dogs and Their Puppies by Linda Tagliaferro
Learn about the lives of young dogs or puppies from birth to early maturity.
Dragonflies by Robin Nelson
Photos and simple text follow the life cycle of dragonflies.
Ducks and Their Ducklings by Margaret Hall
Read about baby ducks, ducklings, from birth to maturity.
Elephants and Their Calves by Margaret Hall
Explore the lives of baby elephants calves from birth to early maturity.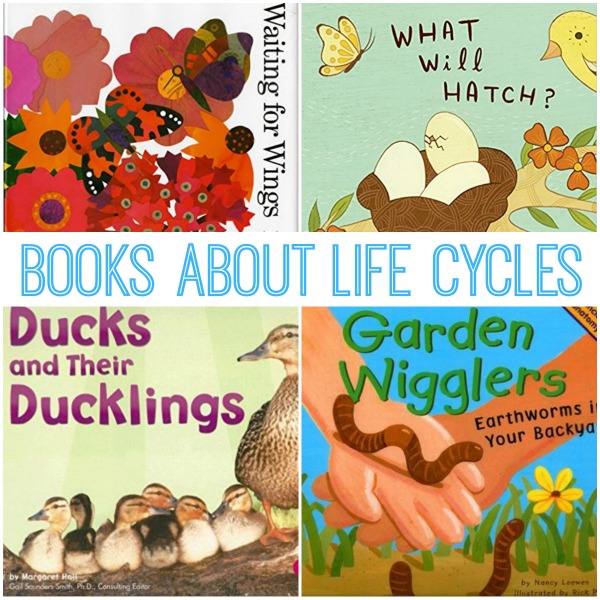 A Frog's Life by Nancy Dickmann
Photos and simple text follow the life cycle of a frog.
From Caterpillar to Butterfly by Deborah Heligiman
A class of children watch a caterpillar grow and change and eventually become a Painted Lady butterfly.
Garden Wigglers: Earthworms in Your Backyard by Nancy Loewen
A close-up look at earthworms–characteristics, behavior, and life cycle.
A Ladybug's Life by John Himmelman
Watercolor illustrations and text follow the life cycle of a ladybug through the summer and fall seasons.
Robins by Robin Nelson
This book has a basic overview of the robin life cycle with close-up photos.
Tale of a Tadpole by Karen Wallace
This book has more detail about frogs and tadpoles. Many photos, labels, and facts are included in this book about the frog life cycle.
A Turtle's Life by Nancy Dickmann
The photos and simple text of this book lead kids through the life cycle of turtles.
The Very Hungry Caterpillar by Eric Carle
A newly hatched caterpillar eats his way through all kinds of food. But then he changes.
Waiting for Wings by Lois Ehlert
Ehlert follows the life cycle of four common butterflies, from their beginnings as tiny eggs and hungry caterpillars to their glorious transformation. This is not your average butterfly book; it includes butterfly and flower facts and identification tips, as well as a guide to planting a butterfly garden.
What Will Hatch? Jennifer Ward
Many animals hatch from eggs. This book shows eight different animals who begin life in eggs. Cutouts on the pages and simple text will encourage children to guess what will hatch from the egg shown.
More Children's Books Lists