Who doesn't love a campfire on a summer evening? This process art exploration will engage students in s'more fun with numbers, shapes, and colors! Your Preschool Picassos will have a chance to practice counting and sorting on their way to a finished product they will be proud to show off. Add this art project to a camping theme and transform your classroom into a cozy campsite!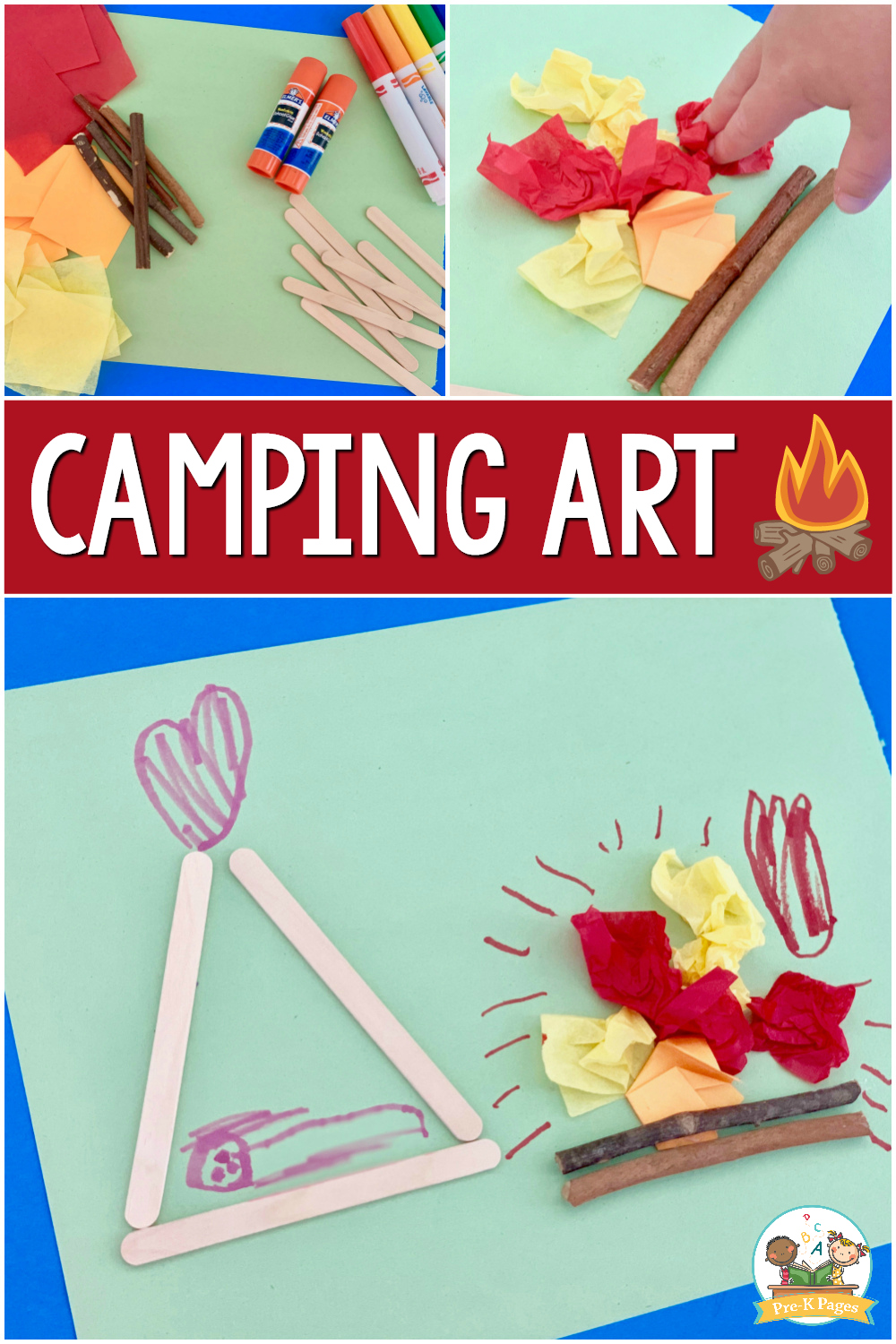 Camping Scene Process Art
What You Need
Each happy camper will need a supply bin with a few of the following items:
craft sticks
small twigs from the outdoors
red, orange, and yellow tissue paper squares
mini graham cracker squares (or light brown paper squares)
mini chocolate bars (or dark brown or black paper pieces)
mini marshmallows (or small white paper pieces)
glue stick
construction paper
crayons or markers
Discovery and Creation Steps
The educational goals of this project are achieved as students discuss, count, and sort the items in their supply bin, and create their own original masterpiece! Begin by brainstorming what you see at a campsite. Kids may suggest ideas such as a tent, a campfire, and s'mores.
After brainstorming together, guide students toward each item in their supply bin. Provide wait time between each item to allow students space to discover materials and think through their individual ideas. Students should be encouraged to explore each step in their own way. They may choose different amounts of supplies and decorate their campsite scenes in their own way. No two campsites will be identical, and that's okay!
Creating Camping Scenes
First, invite students to create a tent using craft sticks. Use prompting questions, encouraging them to identify what shape a tent may be. Allow them time to assemble shapes on their paper until they are ready to glue down their creation. They may want to arrange craft sticks several ways, looking for the best arrangement. After gluing the craft sticks, students can then use crayons or markers to color their tents and to make them their own.
Next, invite students to create a campfire using twigs and tissue paper squares. Let students discover these items while asking prompting questions. You may encourage them to count their sticks and sort the colors of tissue paper. Again, they can experiment with materials to create a campfire on their paper, and then glue the materials to the paper.
Last, invite students to create a tasty s'more. Ask them what ingredients are in a s'more and how many of each ingredient they might use. Like their tent and campfire, they can experiment with different combinations before choosing to glue the s'more to their paper.
Once completed, students can share their campsites with one another and identify similarities and differences. Celebrate their unique ideas!
Educational Benefits and Modifications for Camping Art Activity
Teacher questions and wait time will lead the way to learning throughout this process piece. Wait time–allowing silence after a question for preschoolers to think–is key to developing good thinking and communication skills. Silence can be uncomfortable for teachers. But allow the time to stretch. Students will respond after they have processed your questions and their own thoughts about it. (And, if no one answers, that's okay. The thinking still happens.)
Preschool Learning in Action
Item Identification through Sorting – Preschoolers must recognize and sort items, an early skill applied in both math and science.
Fine Motor Skills – Preschoolers practice grasping small objects as they search their supply bins, as well as hand-eye coordination through use of a glue stick.
Numbers, Colors, and Shapes – Throughout this activity, teachers will cue preschoolers to count objects, sort by color, and identify and build various shapes.
Depending on time, teachers may modify this activity by completing one portion of the project over several days within the camping theme. For example, you may choose to complete the tent on day one, the campfire on day two, and the s'more on day three. Building an activity over time allows preschoolers to practice patience and can maintain interest for those with shorter attention spans.
To boost your theme to the next level, provide an edible s'more snack for your happy campers to enjoy in celebration of their finished campfire scene!
Contributed by Lindsey Schwartz
More Camping Activities For Preschoolers