Do you have early learners that love learning using their sensory skills and fine motor activities? This Forest Theme Sensory Bin is the perfect sensory experience to encourage hands-on learning and fun. 
By adding forest animals and creating a fun forest habitat, you'll be providing them with the potential for hours of creativity, curiosity, and imaginative fun.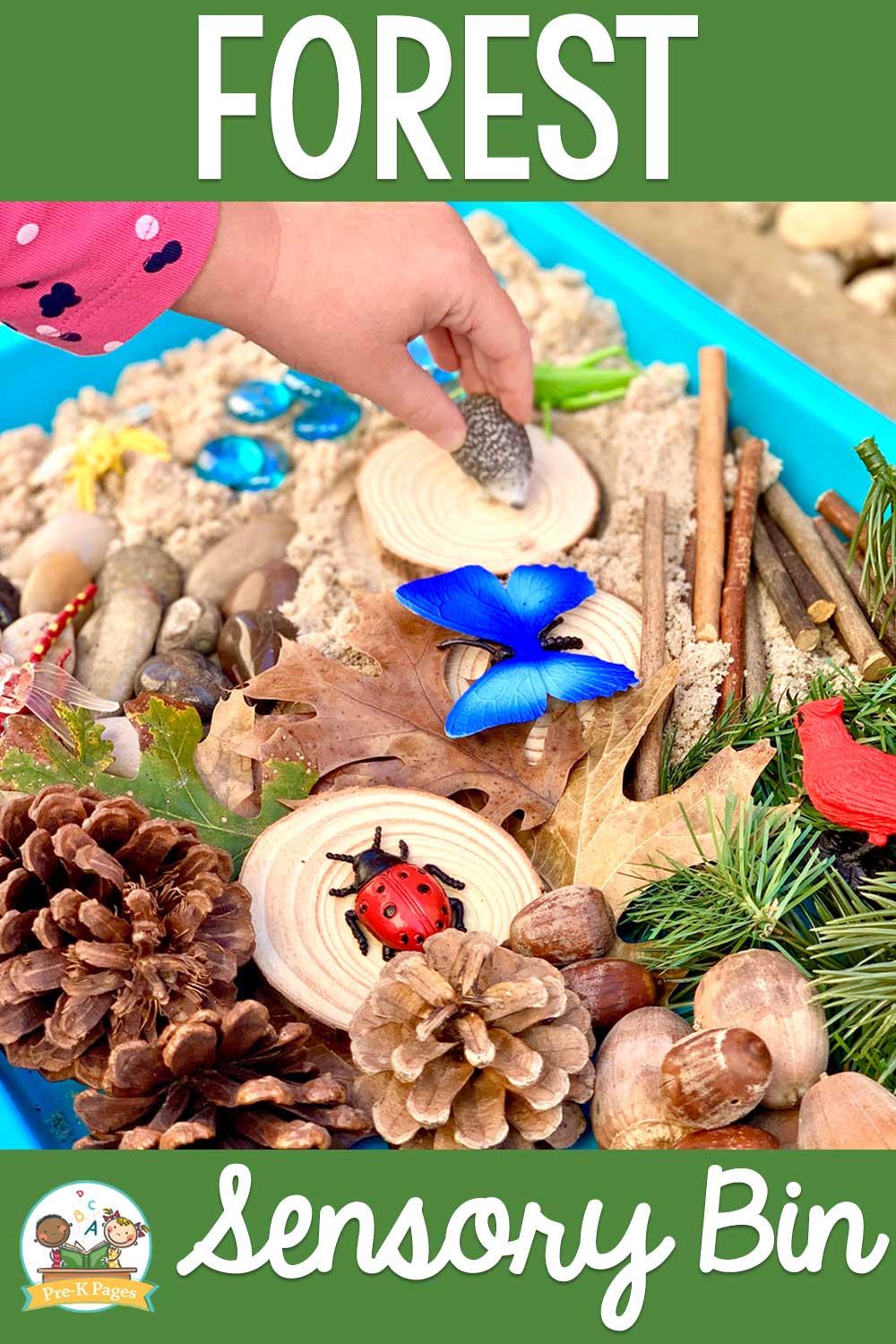 Forest Theme Sensory Bin
The great part about this simple sensory activity is that there are so many great textures for the children to feel. They'll love the softness of the sand, the roundness of the rocks, and the jagged edges that are found on all the added pinecones as well. 
Anytime you have the chance to encourage sensory play in your classroom or at home, do so because it's such a great activity for kids. Sensory development also goes hand-in-hand with fine motor skills as well, which is crucial for young learners to experience on a daily basis. 
Once your children dive in and see how much fun this sensory bin is, they're going to already be thinking of new and fun items that they can add to it as well. Let them be creative and help to make this sensory activity full of even more fun items!

Forest Sensory Bin
One other reason that sensory bins are so popular is because there are so many items that can easily be added. Look around on your shelves or in your toy box or just step outside to see what nature has in store as well. Free is always good when it comes to adding to your child's sensory experience!
Here are a few of the items that I used in this Forest Theme Sensory Bin but you can easily add in whatever you have at home or whatever you think would work better. There are so many choices for sensory bin tools so have fun with your choices.
Sand
Pinecones
Rocks
Leaves
Play forest animals
Play forest insects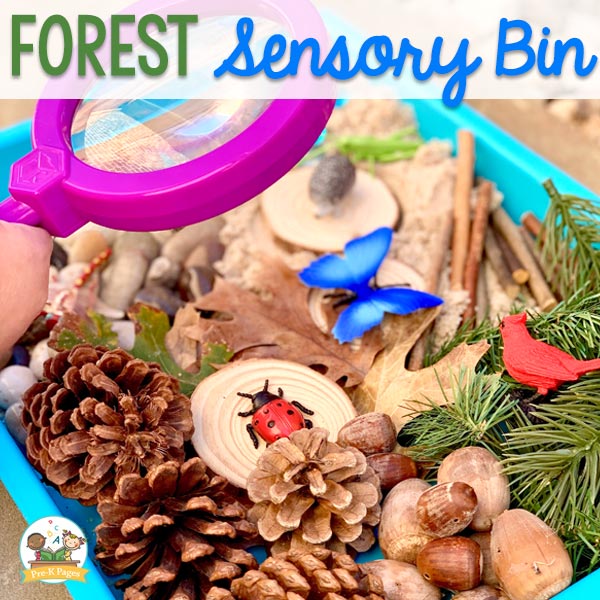 Using Sand in the Sensory Bin
I choose sand for this sensory bin just because of the theme and texture. The children always like when sand is used because it feels really nice on their hands. Keep in mind that you can easily choose other sensory bin filler choices as well which is just another simple way to change up the look and feel of all sensory bin activities that you make in the future.
Even though sand can be a bit messy, it's important to show the children all the different textures. Messy play is also super fun from time to time as well and sand can easily be swept or vacuumed up when done.

Forest Sensory Bin Tools
Add in whatever tools you want! More than likely, their hands are going to be the biggest tools in this fun sensory bin but it's always good to have options as well. Handy Scoopers are great for gripping and pouring and helping them work on their hand-eye coordination.
The great part about tools is that you can change out and add in new ones as often as you'd like. Even simple spoons from the kitchen or tongs can be great sensory bin tools!

More Animal Activities
Check out this list of my favorite books for a camping theme.
Download this resource to set up your own Dramatic Play Campsite and use the forest items in your site.
More Camping Theme ideas