Books are great ways to build and extend preschoolers' experiences. Some preschoolers may have been to a forest or other campsite; others may have camped in their own backyards; and others will have no camping experiences at all. These camping books can help all preschoolers learn more about tents and forests and sleeping outside at a campsite.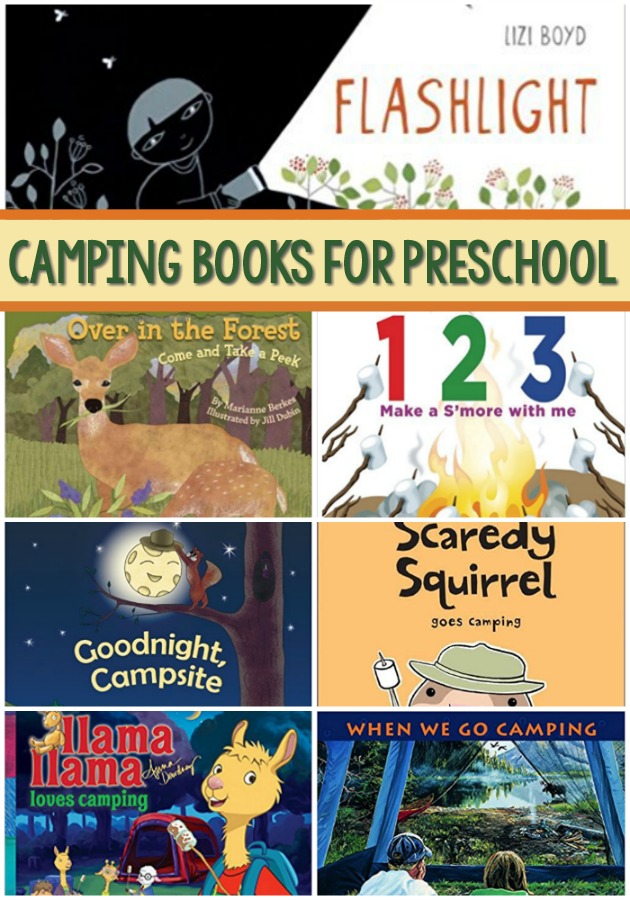 Camping Books For Preschoolers
S Is for S'mores: A Camping Alphabet by Helen Foster James
This alphabet book includes places you may camp, things you may use, and even some famous outdoor people. Additional text in the sidebars gives more detailed information that could enhance your discussions with preschoolers.
A Camping Spree With Mr. Magee by Chris Van Dusen
Mr. Magee and his dog Dee drive into the forest to camp in their camper. But things don't go as they planned.
Scaredy Squirrel Goes Camping by Melanie Watt
Scaredy Squirrel would rather stay home and enjoy camping via television. But first he must plug it in…which becomes an adventure all its own.
When We Go Camping by Margriet Ruurs
Follow a family's activities as they camp beside a forest lake. A list in the back of the book challenges preschoolers to find animals in each picture; facts about animals are included.
Camping Day by Patricia Lakin
Four crocodile friends decide to go on a campout. The text and language in this book is perfect for pre-readers and beginning readers.
Curious George Goes Camping by H.A. Rey
A campground adventure with the "good little monkey who is very curious" and his friend, the man in the yellow hat. George runs with a deer, gets lost among the trees, encounters a black and white "kitty" that sprays him, and even helps put out a fire.
Toasting Marshmallows by Kristine O'Connell George
A collection of poems and soft illustrations of a family campout.
Flashlight by Lizi Boyd
In this wordless book, a boy investigates the nighttime forest with his flashlight.
123 Make a S'More with Me by Elizabeth Gauthier
A fun counting book about a favorite campfire activity.
Goodnight, Campsite by Loretta Sponsler
A variety of campers gather to camp at Big Meadow Park.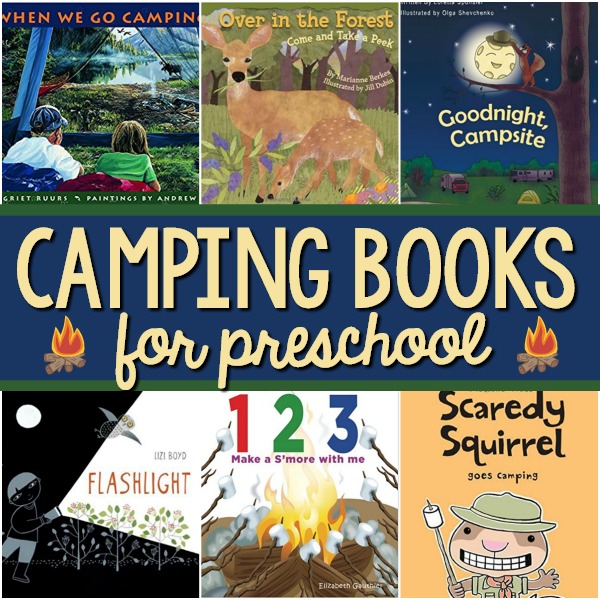 Camping Themed Books for Kids
Our Great Big Backyard by Laura Bush and Jenna Bush Hager
A family takes a trip across America, stopping in several national parks to camp and see the sights.
Bailey Goes Camping by Kevin Henkes
Bailey's brother and sister go camping with the scouts but Bailey is too young to go. Mama comes up with a plan for Bailey to enjoy the same activities right at home.
Oh So Quiet! by Lindsey Craig
Boys in a tent hear noises in the quiet night.
Llama Llama Loves Camping by Anna Dewdney
Llama Llama and his friends discover that it can be fun to camp out.
Scare a Bear by Kathy-Jo Wargin
What would you do to scare a bear? What if the bear isn't easy to scare?
Gray Squirrels by G.G. Lake
This nonfiction book looks at the life of a familiar forest animal.
Owls by Mary R. Dunn
Photographs and facts about these nocturnal birds.
Over in the Forest: Come and Take a Peek by Marianne Berkes
The text of this book is a variation of the song/rhyme "Over in the Meadow." This book spotlights forest animals and their babies.
Counting in the Forest by Rebecca Rissman
A simple counting book, from 1-20, with photographs of forest animals.
Find these books at your local library or shop for used books to keep your costs down.
More Camping Theme Ideas
Pretend Smores for Dramatic Play Camping Theme – Young children are fascinated by nature, you can easily harness their natural interests and include a pretend play camping center in your classroom.
Campfire Process Art for a Camping Theme- This particular activity is a "non painting" paint activity. This particular version is great for a camping theme but you can change up the colors in different ways to adjust to fit what your children's interests are.
Camping Theme Activities- These are some of my favorite dramatic play camping theme activities for preschool and kindergarten.