Most young children love to engage in dramatic play scenarios. Even mundane trips to the grocery store and doctor's office can be exciting for them.  I'm sure you can imagine how much fun your kids would have on a pretend camping trip! These camping activities for preschoolers are some of my favorite dramatic play camping theme activities for preschool and kindergarten.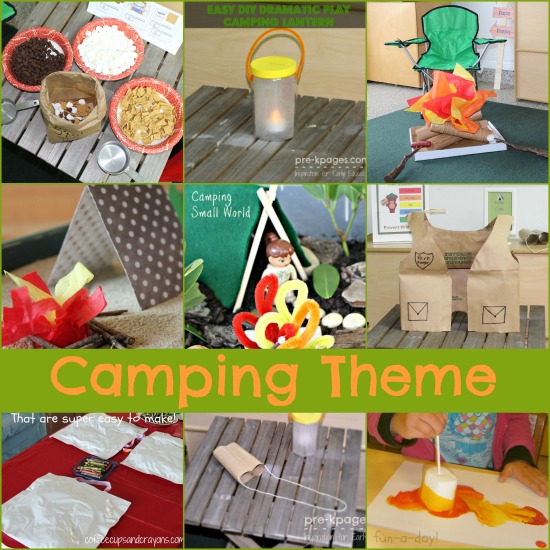 Camping Activities For Preschoolers
Sit Upons
I was a Brownie and a Girl Scout so this clever (and super easy) twist on the classic sit upon by Coffee Cups and Crayons was right up my alley!
S'mores Trail Mix
Yum! No camping experience- real or pretend; would be complete without S'mores! Check out this safe and easy printable S'mores trail mix recipe your kids can make on their own.
Marshmallow Painting
This creative marshmallow painting process art activity from Fun-a-Day is sure to be a big hit with the kiddos!
DIY Lantern for Dramatic Play Camping
Your little campers won't be scared of the dark with this camp lantern; and it's super easy to make too!
Camping Sensory Play
B-Inspired Mama shares an absolutely adorable camping sensory play activity that will keep your kids engaged and having fun for a good long while.
Pool Noodle Campfire for Pretend Play
It wouldn't be camping without a campfire, a pretend campfire that is!
Small World Camping Experience
This small world camping experience from Fantastic Fun and Learning provides plenty of opportunities to develop oral language skills, imagination and creativity.
DIY Park Ranger Vest and Binoculars for Dramatic Play Camping
Every campground needs park rangers to keep the campers safe! Learn how to make a vest and binoculars for your little park rangers.
DIY Glow in the Dark Firefly Jar
This glow in the dark firefly jar from Come Together Kids is complete genius! Just turn off the lights and your kids will be wowed; I can't wait to make one too!
More Camping Activities For Preschoolers