Preschoolers love to read and learn about things that connect to their personal experiences. Since they are learning to deal with buttons, zippers, snaps, and laces, they are interested in learning more about clothing. Maybe you are planning a clothes theme for your classroom. These clothing books would supplement that study.
Or reading books about clothing would also support explorations with families, seasons, or an All About Me theme. Check out these clothing books. You may want to look at your local library or online used book sellers to keep costs down.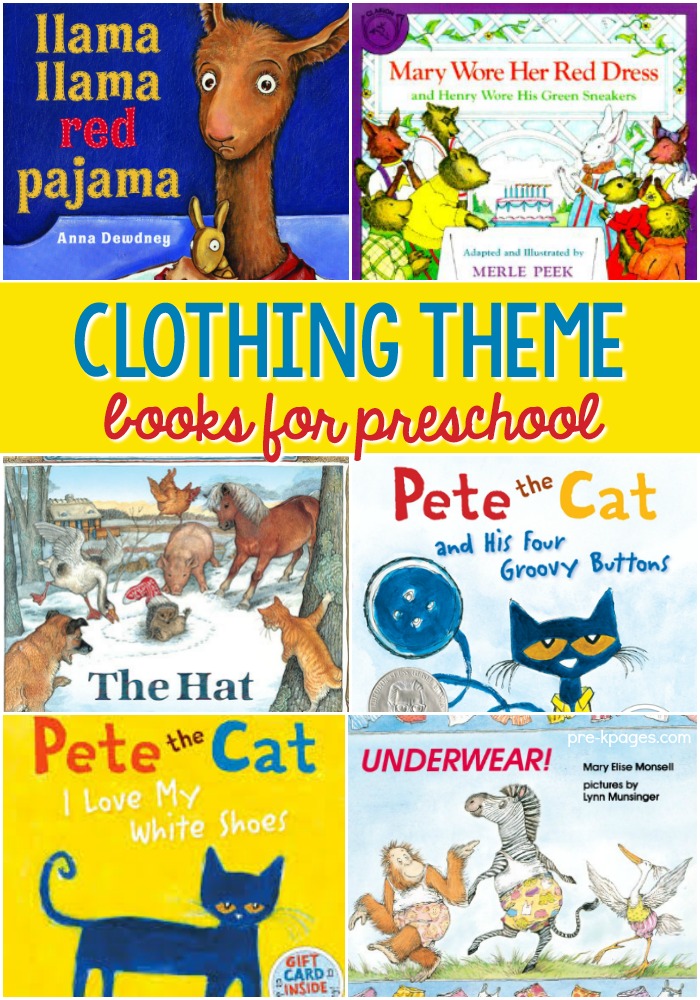 Clothing Books For Preschoolers
Pete the Cat: I Love My White Shoes by Eric Litwin
Pete the Cat loves his white shoes and walks down the street and singing about them. But his shoes don't stay white.
Shoes, Shoes, Shoes by Ann Morris
This book is full of photographs of people all over the world wearing all kinds of shoes (some for different uses).
Shoes by Elizabeth Winthrop
A fun rhyming book about shoes.
Hats, Hats, Hats by Ann Morris
"The world is full of hats." Hats are made of different materials and worn for different reasons. The photos in this book show people all over the world wearing and using hats.
I Love My Hat by Douglas Florian
A farmer picks up animals on his way to town. Each animal is wearing a piece of clothing and is happy about it, singing a song about what he is wearing.
Whose Shoes? by Stephen R. Swinburne
People who have different jobs wear different kinds of shoes. In part of this book, children can guess the job by looking at the shoes.
Clothesline Clues to Jobs People Do by Kathryn Heling
Each clothesline in this book holds clues to the job that a person does. Children can look at the items pictured and listen to the text. They can make conclusions about what job each person does.
The Clothes I Wear by Bobbie Kalman
Photographs and labels help children identify different types of clothing and when that clothing may be worn.
Mrs. McNosh Hangs Up Her Wash by Sarah Weeks and Nadine Bernard Westcott
Every Monday Mrs. Nelly McNosh does her wash and hangs it up to dry. Her line ends up with a variety of things hanging on it. A fun rhyming book.
Jesse Bear, What Will You Wear? by Nancy White Calstrom and Bruce Degen
This book follows Jesse Bear through his day as he tells what he is wearing (both clothing and other things) with simple poetry.
Corduroy by Don Freeman
Corduroy waits in the department store for someone to take him home. One girl wants to take him home but her mother notices that Corduroy is missing a button. He searches the store at night for his missing button but doesn't find it. The next day the girl comes back and buys Corduroy. At home she sews on a button.
Pocket for Corduroy by Don Freeman
While at the laundromat with Lisa, Corduroy goes looking for something to make a pocket on his overalls. He gets lost and has to spend the night among the washers and dryers.
Pete the Cat and His Four Groovy Buttons by Eric Litwin
Pete the Cat is wearing his favorite shirt with four groovy buttons. When a button pops off, what will Pete do?
Llama Llama Red Pajama by Anna Dewdney
Baby Llama goes to bed but, when alone, wants his mama. When she doesn't come quickly, llama drama ensues.
Knuffle Bunny by Mo Willems
Daddy, Trixie, and Knuffle Bunny make a trip to the laundromat to wash clothes. But, when they return home, someone has not made the trip back.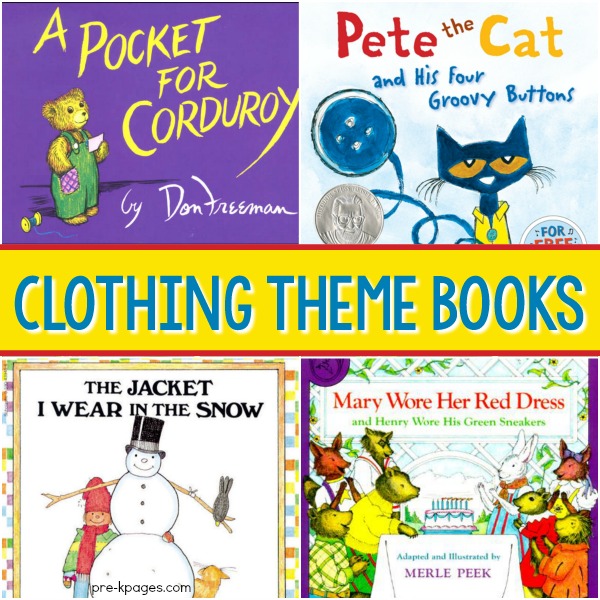 Books for a Clothing Theme in Preschool
Animals Should Definitely Not Wear Clothing by Judi Barrett
This book shows many reasons why animals wearing clothing would be a bad idea.
Lots More Animals Should Definitely Not Wear Clothing by Judi Barrett
More animals show why they should not wear clothing.
The Hat by Jan Brett
A hedgehog investigates a stocking and gets it stuck on his head. One by one the animals laugh at him but he brags about his warm hat. So the other animals get an idea.
The Mitten by Jan Brett
A boy loses his mitten in the snow. The mitten becomes a warm retreat for animals, as they squeeze in one by one.
Mary Wore Her Red Dress and Henry Wore His Green Sneakers by Merle Peek and James Cross Giblin
The text of this book is a version of a folk song. While spotlighting different colors, the text also identifies different types of clothing. (A score in the back of the book provides the melody if you choose to sing the text rather than read it.)
Caps for Sale by Esphyr Slobodkina
A peddler selling caps takes a nap. When he awakes, he faces an unusual obstacle regarding his caps.
Lilly's Purple Plastic Purse by Kevin Henkes
Lilly takes her purple plastic purse to school and faces some trouble when she cannot stop playing with it.
The Button Box by Margaret S. Reid and Sarah Chamberlain
A boy sorts buttons in his grandmother's button box.
Ella Sarah Gets Dressed by Margaret Chodos-Irvine
Ella Sarah knows just what she wants to wear. But her mother thinks the outfit is too dressy. Her dad says it's too fancy. Her sister says it's too silly. But Ella Sarah insists and puts on what she wants to wear. Which is perfect when her friends arrive.
Froggy Gets Dressed by Jonathan London
Froggy wakes up and wants to go play in the snow. He pulls on some clothes and heads out. But his mother reminds him that he didn't quite put on everything he needs to wear.
The Jacket I Wear in the Snow by Shirley Neitzel
The rhyming text builds on itself throughout this book, reviewing winter clothing.
The Dress I'll Wear to the Party by Shirley Neitzel
A girl dresses for a party in this cumulative text book, until her mother shows up to change things.
Underwear! by Mary Elise Monsell
Zachary and Orfo love underwear of all kinds. They also like having fun. But their friend Bismarck seems grumpy all the time. Can they help him laugh? Can underwear help?
Polar Bear's Underwear by Tupera Tupera
Polar Bear cannot find his underwear. So Mouse helps him search. They come across various kinds of underwear but none are Polar Bear's underwear.
Where Did My Clothes Come From? by Christine Butterworth
This book tells what clothes are made of and how they are made.
A Pair of Socks by Stuart J. Murphy
A sock searches for its mate. This book leads children to think about how things match.
More Book Lists