Valentine's Day is the perfect opportunity for sorting hearts by color and design. We added hands-on tools to create a fine motor color sorting station for our preschoolers!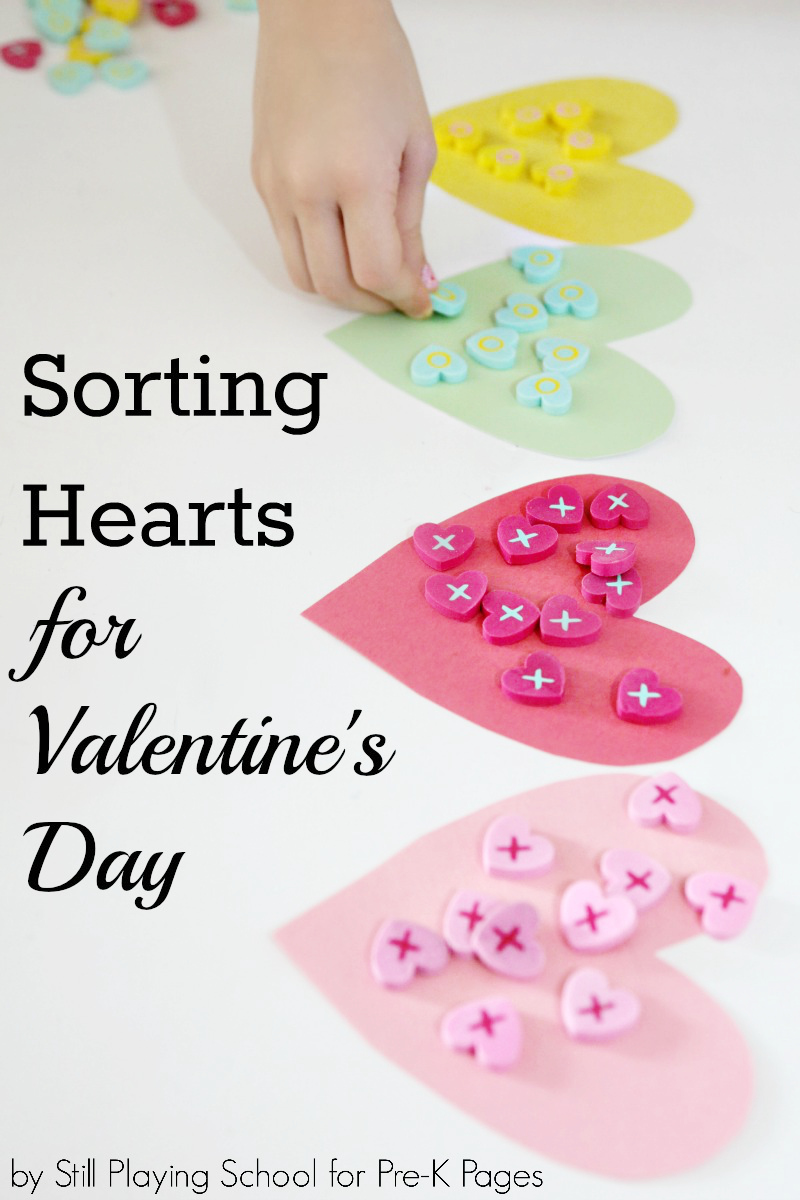 Color Sorting
Sorting is a foundational math skill for preschoolers. It can take months or even an entire school year for young children begin to understand the concept of sorting and the various ways to sort. For this reason it is important to provide your students with plenty of sorting practice all year long.
Color Sorting is an important math skill in early childhood education. Children need to be able to recognize attributes that differentiate objects as the same or different in order to sort them.
A color sorting activity helps children begin to notice, to focus their attention on specific attributes or characteristics.
Color sorting develops logical thinking and reasoning skills. It also provides children with practice creating sets or groups of objects.
Color sorting also spills over into other areas of learning. As children compare and contrast, they develop skills that will help them with reading comprehension, science, history, and more. Can you believe you can learn all that just from sorting?!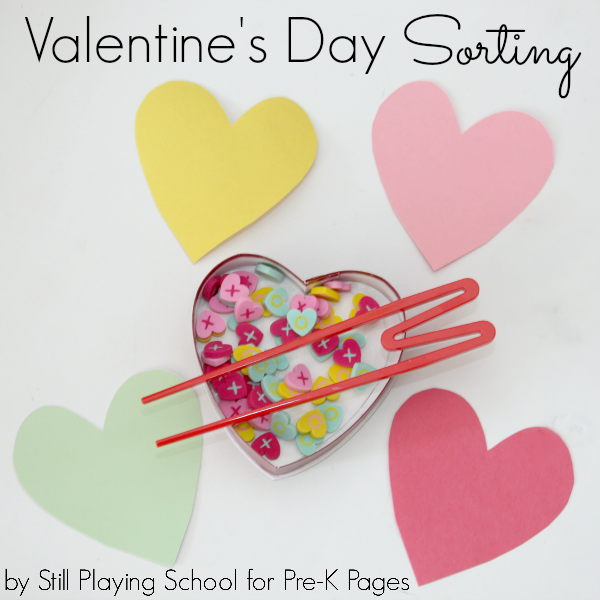 In preschool, we love to give kids a chance to sort items with every theme and holiday we celebrate. Hearts are perfect for Valentine's Day! Little hands can't resist this lovely shape!
Preparing the Color Sorting Activity
You will need:
Heart Shaped Objects (We used heart erasers from the Target dollar section but you could use candy conversation hearts or heart links or valentine cards or even paper hearts you make yourself!)
Larger Paper Hearts
Kids' Tongs or Chopsticks (optional but wonderful for developing fine motor pre-writing skills)
Depending on the type of hearts you have to sort, provide larger paper hearts either in the same color, design, or size as the smaller hearts.
We made our paper hearts the same colors as our erasers but, if you have different sized hearts to sort, you could make a small, medium, and large paper heart for the kids to sort by size instead.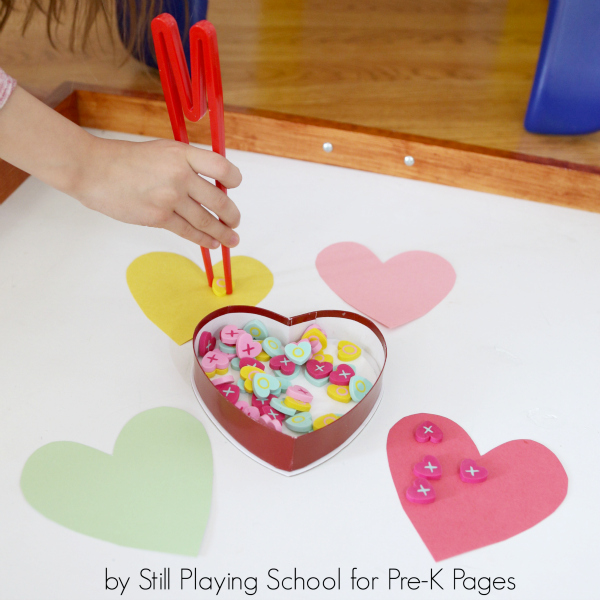 Valentine Heart Color Sort
Challenge children to pick up the hearts with the chopsticks or tongs and place them on the corresponding heart.
If the chopsticks are too tricky for some children, allow them to simply use their hands. They will still be practicing a pincer grasp which works small hand muscles, too!
Invite children to think of another way they could sort the same group of hearts. For example, our preschoolers noticed that some of our hearts had Os while the others had Xs on them. We took the opportunity to resort by the letter on the hearts.
Categorizing and rearranging items into different groups allows children to practice and develop their critical thinking skills. As a whole group activity, a teacher might even introduce this sorting station by already having hearts sorted and asking the class to identify the attribute that was chosen for the categories (such as color, size, design, etc.)
More Color Sorting Activities
There are so many opportunities to explore color sorting in your classroom! It doesn't have to stop with Valentine's Day.  You can have children sort colors using a light table. Any activity that can be done on a light table will make learning irresistible and mesmerizing.
Another great color sorting activity is having your students learn about transportation while simultaneously learn about colors. In this transportation color sorting activity, your children will have fun racing cars through shaving cream and paint while learning about color sorting and mixing.
Your preschoolers might also enjoy a rainbow garden color sort activity as well. Students will use magazines or seed catalogs to create a rainbow garden on paper. This activity will have the children recognizing and matching colors, work on sorting skills, reviewing the colors of the rainbow, and improve their fine motor skills!
When it's Fall and the leaves are falling outside, then have your students take part in this red leaf, yellow leaf color sorting activity. This is a great hands on math center activity where students can practice color sorting and counting. You can use other leaf colors as well- brown, orange, and green too.
The leaf color sorting activity would be perfectly paired with this colored corn mosaic art activity. This is a wonderful Thanksgiving related activity that reinforces the fine motor skills of your students. Your preschoolers will need to sort the colored corn and create a mosaic art piece using glue. They can work on creating shapes when they glue down the different colored pieces of corn.
Color Sorting Activities With Books
Incorporating a color sorting activity to go along with a book you are reading is a great way to help work on different skills and concepts. It can really help the book come alive!
If you are working on a pet theme unit, this dog bone color matching activity is perfect. The activity corresponds to the book, Dog's Colorful Day, follows the adventures of Dog, a white dog with a black spot on his ear, on a very messy day. As he goes from one mishap to the next, he becomes covered in a rainbow of spots – 10 in all! My kids and I enjoyed reading along with Dog and his colorful day, counting the spots and identifying each color.
Another great color sorting activity to go with a pet theme unit is this Cat's Colors: Colored Whiskers activity. This is a fun extension activity to reading the book, Cat's Colors where students will create a variety of different colored whiskers on a picture of a cat.
You might also enjoy this Very Hungry Caterpillar activity from Parenting Chaos where the students can sort buttons based on color, texture, and size. Or this activity from Craftulate, Bears See Colors color activity.
If you are looking for more activities that explore color then check out these 30+ activities for preschoolers to explore colors. Identifying colors, exploring and comparing colors, learning color names – all are important concepts for preschoolers.  There are 30 ideas for exploring color that use ways to compare or contrast but do not mix colored water or paint.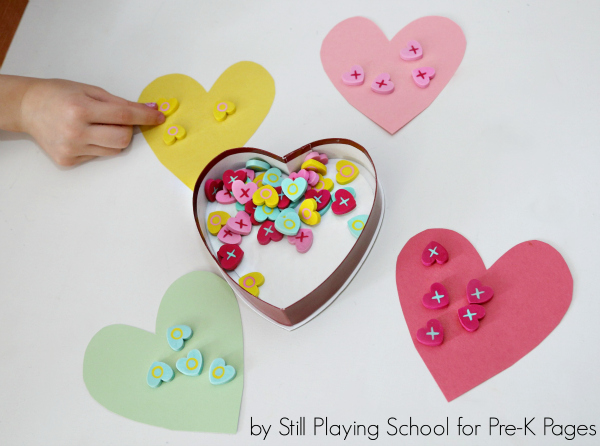 Extending The Color Sorting Activity
Once the hearts are sorted, you could extend the activity by inviting children to create or extend patterns with the hearts. The math learning potential is endless with these fun and seasonal shapes!
This activity could be extended no matter the holiday. For St. Patrick's Day, your students could sort colors with a Rainbow. For the Christmas holidays students could sort toys or ornaments of different colors. During the winter time, preschoolers could sort different colored snowflakes.
BIO: Devany LeDrew is a former kindergarten teacher who writes at Still Playing School where she shares play based learning activities. She specializes in fine motor activities and has co-authored the book 99 Fine Motor Ideas! Follow Still Playing School for more engaging educational ideas on Facebook, Instagram, Pinterest, and Twitter!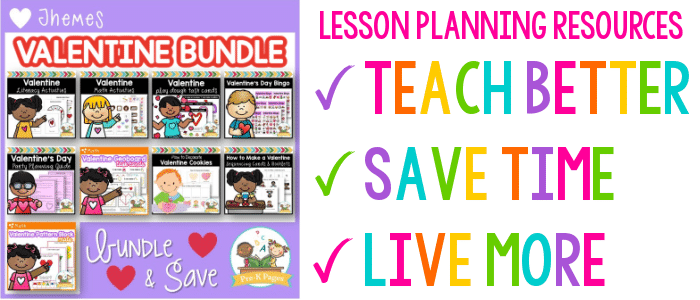 More Valentine's Day Ideas