Need fine motor activities for your community helpers theme? Scissor skills in preschool are a great way to develop those important fine motor skills, but they can be the tricky to teach! This community helpers fine motor tray will help you introduce scissors to your kids in a way that meets them at their individual stages of development.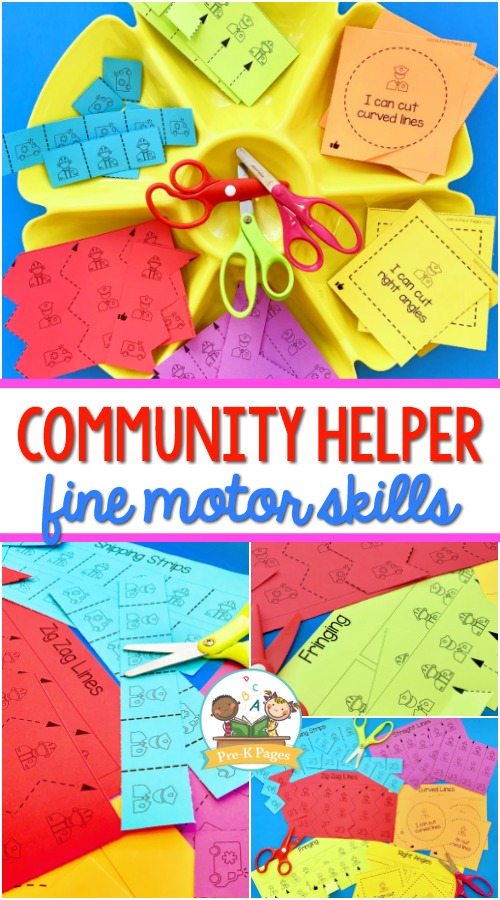 Community Helpers Fine Motor Scissor Skills
Does teaching your kids to use scissors scare you? You're not alone! Maybe you're afraid your little angels will cut their clothes, hair, and all sorts of things they shouldn't if you give them scissors.
Teaching young children how to use scissors is much more complicated than it looks – you can't just put out the scissors and hope for the best.
Introducing scissors to your little learners doesn't have to be scary. Good teachers know that developing fine motor skills is a process that takes time. When you assess their fine motor skills and meet them where they're at, then learning how to cut with scissors becomes much easier – for both the teacher and the students.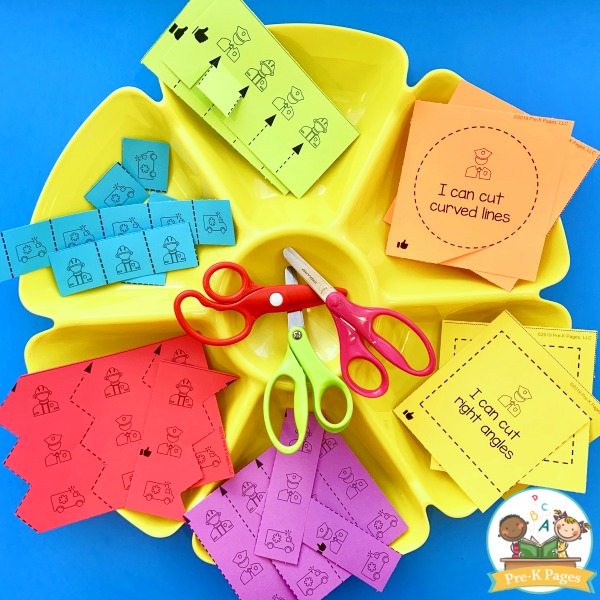 Community Helpers Scissor Skills Practice
Sometimes young children can become quickly frustrated when using scissors, so we have to get creative in how we approach teaching scissor skills.
Do your kids like fire fighters? How about police officers? Or maybe they're just fascinated by all those vehicles that make noise and have flashing lights? When you use their natural interests you can spice up a boring scissor practice activity and motivate your little learners with a community helpers theme.
Cutting Prerequisites
Have you ever had a child who refused to write their name when asked? Maybe you've even had kids throw tantrums and flat out tell you "No" for no apparent reason. If these behaviors leave you scratching your head and wondering what in the world is wrong with these kids, keep reading.
First things first, don't panic! Try to think of these negative behaviors as communication, what are the children trying to tell you with their behavior?
Whenever young children act out by saying "no!" and they refuse to do something, it can mean that they may not have the prerequisite skills in place to do what you're asking of them. Instead, try to focus more on strengthening your student's fine motor skills before asking them to write. You can accomplish this goal by working on scissor skills with cutting activities.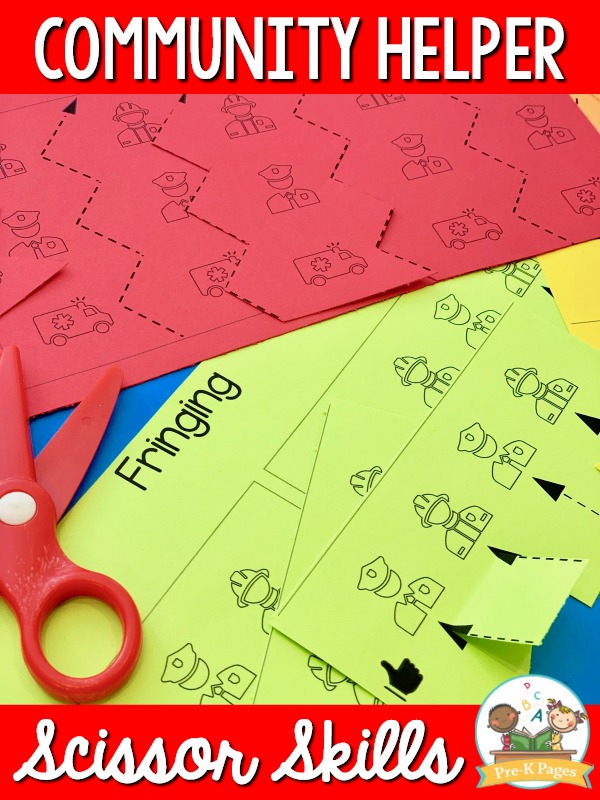 Community Helpers Benefits of Teaching Scissor Skills
Learning how to cut with scissors will help your students develop the muscles in their little hands that are necessary for writing later.
There are so many educational benefits of cutting with scissors. Here a list of just some of the skills your kids will be developing when they use scissors:
Practicing independent movement of individual fingers in hands
Strengthening small muscles in the hand (necessary for grasping and holding writing tools)
Developing hand-eye coordination
Improving bilateral coordination (using both sides of the body at one time)
Developing visual perceptual skills (directionality)
Practicing fine motor skills (opening and closing scissors)
Increasing focus and attention spans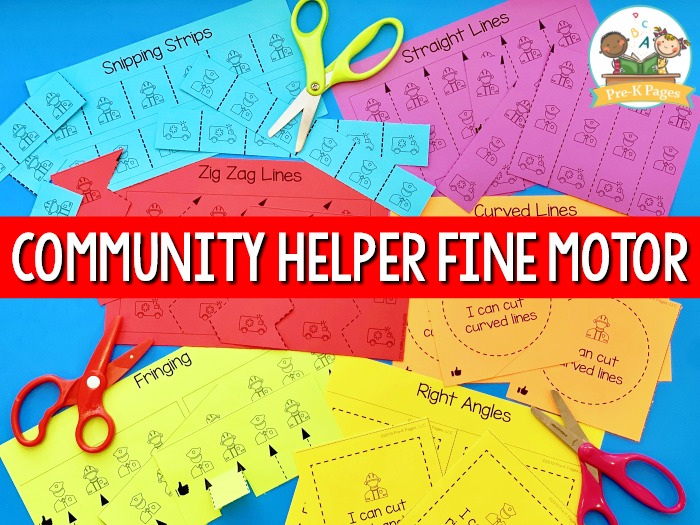 Community Helpers Scissor Cutting Practice
There are probably a few things you're already doing to get your kids ready for holding and using scissors. Using play dough daily in the classroom is one of the best and most popular ways to get little hands ready to hold scissors.
You probably also have a super fun writing center in your classroom too, which is perfect for practicing how to hold writing tools like crayons, pencils, and markers.
But how can you make teaching scissor skills to your kids less stressful and more fun for everyone? No worries, I've got your back!
The fine motor scissor cutting skills bundle includes the developmental sequence for cutting skills, thematic cutting skills practice pages, and an assessment sheet for you. Now you can meet your kids wherever they are in their individual stages of learning.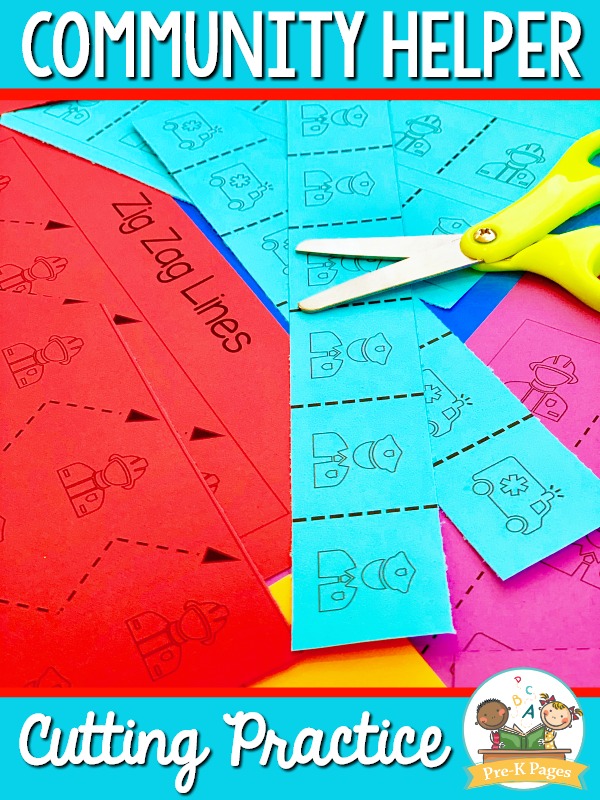 Scissor Skills Assessment
When you think of scissor skills you probably think of scissors, am I right? But there are actually things your kids need to do before they ever hold scissors in their hands.
To get started, you'll need to find out where your students are in the process of learning scissor skills. This is where the assessment from the scissor skills bundle comes in. You may also find this post on tips for teaching scissor cutting skills.
After you've introduced scissors to your students, and they can hold and are opening and closing the scissors on their own, you're ready to get started.
First things first, you'll need a copy of the scissor skills checklist included in the scissor skills bundle. This will give you a better understanding of the different developmental stages young children go through when learning how to use scissors.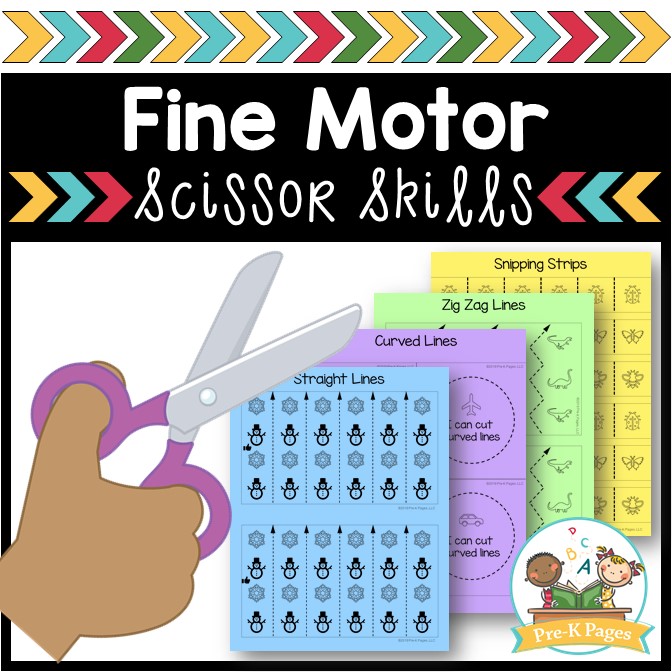 Community Helpers Scissor Practice Pages
Here's where a lot of teachers take a wrong turn, so listen up! When it comes to teaching scissor skills you can't just throw a bunch of cutting practice pages on the table and let the kids have at them. There's much more to it than that.
The activities in the fine motor scissor skills bundle are only for intentional teachers, those who want to really help meet kids where they're at and help them move on to the next level.
The scissor skills bundle includes black and white pages for each of the different cutting skills, including a community helpers theme. First on the list is snipping, and it's usually the easiest. But crumpling and ripping paper with their little hands are two skills that come before the introduction of the almighty scissors.
After snipping, skills increase slightly in difficulty from straight lines to curved lines, and then to simple shapes. On each printable practice page, there's an image of a thumbs up to indicate where the child should hold the paper while they cut.
Use AstroBrights cardstock paper to really make this activity visually appealing for your kids. The different colors can also help distinguish each stage of cutting. You can also use whichever type of paper you prefer or have on hand. Or you can also use a permanent marker on construction paper to make your own practice pages. You can grab your copy of the scissor skills bundle HERE.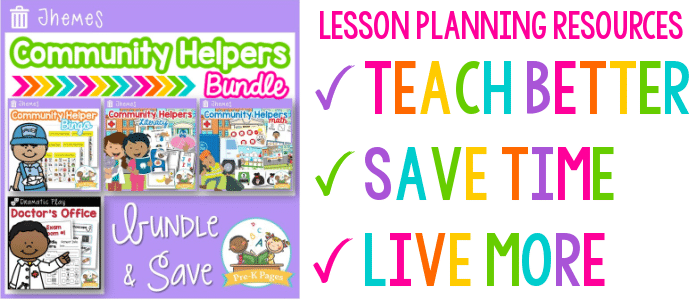 More Community Helper Ideas