Preschoolers can discover more about their world through hands-on experiences. They can learn about community helpers by exploring what those people do.
February is a good time to learn about the post office and about letter carriers. Mailing activities easily be integrated with themes like Valentines Day and friendship, themes that are often explored at this time of year. These activities can help your preschoolers think about and explore concepts of print and written communication with mail.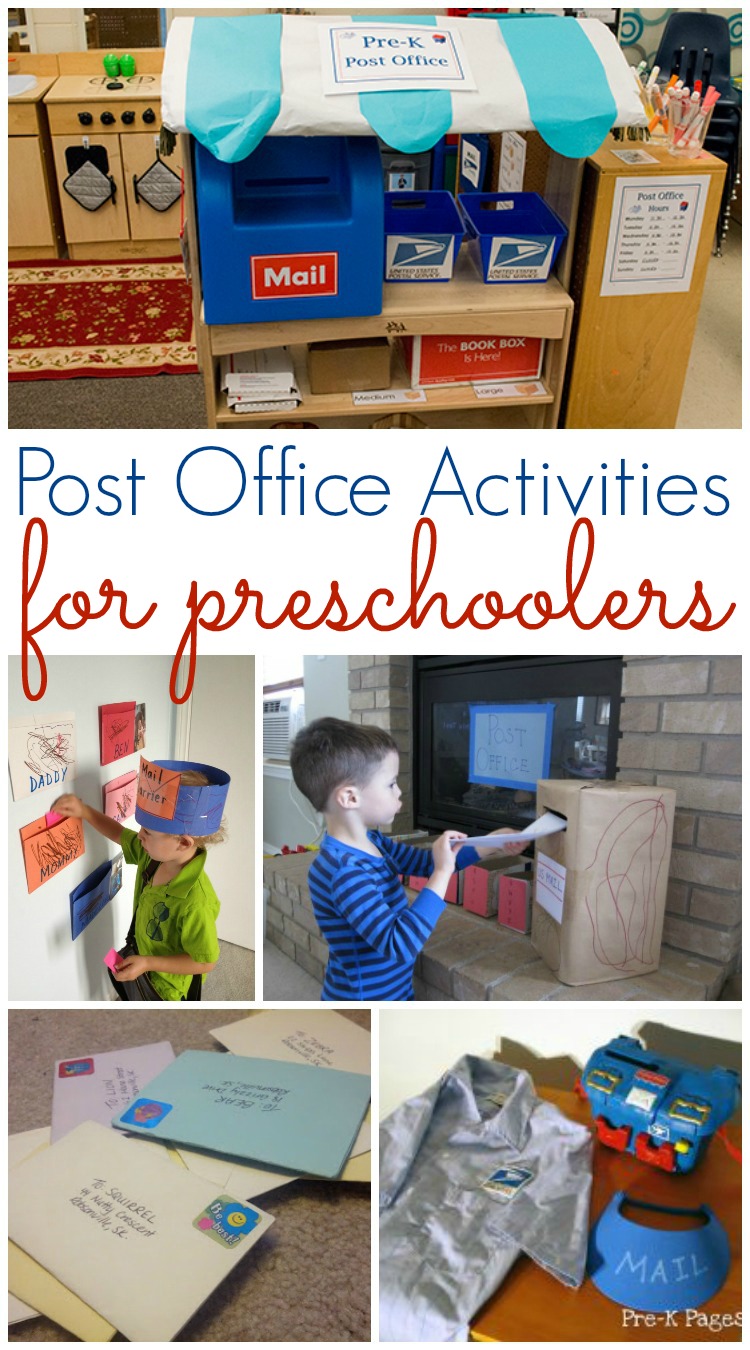 Post Office Theme Activities
Here are some of my favorite hands-on ideas for teaching and learning about the post office in preschool:
Post Office Play Printables (Pre-K Pages)- The Post Office theme is very popular at this time of the year because Valentine's Day provides a natural opportunity to discuss mail. I have created a free printable Valentine card for your students to use in the post office center!
Mailbox Syllables Game (Pre-K Pages) – This fun Valentine syllable game is always big hit with preschoolers and kindergarteners alike around Valentine's Day.
Get Well Card Center (Pre-K Pages) – Using great children's books is a springboard for learning about a topic or theme. Here is a fun farm book and a writing center to help learn about language and a form of writing.
Post Office Dramatic Play (Prekinders) – Students will enjoy playing post office in this dramatic play center!
Mailbox Math (Prekinders) – Your preschoolers will enjoy this mailbox activity and practice counting at the same time.
Pocket Post Office (Teach Preschool) – This activity may inspire you to create your mail box quilt!
Mailboxes and Magnetic Number Play (Teach Prechoolers) – Use magnetic numbers and cute little mailboxes from Target for this fun number recognition activity.
Heart Envelopes (Tinkerlab) – If you like to make your own Valentines but you're pressed for time (or have a small and impatient child like me), all-in-one Envelope Valentines could be the way to go. Turning a heart-shape into both a Valentine and an envelope is a delightful way to surprise the card's recipient.
Delivering the Mail (Growing Book by Book) – Work on writing skills with this post office play activity.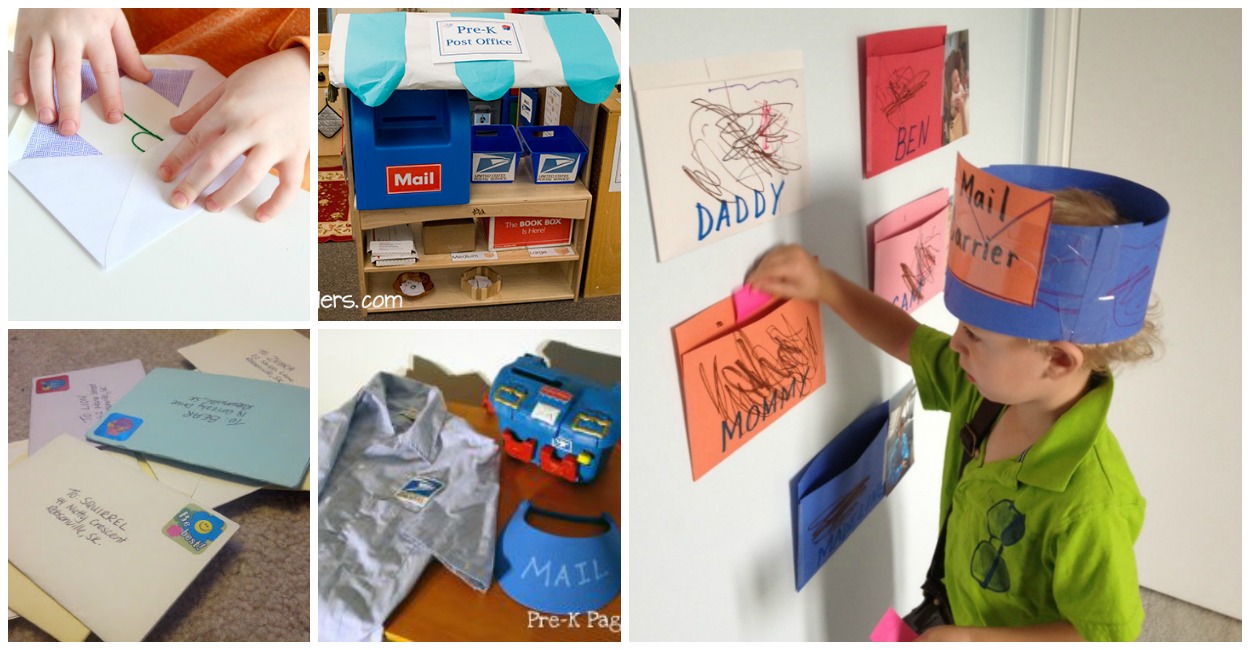 Here are some of my favorite mailing activities for teaching and learning about the mail in preschool:
Beginning Sounds Mail Sort (Growing Book by Book) – This mail sort game builds phonological awareness by focusing on individual sounds at the beginning of words.
Mailing Letters Alphabet Activity (Mom Inspired Life) – This mailing letters alphabet activity is a fun pretend play activity that helps kids practice letter identification, letter matching and letter sounds!
Printable Letter Writing Kit (Picklebums) – This kit contains printable writing papers and envelopes so your students can write their own letters and mail them.
Post Office Letter Sorting (No Time for Flash Cards) – Get creative with simple materials to deliver the mail.
Homemade Mailbox (And Next Comes L) – Set up a post office to show how the mail is sorted before being delivered and recreate the post office storefront and invite your child to weigh parcels, stamp the packages with a time stamp, and charge customers.
Post Office Dramatic Play (Teaching Mama) – This activity includes a free printable postcard that kids will have fun filling out
Postcards for Seniors (Sunny Day Family) – Have them write and send postcards to seniors or other loved ones and brighten someone's day.
Writing Kind Notes with Alphabet Stamps (Mom Inspired Life) – Writing kind notes with alphabet stamps is a great pre-writing activity for young kids. Stamp out letters to form words and spread kindness to family and friends!
Surprise and Sort Mailbox Activity (Little Pinch of Perfect) – There is something irresistibly fun about opening a mailbox and finding something inside which is why this activity is one your kids won't want to stop. You can easily tailor it to match a wide variety of themes like Letters, Numbers, and Colors.
Simple Post Office Setup (How Wee Learn) – Reading and writing activities for Preschoolers are great.  And making those reading and writing activities relate to their real life is awesome.  Creating a Post Office is a wonderful way to bring Reading and  Writing to Life!
Delivery Truck (Craftulate) – Make your own grocery delivery truck so your kids in this fun craft activity.
And check out the Post Office Dramatic Play Kit in my store.