Transfer activities are simply the best. In our house, we love them so much they are a way of life now. My son can't get enough of these easy-to-prep activities. Adding a seasonal twist to create an Easter egg transfer activity was perfect for a little morning fun.
Building Fine Motor Skills
What I love most about transfer activities is how much my son loves them (and how easy they are to put together). They capture his attention like no other activity. The big bonus is the fine motor skill practice he's getting along with all this fun. Plus, he's working on hand strength to hold the spoon level and hand-eye coordination when he's pouring. Amazing how much can they can learn from such a simple activity!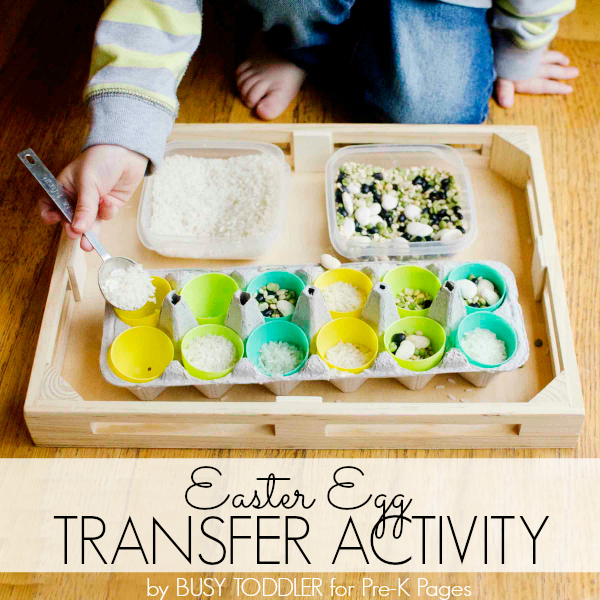 Easter Transfer Activity
For this transferring activity, we themed it for Easter and it turned out oh-so-adorable.
Materials:
Empty egg carton
Plastic Easter eggs
"Scoopable" materials (such as beans or rice)
Spoon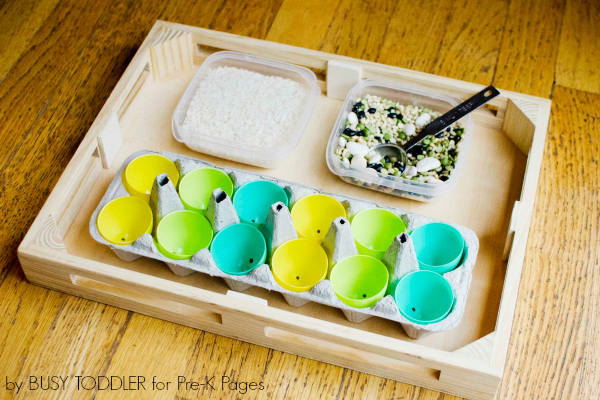 Setting up this Easter activity was so simple! I took an empty egg carton and filled it with the bottom half of our plastic eggs. In a little wooden tray, I set the egg carton along with two transfer materials: a variety of beans and a bowl of rice. The beans and the rice are perfect for scooping and I already had them on hand.
You could definitely substitute with whatever you materials you prefer or have available. Rock salt, small pasta, aquarium gravel, plastic beads, or cereal could be used as alternatives.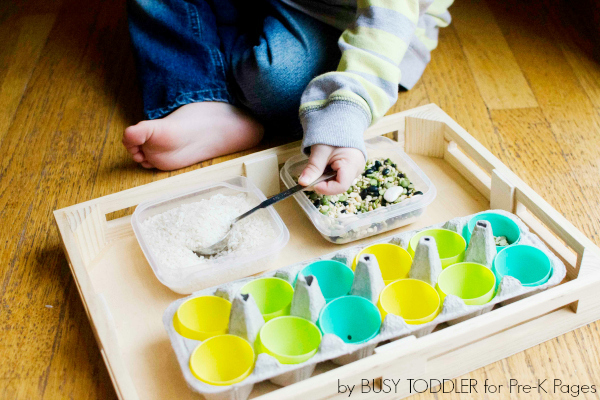 My son scooped beans or rice into the little eggs and loved it. He was so happy scooping and so happy deciding which material to scoop into which egg. A little element of personal choice is always important in an activity, it gives kids a sense of independence and responsibility, no matter how slight.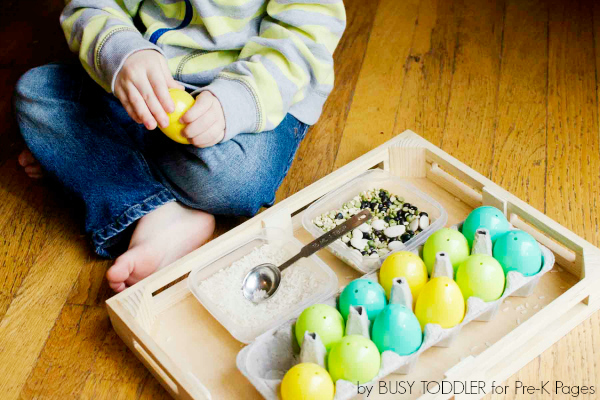 Once he finished filling the eggs, I modeled how to put the tops back on. What a challenge! Learning to put the tops on took a lot of practice, which was great for him. By the 8th egg, he had it down solid.
Without any prodding from me, he immediately started using the closed up Easter eggs as music shakers. It was too cool! I love a child-initiated activity and this was great. He even started guessing which material was in each egg based on the sound. What a terrific idea!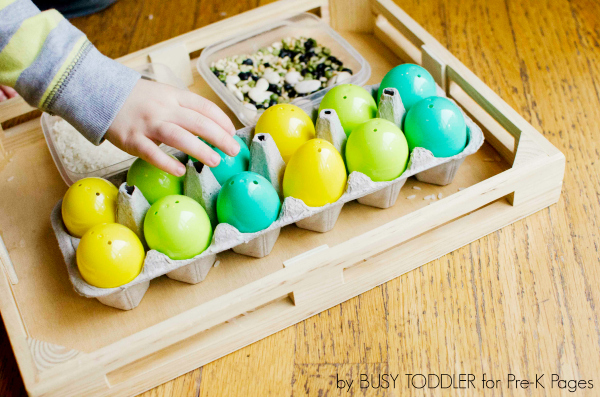 Extending the Transfer Activity
This activity has so many possible extensions. Add more materials to transfer and try a more complicated sound guessing game. Wouldn't this be great in a Five Senses unit? You could also use tongs to transfer materials for practice pinching and grasping. Younger toddlers could scoop using the eggs and have an adult help them attach the top.
This simple Easter egg transfer activity had so much "bang for its buck". There were loads of fine motor skills work, a great chance to learn a practical life skill, and it was just plain fun.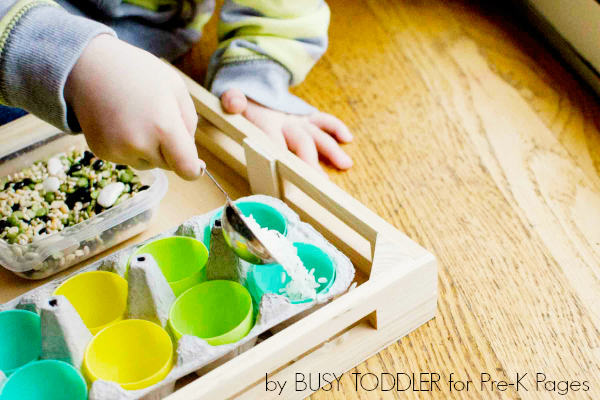 More Easter Activities
Easter Play Dough Counting Mats-A set of free Easter play dough counting mats to help your kids develop number sense and fluency within ten. Includes 10 printable color mats for you to use in your play dough center.
Easter Fine Motor Activities for Preschool-This Easter themed cutting skills tray will provide your kids with plenty of fine motor practice. These activities will help your kids build fine motor skills in fun and playful ways, so they won't even know they're learning.
Easter Playdough Activity for Preschool-This Easter playdough activity tray is super quick and easy to set-up at home or in your classroom. But don't be deceived by the simplicity of this activity, it actually supports the development of many crucial skills that will help your kids be successful in school – and life!
Easter Egg Process Art– This plastic Easter egg process art activity is inviting and enjoyable – all in one! Oh, and it's also messy. We did it outside to fully enjoy and embrace the experience.
BIO: Susie is a former kindergarten teacher turned SAHM who's just trying to make it to nap time. She blogs about the simple activities she does with her kids at Busy Toddler. You can join her party on Instagram, Pinterest, and Facebook.
More Easter Ideas