It's fall and a time when you can use leaves in fun activities. Setting up a fall themed sensory bin with leaves and kitchen utensils is a great way to introduce signs of the new season to children and to work on their all-important fine motor skills.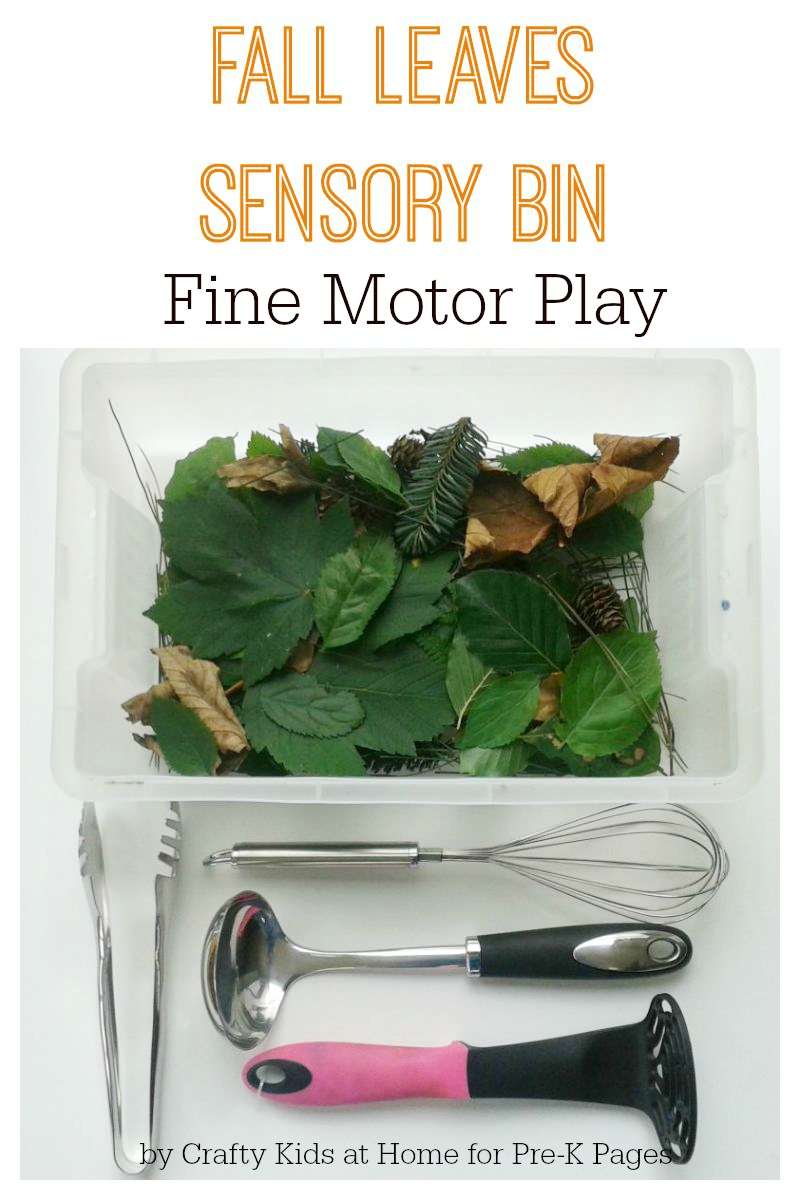 Why Use a Sensory Bin in Preschool?
Sensory play is open-ended, meaning there is no clearly defined outcome of playing with or exploring the materials inside the bin.
Children use their senses and creativity to explore the materials offered in a sensory bin on their own without the expectation of an end product.
To recap, sensory bin play is meaningful to young children and provides opportunities for open-ended play.
Can Sensory Bins Be Educational?
Yes! Having a sensory bin in the classroom can support a wide variety of academic skills. I've listed just a few of those skills for you below:
Oral language development
Creativity
Imagination
Capacity
Volume
Fine motor skills
Measurement
Critical thinking skills
Fall Fine Motor Activity
Developing strong fine motor skills is essential for your growing child. The small muscles in their wrists, hands, and fingers need to be strengthened to allow them to complete the following tasks independently:
Cutting up their own food
Fastening and unfastening their own clothes
Opening their own lunch boxes
Develop good pencil control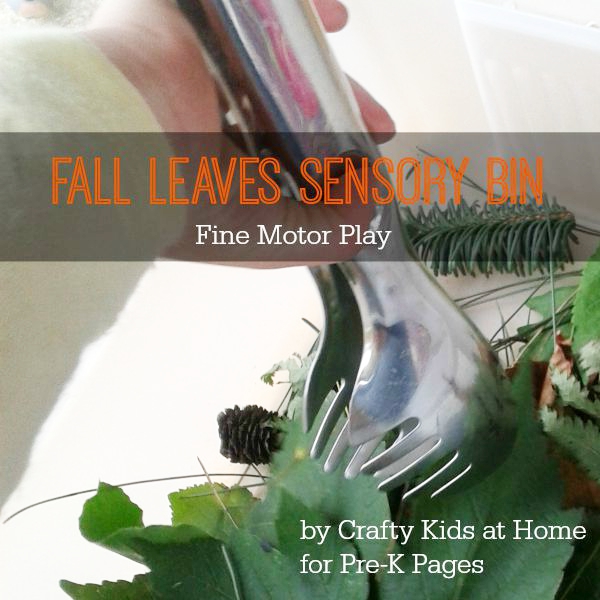 Fall Sensory Bin Preparation
Sensory bins for toddlers can be big or small, making them ideal for solo or group activities.
Supplies
Selection of leaves
Plastic tub
Kitchen tongs
Potato masher
Whisk
Ladle
We took a trip to our local woods to collect our leaves. While we gathered them, we talked about and looked for signs of Fall around us. Getting out into nature is great way to gets hands on when introducing your child to the changing seasons.
On our return I loaded our leaves into a plastic tub and laid out a selection of large kitchen utensils for my daughter to use to explore the contents of this easy Fall sensory bin.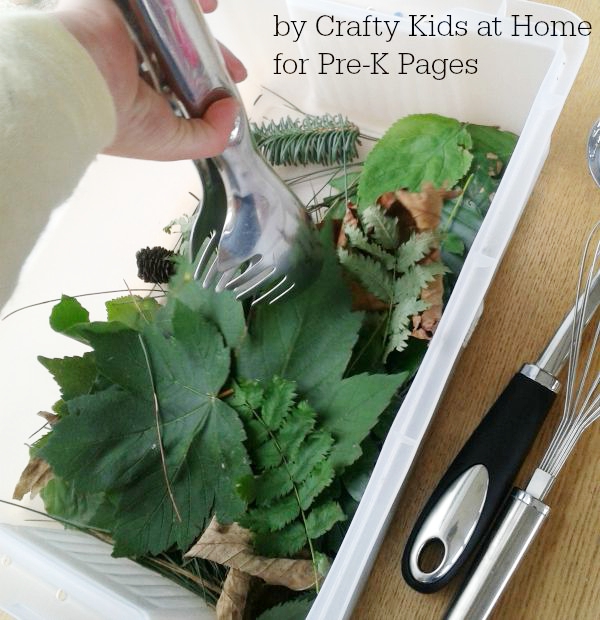 She began with the tongs, which needed a good strong squeeze, making them an excellent tool to work on strengthening her grip.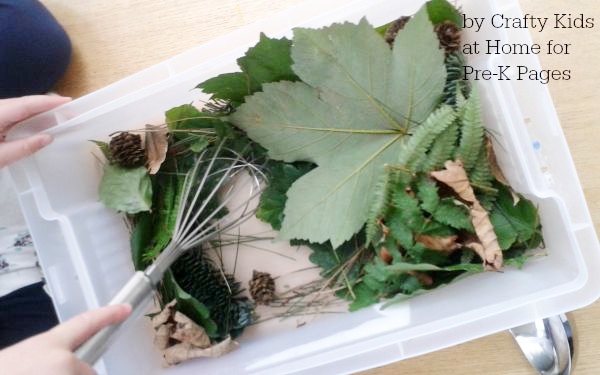 She then moved onto the whisk. This gave her wrists a really good work out, as she moved the leaves around and around the tub.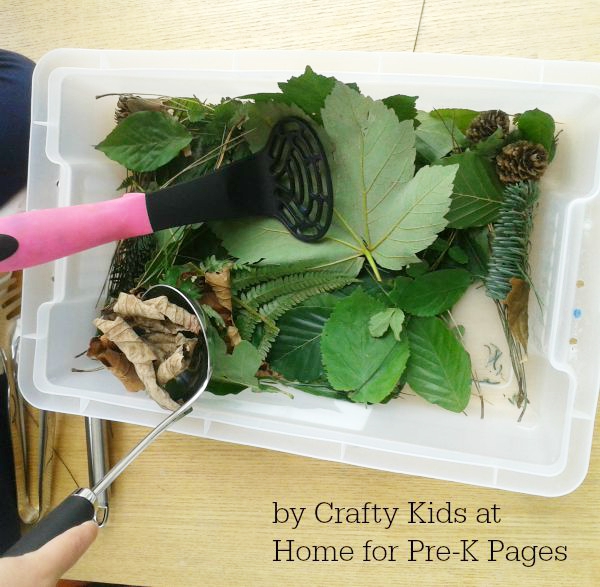 Next up was the ladle, which worked on her scooping and pouring skills. It also got her imagination going, as she pretended to be serving "leaf soup" to her "friends".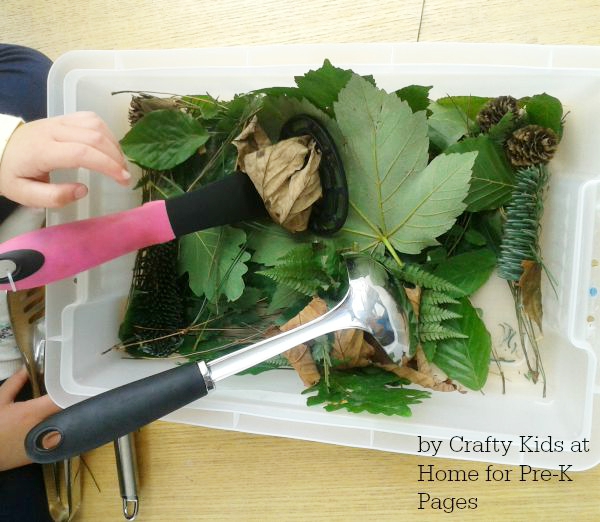 Finally she gave all of her leaves a good squash down with her potato masher, giving her whole hand a final work out in the process.
Fall Sensory Bin Extension Ideas
1. You could add some water over your leaves and turn your sensory bin into some sensory soup. Add in some plastic bowls and you have a pretend tea party all ready to go.
2. You could use your leaves in some arts and crafts activities. You could get the glue out and make a leaf collage or fetch the crayons and enjoy some leaf rubbing.
Whether your leaves are changing colors or are green, your children can enjoy some fine motor play with this Autumn sensory bin!
BIO: Nicola is a former Librarian who now spends her time looking after and coming up with arts and crafts ideas for her sons Liam (7), Freddie (5), and Bella (3) to do together. Her blog is Crafty Kids at Home. You can find her on Pinterest, Instagram, Facebook, and Twitter.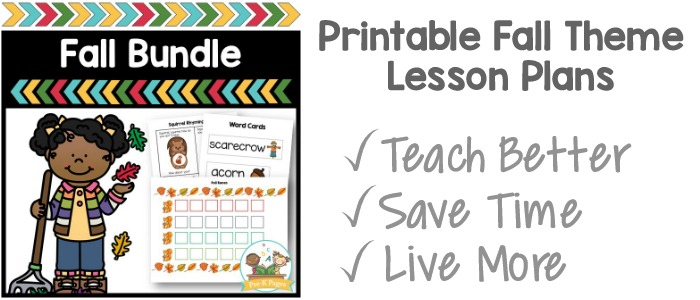 More Fall Ideas