Are you looking for fun fine motor activities for your preschool, pre-k, or kindergarten students? Developing fine motor skills is an important part of a high-quality early childhood program, but finding "just right" activities that are engaging and effective can be challenging. These activities will help young children build fine motor skills in fun, playful, and hands-on ways they'll absolutely love!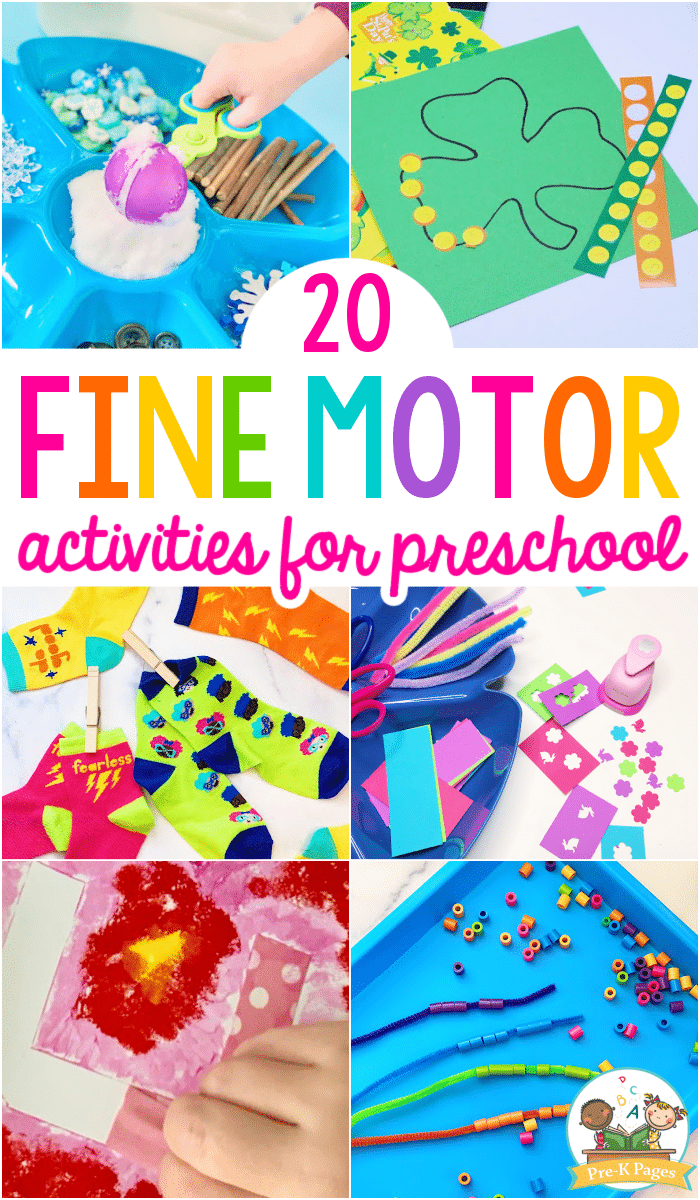 What are Fine Motor Skills?
The term fine motor refers to the small muscles in the hand and fingers. While some fine motor skills may develop naturally through daily play, it's important to be intentional when it comes to strategically planning opportunities for your kids to practice these skills daily in the classroom.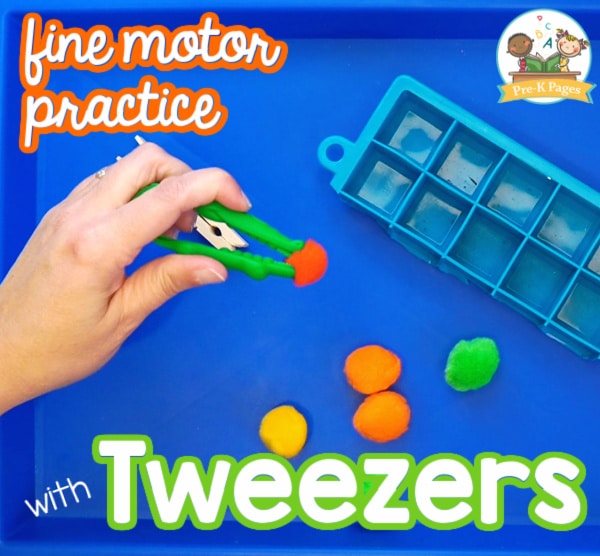 Why are Fine Motor Skills Important?
Young children must exercise these muscles often in the early years so they can do daily tasks in the future like writing, tying shoes, buttoning, zipping, and other self-help skills.
It's important that your toddlers and preschoolers have plenty of opportunities to work on fine motor development to prepare their little hands for the tasks listed above. Before children can begin to hold a pencil in their hands and write with control, they must first develop strength and dexterity in their fingers and hands.
You can help your kids develop fine motor skills by providing fun, engaging activities in your classroom like these that encourage using the hands and fingers together.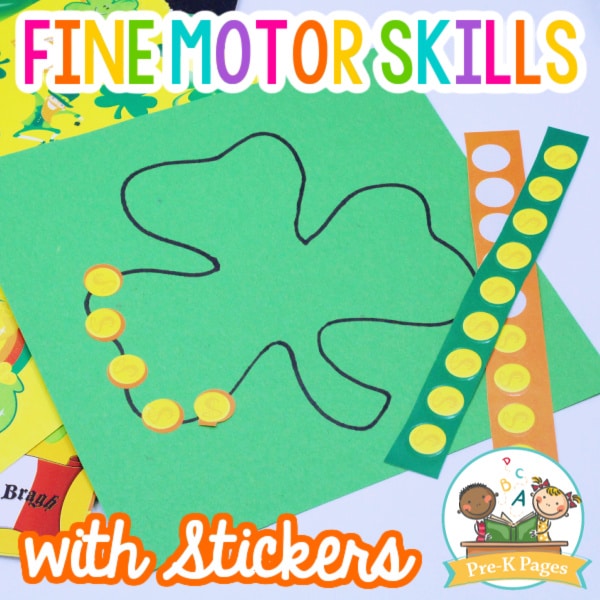 Fine Motor Activities for Preschoolers
Everybody knows that stickers are super popular with the littles. Why not harness their natural fascination and invite them to use stickers as a way to practice those fine motor skills? They'll think they're just having a good old time!
Did you know you can often find inexpensive golf tees at the dollar store? Invite your kids to hammer golf tees in playdough, or even a pumpkin in the fall for super engaging fine motor fun!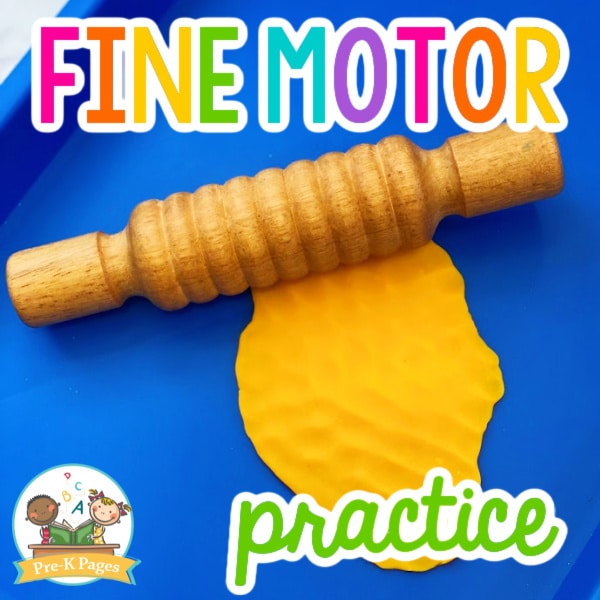 Rolling pins are the first of many kitchen items on this list that can be used to for fine motor development. As your kids roll the ends of the pins against their palms they're massaging the arch in their hands known as the palmar arch. This arch is super important for hand strength development in young children.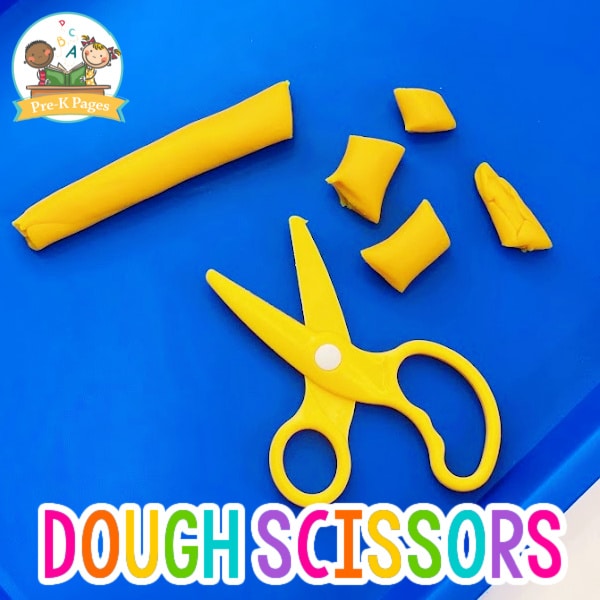 If your kids aren't quite ready to cut paper, then try dough scissors. Cutting play dough with dough scissors is super fun, but also excellent for fine motor practice.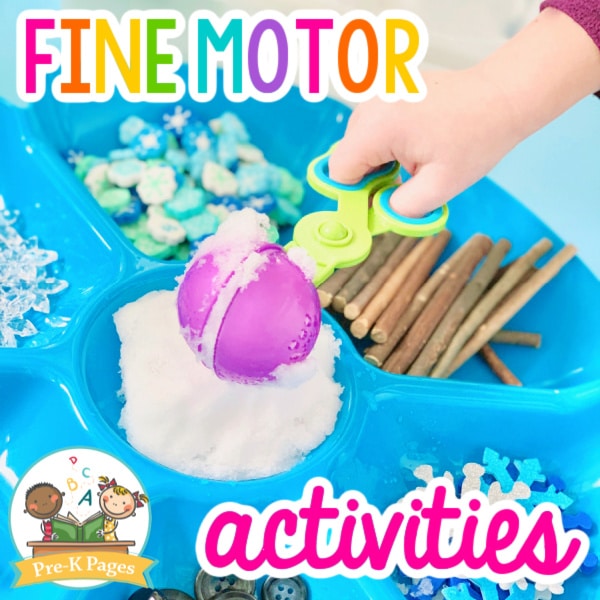 Fine Motor Skills Activities
The possibilities for using clothespins to develop hand strength are endless. Use inexpensive sets of socks from the dollar section of your local big box store, or raid your laundry basket for old socks. String a piece of yarn or twine between two chairs to create a mini clothesline and your littles will have a blast hanging socks. In fact, they'll be having so much fun they won't have a clue that they actually practicing an important skill.
There are lots of things in your kitchen that can be used for fine motor practice. Kids love using tongs to pick up small objects like pom-poms to transfer into ice cube trays.
While geoboards are often thought of something used in math instruction, they're also perfect for developing those little hand muscles. These geoboard task cards make geoboards even more fun and engaging.
Another common household item that can serve double duty for developing hand muscles is a plant sprayer. You can find inexpensive plant spray bottles at your local dollar store. Your kids will have a blast spraying water on the grass at recess, or add a little liquid watercolor and invite them to spray the snow if you live in a cold climate.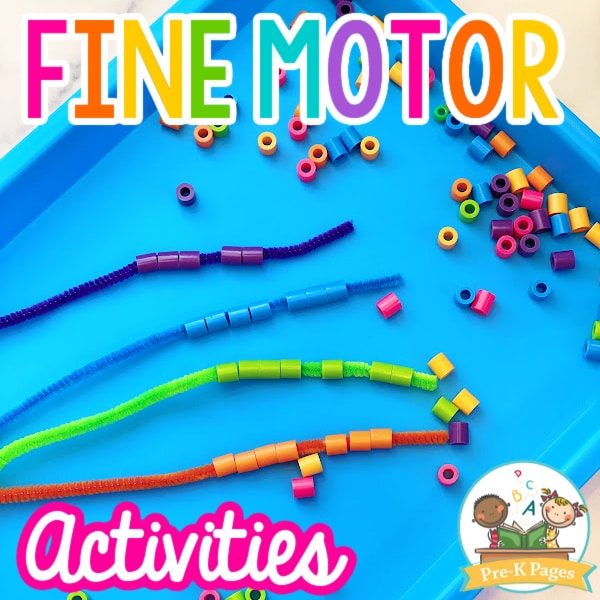 Fine Motor Activities for Preschool
Stringing beads on pipe cleaners is a great way to support fine motor development in your classroom. You can invite your preschoolers to thread small pieces of paper straws onto chenille stems. If your children are old enough you may consider adding some pony beads to your fine motor tray. The beads shown above are called Biggie Beads, they're bigger and easier for little hands to string than regular pony beads.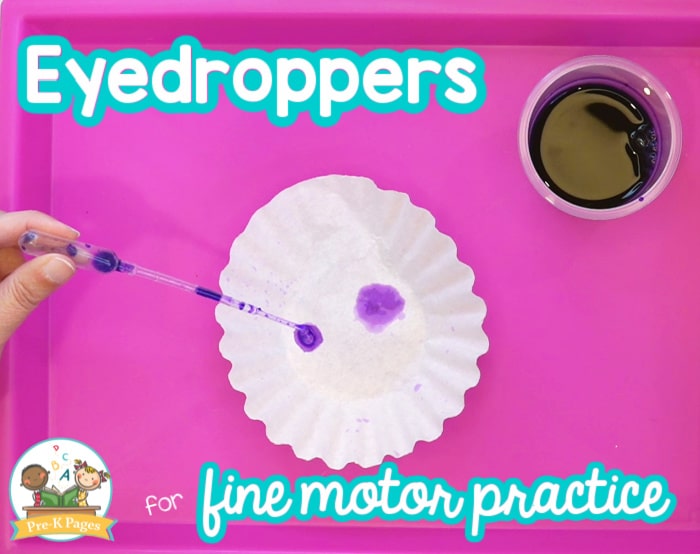 Have your kids ever used eye droppers or pipettes to color coffee filters? This is a great open ended art activity that also doubles as fine motor practice. Place some liquid watercolors in a shallow container and invite your students to use eye droppers or pipettes to drop the colored water onto coffee filters. The water quickly absorbs into the coffee filters and creates beautiful designs.
Using tongs is also a great way to practice those hand muscles. The scoop tongs pictured above perfectly sized for little hands. Children can use tongs to pick up items and transfer them from one container to another.
Invite your kids to twist chenille stems (pipe cleaners) and place them into a colander to develop fine motor skills. Bonus, this activity is also great eye-hand coordination practice.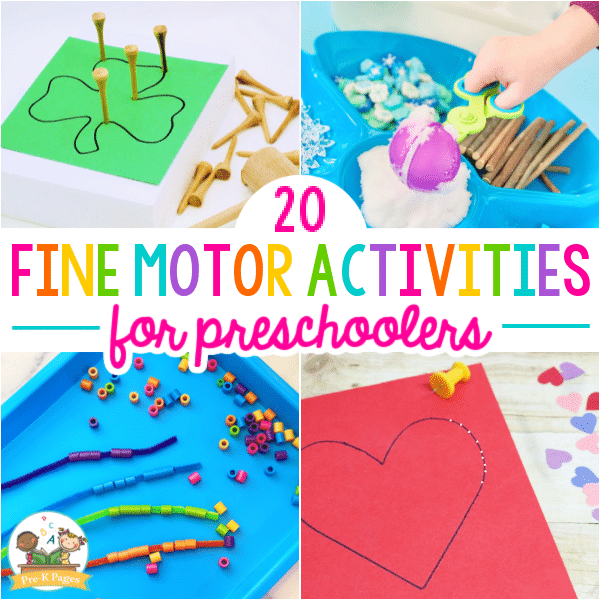 Scissor Skills Activities
Have you tried crayon resist painting with your class? Invite your kids to put washi tape on white paper, then paint over it with tempera paint sticks. As if playing with tape and painting wasn't fun enough, invite your kids to peel the tape off the paper and reveal the white space underneath – what's not to love?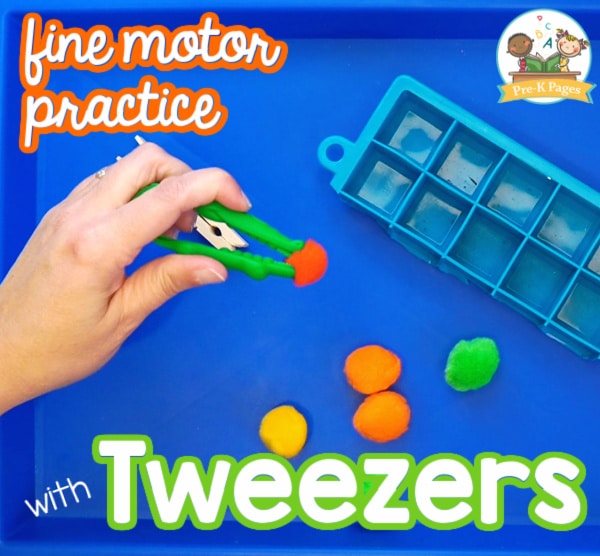 Any time you can add tweezers to an activity you're getting in a little bit of easy fine motor practice. I love Gator Grabbers because they're perfectly sized for little hands, they're easy for kids to use, and they have grips which help with picking up objects. My kids adore using tweezers to pick up pom-poms or any small objects and placing them in ice cube trays. You can even add dice to this activity and have them roll and count out the number of items into the tray, filling one space at a time.
You can find squeeze bottles at your local dollar store, they're great for squirting water or paint. Put a few squeeze bottles in your sensory bin along with water and your kids will have a blast squeezing water – within limits, of course. You can also put a little liquid watercolor into the bottles along with the water and invite your kids to paint the snow if you live in a colder climate.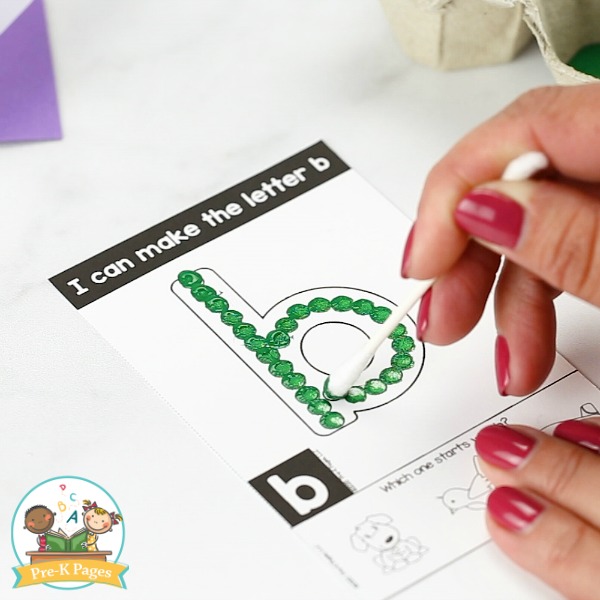 Have you ever used Q-Tips for painting in your classroom? Painting with cotton swabs is great fine motor practice because you have to grip them the same way you would grip a pencil. Grasping the swabs, dipping them in paint, and tapping them on paper is a super fun and inexpensive way to paint.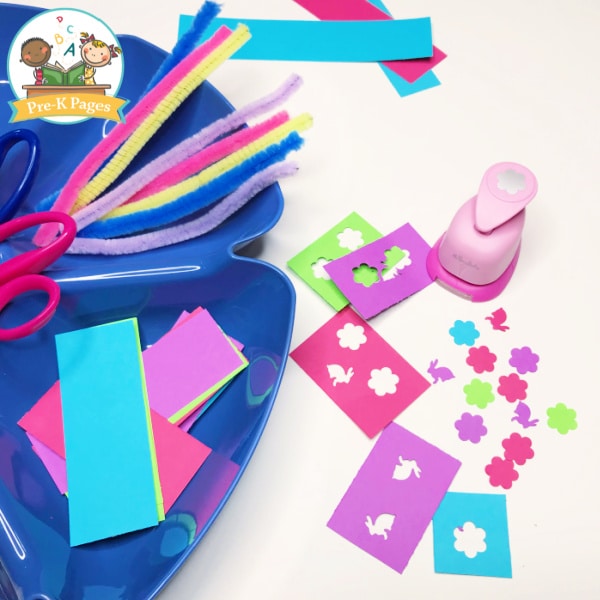 Developing Fine Motor Skills in Preschool
A hole punch or shape punches are super fun for kids! Just put out some punches in your writing center along with some colorful construction paper scraps and invite your children to start punching away. You'll be surprised by how long this seemingly simple task will keep them engaged. While it may seem simple, paper punches are excellent for fine motor practice.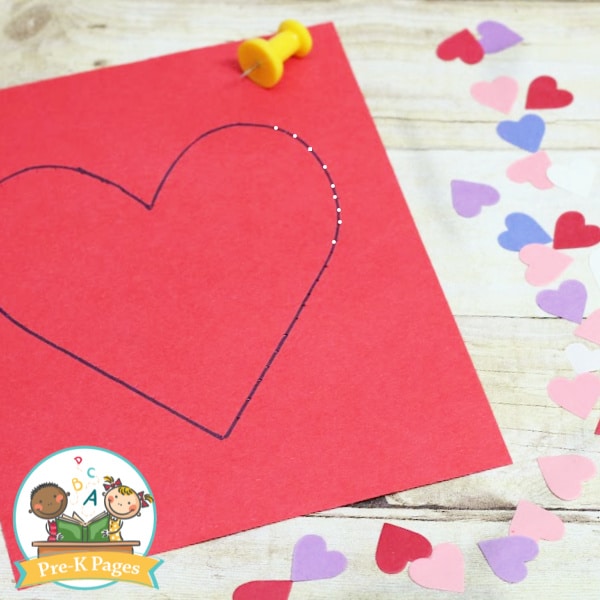 Pinning is a real fine motor workout! Invite your kids to use giant pushpins (or toothpicks) to poke holes along shape outlines. When finished, they can hold up the shapes to the light and see the design shining through.
You can't go wrong with a good old crayon rubbing! Use hot glue or liquid glue to create designs or images on paper. Then they're dry, invite your kids to make crayon rubbings of the dried glue images. Grasping the paperless crayons is another way to develop those small muscles.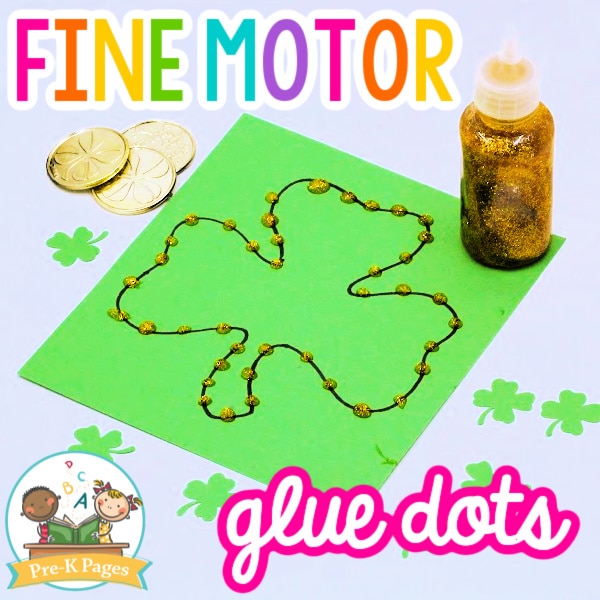 This activity is similar to the one with pushpins. Instead of pins, invite your littles to squeeze small dots of glue on top of a shape outline.
More Fine Motor Ideas