Have you ever wondered what your kids are actually learning when they play with geoboards? Using geoboards in the early childhood classroom can help develop many important early math and literacy skills.
If you haven't tried geoboard activities in your classroom yet, your kids are going to love them!
Geoboard Activities
If you're looking for hands-on learning activities that will keep your kids engaged and on-task, then you need geoboards in your teacher life!
Add geoboard activities to your math centers or small group time in preschool, pre-k, or kindergarten.
Here's everything you'll need to get started: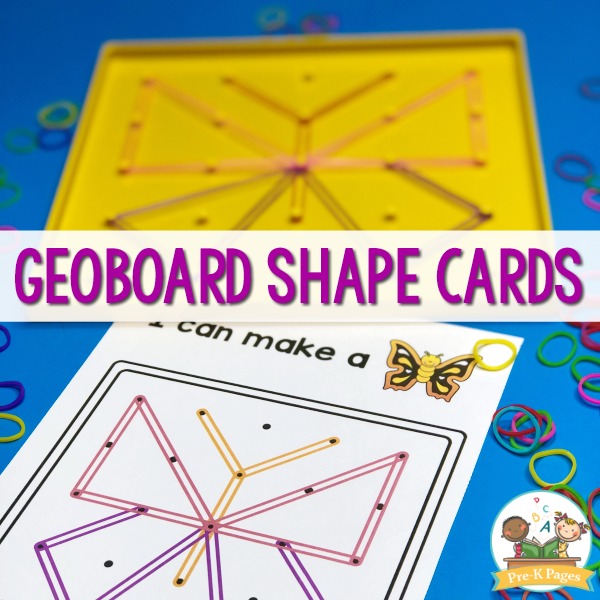 Geoboard Activities for Preschool
Geoboard activities are a must when it comes to teaching your kids about shapes, problem solving, spatial skills, and even symmetry.
Aside from learning basic geometric shapes, creating images and designs with rubber bands or non-latex loom bands on geoboards will also help your little learners develop important fine motor skills.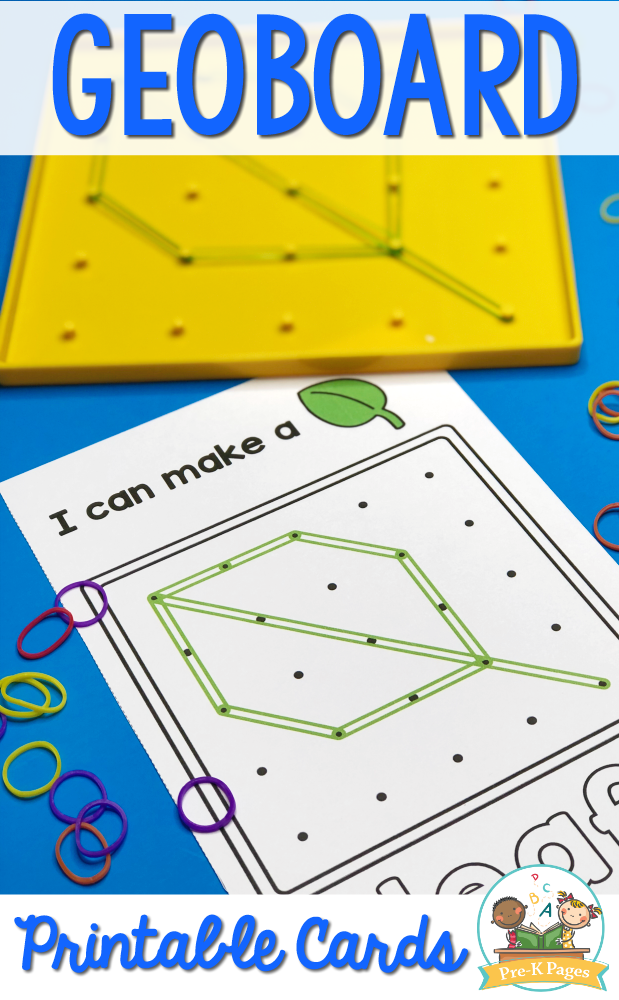 Geoboard Activities for Preschoolers
As they manipulate the rubber bands they are developing hand-eye coordination and muscle control.
When they're recreating the images from the task cards on their own geoboards, your kids are actually increasing their attention spans and ability to concentrate.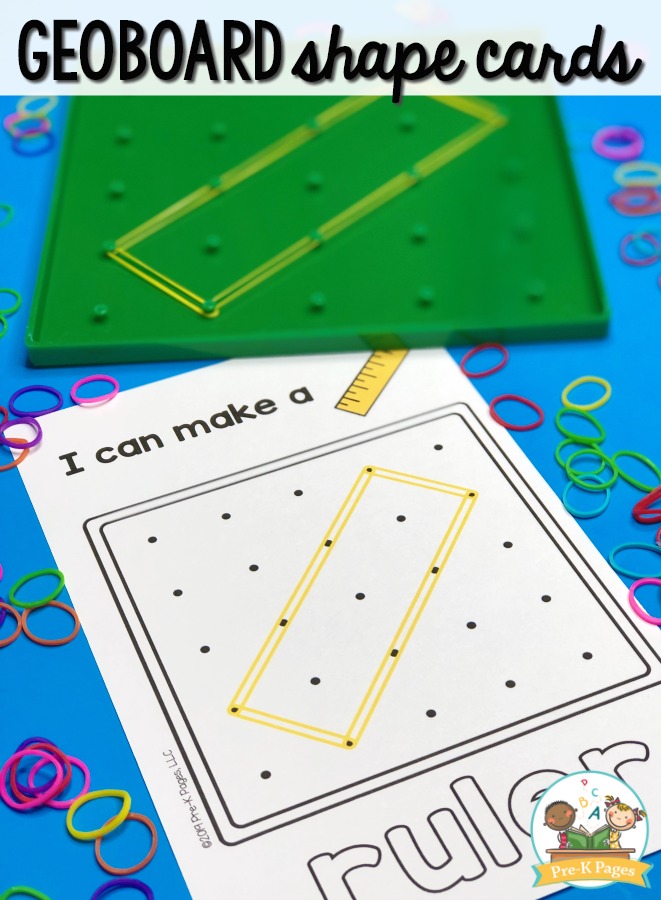 Pre-Reading and Pre-Writing Skills
When young children are making shapes on their geoboards they're actually developing very important pre-reading and pre-writing skills too!
Seeing the shapes on the geoboard and naming them prepares young children to identify letters and numbers and then to name them, and eventually even to write them.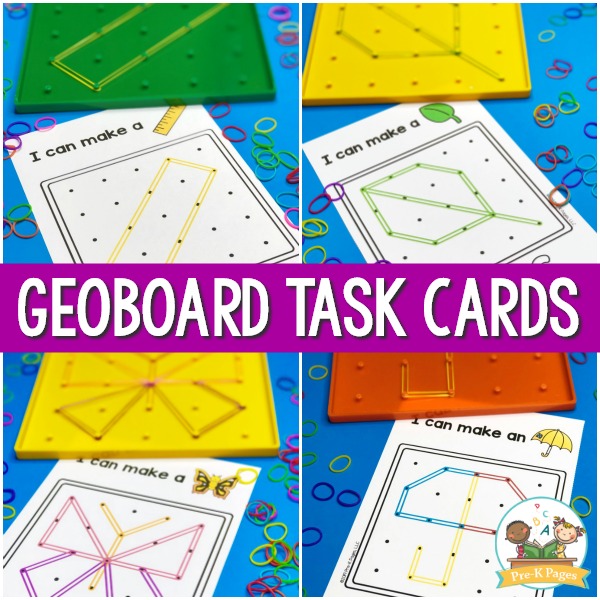 Getting Started with Geoboards
To get started, just print out these geoboard task cards (available in 3 sets, holiday, season, or theme), laminate, and start creating – easy peasy!
The holiday, season, and theme printable mats are available in color, but there's also a black and white version you can print on colored paper to save ink.
You can use regular rubber bands or latex-free loom bands, choose the ones that best meet your needs and those of your students. I really like the loom bands because they're super affordable, and available in lots of bright, bold colors that make them more inviting for little learners.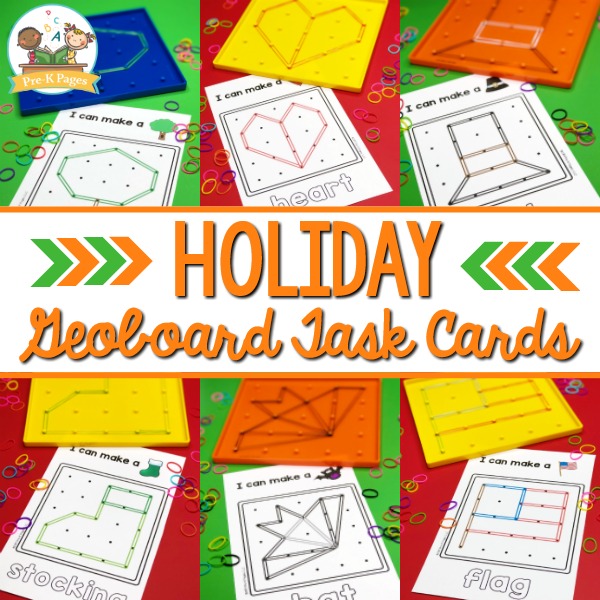 How to Use Geoboard Task Cards
The holiday, season, or theme geoboard task cards can be used during your small group time. Give one mat and one geoboard to each child in your small group, place the bands in a basket or container that is within easy reach, and then invite them to start creating.
The color mats can be used for additional color recognition practice, or just let them choose the colored bands of their choice by using the black and white mats.
With consistent use, kids will eventually begin to create their own designs on their geoboards in the math center, without the task cards.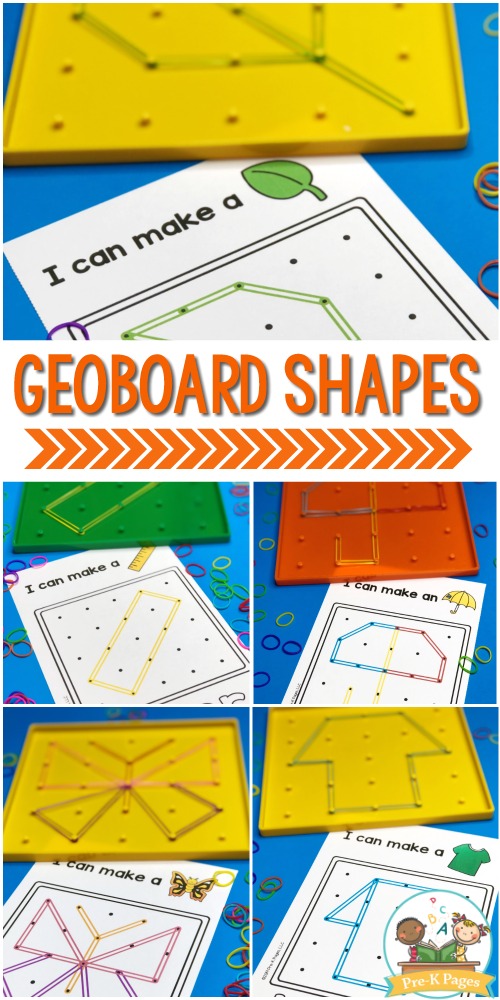 More Math Ideas